How Russia Looted Ukraine's Art Treasures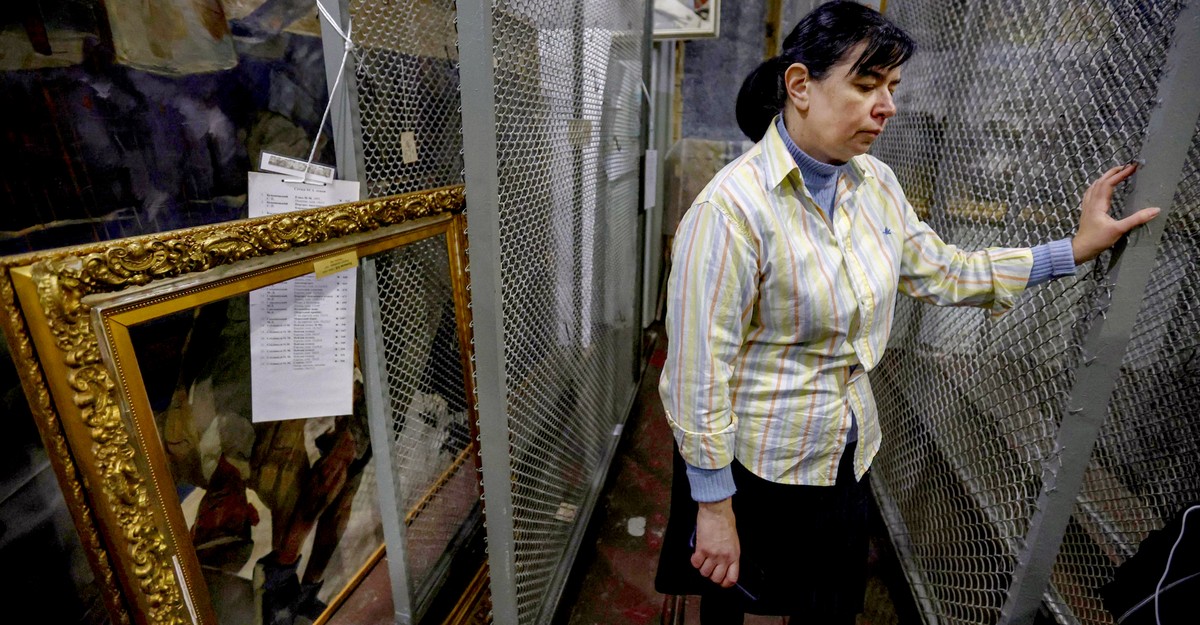 After occupying Kherson for eight months and pledging to keep it forever, Russia's army abandoned the city in southern Ukraine in November and retreated south and east across the Dnipro River. With them, Russian soldiers took truckloads of cultural treasures looted from the region's museums.
Most of Kherson's art collection, which is worth millions of dollars, has ended up on the nearby Crimean peninsula, which Russia annexed from Ukraine in 2014; there, the director of a local gallery confirmed to Radio Free Europe's Ukrainian service that the stolen art was "in storage" in his museum. But thousands of pieces from Kherson's folklore museum, including ancient artifacts from the Scythians, Sarmatians, Goths, and Greeks—peoples who settled the area near the Black and Azov Seas centuries before the Russian empire—have disappeared without a trace, as have hundreds of valuable books from the city's science library.
The Ukrainian archivists and curators who are busy trying to account for their losses compare Russia's art theft to that of the Nazis, who looted Kherson's museums during the nearly three years of German occupation, from 1941 to 1944. If anything, they say, this time is worse—not least because they feel betrayed: by the Russians, yes, but more so by informers and collaborators within their own ranks. "Russians told us they were our brothers," Kherson Art Museum's longtime director, Alina Dotsenko, told me when I interviewed her in Kyiv. But more hurtful was that "our own colleagues helped the looters to rob our museums"—even if, for every instance of collaboration, there was also an opposite act of courageous resistance by someone who worked to frustrate the enemy's plans and save items and records from the collections.
Nevertheless, when Dotsenko entered the pillaged archives on November 11, soon after Kherson's liberation, her heart stopped. "At least 10,000 works out of more than 14,000 art pieces were gone," she said.
At first, after Russian invaders had captured the city in early March, Dotsenko and her loyal manager, Hanna Skrypka, managed to protect the collection. They told Russian officials that it had all been removed from Kherson during renovation work. The museum's walls were indeed covered in scaffolding, but in fact the art had been taken down and stored in the building's basement. The precious silver and gold frames of ancient icons in the collection were locked in a safe, for which Skrypka had the key.
The ruse worked for almost three months, and Dotsenko, Skrypka, and their like-minded colleagues began to hope that the Russians would never discover their subterfuge. But they were betrayed. Two former employees informed the Russian Federal Security Service (FSB) that the art was still inside the building, Dotsenko explained.
On May 5, Russian prosecutors summoned Dotsenko for interrogation. "They said they would teach me to respect the new Russian power, which was going to stay in Kherson for good," Dotsenko told me. "So rather than wait to be arrested, I left for Odesa and took the entire digital archive of our art with me, hidden on my body."
After she fled, Russian authorities appointed a new director, Natalia Desyatova, who was reportedly a former singer at a local café, and, as both Dotsenko and Skrypka told me, made the remaining museum workers promise in writing that they would not communicate with the collection managers and workers who'd remained loyal to Ukraine and left the museum. But even then, the head of the museum's book archives, an elderly woman named Galina Aksyutina, took a personal risk and smuggled out a valuable 1840 first edition of Kobzar, a collection of poems by one of Ukraine's most beloved writers, Taras Shevchenko. The Russian guards, presumably not suspecting anything so daring from an old woman, neglected to search her.
A similar drama played out at the science library. "In the first days of the occupation, we tried to hide the most valuable books in the basement," Nadezhda Korotun, the library's director, told me. "But armed FSB officers came to our library several times a week. They demanded we find and show them detailed maps of Kherson and the region, and they broke locked doors." Korotun also encouraged her employees to take home as many rare, old books as they could and try to smuggle them out of the occupation zone. This was a dangerous enterprise because the Russian military was searching vehicles at every checkpoint on the road from Kherson to Odesa.
When Ukrainian forces were moving to retake Kherson in late October, the organized looting began, Skrypka told me. Desyatova told Skrypka to come into work on November 1. The moment she stepped into the museum, she regretted it. The building was full of Russians. Two armed Chechens in uniform said they were FSB officers. "They looked as if they had killed a lot of people," Skrypka told me. "My skin froze under their stare."
Over the next 48 hours, Skrypka was effectively held captive. Desyatova ordered her to type up a list of the art being taken for an official from Moscow who introduced himself as a representative of the Russian Ministry of Culture. "Even the collaborators working at the museum asked him to stop at 8,000, but he insisted," Skrypka told me. "He said his bosses would be mad at him if he did not take enough." The looters forced her to open the safe with the treasured silver and golden icon frames and emptied it. Powerless to prevent the pillaging, she resolved to at least be a witness—"I decided to be the eyes and ears," she said.
The Museum of Fine Arts, as it was originally called, opened in 1912, displaying works by the major Ukrainian and Russian artists of the day, including Vasily Perov, Mykola Pymonenko, Vasily Polenov, Ivan Aivazovsky, Ivan Shishkin, and Ilya Repin. During the Nazi occupation, the city's archaeological and art collections both were looted, and it took years for Kherson's museums to track down the stolen items—even then, they could only "partly recover" the prewar collections, Dotsenko told me.
But then, in the late 1960s, the art museum had a stroke of luck—if a morally murky one. A passionate art collector named Maria Kornilovskaya, who lived in Leningrad, decided to donate hundreds of paintings to the collection in her birthplace of Kherson. The way Kornilovskaya had built up her art collection was questionable to say the least, a form of looting itself—though she had preserved the work of dozens of world-famous artists that might otherwise have been destroyed during the Second World War.
Kornilovskaya covertly collected her masterpieces from the homes of people who'd been killed, many of them by starvation, during the 1941–44 siege of Leningrad, and she hid the paintings in her apartment. Art collectors offered her good deals, but Kornilovskaya preferred to go hungry herself rather than sell any of her treasures. In all, Kherson received more than 500 paintings through Kornilovskaya.
In 1978, the city's art collection moved into a new home, a graceful 19th-century building with a tall tower in one corner. Over the following decades, the art museum expanded its collection with thousands of paintings from dozens of countries, as well as sculptures, graphics, and decorative work.
Moscow's order to loot art from Ukraine did not surprise the 82-year-old art historian Dmytro Gorbachev. In 1938, he told me, Moscow took some of the historical mosaics from Kyiv's St. Michael's Monastery and installed them in Moscow's Tretyakov Gallery. "Twenty-five years later," he said, "I requested that Moscow return the borrowed mosaics to Kyiv and I received the most humiliating answer: They claimed it was their property.
"Russians treat Ukraine's art as their own but, sorry, since the U.S.S.R. fell apart, everything on our land has been ours, so this is theft," Gorbachev went on. "And they won't be able to prove that any of this art is their property at an art auction."
Several days before they cleaned out the art museum, the Russians were emptying the shelves and cases of the Museum of Local Lore across the street. Before the war, the folklore collection comprised more than 180,000 items, including at least 8,000 coins from the pre-Christian era that had been found in the area. "When I entered the museum together with the Security Service of Ukraine on November 17, I saw broken displays, ruined expositions," the museum's director, Olga Goncharova, told me. "The looters clearly had nothing to do with culture; they were barbarians."
A historian and scientist, Goncharova has spent four decades researching at the museum. Her specialty is the World War II period, and when the Russian invasion began, she was busy cataloging Soviet soldiers' letters home. She told me how, in March, a passerby on the street had yelled a warning to her: "Russian tanks are coming!" "How strange, I thought," she said, reflecting on the moment in 1944 she had just been immersed in, when Soviet tanks had liberated Kherson from Nazi occupation. "Once upon a time, it was the happiest news."
Grieving the looted collection, including the ancient Scythian gold, Goncharova mused on how this land had changed hands so many times over the centuries. She could not say what the stolen artifacts were worth. "Some things are priceless," she told me. And yet, the very history she has studied—of the destruction wrought by armies moving back and forth across the country, always followed by the painstaking business of recording the past and restoring its cultural treasures—gives her renewed hope.
According to the art museum, of the 13 employees it had before the war, seven ended up collaborating with Russian occupiers to help loot it. "We can confirm that six out of seven of our former museum workers have left Kherson for Crimea … and one of them is still in Kherson," Dotsenko told me. The former acting director, Desyatova, was among those who left Kherson with the retreating Russians, and is now a suspect in the Ukrainian police's investigations.
But the circumstances around the city's cultural inheritance and its betrayal are a microcosm of the reckoning taking place across the territory that Ukraine has recaptured from the Russian invaders: As early as mid-August, the police reported some 1,200 criminal investigations of collaboration. Meanwhile, the work of trying to recover some of the collection—as curators in Kherson first did decades ago—has begun anew.
"We're getting calls of support from all over the world, and we feel optimistic," Goncharova said. "Our art collections will grow again—and, in a way, the place feels more pure now, after all the traitors and looters have gone."
Criss Bellini Art Fans Urge for Pop-Up Gallery – E! NEWS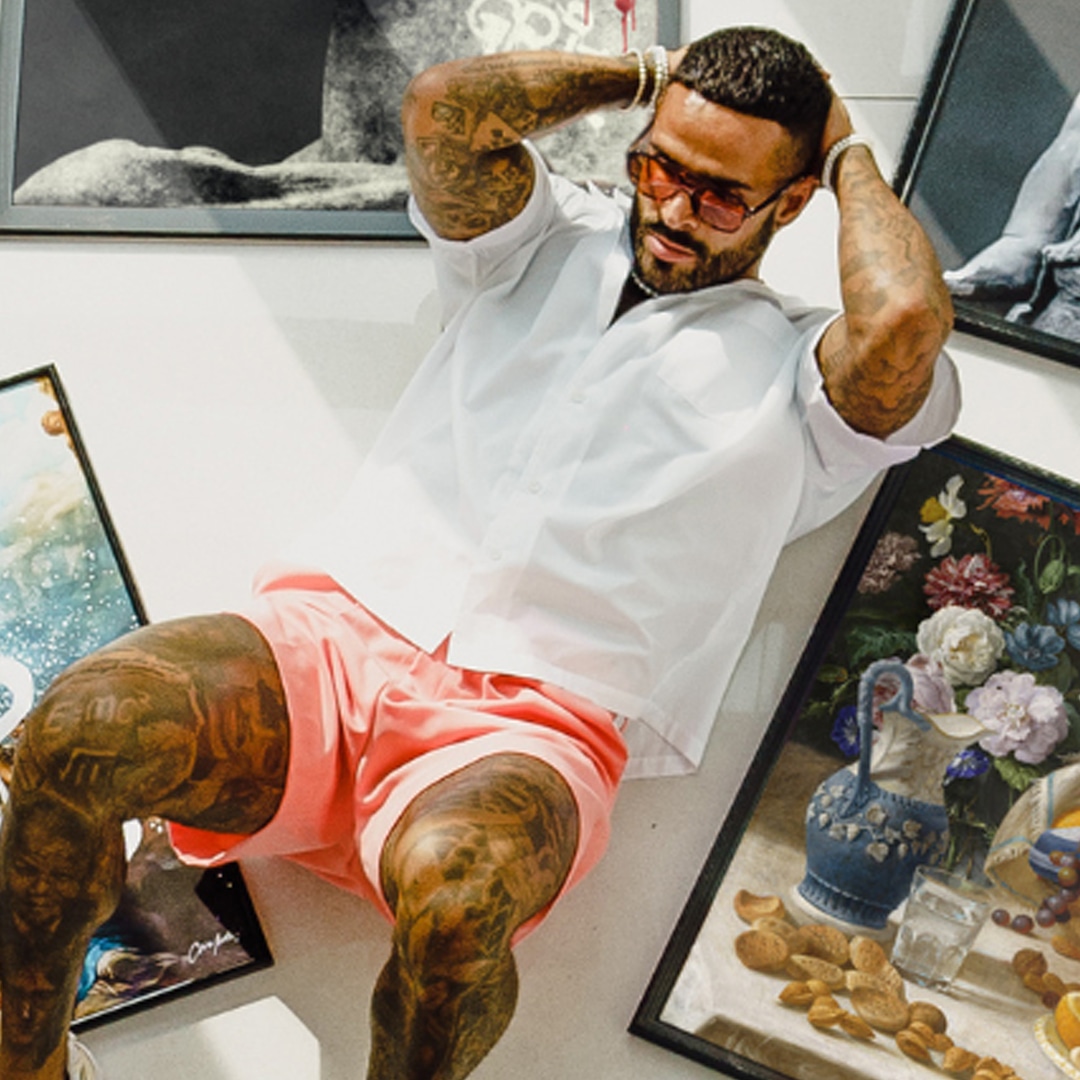 Since the brand's launch in 2020, Bellini's sales have skyrocketed, selling over $1 million in its first year and exceeding its sales in 2021, in 2022, with over 2 million sales in euros. Seeing this, it is clear that art sales are booming, and people want to see more of his unique pieces.
However, because Bellini's website is the only place to view and purchase his art, the public has begun to request a gallery or a pop-up gallery where they can go visit Bellinis' work and see it for themselves.
Wish you could set fire to the last 3 years? A huge flaming art installation is coming to Toronto – CBC.ca
What if you could just set fire to the past? Would you feel liberated — free to start fresh in 2023, flush with feelings of love and peace and other things you could file under positive vibes?
The City of Toronto launched an interactive art project last Thursday called The Burn, a seven-week initiative that aims to offer a moment of respite in the wake of COVID-19, and it comes to a climax on March 11 — the third anniversary of the pandemic.
On that date, a monumental art installation will go up at Nathan Phillips Square, and the centrepiece involves three towering steel sculptures that'll be set aflame for 24 hours — fires that will keep on burning with a little help from the public, who'll be invited to add bits of (supplied) wood to the blaze.
It's a scenario that sounds significantly more thoughtful and controlled to hear Roger Mooking describe it. Mooking is the lead creative on the project, and he talks about The Burn as a chance to heal and grow as a collective. In short, it's bigger than an all-day bonfire.
Mooking says he began thinking about the work in 2021, prompted by the "overwhelming melancholy" of lockdown. "I recognized that I was not the only one, that we were in this kind of collective consciousness globally, and we all needed to heal," he tells CBC Arts. And with The Burn, he's inviting Torontonians to actively begin that healing process.
The first phase of the project is already underway, and involves a series of interactive sculptures — significantly smaller vessels than the ones that'll go up at Nathan Phillips Square. They're being stationed at public sites around the GTA as part of a tour that launched Jan. 19 in three locations: Fort York National Historic Site, the Toronto Zoo and Twist — Mooking's restaurant at Toronto Pearson International Airport.
Here he is, testing it out in Terminal 1.
As of writing, people can find The Burn at three new sites through Feb. 1: Spadina Museum, Native Canadian Centre and the Market Gallery at St. Lawrence Market.
"We want to make sure that we're hitting every corner of the GTA: north, east, south, west, central — all the nooks and crannies," says Mooking. Twenty-one locations are currently scheduled for the tour, and a full map and schedule can be found through the city's website.
Through March 11, visitors will find metallic dodecahedrons at different destinations — sculptures created by local artist Javid JAH. And under each sculpture is a bowl of wooden balls: spheres the size of marbles that have been carved out of cedar.
Take a ball, and you'll be asked to stop and think — to sit with your feelings, really. In the language of The Burn, you'll be "setting an intention." Is there something weighing on you: an emotion you wish you could change or simply set free? Once you've identified that feeling, you're asked to drop your ball inside the sculpture. It's a moment for "letting go," so to speak.
"People are carrying so many things, especially coming through this COVID time," says Mooking. "It's a very simple thing … that can be very, very emotional."
A multihyphenate known for his success as a chef, TV personality (Man Fire Food), and musician (Bass is Base), Mooking's presented participatory art projects for the city before. Just last August, to coincide with Emancipation Month programming at Toronto history museums, he launched Read(In), an interactive installation that also appeared in multiple locations throughout the GTA.
To bring The Burn to life, project curator Umbereen Inayet connected him with collaborators JAH (who designed and produced the installation's ornate sculptural elements) and artist Catherine Tammaro, a Wyandot Elder who served as an advisor, particularly concerning the project's spiritual bent. Says Mooking: "There's a deep history of Indigenous cultures using fire and water for cleansing and preservation and healing, so we needed that guidance to make sure that we were respecting that tradition."
The wooden balls collected at each tour site will eventually fuel the fire on March 11, and Mooking says those attending the activation at Nathan Phillips Square will also have the opportunity to set an intention. At the big event, visitors will send their cedar spheres down a chute, directly into the flames. And when the fire's extinguished, all the ash that's left behind will be collected for use in city gardens. "We're really trying to emulate the cycle of life: from the spark to the ash," says Mooking. "We're looking to carry the spiritual intentions from everybody in the city to fortify our Earth."
The city says it will be announcing more public projects that respond to COVID's impact on residents. Like The Burn, they're part of a program called Stronger Together that launched in late November. More programming is expected to be revealed in February.
In the first few days of The Burn's cross-city tour, Mooking says he was receiving reports from the participating venues. Folks are interacting with the sculptures already, he says. "It's been cathartic, I hope. … I can't wait to see how much healing we're able to do when we really roll out the full scale of this at Nathan Phillips Square."
Full event details, including a map of The Burn's tour locations, can be found on the project's website.
Art is everywhere this weekend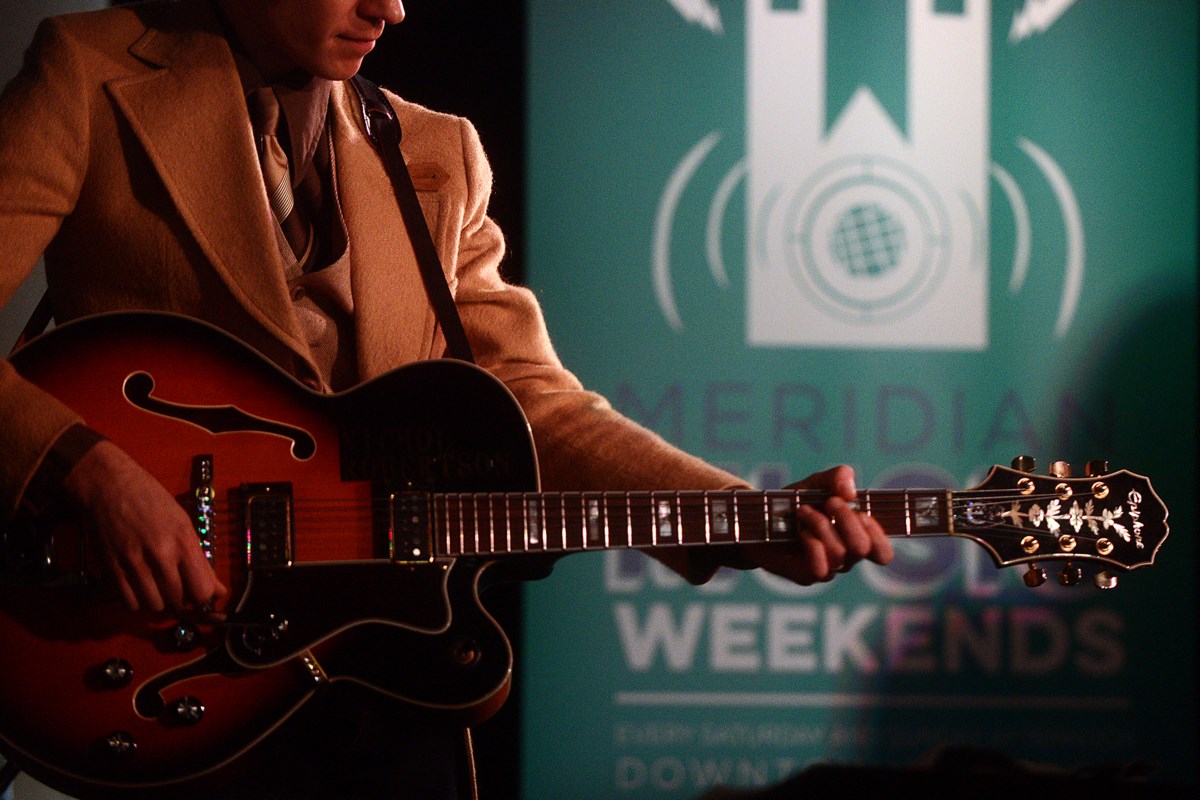 Saturday, Jan. 28
2023 ArtsEverywhere Festival
Multiple locations; 10 a.m. to 10 p.m.
From film screenings to drag brunches and book fairs, the free annual festival has something for everyone. Learn more here.
Winterstock
Royal City Studios; 7 p.m. to 11 p.m.
Join Royal City Studios for a live music tribute to Woodstock 1969; attendees are encouraged to wear their best 60s style clothes. Get tickets here.
Music Weekends
Western Burgers & Steaks; 2:00 p.m. to 5 p.m.
The genre-bouncing Probable Cause will perform live at The Western, pay-by-donation. Doors open at 2 p.m., show starts at 2:30.
Sunday, Jan. 29
2023 ArtsEverywhere Festival
River Run Centre; 10 a.m. to 2:30 p.m.
The last day of the free festival features a lecture and a film screening, both at the River Run Centre. Learn more here.
Music Weekends
Onyx Nightclub; 2p.m. to 5 p.m.
Join SHEBAD for their live concert at Onyx. It's family-friendly and pay-by-donation. Doors open at 2 p.m., show starts at 2:45.
OHL Hockey
2 p.m.: Guelph Storm vs. Sudbury Wolves, Sleeman Centre