How to use the new Camera app features in iOS 14 – AppleInsider
Apple's changes and updates to the Camera app in iOS 14 are mostly quite small, but there are so many of them.
It's not true that there are more updates to the Camera app than there are in the rest of iOS 14, but it may feel like it. Few people are going to use all of the new features, but everyone is going to find that taking photographs is quicker and gets better results.
That's because some of the updates are to do with actually speeding up the process, with physically making the iPhone work faster. Others also make the job quicker, though, by being easier to do, or just simpler to find.
Some of these updates are merely cosmetic, yet the change makes them more discoverable. The best camera is the one you have with you, but the best camera features are the ones you can find.
How iOS 14 speeds up cameras
This is what Apple gets for building both its own hardware and software. Without any changes to your iPhone's camera hardware, the software changes in iOS 14 make taking photos remarkably faster.
Apple claims that overall, the Camera app itself is up to 90% faster. That's not just the kind of speed improvement that looks good on a spec sheet, it's one where you will feel the difference.
The Camera app opens that much quicker, meaning both that there is a shorter delay before you're ready to take a shot — and that the whole app feels more responsive, too.
Apple says that the time to the first shot you take, from tapping the Camera app to open it, is 25% faster than it was. And when you're doing a series of Portrait shots, the time to the next one is 15% than before.
And while this may not feel like photography per se, the Camera app is now quicker at scanning QR codes, too.
How iOS 14 speeds up your taking a photo
When you simply want to take a shot as fast as you can, because something is happening right in front of you, then you can still long-press on the lock screen's camera icon. Or you can swipe from left to right on that home screen to launch the camera.
You will typically find that swiping is quicker. However, that could be because it isn't pressing that icon that launches the Camera, it's the letting go of the button afterwards that does.
If you've already unlocked the iPhone, you can long-press on the Camera icon on your home screen. Again, you may find that a regular press is quicker because that immediately opens the app.
However, the long-press brings up a menu that lets you then tap directly into Take Selfie, Record Video, Take Portrait, or Take Portrait Selfie. For going straight to those types of photographs, long-press is quicker than opening the Camera app, and swiping to the right section.
How iOS 14 makes it quicker to choose settings
The iPhone is not a Polaroid camera which only does one size image, and comes with no controls beyond whether you use a flash or not. It is an extremely versatile camera and now with iOS 14, a great many controls are available — when you want them.
Rather than cluttering up the display with controls, there is now a chevron at the top middle of the screen. Perhaps oddly, tapping on it does not reveal a row of controls right under the chevron, it displays them at the bottom of your screen.
Nonetheless, you now have quick access to functions ranging from setting a timer, to turning on or off Live Photos, and more.
Tapping a chevron at the top of the Camera app screen reveals a new row of controls
These controls include a new one for exposure compensation control. Previously, you had to tap on the screen to display the yellow box that shows where your focus is, then drag the brightness up and down.
You were really adjusting the AF/AE levels, the autofocus and autoexposure ones, and it was fiddly. Now it's one control that makes it much easier to tap on and swipe left and right to increase or decrease brightness.
That's an in-shot adjustment you can make while using the Camera app to take a photo. But there are more settings that you can apply before you take any shot at all.
How best to use the new Camera settings in iOS 14
The options when you go to Settings, Camera, in iOS 14 have been reorganized to make them easier to find and use. There are now four blocks of controls, starting with a large one to do everything from the format the shots are taken in, to how you can take a bursts of shots.
Two of the more significant controls are the Preserve Settings, and Use Volume Up for Burst ones. The latter is a simple toggle that means, if you choose, you can always have Burst Mode available at the touch of an actual, physical button.
Preserve Settings is more involved. What it tells the Camera app to do is present you with the same options you chose the last time you used it. So if you shot video last time, the Camera app will open up ready to shoot video this time, for instance.
Similarly, it can optionally use the same aspect ration, the same filters, and so on.
How to use the grid in iOS 14
The Camera app has long had a three-by-three grid overlay to help you compose a shot before you take it. Now, though, the option to switch that on or off is in a Composition section within Camera settings.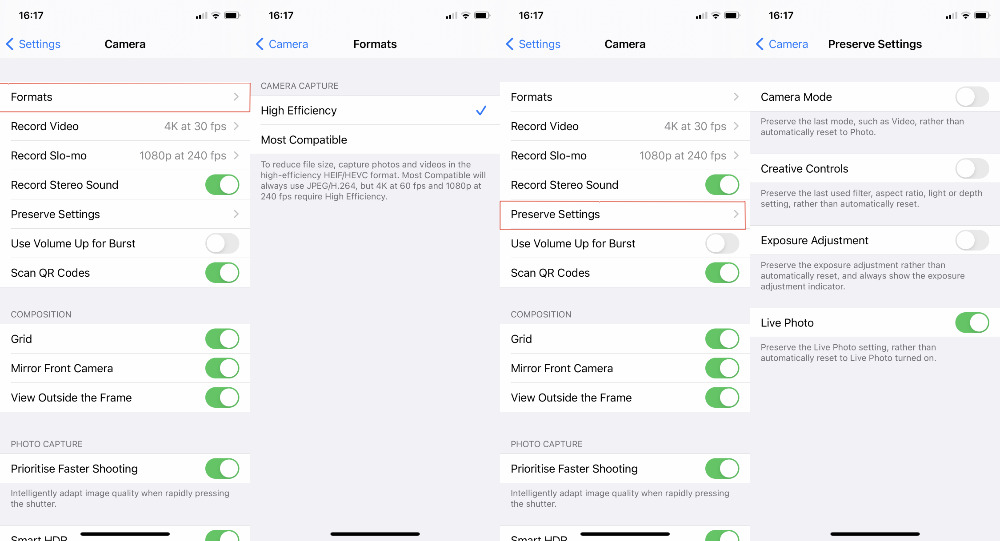 The new arrangement of Camera settings includes the ability to have it remember what you used last
It's joined by Mirror Front Camera which is either going to make you shrug or clap. With this switched on, selfies you take will appear like looking in a mirror — they will be reversed.
With the exception of the faster time to first shot, all of the iOS 14 camera updates are similar to Mirror Front Camera, in that they will be handy to some people, and of no interest to others. But they are all also each quicker to find, which means both that they're faster to use — and that more people will try them out.
Samsung regains top smartphone vendor spot as Xiaomi overtakes Apple – The Verge
Samsung is back on top as the world's biggest smartphone vendor one quarter after losing its spot to Huawei, according to reports from IDC, Counterpoint, and Canalys. The news comes just as Samsung posted its highest quarterly revenue figures ever, which the company said was helped by a boost in demand for smartphones.
Huawei became the number one vendor for the first time three months ago, benefiting from strong sales in China while much of the rest of the world was operating under constrained retail conditions due to the COVID-19 pandemic. But Huawei's shipments fell 7 percent quarter-on-quarter and 24 percent year-on-year, according to Counterpoint, while Samsung's shipments increased by 47 percent over the last quarter.
Xiaomi was able to regain the number three spot for the first time in several years, overtaking Apple for the first time with year-on-year growth of 46 percent. Apple's shipments fell 7 percent year-on-year in the July-September quarter, no doubt affected by the fact that its new iPhones this year slipped until October and November release dates.
The fifth, sixth, and seventh spots go to BBK brands Oppo, Vivo, and Realme. Counterpoint has Oppo at number five, while IDC and Canalys give that spot to Vivo, but all three firms agree the numbers are close. If the three independent brands' third-quarter shipments were combined, they would be closer to Samsung in first place than Huawei in second place.
MagSafe Wallet for iPhone 12 Now Available for Pickup at Select Apple Stores Internationally – MacRumors
Apple's new Leather Wallet with MagSafe for iPhone 12 models is available for pickup today or tomorrow at select Apple Stores in the United Kingdom, France, Germany, Italy, the Netherlands, Australia, Singapore, and Hong Kong. We've yet to see any pickup availability in the United States or Canada, but we'll update this story if that changes.
A few customers have started sharing photos of the Leather Wallet on Twitter after completing a pickup at an Apple Store today.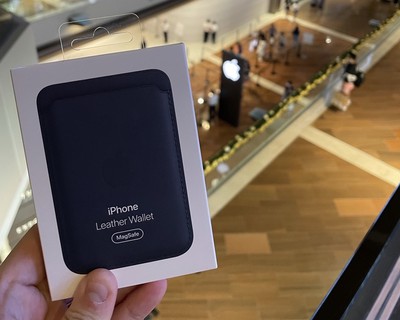 Photo shared by Leonard on Twitter
As noted by 9to5Mac, it also appears that some customers are beginning to see their online orders marked as shipped earlier than expected. Many of these customers are seeing an estimated delivery range of November 2-9.
Priced at $59 in the United States, the MagSafe Wallet is designed to magnetically attach to the back of iPhone 12 models, allowing customers to carry a few credit cards or IDs with their device. The wallet is designed with tanned European leather and is offered in four colors: Baltic Blue, California Poppy, Saddle Brown, and Black.
Apple Just Closed a Record Fiscal Year, Despite COVID-19 – Motley Fool
Even without any new iPhones, Apple (NASDAQ:AAPL) just reported a slew of records in its fiscal fourth-quarter earnings release yesterday. The iPhone 12 and 12 Pro were unveiled earlier this month, after the Mac maker had already closed the books on the quarter, but strength across other parts of the business helped partially offset the decline in iPhone revenue.
Here's everything you need to know about Apple's Q4 results.
Every non-iPhone segment crushed it
Revenue came in at $64.7 billion, a cool $1 billion ahead of the consensus estimate. That translated into net income of $12.7 billion, or $0.73 per share, topping the $0.70 per share in profits that Wall Street was expecting. Remember that Apple did a 4-for-1 split in August, which is why that EPS figure may look light.
As expected, iPhone revenue declined by over 20% to $26.4 billion as customers anxiously awaited the new models. The wholesale shift to remote work and learning has driven a broad boom in demand for laptops and tablets, which pushed Mac and iPad revenue to all-time records. Mac revenue was $9 billion while iPad revenue was $6.8 billion, despite the Cupertino tech giant facing supply constraints for virtually all major products, an imbalance that persists to this day and now includes the new iPhones.
Services revenue hit a new record at $14.5 billion, and that segment has now generated $54.8 billion in trailing-12-month (TTM) sales. In other words, Apple has handily beat the goal of doubling services revenue it laid out so many years ago. There are now 585 million paid subscriptions being billed through the company's various platforms, putting another goal set by CFO Luca Maestri earlier this year — hitting 600 million paid subscriptions by the end of 2020 — within easy reach.
As part of Apple's ongoing efforts to shift attention away from plateauing iPhone sales, it has been highlighting revenue growth excluding the iPhone in recent years. This figure has been accelerating quite well, hitting 25% last quarter.
The iPhone installed base has hit a new all-time high, although management did not disclose a specific figure. Independent analyst Neil Cybart recently estimated that iPhone users have reached 1 billion. Fiscal 2020 was a record year with revenue of $274.5 billion.
Giving cash back
Apple repurchased $18 billion worth of stock during the quarter, bringing full-year buybacks to an astounding $72.5 billion. Total cash was $191.8 billion, and factoring in $112.4 billion in debt brings net cash to $79.4 billion. Slowly but surely, the company continues to make progress on the "net cash neutral" goal that Maestri set back in early 2018.
The board has authorized a quarterly dividend of $0.205 per share, which will be payable to shareholders of record as of Nov. 9.
Looking ahead
Maestri stopped providing specific financial guidance earlier this year due to all of the ongoing macroeconomic uncertainty related to the pandemic but did offer some commentary. Of course, iPhone revenue will soar next quarter, even though the new iPhone 12 lineup is launching meaningfully later than in prior years due to coronavirus-related delays that have impacted the supply chain.
All other products and the services business are expected to grow by double-digit percentages. Gross margin should be roughly flat, as the seasonal operating leverage that Apple typically enjoys over the holidays is offset by the heightened costs that are normally associated with new product launches. Fortunately, foreign exchange headwinds have mitigated, so Maestri doesn't expect currency fluctuations to be a major issue.
CEO Tim Cook said Apple is working as hard as it can to overcome supply constraints. That will be critical to the company's execution in the weeks ahead, which will include the launch of iPhone 12 Mini, iPhone 12 Pro Max, and potentially even more products that have been rumored, like AirTags or an Arm-based Mac.