How Ukraine is winning the social media war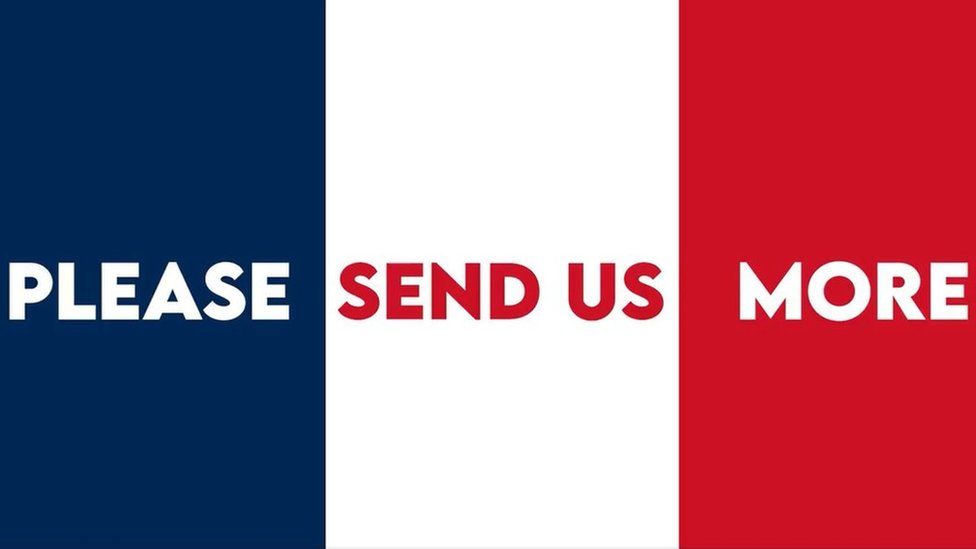 After almost eight months, the war in Ukraine hangs in the balance. Ukrainian counter-offensives continue to make progress, while Russian forces are still pressing elsewhere.
But on the internet, it's a very one-sided affair.
"This is a meme nation," says Olena, a Kyiv entrepreneur who manages teams of social media volunteers.
Olena is not her real name. Due to the sensitive nature of the work she and her teams carry out on behalf of Ukraine's defence ministry, she has asked to remain anonymous.
Her teams work round-the-clock, reacting within hours to news from around the country, producing punchy videos, often set to music, for the ministry's audiences at home and abroad.
Just as Ukraine's President Volodymyr Zelensky tailors speeches to foreign parliaments to take account of local history, culture and sensibility, so Olena's five-strong international team target their messages.
A June video thanking Britain for its military assistance featured the music of Gustav Holst and The Clash, with glimpses of Shakespeare, David Bowie, Lewis Hamilton and a montage of British-supplied anti-tank weapons in action.
Images of red roses, chocolates, the Paris skyline, followed by the guns in action, were set – perhaps inevitably – to the sound of Serge Gainsbourg and Jane Birkin's breathless Je T'aime Moi Non Plus.
With nods to a Macron-Zelensky bromance, it was suggestive and thoroughly tongue-in-cheek.
The tune? You guessed it: Abba's Money, Money, Money.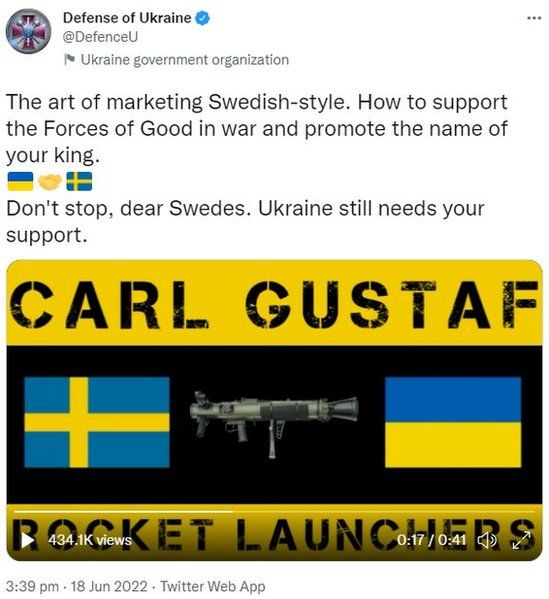 Thanks to the team's efforts, the defence ministry's Twitter feed now has 1.5m followers around the world. Some of the videos have been viewed more than a million times.
Their most successful video, released in August after several mysterious attacks on Russian targets in annexed Crimea, has racked up 2.2m views. It mocked Russians for going on holiday on the peninsula and was set to the Bananarama song Cruel Summer.
"The main idea is to speak to the international audience and show that Ukraine is actually capable of winning," she says. "Because nobody wants to invest in losers."
Targeting Russian audience
With a wealth of videos depicting Russian military setbacks being posted on social media platforms, the team is not short of material. But they've learned through trial and error what works and what doesn't.
"We started displaying dead Russian bodies," Olena says. "And then we realised that it actually didn't work. It only united them against us."
The team then tried to appeal to the consciences of Russian soldiers by showing images of dead Ukrainian civilians. Again, it seemed to fall on deaf ears.
"We realised they were actually proud of it. They were not condemning this at all," she says. "We realised that we have to do this in a much more sophisticated way."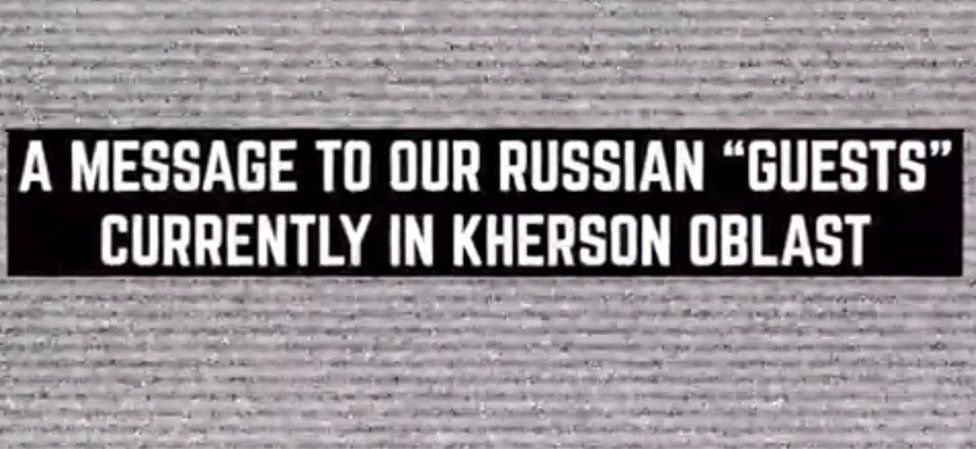 Now the volunteers scrutinise Russian social media platforms, looking to press buttons and probe weaknesses in specific parts of the country.
"If you do it in Saratov you have to know what's going on in Saratov," Olena says. "If you do it in Nizhny Novgorod, you have to know what's going on in Nizhny Novgorod."
It's extremely hard to gauge the impact this work is having, but Vladimir Putin's recent partial mobilisation has given the volunteers lots of material to work with.
"We were waiting for the mobilisation," Olena says. "We knew that it would be very demoralising for them."
The single richest seam of material is to be found on the messaging service Telegram. Olena calls it "the Wild Wild West".
The volunteers providing material for the defence ministry are just a small part of a vast, vibrant, fiercely patriotic and wildly irreverent community reacting to events on the ground, sometimes with amazing speed.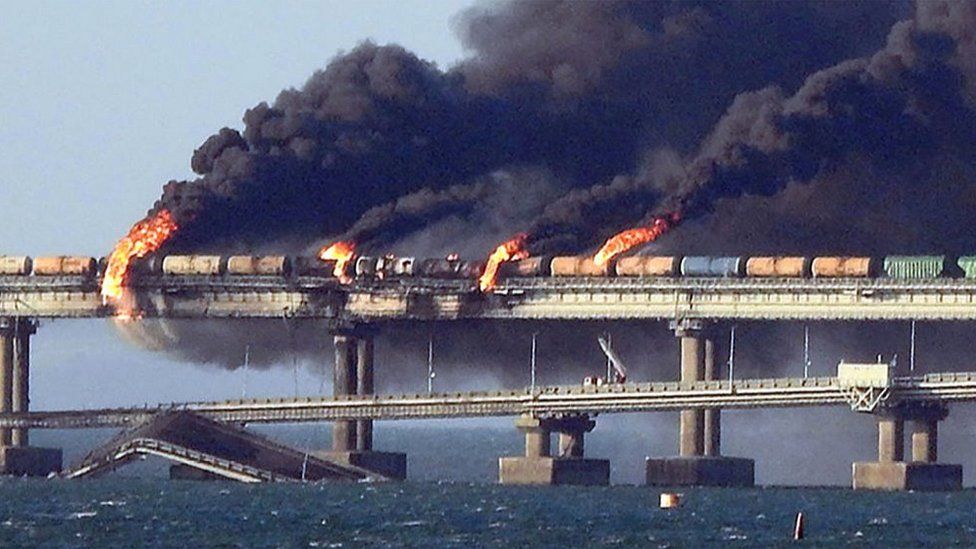 Scores of Telegram channels attract huge numbers of followers.
One, called "Ukrainian Offensive", has 96,485 followers. Its slogan is "fighting on the civil-meme frontlines of the information war since 2014."
It provides a diet of military updates, out-and-out trolling of Moscow and occasional digs at Western media coverage (including the BBC).
Like most other channels, it doesn't shy away from showing suffering, including footage of dead or dying Russian soldiers.
But the country didn't turn into a nation of digital ninjas overnight. Eight years of war in the eastern Donbas region has given people lots of time to hone their skills, from countering disinformation to circulating humorous content designed to boost morale.
The current social media environment, says Ihor Solovey, head of Ukraine's Centre for Strategic Communication and Information Security, reflects a rare convergence of official and popular sentiment.
"We're witnessing perhaps the first time in history when civil society trusts the state and is helping it," he told me.
"The armed forces do their own thing, while society is creating content, memes, creative works on their own. Because everyone feels responsible for their own future."
What, if anything, is Russia throwing back at Ukraine?
Strangely, given Russia's reputation for troll farms and shady scammers with alleged links to the Kremlin, the answer seems to be: not much.
Earlier this month, two well-known Russian pranksters did manage to con Ukraine's Foreign Minister Dmytro Kuleba into thinking he was talking to a former US ambassador to Moscow, Michael McFaul.
Excerpts were broadcast on Russian state media, in which Mr Kuleba appeared to admit that Ukraine was responsible for recent attacks in Crimea and Russia – although the prank was conducted before the 8 October Kerch Bridge explosion.
But if Russia does have a similarly inventive internet army, Olena says she has seen little sign of it.
"Russians haven't managed to come up with anything interesting," she says. "No humour, no beauty. Not even pain. No compassion."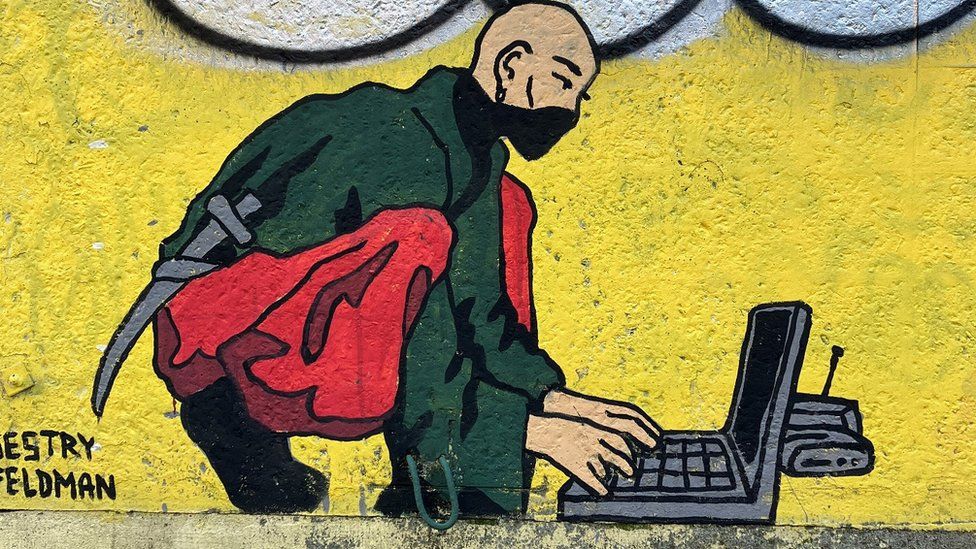 The media business is in turmoil — but its stocks may be close to bottoming – CNN
The media sector has had a tumultuous 2022, culminating in the shocking return of Bob Iger as CEO of Disney and a spate of layoffs at multiple companies. But there may be a few hopeful signs for normalization and stabilization in 2023.
Take Netflix

(NFLX). Wall Street, for what it's worth, seems to think the worst is over for the streaming leader after it finally decided to cave and launch an ad-supported service. The stock is still down about 50% this year, but it's no longer the biggest dog in the S&P 500 — and it's actually up more than 75% from its 52-week low earlier this year.
The movie business is stabilizing, too — even though many people are still staying away from theaters and studios aren't releasing as many blockbusters. But according to Box Office Mojo, the film industry has generated nearly $6.4 billion in ticket sales this year, led by Paramount's "Top Gun: Maverick."
While still a far cry from pre-pandemic levels, that's up 30% from 2021 — and this year is not done.
DisneyMarvel has also had a monster hit with the eagerly awaited "Black Panther: Wakanda Forever" sequel, which should churn out even more ticket sales over the next few weeks before the the end of this year. (Movie theater stocks are still languishing, however.)
The news is mixed for other struggling media titans. Shares of some companies have rebounded off their lows — like Disney

(DIS), Fox

(FOXA), CNN parent Warner Bros. Discovery, Paramount, Comcast

(CMCSA) and digital media device maker Roku

(ROKU).
Yet those stocks are all still sharply lower for the year. And what's more, many media companies are in the midst of layoffs and other cost-cutting measures, including CNN and its parent Warner Bros. Discovery.
CBS owner Paramount also just lowered its forecast for advertising sales in the fourth quarter. CEO Bob Bakish said at a UBS media conference earlier this week that the market remains "challenging," adding that this is the case for both traditional "linear" cable and broadcast TV as well as on the digital side of Paramount's business.
Streaming shifts and possible media mergers

Market watchers are increasingly questioning the willingness of consumers to pony up for more streaming services so they can watch movies and TV shows at home. Subscription fatigue is starting to set in, which is another factor hurting the likes of Netflix, Disney and others.
"Media is in a state of transition (linear legacy TV to streaming), which becomes more difficult when traditional revenue streams see pressure (advertising on weak macro and affiliate revenue on cord cutting), as will be the case next year," said Tony McCutcheon, an analyst with BNP Paribas Securities Corp., in a recent report.
Some analysts are hopeful the movie business rebound can offset some of the streaming weakness.
"The return of former CEO Bob Iger drives a return to creativity dominance, and the ongoing release of blockbuster content will continue to drive its flywheel of growth," said analysts at Tigress Research. "Content is king and [Disney] is the king of content."
Wall Street also is starting to speculate about another possible round of media mergers, given that weaker players may want to join forces to try and more effectively compete with Netflix and Disney.
UBS analysts pointed out in a report that Paramount believes industry consolidation is "inevitable."
The accuracy of that prediction remains to be seen. But Wall Street is certainly more bullish about the prospects for media stocks.
The consensus price target on NBC/Peacock owner Comcast, for example, is about 25% higher than current levels while analysts are predicting a 30% pop for Disney. Wall Street is predicting that Warner Bros. Discovery could nearly double.
So even though it feels like there's still more bad news to come, media stocks may have already hit the bottom.
Who should be teaching kids what not to do on social media? Coaches, teachers, parents
One of the most famous locker-room stories in modern sports happened in 2013 when NHL player Joe Thornton said – for all to hear – that if he ever scored four goals in a single game, he'd skate naked in front of everyone in the arena.
This description is the sanitized version and the comment was reported by the late-Vancouver sports reporter Jason Botchford – prompting a storm of criticism that the journalist had violated the sanctity of the locker room.
It was a very public example of how hockey players – and athletes in general – view their sacred den of privacy.
"What goes on in the locker room, stays in the locker room," as the saying goes.
This code has been used to boost team spirits, but it's also been co-opted to cover up abuse by pledging athletes to a code of silence, no matter how bad the behaviour.
Instantaneous technology – or particularly social media – is now disrupting the sports world's code of silence.
Hockey has been rocked by scandals, including Hockey Canada standing accused of not taking sexual assault accusations seriously enough.
Hockey Canada released a report Friday detailing more than 900 documented or alleged incidents of on-ice discrimination – verbal taunts, insults and intimidation – across all levels and age groups during the 2021-22 season. The organization said, however, the information in the report doesn't reflect off-ice incidents of maltreatment, sexual violence or abuse, which starting this season will be handled by the federal government's Office of the Sport Integrity Commissioner or a new independent third-party complaint process.
Social media has given victims and others a voice for demanding wide-scale changes.
NHL player Ian Cole was accused by a woman on Twitter of "grooming" – he was suspended and then reinstated after an NHL probe.
But it's not just incidents and allegations hitting the big leagues.
In West Kelowna, a minor hockey organization has been dealing with allegations of disturbing hazing and cyberbullying. Kelowna RCMP's Vulnerable Persons Section is now investigating a series of alleged incidents that include social media posts and group texts targeting a U15 player as part of a larger pattern of harassment.
In a different case, social media is at the centre of an egregious violation of locker-room privacy. Now the fate of a teenage hockey player is in the hands of a Ridge Meadows Minor Hockey Association disciplinary committee after inappropriate locker-room photos of undressed teammates were posted to social media.
Black Press Media has chosen not to identify the specific team to protect the identities of the youth involved.
According to a source that Black Press Media has also decided not to name, the photos were taken during an away game in October, by a player who was benched due to a prior game suspension. The images were shared in a Snapchat group chat.
Brad Scott, vice-president of administration with the local hockey association, did not dispute details when asked for comment by Black Press Media.
"What I can tell you is that we were made aware of a situation on the date that you're referring to, and we took the required steps to deal with it immediately," Scott said. The children involved and their famillies have decided not to pursue the matter further, and charges have not been approved at this time.
Scott added that the association does have protocols in place to prevent situations like this from happening. That association says it is looking to implement mandatory social media safety education and training program for parents and athletes alike.
This is just one example in what has become a prevalent number of incidents where children share inappropriate photos and videos on social media.
It begs the question of who – aside from parents – should be teaching children about social media and privacy ethics? Should coaches, club leaders and school teachers also be responsible for educating kids about this in a way that goes beyond simply saying that sharing inappropriate images is bad?
Children participate in so many different activities, from school to sports to the performing arts, and in all those spaces there is an expectation of privacy and good social conduct.
Not everyone who leads children is an expert in social media, but with some training and effort they can be part of the solution.
That's according to MediaSmarts, a non-profit group that has been contracted by provincial and federal departments to advise on digital literacy issues.
MediaSmarts director of education Matthew Johnson said in a phone interview that any organization that guides children, whether it's schools, performing arts group or sports teams, should be addressing privacy ethics.
"They absolutely should be teaching children about this," Johnson said. "We all have a responsibility to teach youth about privacy ethics."
Johnson says "everybody has a camera in their pocket" and the issue of how images are used must be addressed as a collective effort.
Sports teams are an interesting case, Johnson said, because of the "strong subculture" that develops within that team dynamic. Sometimes that subculture becomes more powerful than even what parents are telling them, Johnson said, with coaches sometimes carrying more weight than mom and dad.
Teams need to be vigilant in sharing a message of respecting others, he said, so they "don't fall prey to moral disengagement."
MediaSmarts research has looked at, for example, the issue of sexts sent between boys and girls. Boys are more likely to think it's acceptable to share the sexts with others, Johnson says.
Efforts need to be made with consistent messaging so this behaviour isn't normalized, he said. The key is letting boys know that their peers think it's wrong.
"If they think that their peers think it's wrong, then they're more likely not to do it," Johnson said.
But organizations need to do more than simply say something is wrong, Johnson said. MediaSmarts offers a variety of information and tools for people to use in teaching about digital literacy on a consistent basis and is a good place for organizations to start.
BC Hockey CEO Cameron Hope says his organization, which handles more than 60,000 minor and amateur hockey league players – including the Ridge Meadows Minor Hockey Association – has detailed policies and protocols in place for locker room privacy and the use of social media. For example, the use of phones in locker rooms is prohibited.
BC Hockey also has educational modules detailing appropriate conduct that have been created through a partnership with Sheldon Kennedy, a former-NHL player and survivor of sexual abuse by a coach, Hope said.
All of these policies and materials are then distributed to all the individual hockey associations, with age-appropriate instructions on how they are to be delivered to each player, Hope said.
Coaches are a vital part of delivering messages about their behaviour but, unfortunately, not every player listens, Hope said.
"The hope is that common sense prevails," but Hope adds that this isn't always the case.
BC Hockey receives dozens and dozens of complaints each year, according to Hope, ranging from kids calling each other nasty names to the sharing of inappropriate images.
To deal with these complaints, Hope said BC Hockey has a multi-level approach called a "maltreatment tracking system" that documents each case to ensure they are investigated and taken seriously. BC Hockey also formed a new committee just to monitor complaints as they progress through the system. This tracking system, said Hope, is being used for the Maple Ridge locker-room incident.
"You have to have an infrastructure in place so people feel comfortable (reporting incidents)," Hope said.
Ultimately, it's the local associations that investigate and communicate with parents, Hope said.
A source who contacted Black Press Media about the Maple Ridge incident was concerned the case was not being dealt with quickly enough.
The team's players were told right after the incident, and then there was a mandatory meeting for parents. But according to the source, only about half to three-quarters of the parents attended.
Parents have since been told, in a letter from the association to parents that was obtained by Black Press Media, that the parents of the children who were victimized didn't want to pursue the matter any further.
Students spend six to eight hours, fives days a week, at school – and when sleep is factored in that leaves young people in the hands of teachers more hours in a day than parents.
In 2013, B.C.'s education ministry launched the ERASE Student Advisory, which brings students together to help create social media guidelines for inside and outside of the classroom.
Such guidelines include students today being asked to sign media consent forms at the start of the school year. The guide also encourages teachers to address social media use in the classroom by outlining "their specific rules."
But does that place an unfair burden on teachers?
Not so, says BC Teachers' Federation president Clint Johnston, who told Black Press Media the union is supportive of teachers playing a major role in teaching privacy ethics.
In fact, the union has been working with the ministry on a draft section dealing with internet safety. That section will then upgrade a health education course to include issues such as catfishing and the sharing of inappropriate images online.
Students need more education on the legalities involved with sharing private information on social media, he said.
"That is a piece being put into place (for the future)," Johnston said. "We're certainly supportive of (this being taught). That's how you ensure every student receives it."
Then, other teachers add to that course by continuing conversations in all classrooms to reinforce the same information.
The efforts described above are all about prevention. Sadly, for some the damage done can lead to tragic ends.
Perhaps the most famous cyberbullying case in Canada ended with the death of Coquitlam's Amanda Todd after she was sextored by a man online. The man who tortured her was recently convicted in a B.C. court.
In 2013, 17-year-old Nova Scotia resident Rehtaeh Parsons, who was allegedly raped and then bullied over shared photos of the assault, also ended her own life.
Earlier this year, a Vancouver mom came forward to describe how her 12-year-old daughter received explicit images over Instagram, causing extreme emotional damage.
The list of incidents goes on and on.
In Canada, it is illegal for a person to distribute an intimate image of another person without that person's consent.
The Canadian Centre for Child Protection created Cybertip.ca to provide programs and resources to help prevent online child victimization, including information on the legal aspects of posting intimate images.
If someone has an intimate image/video that was created in private circumstances, and that person knowingly posts it online or shares it with someone else, knowing that those in the image would not consent to it, the person could be charged.
Items posted in private sites can easily be reposted elsewhere and are difficult to remove from the internet.
In the Maple Ridge incident, families were warned to delete the images of the undressed teammates, but it's unknown if that actually took place with every player on the team who received them – leaving the victims possibly vulnerable in the future.
– With additional reporting by Colleen Flanagan, Maple Ridge-Pitt Meadows News & Gary Barnes, Kelowna Capital News, and the Canadian Press
US Sides Against Google in Consequential Social Media Case
(Bloomberg) — The Biden administration told the US Supreme Court that social media companies in some cases can be held liable for promoting harmful speech, partially siding with a family seeking to sue Alphabet Inc.'s Google over a terrorist attack.
In a Supreme Court filing on Wednesday night, the Justice Department argued that social media websites should be held responsible for some of the ways their algorithms decide what content to put in front of users.
The case, likely to be argued early next year, revolves around the family of Nohemi Gonzalez, a 23-year-old US citizen who was killed by ISIS in Paris in November 2015. Her family is arguing that YouTube, which Google owns, violated the Anti-Terrorism Act because its algorithms recommended ISIS-related content.
The Justice Department did not outright side with Gonzalez. Instead, the government argued that the family should get another crack before a federal appeals court that tossed out the complaint against Google. The government said social media companies shouldn't be held liable simply for allowing content to be posted or for failing to remove it.
Read More: Social Media Company Liability Draws Supreme Court Scrutiny
The case could narrow the country's interpretation of Section 230 of the Communications Decency Act, the tech industry's prized liability shield that protects social media platforms from being held liable for content generated by users.
"The statute does not bar claims based on YouTube's alleged targeted recommendations of ISIS content," wrote acting US Solicitor General Brian Fletcher.
A coalition of 26 states and Washington, D.C. also filed on behalf of Gonzalez in the case, arguing that courts have encouraged an overly broad interpretation of Section 230. They claimed the statute currently holds them back from enforcing state laws when criminals operate online.
Congress has long debated whether to reform Section 230, which was originally passed in 1996 before the modern internet came to dominate everyday life. Lawmakers on both sides of the aisle have argued that the sweeping immunity has enabled the social media companies to make editorial decisions affecting billions of people without consequences. But Congress has struggled to create and pass bipartisan legislation on the issue, leaving the question of online speech to the courts.
Most of the Supreme Court justices have not made any public statements about their views on Section 230 – except Justice Clarence Thomas, who last year said the court should consider treating social media companies like public utilities. That would enable the government to create a much more aggressive regulatory regime around companies like Meta Platforms Inc., Twitter Inc. and YouTube.
The Google v. Gonzalez case has already attracted attention from some senators on Capitol Hill. Republican Senators Ted Cruz of Texas and Josh Hawley of Missouri submitted briefs in support of reforming Section 230, which has long faced the ire of conservatives hoping to punish the social media companies for allegedly censoring conservative content.
Google has argued that narrowing Section 230 could make it harder for them, and other social media platforms, to remove terrorist content.
"Through the years, YouTube has invested in technology, teams, and policies to identify and remove extremist content," said Google spokesman José Castañeda. "We regularly work with law enforcement, other platforms, and civil society to share intelligence and best practices. Undercutting Section 230 would make it harder, not easier, to combat harmful content — making the internet less safe and less helpful for all of us."
The Justice Department sided with Twitter and Google in a separate Supreme Court case involving social media this week. At issue in Twitter v. Mehier Taamneh is whether Twitter violated the Anti-Terrorism Act by failing to enforce policies against pro-terrorist content on its platform. Fletcher argued in a filing on Tuesday night that Taamneh's family had failed to prove that Twitter was intentionally "aiding and abetting" terrorism.
The cases are Gonzalez v. Google, 21-1333 and Twitter v. Taamneh, 21-1496.