India could be back as the world's fastest growing economy this year – CNN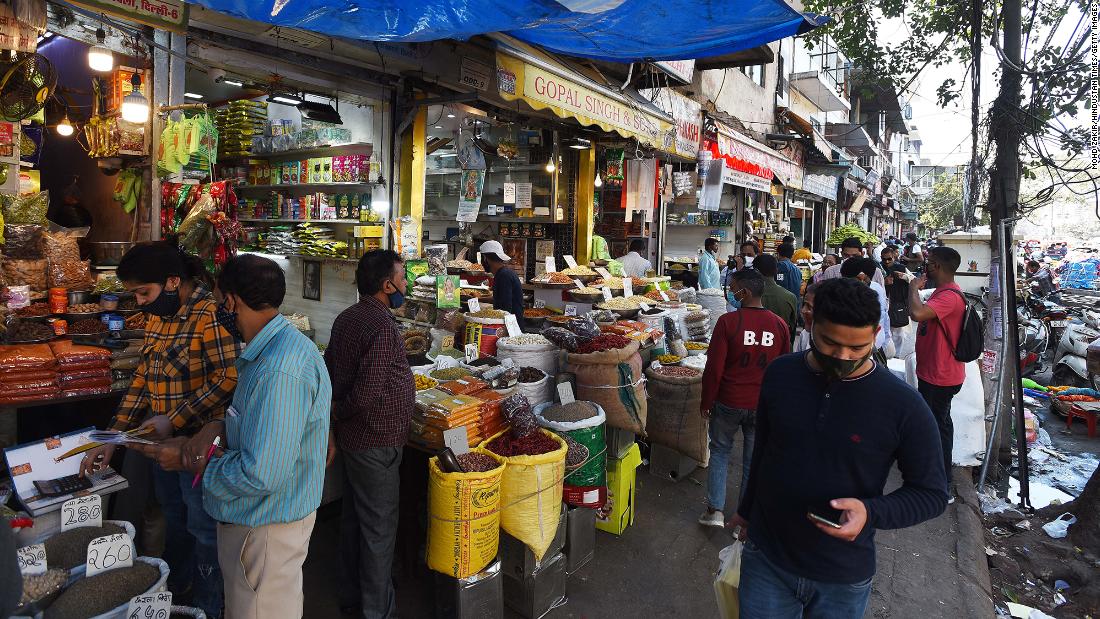 India's gross domestic product is projected to expand by 12.6% during the country's fiscal year starting in April, according to a forecast released Tuesday by the Organization for Economic Cooperation and Development.
If that level of growth is realized, it would allow India to reclaim its status as the
fastest growing major economy
— stealing the title back from China, which the OECD expects will deliver growth of 7.8% this calendar year after dodging a recession in 2020.
India's economy recorded a rise in gross domestic product of 0.4% in the
final three months of 2020
, ending its recession. For 2020 as a whole, the Indian economy contracted by about 7%.
The OECD also unveiled major upgrades to its global outlook on Tuesday, saying that "economic prospects have improved markedly in recent months" thanks to the deployment of coronavirus vaccines and additional stimulus announcements. The Paris-based agency also said there were signs that recent containment measures weren't hurting the economy as much as earlier efforts.
"This may reflect a more careful targeting of public health measures and income support," the group said, adding that businesses and consumers have adapted to the restrictions.
The OECD now expects the world economy to grow by 5.6% in 2021, up from an estimate of just 1.4% in December.
US could grow by 6.5%
The United States' economy is now expected to expand by 6.5% this year, a major improvement from a previous forecast of 3.3%. The agency pointed to the effects of "strong fiscal support" from President Joe Biden's $1.9 trillion stimulus package.
In Europe, where the vaccine rollout has been slow outside of the United Kingdom, the OECD predicts "a more gradual upturn." The 19 countries that use the euro are expected to see output expand by 3.9%. The UK economy, which suffered a
bigger hit than its European neighbors
in 2020, will grow by 5.1%.
But the outlook remains highly uncertain due to the pandemic. The OECD noted that vaccine campaigns are moving at different speeds around the world, and there's still the chance of new mutations that resist vaccines.
It also addressed the debate over inflation that's
rattled markets
. Investors have become increasingly concerned that a strong recovery could trigger a spike in prices later this year, forcing central banks to raise interest rates or taper bond purchases sooner than expected.
The OECD acknowledged that price pressures are building on some fronts.
"A faster-than-expected recovery in demand, especially from China, coupled with shortfalls in supply, has pushed up food and metals prices considerably, and oil prices have rebounded to their average level in 2019," it said.
But the agency emphasized that with economies and the job market still weak, central bankers should maintain loose monetary policies that have boosted the recovery even if inflation overshoots some targets.
"Transitory factors that push up headline inflation do not warrant changes in the policy stance," it said.
CANADA STOCKS – TSX ends flat at 19,228.03
* The Toronto Stock Exchange's TSX falls 0.00 percent to 19,228.03
* Leading the index were Corus Entertainment Inc <CJRb.TO​>, up 7.0%, Methanex Corp​, up 6.4%, and Canaccord Genuity Group Inc​, higher by 5.5%.
* Lagging shares were Denison Mines Corp​​, down 7.0%, Trillium Therapeutics Inc​, down 7.0%, and Nexgen Energy Ltd​, lower by 5.7%.
* On the TSX 93 issues rose and 128 fell as a 0.7-to-1 ratio favored decliners. There were 26 new highs and no new lows, with total volume of 183.7 million shares.
* The most heavily traded shares by volume were Toronto-dominion Bank, Nutrien Ltd and Organigram Holdings Inc.
* The TSX's energy group fell 1.61 points, or 1.4%, while the financials sector climbed 0.67 points, or 0.2%.
* West Texas Intermediate crude futures fell 0.44%, or $0.26, to $59.34 a barrel. Brent crude  fell 0.24%, or $0.15, to $63.05 [O/R]
* The TSX is up 10.3% for the year.
Canadian dollar outshines G10 peers, boosted by jobs surge
By Fergal Smith
TORONTO (Reuters) – The Canadian dollar advanced against its broadly stronger U.S. counterpart on Friday as data showing the economy added far more jobs than expected in March offset lower oil prices, with the loonie also gaining for the week.
Canada added 303,100 jobs in March, triple analyst expectations, driven by the recovery across sectors hit by shutdowns in December and January to curb the new coronavirus.
"The Canadian economy keeps beating expectations," said Michael Goshko, corporate risk manager at Western Union Business Solutions. "It seems like the economy is adapting to these closures and restrictions."
Stronger-than-expected economic growth could pull forward the timing of the first interest rate hike by the Bank of Canada, Goshko said.
The central bank has signaled that its benchmark rate will stay at a record low of 0.25% until 2023. It is due to update its economic forecasts on April 21, when some analysts expect it to cut bond purchases.
The Canadian dollar was trading 0.3% higher at 1.2530 to the greenback, or 79.81 U.S. cents, the biggest gain among G10 currencies. For the week, it was also up 0.3%.
Still, speculators have cut their bullish bets on the Canadian dollar to the lowest since December, data from the U.S. Commodity Futures Trading Commission showed. As of April 6, net long positions had fallen to 2,690 contracts from 6,518 in the prior week.
The price of oil, one of Canada's major exports, was pressured by rising supplies from major producers. U.S. crude prices settled 0.5% lower at $59.32 a barrel, while the U.S. dollar gained ground against a basket of major currencies, supported by higher U.S. Treasury yields.
Canadian government bond yields also climbed and the curve steepened, with the 10-year up 4.1 basis points at 1.502%.
(Reporting by Fergal Smith; Editing by Andrea Ricci)
Canadian dollar rebounds from one-week low ahead of jobs data
By Fergal Smith
TORONTO (Reuters) -The Canadian dollar strengthened against its U.S. counterpart on Thursday, recovering from a one-week low the day before, as the level of oil prices bolstered the medium-term outlook for the currency and ahead of domestic jobs data on Friday.
The Canadian dollar was trading 0.4% higher at 1.2560 to the greenback, or 79.62 U.S. cents. On Wednesday, it touched its weakest intraday level since March 31 at 1.2634.
"We have seen partial retracement from the decline over the last couple of days," said Greg Anderson, global head of foreign exchange strategy at BMO Capital Markets.
"With oil prices where they are – let's call WCS still at roughly $49 a barrel – I still think CAD has room to strengthen over the medium term and even over a one-week horizon."
Western Canadian Select (WCS), the heavy blend of oil that Canada produces, trades at a discount to the U.S. benchmark. U.S. crude futures settled 0.3% lower at $59.60 a barrel, but were up nearly 80% since last November.
The S&P 500 closed at a record high as Treasury yields fell following softer-than-anticipated labor market data, while the U.S. dollar fell to a two-week low against a basket of major currencies.
Canada's employment report for March, due on Friday, could offer clues on the Bank of Canada's policy outlook. The central bank has become more upbeat about prospects for economic growth, while some strategists expect it to cut bond purchases at its next interest rate announcement on April 21.
On a more cautious note for the economy, Ontario, Canada's most populous province, initiated a four-week stay-at-home order as it battles a third wave of the COVID-19 pandemic.
Canadian government bond yields were lower across a flatter curve in sympathy with U.S. Treasuries. The 10-year fell 3.3 basis points to 1.469%.
(Reporting by Fergal Smith;Editing by Alison Williams and Jonathan Oatis)