J-Talks Live kicks off season with Voices for Change: Media's Moment to Shine – Canada NewsWire
Nana aba Duncan, host of CBC Radio One's Podcast Playlist and

Ontario's

weekend morning show Fresh Air;

Karen K. Ho

, a global finance and economics reporter for

New York

-based Quartz, a digital business news publication; and

Angela Sterritt

, a journalist with CBC Vancouver and member of the Gitxsan Nation.
"There are so many layers to the conversation with these three standout journalists—from their views on what must change in newsroom culture and how, to ensure it is lasting, to a discussion on the prism through which news is defined and assigned, and followed through," says Anna Maria Tremonti, host of the J-Talks Live webcast series and the CBC podcast More. "Our panelists are bringing their professional and personal experience to the table as they discuss how this moment in time can and must be the catalyst for permanent change."
Nana aba Duncan is currently studying the experiences of racialized and women leaders in Canadian media as a William Southam Journalism Fellow at the University of Toronto's Massey College. Karen K. Ho, a former Delacorte Fellow at the Columbia Journalism Review, has contributed to publications including The New York Times, The Globe and Mail, Toronto Life and Time. Angela Sterritt has won numerous awards for her CBC column, Reconcile This, and is also currently a visiting professor at UBC's School of Journalism.
This free virtual event is part of the CJF's J-Talks program, which explores pressing journalistic issues.
The CJF thanks the generosity of J-Talks series sponsor BMO Financial Group and in-kind supporter Cision.
DATE: Thursday, September 24, 2020, 1 p.m. EDT
Register now
#JTalksLive
About The Canadian Journalism Foundation
Founded in 1990, The Canadian Journalism Foundation promotes, celebrates and facilitates excellence in journalism. The foundation runs a prestigious awards and fellowships program featuring an industry gala where news leaders, journalists and corporate Canada gather to celebrate outstanding journalistic achievement and the value of professional journalism. Through monthly J-Talks, a public speakers' series, the CJF facilitates dialogue among journalists, business people, academics and students about the role of the media in Canadian society and the ongoing challenges for media in the digital era. The foundation also fosters opportunities for journalism education, training and research.
SOURCE Canadian Journalism Foundation
For further information: Natalie Turvey, President and Executive Director, The Canadian Journalism Foundation, [email protected]
Related Links
Social media CEOs get earful on bias, warning of new limits – NewmarketToday.ca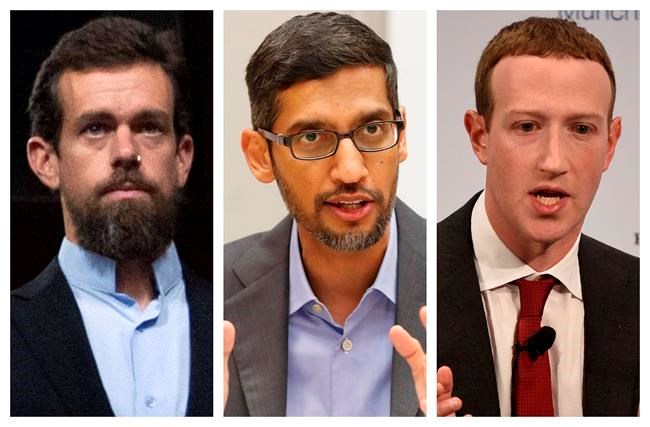 WASHINGTON — With next week's election looming, the CEOs of Twitter, Facebook and Google were scolded by Republicans at a Senate hearing Wednesday for alleged anti-conservative bias in the companies' social media platforms and received a warning of coming restrictions from Congress.
Lawmakers of both parties are assessing the companies' tremendous power to disseminate speech and ideas, and are looking to challenge their long-enjoyed bedrock legal protections for online speech.
The Trump administration, seizing on unfounded accusations of bias against conservative views, has asked Congress to strip some of the protections that have generally shielded the tech companies from legal responsibility for what people post on their platforms.
"The time has come for that free pass to end," said Sen. Roger Wicker, chairman of the Senate Commerce, Science and Transportation Committee. Wicker, R-Miss., said the laws governing online speech must be updated because "the openness and freedom of the internet are under attack."
He spoke at the opening of the hearing as Twitter CEO Jack Dorsey, Facebook's Mark Zuckerberg and Google's Sundar Pichai waited to testify via video.
Wicker cited the move this month by Facebook and Twitter to limit dissemination of an unverified political story from the conservative-leaning New York Post about Democratic presidential nominee Joe Biden. The story, which was not confirmed by other publications, cited unverified emails from Biden's son Hunter that were reportedly disclosed by Trump allies.
Republicans led by President Donald Trump have accused the social media platforms, without evidence, of deliberately suppressing conservative, religious and anti-abortion views.
In their prepared testimony, Dorsey, Zuckerberg and Pichai addressed the proposals for changes to a provision of a 1996 law that has served as the foundation for unfettered speech on the internet. Critics in both parties say that immunity under Section 230 enables the social media companies to abdicate their responsibility to impartially moderate content.
Zuckerberg acknowledged that Congress "should update the law to make sure it's working as intended."
Dorsey and Pichai urged caution in making any changes. "Undermining Section 230 will result in far more removal of online speech and impose severe limitations on our collective ability to address harmful content and protect people online," Dorsey said.
Pichai appealed to lawmakers "to be very thoughtful about any changes to Section 230 and to be very aware of the consequences those changes might have on businesses and consumers."
The session lacked the in-person drama of star-witness proceedings before the coronavirus. The hearing room was nearly empty except for Wicker and a few colleagues, but their questioning was sharp as tempers flared among members.
"Twitter's conduct has by far been the most egregious," Sen. Ted Cruz, R-Texas, told Dorsey. Cruz cited Twitter's limitations on the newspaper story as part of "a pattern of censorship and silencing Americans with whom Twitter disagrees."
Sen. Brian Schatz, D-Hawaii, went after Republicans, saying the hearing was a "sham."
"This is bullying," Schatz told the CEOs. "Do not let U.S. senators bully you into carrying the water" for politicians seeking to discredit their opponents. With their questions, Schatz said, the Republicans "are trying to bully the heads of private companies into making a hit job" on political leaders
Trump earlier this year signed an executive order challenging the protections from lawsuits under the 1996 telecommunications law.
Assistant Attorney General Stephen Boyd told congressional leaders in a letter Tuesday that recent events have made the changes more urgent, and said the restrictions by Twitter and Facebook related to the newspaper story was "quite concerning."
Ajit Pai, chairman of the Federal Communications Commission, an independent agency, recently announced plans to reexamine the legal protections — an about-face from the agency's previous position.
Social media giants are also under heavy scrutiny for their efforts to police misinformation about the election. Twitter and Facebook have imposed a misinformation label on content from the president, who has about 80 million followers. Trump has raised the baseless prospect of mass fraud in the vote-by-mail process.
Starting Tuesday, Facebook didn't accept any new political advertising. Previously booked political ads will be able to run until the polls close Nov. 3, when all political advertising will temporarily be banned. Google, which owns YouTube, also is halting political ads after the polls close. Twitter banned all political ads last year.
Democrats have focused their criticism of social media mainly on hate speech, misinformation and other content that can incite violence or keep people from voting. They have criticized the tech CEOs for failing to police content, homing in on the platforms' role in hate crimes and the rise of white nationalism in the U.S.
Facebook, Twitter and YouTube have scrambled to stem the tide of material that incites violence and spreads lies and baseless conspiracy theories.
The companies reject accusations of bias but have wrestled with how strongly they should intervene. They have often gone out of their way not to appear biased against conservative views — a posture that some say effectively tilts them toward those viewpoints. The effort has been especially strained for Facebook, which was caught off guard in 2016, when it was used as a conduit by Russian agents to spread misinformation benefiting Trump's presidential campaign.
___
Follow Gordon at https://twitter.com/mgordonap.
Marcy Gordon, The Associated Press
Media Advisory – Commissioner of Official Languages presents his report on the impact of emergency situations on official languages – Canada NewsWire
GATINEAU, QC, Oct. 28, 2020 /CNW/ – Commissioner of Official Languages Raymond Théberge will be presenting his report, A Matter of Respect and Safety: The Impact of Emergency Situations on Official Languages during a virtual press conference on Thursday, October 29.
The report highlights several alarming findings, such as:
serious shortcomings in federal institutions' processes and structures that are creating major challenges in communicating promptly, simultaneously and equally in both official languages;
the absence of a comprehensive formal communications approach that explicitly explains what measures federal institutions need to take to meet their official languages obligations.
Date: October 29, 2020
Time: 10:30 a.m. – 11:30 a.m.
Link to connect to the virtual press conference:
https://zoom.us/j/95752423286
The Commissioner will be available to discuss with journalists the content of his report. If you wish to speak with the Commissioner following the press conference, please send your request to [email protected].
Follow us on Twitter and on Facebook
SOURCE Office of the Commissioner of Official Languages
For further information: Media Relations, Office of the Commissioner of Official Languages, [email protected]
Related Links
Social media CEOs get earful on bias, warning of new limits – Yahoo Canada Finance
GlobeNewswire
Company's Phoenix manufacturing facility recognized for excellence and innovation Mercury Systems' Phoenix Advanced Manufacturing Center Mercury Systems' Phoenix Advanced Manufacturing CenterANDOVER, Mass., Oct. 28, 2020 (GLOBE NEWSWIRE) — Mercury Systems Inc. (NASDAQ: MRCY, www.mrcy.com), a leader in trusted, secure mission-critical technologies for aerospace and defense, announced it received the "Medium Manufacturer of the Year" award from the Arizona Manufacturers Council (AMC) during the 2020 Arizona Manufacturing Summit and awards ceremony held virtually on Friday, Oct. 23. Mercury's Phoenix, Ariz., manufacturing facility received the award for its accomplishments in championing innovation, excellence, sustainability and leadership, and serving as a role model in the manufacturing sector. The event, co-hosted by the AMC and the Arizona Chamber of Commerce and Industry, drew attendance from both local and national business leaders and elected officials, including notable guest speakers Department of Labor Secretary Eugene Scalia and U.S. Chamber of Commerce Senior Vice President of Strategic Alliances, Rick Wade."This year's event was not only about recognizing the billions of dollars in revenues manufacturers brought to the state but their efforts during the pandemic," said Mark Gaspers, AMC chairman. "We want to celebrate their innovation amidst our current challenges and their contributions to the state.""We're honored to receive this award for our Phoenix manufacturing facility, even more so because it recognizes what Mercury has been able to accomplish throughout the COVID-19 pandemic," said Tom Smelker, vice president and general manager, Mercury Microsystems. "Mercury is committed to investing in our people, our processes, our technologies and our trusted domestic manufacturing capabilities to support the continued growth of our business and to deliver trusted and secure solutions to the A&D industry."To fulfill this commitment, late last year, Mercury announced a strategic investment in its custom microelectronics capabilities in support of the DoD's mandate for trusted microelectronics. The Company's RFS1080 RF system in package (SiP) solution announced in September is the first commercially-available output of that investment, delivering high-speed RF processing in a compact, rugged package as well as providing customers with a trusted supply of highly integrated processing modules.Smelker added that the award underscores these recent efforts and acknowledged the opportune timing for the honor as it comes on the heels of Mercury CEO Mark Aslett's ranking as the 1 CEO by Glassdoor for his leadership during the pandemic.All of Mercury's advanced digital microelectronic solutions are designed and manufactured in Defense Microelectronics Activity (DMEA)-accredited facilities for design, packaging, test and broker services. Several Mercury facilities have also received a Superior rating from the Defense Counterintelligence and Security Agency (DCSA).Operating at the intersection of high tech and defense, Mercury Systems is a leader in making trusted, secure mission-critical technologies profoundly more accessible, inspired by their Purpose of delivering Innovation That Matters by and for People Who Matter, to make the world a safer, more secure place for all. For more information, visit mrcy.com or contact Mercury at (866) 627-6951 or info@mrcy.com.Mercury Systems – Innovation That Matters® Mercury Systems is a leading technology company serving the aerospace and defense industry, positioned at the intersection of high-tech and defense. Headquartered in Andover, Mass., the Company delivers solutions that power a broad range of aerospace and defense programs, optimized for mission success in some of the most challenging and demanding environments. The Company envisions, creates and delivers innovative technology solutions purpose-built to meet customers' most-pressing high-tech needs, including those specific to the defense community. To learn more, visit mrcy.com, or follow us on Twitter.Forward-Looking Safe Harbor StatementThis press release contains certain forward-looking statements, as that term is defined in the Private Securities Litigation Reform Act of 1995, including those relating to the acquisitions described herein and to fiscal 2021 business performance and beyond and the Company's plans for growth and improvement in profitability and cash flow. You can identify these statements by the use of the words "may," "will," "could," "should," "would," "plans," "expects," "anticipates," "continue," "estimate," "project," "intend," "likely," "forecast," "probable," "potential," and similar expressions. These forward-looking statements involve risks and uncertainties that could cause actual results to differ materially from those projected or anticipated. Such risks and uncertainties include, but are not limited to, continued funding of defense programs, the timing and amounts of such funding, general economic and business conditions, including unforeseen weakness in the Company's markets, effects of epidemics and pandemics such as COVID, effects of any U.S. federal government shutdown or extended continuing resolution, effects of continued geopolitical unrest and regional conflicts, competition, changes in technology and methods of marketing, delays in completing engineering and manufacturing programs, changes in customer order patterns, changes in product mix, continued success in technological advances and delivering technological innovations, changes in, or in the U.S. Government's interpretation of, federal export control or procurement rules and regulations, market acceptance of the Company's products, shortages in components, production delays or unanticipated expenses due to performance quality issues with outsourced components, inability to fully realize the expected benefits from acquisitions and restructurings, or delays in realizing such benefits, challenges in integrating acquired businesses and achieving anticipated synergies, increases in interest rates, changes to industrial security and cyber-security regulations and requirements, changes in tax rates or tax regulations, changes to interest rate swaps or other cash flow hedging arrangements, changes to generally accepted accounting principles, difficulties in retaining key employees and customers, unanticipated costs under fixed-price service and system integration engagements, and various other factors beyond our control. These risks and uncertainties also include such additional risk factors as are discussed in the Company's filings with the U.S. Securities and Exchange Commission, including its Annual Report on Form 10-K for the fiscal year ended Jul. 3, 2020. The Company cautions readers not to place undue reliance upon any such forward-looking statements, which speak only as of the date made. The Company undertakes no obligation to update any forward-looking statement to reflect events or circumstances after the date on which such statement is made.Contact: Robert McGrail, Director of Corporate Communications Mercury Systems, Inc. +1 978-967-1366 / rmcgrail@mrcy.comMercury Systems and Innovation That Matters are registered trademarks of Mercury Systems, Inc. Other product and company names mentioned may be trademarks and/or registered trademarks of their respective holders.A photo accompanying this announcement is available at https://www.globenewswire.com/NewsRoom/AttachmentNg/261de736-b99e-4494-827e-25e2db4afba6