Lagging US, Europe speeds up help for virus-hit economy – Yahoo Canada Finance
FRANKFURT — The European Central Bank said it would step up its bond-purchase stimulus to support an economy whose recovery is expected to lag a year behind the rebound in the U.S., held back by slow vaccine rollouts and less relief spending by governments.
The central bank for the 19 countries that use the euro said Thursday that over the next quarter the purchases would be conducted "at a significantly higher pace than during the first months of the year."
The move is aimed at preventing a premature rise in borrowing costs while businesses are still struggling with coronavirus restrictions like curfews and shutdowns. Yields on long-term government bonds have risen by about 0.3% since the start of the year in the eurozone. That is not much, and rates remain low. But economists say it is too early for the eurozone to withstand higher rates, usually associated with recovering growth and inflation.
The rise in longer-term borrowing rates is regarded as a spillover from the U.S., where the economic recovery is expected to be faster. The eurozone is still in a double-dip recession and is seen by economists as not ready for rising rates. Output shrank 0.6% in the last three months of 2020 and probably declined again in the first quarter of this year, say economists.
China was the only major economy to grow last year, and the U.S. is expected to reach pre-pandemic levels of output by the middle of this year.
By contrast, the eurozone economy is not expected to recover until mid-2022, held back by a slow vaccine rollout and lower levels of government relief spending compared with the U.S. The U.S. Congress on Wednesday approved a wide-ranging $1.9 trillion relief package pushed by new President Joe Biden, coming on top of previous relief legislation under predecessor Donald Trump.
ECB President Christine Lagarde told a news conference that the rise in market borrowing rates, "if left unchecked, could translate into a premature tightening of financial conditions for all sectors of the economy. This is undesirable."
Lagarde urged European leaders to promptly implement the European Union's 750 billion-euro recovery fund which is aimed at supporting government spending over the next several years. She said that the "massive" $1.9 trillion relief package passed Wednesday in the U.S., a key trade partner, would boost demand from outside the eurozone.
The bond purchases have the effect of pushing down bond yields, which are used as benchmarks for borrowing across the region. So the ECB's move would in theory help keep credit cheap for companies who need to invest or borrow to get through the pandemic. Businesses are reeling from the economic impact of government restrictions on public life.
Lagarde didn't specify an amount for the accelerated bond purchases. The ECB bought 59.9 billion euros worth of bonds in February and 53 billion euros in January. The purchases ran as high as 120 billion in June 2020.
The purchases will come out of the total of 1.85 trillion-euro set aside for the program; almost 1 trillion euros of that has yet to be used. The ECB says it will continue the purchases until at least the end of March 2022, and in any case until it judges that the pandemic crisis phase is over.
The ECB's decision to step up its stimulus caused an immediate reaction in financial markets, with bond yields sliding and stock markets rising in Europe.
The ECB is the monetary authority for the 19 of 27 European Union member countries that have joined the common currency. It plays a role analogous to that of the U.S. Federal Reserve, the Bank of Japan or the Bank of England in the U.K. It can steer market interest rates in ways best for the economy, using short-term benchmarks such as its weekly lending to bank or intervening in the bond market to affect longer-term rates.
David McHugh, The Associated Press
Nobody seems to know what's going on with the economy – CNN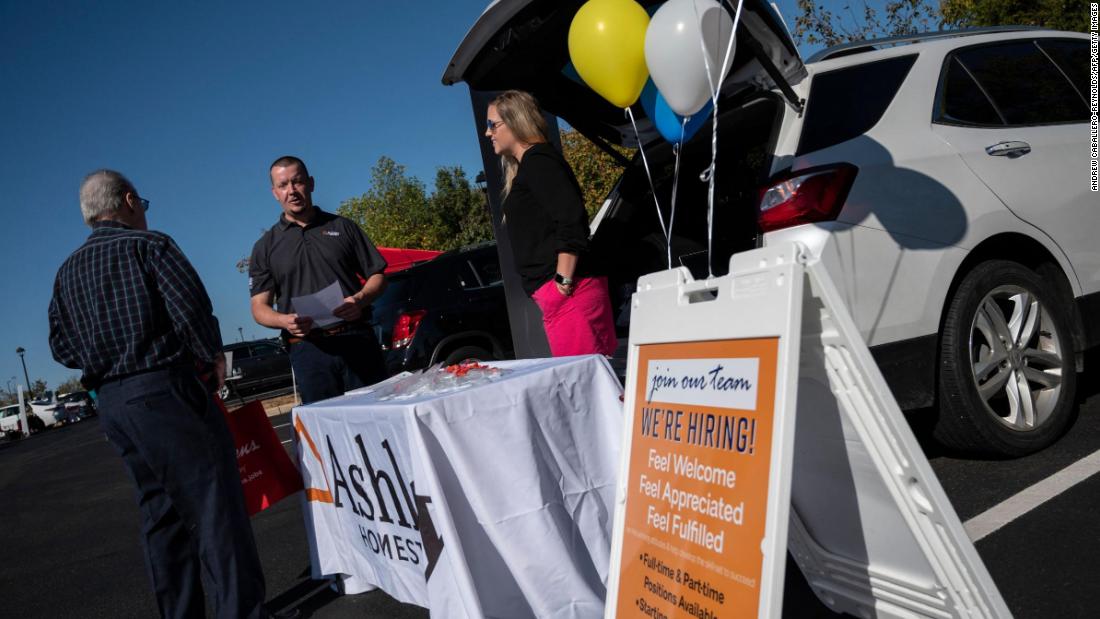 The economy is on the road to recovery from the coronavirus pandemic, reeling from inflation or a source of disappointment on jobs creation, depending on who you're talking to.
It's probably all three, and what happens from month to month seems to be something of a surprise. That element of unpredictability might be the most normal possible thing given the shock of the pandemic — the extraordinary government intervention to save the economy is unlike anything anybody alive today has ever seen.
It's hard to decide how important any single thing is.
Omicron Variant May Be Good For Economy – Forbes
The omicron variant of Covid-19 has sparked great fear. With time, we may find the fear to have been justified, but we may find the opposite: that this is good news for the economy.
It's still early days for our knowledge of omicron. Waiting to learn more seems to make sense, but consider this: Business decisions are being made every day. Any person who waits for perfect certainty—about the economy, technology or Covid-19—will never make a single decision. In many areas decisions have to be made this week. So it's worthwhile to consider how omicron may be good for the economy.
Omicron seems to be displacing the delta variant in South Africa. Ted Wenseleers showed that delta's share of total Covid-19 cases in South Africa has plummeted while omicron has surged. Because the early indications show that omicron was highly transmissible, it could well displace the delta variant around the world.
So far omicron has triggered a surge in infections in South Africa, but not a comparable increase in deaths. There's good reason for the virus to mutate to be less dangerous. Bugs that kill their hosts don't replicate as much as bugs that allow their hosts to remain alive. Many viruses in the past have evolved to be milder. We cannot take this idea too far, however.
The omicron virus may have mutated so that it has greater ability to infect those who already had been exposed to earlier variants. That's no surprise to South African scientists, who have observed a very high past infection rate in their population. The virus could not get ahead by finding people never exposed to any version of Covid-19, so it found a way to infect the previously ill, this theory goes.
BioNTech CEO Ugur Sahin said recently that current vaccines probably help protect against severe illness from the omicron variant, and that new vaccines are under development that would be more targeted against omicron. Given the speed with which our vaccines were developed, we may have new versions being tested in the lab right now. The question will be how long we have to wait for regulatory approval.
From an economic forecasting viewpoint, business leaders should consider the upside potential of omicron. Although it is way too early to be sure, we may find that the disease becomes dominated by a less dangerous mutation. Illness would continue if this happens, but with fewer deaths and hospitalizations. People would come to feel more comfortable dining out, traveling and seeking routine non-Covid healthcare tests and procedures. The rosy view is far from certain, but current evidence is not more pessimistic.
Companies that that are especially sensitive to the Covid pandemic should try to delay big decisions. We'll have better information in the coming weeks. But decisions that cannot be delayed should probably consider the possibility of a stronger economy rather than greater Covid problems.
Can the global economy battle through another COVID-19 setback? – Aljazeera.com
Video Duration 26 minutes 00 seconds 26:00
From:
Counting the Cost
A new coronavirus variant has forced governments to impose travel bans just as economies were starting to recover.
Last week, after scientists in South Africa identified a new coronavirus variant, borders were suddenly closed off to passenger travel from Southern African countries, oil prices fell more than 10 percent, and stock markets took a hit.
Markets and economies are expected to face weeks of uncertainty as investors closely watch for updates on Omicron. What comes next largely depends on what scientists discover and how quickly they do so.
Also, green hydrogen has been hailed as the energy of the future; can it help decarbonise economies?