WATCH: Ontario ready to step up vaccine delivery in pharmacies and mass vaccine sites – Sudbury.com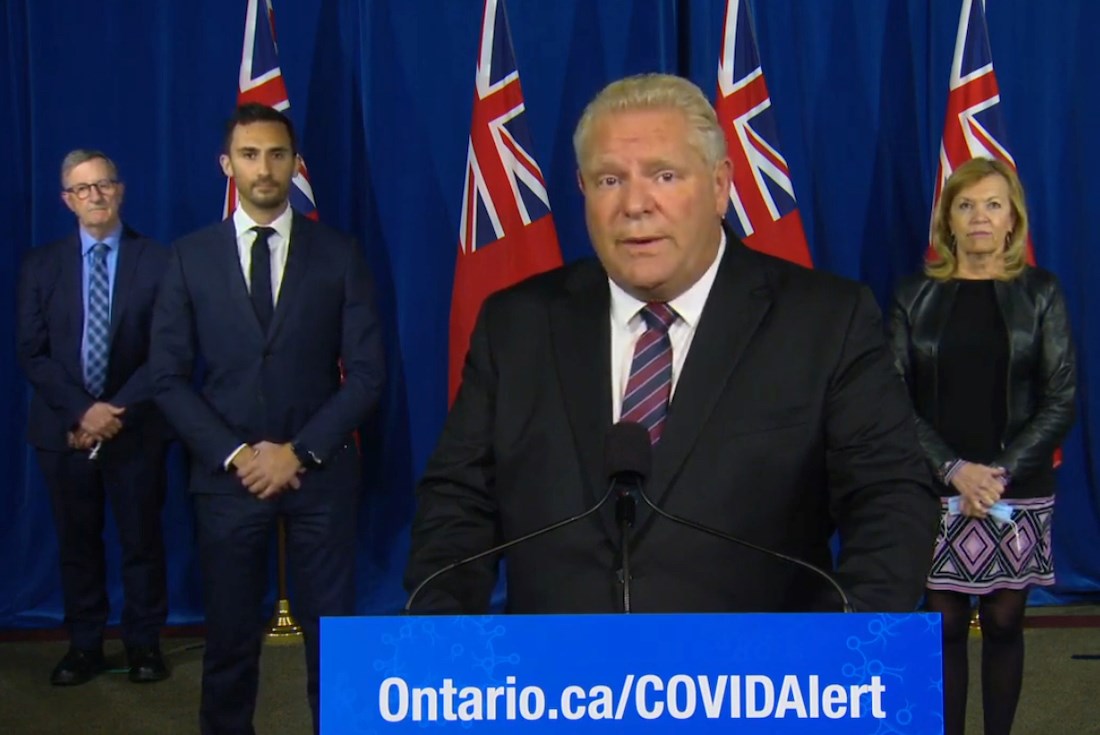 With Ontario hitting the one-million mark for COVID-19 vaccinations today, the province said plans are in the works to step up the vaccine rollout plan across the province by getting pharmacies and physicians involved.
The details were outlined in a live teleconference Wednesday afternoon from the Toronto Congress Centre vaccination venue with Premier Doug Ford, health minister Christine Elliott and retired general Rick Hillier, who is in charge of the Ontario COVID-19 vaccination task force.
Ford said the Toronto vaccination clinic is just one example of more than 120 mass vaccination venues that will be open across Ontario before the end of March.
He said it would allow Ontario "the capacity to deliver up to 150,000 doses a day" dependent on supply from the federal government.
"This is an absolute game changer," said Ford. He added that on Tuesday, Ontario received 194,500 doses of the AstraZeneca/COVISHIELD vaccine.
He said in order to deliver the vaccines as quickly as possible, more players on the rollout team are stepping up.
"As of Friday over 325 pharmacies will begin offering the AstraZeneca vaccine to Ontarians, between the ages of 60 and 64," said Ford.
He said the program will begin in three Southern Ontario public health unit areas, which includes Toronto, the Windsor and Essex areas and the Kingston, Frontenac, Lennox and Addington areas.
Ford said there is an Ontario vaccine pharmacy search website for finding pharmacies that are participating. Currently there are no pharmacies listed for Northern Ontario.
Also beginning this coming weekend are a series of primary care locations, such as doctors' offices, where vaccines will be offered to patients aged 60 to 64. This takes place in Southern Ontario. Only the AstraZeneca vaccine will be provided.
Ford said the vaccine program keeps improving and he asked Ontario residents to please be patient.
Task force chair Rick Hillier said the other big development is the creation of an online appointment system.
"On Monday of next week our customer service desk and the online booking system will go live," said Hillier. He added that every other live vaccine booking system in Canada, and elsewhere in the world, has had problems.
Hillier said he expects some problems might creep up with the new Ontario system, but he too asked for patience.
"I ask all of you to give us a chance to roll that out," said Hillier. He added that it was vital that anyone not in line for a vaccine to stay away from the online web page and not to telephone the call centre.
"If you're not 80 years old on Monday or if you're not representing somebody who is 80 years old or older, please do not call the customer service desk, do not go online to check what is there and if you're in the media, stay off those sites," Hillier said.
He said it is important to let the right people have the chance to get through to book their appointments.
Hillier said Ontario is stepping up the rollout program owing to the fact that more vaccine choices are available and greater numbers are being delivered to Ontario.
On Friday, March 5, Health Canada also approved the Janssen (Johnson & Johnson) COVID-19 vaccine for use in adults 18 years of age and over, said the Ministry of Health news release.
It said more information on Ontario's distribution of this single-dose vaccine will be released shortly, pending guidance from the National Advisory Committee on Immunization (NACI) and more information from the federal government about provincial allocations.
Also, for the month of March, Ontario is expecting to receive 1,454,310 doses of the Pfizer-BioNTech vaccine and 483,700 doses of the Moderna vaccine. The release said Ontario residents who are 80 and older and do not live in a congregate care setting, should be able to book a vaccine appointment through your public health unit.
Public Health Sudbury and Districts (PHSD) has more information on vaccines on a dedicated webpage as well as on a FAQ (Frequently Asked Questions) page.
PHSD also has a site where residents can register for vaccines. PHSD said "once you pre-register, you will be contacted to book an appointment when vaccine becomes available. Due to high demand and limited supply, pre-registering does not mean you will get an appointment immediately."
Len Gillis is a Local Journalism Initiative reporter at Sudbury.com, covering health care in Northern Ontario. The Local Journalism Initiative is funded by the federal government.
CANADA STOCKS – TSX falls 0.14% to 19,201.28
* The Toronto Stock Exchange's TSX falls 0.14 percent to 19,201.28
* Leading the index were Stantec Inc <STN.TO​>, up 3.4%, Imperial Oil Ltd​, up 3.3%, and Corus Entertainment Inc​, higher by 2.9%.
* Lagging shares were Aphria Inc​​, down 14.2%, Village Farms International Inc​, down 9.9%, and Aurora Cannabis Inc​, lower by 9.4%.
* On the TSX 91 issues rose and 134 fell as a 0.7-to-1 ratio favored decliners. There were 24 new highs and no new lows, with total volume of 228.0 million shares.
* The most heavily traded shares by volume were Toronto-dominion Bank, Royal Bank Of Canada and Suncor Energy Inc.
* The TSX's energy group fell 0.32 points, or 0.3%, while the financials sector climbed 2.46 points, or 0.7%.
* West Texas Intermediate crude futures rose 0.52%, or $0.31, to $59.63 a barrel. Brent crude  rose 0.4%, or $0.25, to $63.2 [O/R]
* The TSX is up 10.1% for the year.
Air Canada signs C$5.9 billion government aid package, agrees to buy Airbus, Boeing jets
By David Ljunggren and Allison Lampert
OTTAWA/MONTREAL (Reuters) -Air Canada, struggling with a collapse in traffic due to the COVID-19 pandemic, reached a deal on Monday on a long-awaited aid package with the federal government that would allow it to access up to C$5.9 billion ($4.69 billion) in funds.
The agreement – the largest individual coronavirus-related loan that Ottawa has arranged with a company – was announced after the airline industry criticized Prime Minister Justin Trudeau's Liberal government for dawdling. The United States and France acted much more quickly to help major carriers.
Canada's largest carrier, which last year cut over half its workforce, or 20,000 jobs, and other airlines have been negotiating with the government for months on a coronavirus aid package.
In February, Air Canada reported a net loss for 2020 of C$4.65 billion, compared with a 2019 profit of C$1.48 billion.
As part of the deal, Air Canada agreed to ban share buybacks and dividends, cap annual compensation for senior executives at C$1 million a year and preserve jobs at the current level, which is 14,859.
It will also proceed with planned purchases of 33 Airbus SE 220 airliners and 40 Boeing Co 737 MAX airliners.
Chris Murray, managing director, equity research at ATB Capital Markets, said the deal took into account the "specific needs of Air Canada in the short and medium term without being overly onerous."
He added: "It gives them some flexibility in drawing down additional liquidity as needed."
Transport Minister Omar Alghabra said the government was still in negotiations with other airlines about possible aid.
Canada, the world's second-largest nation by area, depends heavily on civil aviation to keep remote communities connected.
Opposition politicians fretted that further delays in announcing aid could result in permanent damage to the country.
Air Canada said it would resume services on nearly all of the routes it had suspended because of COVID-19.
'SIGNIFICANT LAYER OF INSURANCE'
The deal removes a potential political challenge for the Liberals, who insiders say are set to trigger an election later this year.
The government has agreed to buy C$500 million worth of shares in the airline, at C$23.1793 each, or a 14.2% discount to Monday's close, a roughly 6% stake.
"Maintaining a competitive airline sector and good jobs is crucially important," Finance Minister Chrystia Freeland told reporters, adding the equity stake would allow taxpayers to benefit when the airline's fortunes recovered.
The Canadian government previously approved similar loans for four other companies worth up to C$1.billion, including up to C$375 million to low-cost airline Sunwing Vacations Inc. The government has paid out C$73.47 billion under its wage subsidy program and C$46.11 billion in loans to hard-hit small businesses.
Michael Rousseau, Air Canada's president and chief executive officer, said the liquidity "provides a significant layer of insurance for Air Canada."
Jerry Dias, head of the Unifor private-sector union, described the announcement as "a good deal for everybody."
Unifor represents more than 16,000 members working in the air transportation sector.
But the Canadian Union of Public Employees, which represents roughly 10,000 Air Canada flight attendants, said the package protected the jobs of current workers rather than the 7,500 members of its union who had been let go by the carrier.
($1=1.2567 Canadian dollars)
(Reporting by David Ljunggren in Ottawa and Allison Lampert in Montreal; Additional reporting by Julie Gordon in Ottawa and Munsif Vengattil in Bengaluru; Editing by Dan Grebler and Peter Cooney)
U.K. advises limiting AstraZeneca in under-30s amid clot worry
LONDON —
British authorities recommended Wednesday that the AstraZeneca COVID-19 vaccine not be given to adults under 30 where possible because of strengthening evidence that the shot may be linked to rare blood clots.
The recommendation came as regulators both in the United Kingdom and the European Union emphasized that the benefits of receiving the vaccine continue to outweigh the risks for most people — even though the European Medicines Agency said it had found a "possible link" between the shot and the rare clots. British authorities recommended that people under 30 be offered alternatives to AstraZeneca. But the EMA advised no such age restrictions, leaving it up to its member-countries to decide whether to limit its use.
Several countries have already imposed limits on who can receive the vaccine, and any restrictions are closely watched since the vaccine, which is cheaper and easier to store than many others, is critical to global immunization campaigns and is a pillar of the UN-backed program known as COVAX that aims to get vaccines to some of the world's poorest countries.
"This is a course correction, there's no question about that," Jonathan Van-Tam, England's deputy chief medical officer, said during a press briefing. "But it is, in a sense, in medicine quite normal for physicians to alter their preferences for how patients are treated over time."
Van-Tam said the effect on Britain's vaccination timetable — one of the speediest in the world — should be "zero or negligible," assuming the National Health Service receives expected deliveries of other vaccines, including those produced by Pfizer and Moderna.
EU and U.K. regulators held simultaneous press conferences Wednesday afternoon to announce the results of investigations into reports of blood clots that sparked concern about the rollout of the AstraZeneca vaccine.
The EU agency described the clots as "very rare" side effects. Dr Sabine Straus, chair of EMA's Safety Committee, said the best data is coming from Germany where there is one report of the rare clots for every 100,000 doses given, although she noted far fewer reports in the U.K. Still, that's less than the clot risk that healthy women face from birth control pills, noted another expert, Dr. Peter Arlett.
The agency said most of the cases reported have occurred in women under 60 within two weeks of vaccination — but based on the currently available evidence, it was not able to identify specific risk factors. Experts reviewed several dozen cases that came mainly from Europe and the U.K., where around 25 million people have received the AstraZeneca vaccine.
"The reported cases of unusual blood clotting following vaccination with the AstraZeneca vaccine should be listed as possible side effects of the vaccine," said Emer Cooke, the agency's executive director. "The risk of mortality from COVID is much greater than the risk of mortality from these side effects."
Arlett said there is no information suggesting an increased risk from the other major COVID-19 vaccines.
The EMA's investigation focused on unusual types of blood clots that are occurring along with low blood platelets. One rare clot type appears in multiple blood vessels and the other in veins that drain blood from the brain.
While the benefits of the vaccine still outweigh the risks, that assessment is "more finely balanced" among younger people who are less likely to become seriously ill with COVID-19, the U.K's Van-Tam said.
"We are not advising a stop to any vaccination for any individual in any age group," said Wei Shen Lim, who chairs Britain's Joint Committee on Vaccination and Immunization. "We are advising a preference for one vaccine over another vaccine for a particular age group, really out of the utmost caution rather than because we have any serious safety concerns."
In March, more than a dozen countries, mostly in Europe, suspended their use of AstraZeneca over the blood clot issue. Most restarted — some with age restrictions — after the EMA said countries should continue using the potentially life-saving vaccine.
Britain, which relies heavily on AstraZeneca, however, continued to use it.
The suspensions were seen as particularly damaging for AstraZeneca because they came after repeated missteps in how the company reported data on the vaccine's effectiveness and concerns over how well its shot worked in older people. That has led to frequently changing advice in some countries on who can take the vaccine, raising worries that AstraZeneca's credibility could be permanently damaged, spurring more vaccine hesitancy and prolonging the pandemic.
Dr. Peter English, who formerly chaired the British Medical Association's Public Health Medicine Committee, said the back-and-forth over the AstraZeneca vaccine globally could have serious consequences.
"We can't afford not to use this vaccine if we are going to end the pandemic," he said.
In some countries, authorities have already noted hesitance toward the AstraZeneca shot.
"People come and they are reluctant to take the AstraZeneca vaccine, they ask us if we also use anything else," said Florentina Nastase, a doctor and co-ordinator at a vaccination centre in Bucharest, Romania. "There were cases in which people (scheduled for the AstraZeneca) didn't show up, there were cases when people came to the centre and saw that we use only AstraZeneca and refused (to be inoculated)."
Meanwhile, the governor of Italy's northern Veneto region had said earlier Wednesday that any decision to change the guidance on AstraZeneca would cause major disruptions to immunizations — at a time when Europe is already struggling to ramp them up — and could create more confusion about the shot.
"If they do like Germany, and allow Astra Zeneca only to people over 65, that would be absurd. Before it was only for people under 55. Put yourself in the place of citizens, it is hard to understand anything," Luca Zaia told reporters.
The latest suspension of AstraZeneca came in Spain's Castilla y Leon region, where health chief Veronica Casado said Wednesday that "the principle of prudence" drove her to put a temporary hold on the vaccine that she still backed as being both effective and necessary.
French health authorities had said they, too, were awaiting EMA's conclusions, as were some officials in Asia.
On Wednesday, South Korea said it would temporarily suspend the use of AstraZeneca's vaccine in people 60 and younger. In that age group, the country is only currently vaccinating health workers and people in long-term care settings.
The Korea Disease Control and Prevention Agency said it would also pause a vaccine rollout to school nurses and teachers that was to begin on Thursday, while awaiting the outcome of the EMA's review.
But some experts urged perspective. Prof Anthony Harnden, the deputy chair of Britain's vaccination committee, said that the program has saved at least 6,000 lives in the first three months and will help pave the way back to normal life.
"What is clear it that for the vast majority of people the benefits of the Oxford AZ vaccine far outweigh any extremely small risk," he said. "And the Oxford AZ vaccine will continue to save many from suffering the devastating effects that can result from a COVID infection."
Source: – CTV News