Legendary, mysterious giant squid's genome revealed – CNET
Everything about the mysterious giant squid Architeuthis dux is massive. It grows as big as a school bus, has eyes the size of dinner plates, and tentacles that can snatch prey from 30 feet away. This legendary beast of sea lore has frightened humans for ages, but how did it get so enormous in the first place? New research may soon offer answers, as the mighty cephalopod's genome was finally revealed Thursday.
"A genome is a first step for answering a lot of questions about the biology of these very weird animals," scientist Caroline Albertin said in a release from the University of Chicago. Those questions include how giant squids acquired the largest brain among the invertebrates, and how they became so agile and skillful.
"While cephalopods have many complex and elaborate features, they are thought to have evolved independently of the vertebrates," Albertin said in the release. "By comparing their genomes we can ask, 'Are cephalopods and vertebrates built the same way or are they built differently?'"
While the genome's revelation may answer some questions, in the immediate term it raises more. A key finding from the research shows how a giant squid's size-driving genes break with the patterns found among the important developmental genes in almost all other animals. This means the giant squid's enormity didn't come through whole-genome duplication, a strategy that evolution took long ago to increase the size of vertebrates.
It also means scientists have more work to do to get to the bottom of the giant squid's mysterious size.
Even so, Albertin said, having the giant squid genome is an important step in helping scientists understand what makes a cephalopod a cephalopod. It can also help scientists understand how new and novel genes arise in evolution and development.
Read more: Eerie giant squid shows off tentacles in rare video
400 Marsquakes detected by UK sensors in one year – Famagusta Gazette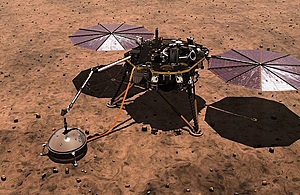 The seismic vibrations on Mars were detected by a set of silicon sensors developed in the UK for InSight's Seismic Experiment for Interior Structure (SEIS).
Imperial College London, Oxford University and STFC RAL Space worked in partnership, with £4 million in funding from the UK Space Agency, to develop three sensors which are sensitive enough to detect motion at sub-atomic scales.
Science Minister Amanda Solloway said:
Detecting hundreds of Marsquakes on a planet 140 million miles from Earth, using sensors developed in the UK, is an important achievement.

This is an example of how world-leading UK science and our growing space sector contribute to international missions, furthering human understanding of the Solar System.
The NASA Insight mission is the first to look deep beneath the Martian surface and detected the first ever recorded Marsquake on 6 April 2019. By the end of last year it was detecting an average of two quakes every day. The findings suggest that Mars experiences quakes more often, but also more mildly than expected with the largest measuring 4.0 on the Richter scale.
Seismic waves change as they move through different materials and this allows scientists to understand the inner structure of Mars. From this, they can also learn how other planets, moons and meteorites with rocky surfaces, including Earth, formed billions of years ago.
Professor Tom Pike, from Imperial College London, who leads the UK team, said:
From the tremors, we can build a picture of Mars' interior, building up a cross section of the planet all the way down to the core. The remains of a liquid core could suggest that Mars once had a magnetic field. Like on Earth, the field would have protected it from harmful solar winds billions of years ago. Back then, Mars then was much warmer and wetter, and much more hospitable for life.

Studying Mars lets us travel to the solar system's ancient past. While Earth and Venus' tectonic systems have destroyed most of the evidence of their early history, much of the Red Planet has remained static for more than three billion years.
Dr Neil Bowles, from the University of Oxford's Department of Physics, said:
The measurement of the first events from the surface of Mars by InSight are showing that the planet is still seismically active. As InSight continues to monitor the planet over the next year, we are working with our colleagues on the mission team to help understand the interior and atmosphere of the planet in a completely new way.
Dr Anna Horleston, Research Associate in Planetary Seismology at the University of Bristol, said:
The UK's involvement in InSight has given us a unique opportunity at the forefront of planetary science. Working for the frontline analysis team for the Marsquake Service, I've witnessed the quakes on a daily basis and I'm very pleased that we can share the results with the public today. Seeing seismic signals from another planet and using them to look inside it is an amazing experience.
InSight carries other instruments to measure the Martian wind, magnetic field and temperature. Scientists set out the findings from the mission in a series of six papers published today in Nature and Nature: Geoscience.
The seismicity of Mars – Phys.org
On 26 November 2018, the NASA InSight lander successfully set down on Mars in the Elysium Planitia region. Seventy Martian days later, the mission's seismometer SEIS began recording the planet's vibrations. A team of researchers and engineers at ETH Zurich, led by ETH Professor Domenico Giardini, had delivered the SEIS control electronics and is responsible for the Marsquake Service. The latter is in charge of the daily interpretation of the data transmitted from Mars, in collaboration with the Swiss Seismological Service at ETH Zurich. Now, the journal Nature Geoscience published a series of articles on the results of the mission in the first months of operation on Mars.
As reported in these articles, InSight recorded 174 events until the end of September 2019. Since then, the measurements have continued leading to more than 450 observed marsquakes as of today, which have not yet been analysed in detail. This accounts for one event a day on average.
The data allows researchers observing how seismic waves travel through the planet and unveiling its internal characteristics—similar to how x-rays are used in medical tomography. Before InSight landed, researchers had developed a wide range of possible models to represent the internal structure of the red planet. The recorded marsquakes, already after few months, enable refining the understanding of the structure of the planet and to reduce the uncertainties.
Interpreting marsquake data is challenging
Marsquakes are similar to the seismic events we see on Earth, although they are generally of smaller magnitude. The 174 registered marsquakes can be categorized in two families: One includes 24 low-frequency events with magnitudes between 3 and 4, as documented in the papers, with waves propagating through the Martian mantle. A second family of marsquakes comprises 150 events with smaller magnitudes, shallower hypocentral depth and high frequency waves trapped in the Martian crust.
"Marsquakes have characteristics already observed on the Moon during the Apollo era, with a long signal duration (10 to 20 minutes) due to the scattering properties of the Martian crust," explains ETH Professor Giardini. In general, however, he says, interpreting marsquake data is very challenging and in most cases, it is only possible to identify the distance but not the direction from which the waves are arriving.
InSight landed on a thin, sandy layer
InSight opens a new era for planetary seismology. The SEIS performance exceeded so far expectations, considering the harsh conditions on Mars, characterized by temperatures ranging from minus 80 to 0 degrees Celsius every day and by strong wind oscillations. Indeed wind shakes the InSight lander and its instrumentation during the day leading to a high level of ambient noise. However, at sunset, the winds calm down allowing recording the quietest seismic data ever collected in the solar system. As a result, most seismic events detected on Mars by SEIS occurred in the quiet night hours. The challenging environment also requires to carefully distinguishing between seismic events and signals originating from movements of the lander, other instruments or atmospheric-induced perturbances.
The hammering by the HP3 instrument (another InSight experiment) and the close passage of whirlwinds (dust devils), recorded by SEIS, allow to map the physical properties of the shallow soil layers just below the station. We now know that SEIS landed on a thin, sandy layer reaching a few meters deep, in the middle of a 20 meter-wide ancient impact crater. At greater depths, the Martian crust has properties comparable to Earth's crystalline massifs but appears to be more fractured. The propagation of the seismic waves suggest that the upper mantle has a stronger attenuation compared to the lower mantle.
Seismic activity also induced by tectonic stress
InSight landed in a rather quiet region of Mars, as no events near the station have been recorded up to now. The three biggest events were located in the Cerberus Fossae region about 1'500 km away. It is a tectonic graben system, caused by the weight of the Elysium Mons, the biggest volcano in the Elysium Planitia area. This provides strong evidence that seismic activity on Mars is not only a consequence of the cooling and therewith the shrinking of the planet but also induced by tectonic stress. The total seismic energy released on Mars lies between the one of Earth and of the Moon.
SEIS, complementary to other InSight measurements, also meaningfully contributed data to better understand the meteorological processes on Mars. The instrument's sensitivity to both wind and atmospheric pressure allowed identifying meteorological phenomena characteristic of Mars, including the many dust devils that pass by the spacecraft every afternoon.
---
---
Citation:
The seismicity of Mars (2020, February 24)
retrieved 25 February 2020
from https://phys.org/news/2020-02-seismicity-mars.html
This document is subject to copyright. Apart from any fair dealing for the purpose of private study or research, no
part may be reproduced without the written permission. The content is provided for information purposes only.
Mars InSight Lander Yields a Year of Surprising Discoveries Above
A batch of new papers summarizes the lander's findings.
A new understanding of Mars is beginning to emerge, thanks to the first year of NASA's InSight lander mission. Findings described in a set of six papers published today reveal a planet alive with quakes, dust devils and strange magnetic pulses.
Five of the papers were published in Nature. An additional paper in Nature Geoscience details the InSight spacecraft's landing site, a shallow crater nicknamed "Homestead hollow" in a region called Elysium Planitia.
InSight is the first mission dedicated to looking deep beneath the Martian surface. Among its science tools are a seismometer for detecting quakes, sensors for gauging wind and air pressure, a magnetometer, and a heat flow probe designed to take the planet's temperature.
While the team continues to work on getting the probe into the Martian surface as intended, the ultra-sensitive seismometer, called the Seismic Experiment for Interior Structure (SEIS), has enabled scientists to "hear" multiple trembling events from hundreds to thousands of miles away.
Seismic waves are affected by the materials they move through, giving scientists a way to study the composition of the planet's inner structure. Mars can help the team better understand how all rocky planets, including Earth, first formed.
Underground
Mars trembles more often — but also more mildly — than expected. SEIS has found more than 450 seismic signals to date, the vast majority of which are probably quakes (as opposed to data noise created by environmental factors, like wind). The largest quake was about magnitude 4.0 in size — not quite large enough to travel down below the crust into the planet's lower mantle and core. Those are "the juiciest parts of the apple" when it comes to studying the planet's inner structure, said Bruce Banerdt, InSight principal investigator at JPL.
Scientists are ready for more: It took months after InSight's landing in November 2018 before they recorded the first seismic event. By the end of 2019, SEIS was detecting about two seismic signals a day, suggesting that InSight just happened to touch down at a particularly quiet time. Scientists still have their fingers crossed for "the Big One."
Mars doesn't have tectonic plates like Earth, but it does have volcanically active regions that can cause rumbles. A pair of quakes was strongly linked to one such region, Cerberus Fossae, where scientists see boulders that may have been shaken down cliffsides. Ancient floods there carved channels (see image below) nearly 800 miles (1,300 kilometers) long. Lava flows then seeped into those channels within the past 10 million years — the blink of an eye in geologic time.
Some of these young lava flows show signs of having been fractured by quakes less than 2 million years ago. "It's just about the youngest tectonic feature on the planet," said planetary geologist Matt Golombek of JPL. "The fact that we're seeing evidence of shaking in this region isn't a surprise, but it's very cool."
At the Surface
Billions of years ago, Mars had a magnetic field. It is no longer present, but it left ghosts behind, magnetizing ancient rocks that are now between 200 feet (61 meters) to several miles below ground. InSight is equipped with a magnetometer — the first on the surface of Mars to detect magnetic signals.
The magnetometer has found that the signals at Homestead hollow are 10 times stronger than what was predicted based on data from orbiting spacecraft that study the area. The measurements of these orbiters are averaged over a couple of hundred miles, whereas InSight's measurements are more local.
Because most surface rocks at InSight's location are too young to have been magnetized by the planet's former field, "this magnetism must be coming from ancient rocks underground," said Catherine Johnson, a planetary scientist at the University of British Columbia and the Planetary Science Institute. "We're combining these data with what we know from seismology and geology to understand the magnetized layers below InSight. How strong or deep would they have to be for us to detect this field?"
In addition, scientists are intrigued by how these signals change over time. The measurements vary by day and night; they also tend to pulse around midnight. Theories are still being formed as to what causes such changes, but one possibility is that they're related to the solar wind interacting with the Martian atmosphere.
In the Wind
InSight measures wind speed, direction and air pressure nearly continuously, offering more data than previous landed missions. The spacecraft's weather sensors have detected thousands of passing whirlwinds, which are called dust devils when they pick up grit and become visible. "This site has more whirlwinds than any other place we've landed on Mars while carrying weather sensors," said Aymeric Spiga, an atmospheric scientist at Sorbonne University in Paris.
Despite all that activity and frequent imaging, InSight's cameras have yet to see dust devils. But SEIS can feel these whirlwinds pulling on the surface like a giant vacuum cleaner. "Whirlwinds are perfect for subsurface seismic exploration," said Philippe Lognonné of Institut de Physique du Globe de Paris (IPGP), principal investigator of SEIS.
Still to Come: The Core
InSight has two radios: one for regularly sending and receiving data, and a more powerful radio designed to measure the "wobble" of Mars as it spins. This X-band radio, also known as the Rotation and Interior Structure Experiment (RISE), can eventually reveal whether the planet's core is solid or liquid. A solid core would cause Mars to wobble less than a liquid one would.
This first year of data is just a start. Watching over a full Martian year (two Earth years) will give scientists a much better idea of the size and speed of the planet's wobble.