Long-Term Bitcoin Bulls Fend Off Short-Term Bears, but for How Long? | investing.com – Investing.com
Data shows long-term Bitcoin investors have held strong
Meanwhile, the short-term bears are trying to push the price lower
Support in the $25,000 is a key area that has held firm so far
The start of September hasn't shaken up much, as It's still trading in a narrow range. Any attempt at a strong upward move since August 29 has been swiftly met by heavy selling pressure.
There are a few key factors working against the bulls right now: low volatility, a general aversion to risk, and the high likelihood that the Federal Reserve will keep its hawkish policy, maybe even continue hiking interest rates.
However, on the flip side, there's a glimmer of hope for a long-term uptrend. It might come from investors who've been holding their Bitcoin for over three years and perhaps intend to hold onto it even longer.
Meanwhile, is stuck in a similar sluggish state. However, recent large transactions on Coinbase (NASDAQ:) could cause a surge in trading volumes in the short term.
Bitcoin: Long-Term Holders Remain Confident
Glassnode's stats paint a positive picture of Bitcoin's long-term growth. A significant 40.53% of all Bitcoins haven't moved from their addresses for at least three years. Less than 30% have been held for over five years.
This suggests that a substantial number of investors have faith in the top cryptocurrency, as they've weathered recent market turbulence without selling. The key factor now is how short-term investors behave, as their return to the market is crucial for any significant price movements.
Interestingly, weather conditions are impacting not just the agricultural commodities market but also cryptocurrency mining. Marathon Digital Holdings (NASDAQ:) reported a 9% month-on-month drop in extraction due to hot weather in Texas.
Nonetheless, daily mine output has increased significantly, going from 5.9 BTC to 34.3 BTC compared to 2022.
Volatility Likely in September for Bitcoin?
Historically, September hasn't been the best month for Bitcoin. Looking back over thirteen years, there have been negative returns nine times during this month.
Source: Coinbase
Adding to the concern, CryptoQuant data reveals that the trading volume in mid-August hit 112,317 BTC, the lowest since November 2018.
Just to put things in perspective, the peak trading volume in March reached a whopping 3.5 million BTC, highlighting the stark decline in trading activity.
Such a situation often accompanies a market downturn and indicates the withdrawal of individual investors.
Bitcoin's Key Levels
For now, the $25,000 price mark remains a crucial support level for Bitcoin. Except for a brief upward movement at the end of August, Bitcoin's prices have been locked in a narrow consolidation for the past three weeks, largely hinging on this support level.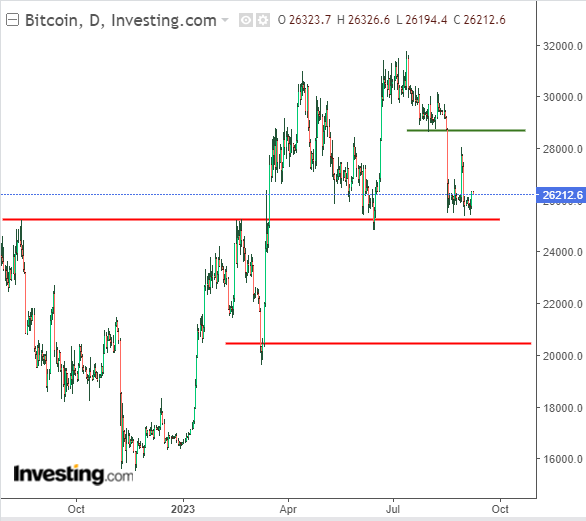 Bitcoin Daily Chart
Should the bears successfully breach this level, it would pave the way for a more substantial price drop, with the next target around the $20,000 mark, a demand zone.
We can entertain the idea of bulls taking charge only in case of a strong rally that surpasses the $28,000 level.
***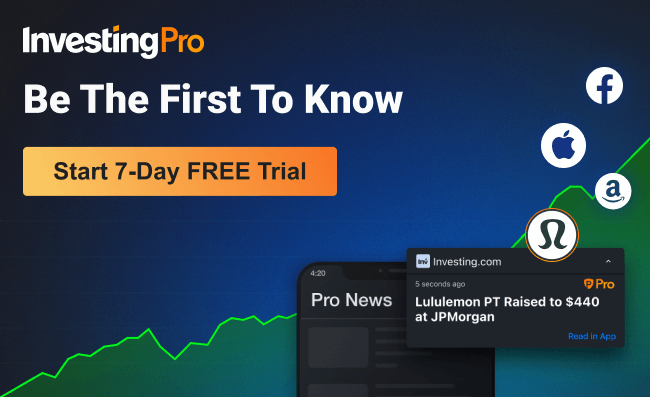 Find All the Info you Need on InvestingPro!
Disclaimer: This article is for information purposes only; it is not intended to encourage the purchase of assets in any way, and does not constitute a solicitation, offer, recommendation, opinion, advice or investment recommendation. We remind you that all assets are considered from different angles and are extremely risky, so that the investment decision and the associated risk are specific to the investor.
Tense diplomatic relations may not impact trade, investment ties between India, Canada: Experts
NEW DELHI: The tense diplomatic relations between India and Canada are unlikely to impact trade and investments between the two countries as economic ties are driven by commercial considerations, according to experts. Both India and Canada trade in complementary products and do not compete on similar products.
"Hence, the trade relationship will continue to grow and not be affected by day-to-day events," Global Trade Research Initiative (GTRI) Co-Founder Ajay Srivastava said.
Certain political developments have led to a pause in negotiations for a free trade agreement between the two countries.
On September 10, Prime Minister Narendra Modi conveyed to his Canadian counterpart Justin Trudeau India's strong concerns about the continuing anti-India activities of extremist elements in Canada that were promoting secessionism, inciting violence against its diplomats and threatening the Indian community there.
India on Tuesday announced the expulsion of a Canadian diplomat hours after Canada asked an Indian official to leave that country, citing a "potential" Indian link to the killing of a Khalistani separatist leader in June.
Srivastava said these recent events are unlikely to affect the deep-rooted people-to-people connections, trade, and economic ties between the two nations.
Bilateral trade between India and Canada has grown significantly in recent years, reaching USD 8.16 billion in 2022-23.
India's exports (USD 4.1 billion) to Canada include pharmaceuticals, gems and jewellery, textiles, and machinery, while Canada's exports to India (USD 4.06 billion) include pulses, timber, pulp and paper, and mining products.
On investments, he said that Canadian pension funds will continue investing in India on grounds of India's large market and good return on money invested.
Canadian pension funds, by the end of 2022, had invested over USD 45 billion in India, making it the fourth-largest recipient of Canadian FDI in the world.
The top sectors for Canadian pension fund investment in India include infrastructure, renewable energy, technology, and financial services.
Mumbai-based exporter and Chairman of Technocraft Industries Sharad Kumar Saraf said the present frosty relations between India and Canada are certainly a cause for concern.
"However, the bilateral trade is entirely driven by commercial considerations. Political turmoil is of a temporary nature and should not be a reason to affect trade relations," Saraf said.
He added that even with China, India has acrimonious relations but bilateral trade continues to remain healthy.
"In fact, bilateral trade is an effective tool to improve political relations. India must make special efforts to increase our bilateral trade with Canada," Saraf said.
India and Canada have a strong education partnership. There are over 200 educational partnerships between Indian and Canadian institutions.
In addition, over 3,19,000 Indian students are enrolled in Canadian institutions, making them the largest international student cohort in Canada, according to GTRI.
According to the Canadian Bureau for International Education (CBIE), Indian students contributed USD 4.9 billion to the Canadian economy in 2021.
Indian students are the largest international student group in Canada, accounting for 20 per cent of all international students in 2021.
Benefits of educational partnerships are mutual and hence the current situation may have no impact on the relationship, Srivastava said.
Apple supplier Foxconn aims to double India jobs and investment
Apple supplier Foxconn aims to double its workforce and investment in India by next year, a company executive said on Sunday.
Taiwan-based Foxconn, the world's largest contract manufacturer of electronics, has rapidly expanded its presence in India by investing in manufacturing facilities in the south of the country as the company seeks to move away from China.
V Lee, Foxconn's representative in India, in a LinkedIn post to mark Indian Prime Minister Narendra Modi's 73rd birthday, said the company was "aiming for another doubling of employment, FDI (foreign direct investment), and business size in India" by this time next year.
He did not give more details.
Foxconn already has an iPhone factory employing 40,000 people in the state of Tamil Nadu.
In August, the state of Karnataka said the firm will invest US$600 million for two projects to make casing components for iPhones and chip-making equipment.
The company's Chairman Liu Young-way said in an earnings briefing last month that he sees a lot of potential in India, adding: "several billion dollars in investment is only a beginning".
Taiwan election: Foxconn's Terry Gou taps star-powered running mate
Last month, Foxconn's billionaire founder Terry Gou said he would run for the Taiwanese presidency in next year's election, as an independent candidate.
He said the ruling and independence-leaning Democratic Progressive Party (DPP) was unable to offer a bright future for the island and left Foxconn's board following his decision to run.
The firm operates the world's largest iPhone plant, in the city of Zhengzhou in Henan province.
Foxconn to double workforce, investment in India by 'this time next year'
Foxconn, Taiwan-based Apple supplier, has said that they are planning to double their investment and workforce in India within the next twelve months, according to V Lee's LinkedIn post on the occasion of Prime Minister Narendra Modi's 73rd birthday.