Make way! Creating space for change in Canadian politics – The Conversation CA
There are many ways politicians and bureaucrats can show leadership in response to calls to democratize Canadian politics. Specifically, there are a lot of things men can do, particularly heterosexual white men.
As the largest demographic in Parliament, they can lead the way by stepping back or stepping aside, in order to create meaningful opportunities to engage more women, Indigenous, Black and marginalized peoples.
Let's face it, if we are to transform the culture of Canadian political institutions, we must take immediate, deliberate and intentional action.
As co-authors, one of us is the only Black woman MP who served in the 42nd Parliament (2015-19) and is a champion of diversity, equity and inclusivity. The other has interviewed more than 100 Canadian politicians and political staff for a book about party discipline. We met as part of that research, and share a deep concern about the need for the political elite to make room for diverse voices in the House of Commons.
---


Read more:
The Canadian Senate briefly reached gender parity — here's why it matters


---
Representation matters
When interacting with politicians, it becomes clear that at different points in their careers they approach politics with distinct philosophies about representation.
Some elected officials take a principled stand on big picture issues. Some believe that voters trust them to figure things out, while others feel a duty to follow the wishes of constituents. Far too many Canadian politicians are guided by loyalty to their political party and leader, whereas some are motivated to champion the concerns of people who share similar identities or similar experiences.
Prioritizing the composition of legislatures and looking at public policy through the lens of gender, Indigeneity, race or other identity characteristic is sometimes known as "descriptive representation," a term coined by American political scientist Hanna Pitkin in her landmark book The Concept of Representation. In it, Pitkin dissects what the contested concept of representation means. She makes a compelling argument that a democratic legislature must be a forum to hear from a diversity of people's voices. This is important because otherwise these voices are excluded from political debate and from public policy decision-making.
But in what tangible ways can diversity improve democracy?
Identity and intersectionality
Diversity is necessary for citizens to see themselves represented. Since 1867, and before, generations of white, land-owning men were the beacon of political leadership. Since the Second World War, they have increasingly toed the party line, as have others, recruited into a political system that values conformity over diversity. In today's world, it is important to remember that we are each the product of a variety of different identities that intersect to make us who we are. For some, their different identities add layers of oppression in politics.
---


Read more:
What is intersectionality? All of who I am


---
Studies have argued that descriptive representation can fundamentally support the principles of democracy. This extends beyond reshaping the composition of legislatures: listening and receiving input from diverse voices can result in better governance and better policy. A good example is research showing that women leaders have been rated significantly more positively than men during the COVID-19 pandemic. In particular, women are thought to have exhibited better interpersonal skills in managing the crisis.
Listening to marginalized voices is needed to help shape Parliamentary decisions. Deliberations around medical assistance in dying legislation (Bill C-7) would have benefited from improved listening to disability groups and racialized communities.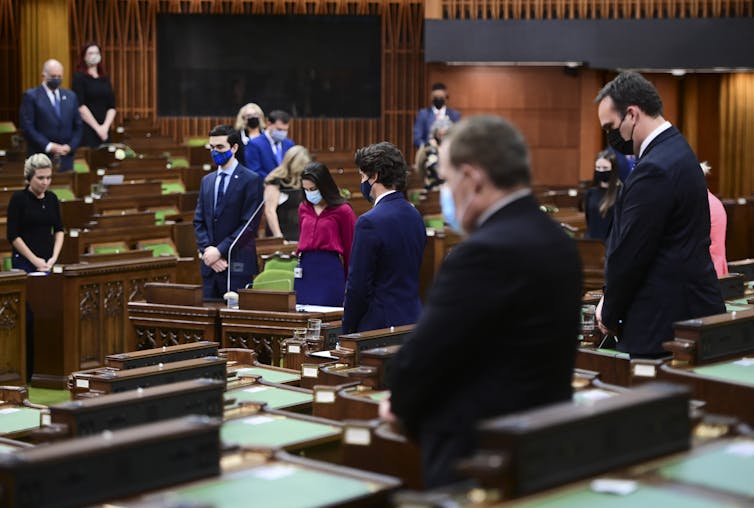 Diversify legislatures
More diverse legislatures can transform Canadian politics in a profound way: challenging the dogma of party discipline that keeps politics organized but corrodes representation. In Ottawa and the provinces, political parties have an iron grip over politicians, and group conformity is expected.
Why is it normal in Canada that a politician jeopardizes their parliamentary career by taking a public stand different from the party leader? Don't we want politicians who feel that they can speak truth to power? Homogeneity in party politics might work for partisans, but does it work for constituents? Even MPs become frustrated with democratic institutions when they are reduced to robots, encouraged to vote along party lines and repeat talking points.
Electing a broader array of Canadians can help break down party silos and soften polarization. In workplaces, more heterogeneity can stir internal conflict and rattle group norms. But injecting different perspectives also enriches the ability of a group to come up with creative and innovative solutions. The same is true in politics.
---


Read more:
Corporate diversity targets could help dismantle systemic racism


---
The more diverse the voices that occupy seats in legislatures, the more political parties can benefit from better policy which, in turn, benefits the public. Sadly, there is little evidence that partisans are open to listening to people willing to rebuff the "team player" mentality that dominates Canadian Parliament. A good way to help change that is to change who is being elected.
This can include white men not seeking re-election in order to create space for others, encouraging people to run for political office, and also helping the newest members thrive when they get there.
Taking proactive steps toward fewer white men in politics in order to create an opening for others has worked in British Columbia. In 2011, the B.C. NDP introduced a radical policy that when a male legislator vacates a seat, the party must nominate a woman, racialized person or someone from other underrepresented groups in Canadian politics.
In the 2020 provincial election, the B.C. NDP won a majority of seats, and for the first time in Canadian history a governing party's caucus has more women than men, as well as more people of colour serving than any B.C. caucus ever elected before. Diversity in Premier John Horgan's caucus meant that he had more choices to assemble a diverse cabinet. The party's policy of affirmative action has translated into meaningful, profound change in both the legislative and executive branches of government. Bold action like this is needed to achieve the ideals of descriptive representation.
Ensuring democracy thrives
The principles of diversity, equity and inclusivity are important, and taking action so that Canadian politics are not dominated by one segment of society is necessary to democratize our institutions. Regardless of party affiliation, or political ideology, the urgency of now demands that those with power choose to challenge the status quo.
To ensure democracy thrives in Canada, politicians need to listen to the voices of those who are often on the margins of our political ecosystem and act accordingly. Gaining knowledge is a necessary first step, and men in positions of authority can help create a thriving democratic landscape by opening opportunities to people who are different than them.
A good place to start is for men to listen.
Biden administration asks U.S. Supreme Court to reject Harvard affirmative action case
U.S. President Joe Biden's administration on Wednesday urged the U.S. Supreme Court to decline to hear a case against Harvard University challenging the ability of it and other schools to consider race as a factor in student admissions to boost diversity.
The justices in June asked the administration for its views on the case, which could give the court's 6-3 conservative majority a chance to end affirmative action policies used to increase the number of Black and Hispanic students on American campuses.
Students for Fair Admissions, a group founded by anti-affirmative action activist Edward Blum, is appealing a decision upholding Harvard's race-conscious admissions practices and hopes to overturn a 2003 Supreme Court ruling that preserved such polices.
SFFA accuses Harvard of discriminating against Asian-American applicants by engaging in impermissible "racial balancing" to make it easier for Blacks and Hispanics to win admission at the expense of Asian-American applicants.
But Solicitor General Elizabeth Prelogar argued in a brief that it would be an "extraordinary step" for the court to reconsider its past rulings and called the case a "poor vehicle" to do so.
The lawsuit contends Harvard's actions violated Title VI of the Civil Rights Act of 1964, which bars racial discrimination under any program receiving federal financial assistance.
Prelogar argued reconsidering its past decisions would be disruptive for universities that had come to "rely on the permissibility of a holistic, flexible approach like Harvard's as a benchmark in structuring their own admissions policies."
Blum in a statement said the brief "regrettably advocates for the continuation of racial classifications and preferences in college admissions," and urged the court to hear the case and a related one against the University of North Carolina at Chapel Hill.
Harvard in a statement welcomed the administration's support of policies like its own to create diverse campuses.
(Reporting by Nate Raymond in Boston; Editing by Lincoln Feast.)
U.S. Senate passes Republican bill to overturn Biden vaccine mandate
The Democratic-controlled U.S. Senate on Wednesday approved a Republican measure that would overturn President Joe Biden's COVID-19 vaccine-or-test mandate for private businesses, with two Democrats joining Republicans to back the initiative.
The 52-48 vote sends the legislation to the Democratic-led House of Representatives, where it faces strong headwinds, while Biden has threatened to veto it.
The legislation would overturn administration rules ordering businesses with 100 workers or more to require vaccinations or coronavirus testing for millions of employees.
The measure was not subject to Senate rules that require 60 of its 100 members to agree on most legislation, meaning it could pass with just a 51-vote simple majority. Two Senate Democrats – Joe Manchin of West Virginia and Jon Tester of Montana – joined 50 Republicans in voting for the bill.
The initiative underscores the intense political opposition facing administration efforts to combat COVID-19 at a time when health officials are trying to contain the highly contagious Omicron variant.
"I have always supported a vaccine mandate for federal employees and the military because maintaining essential services and military readiness the federal government provides is a matter of national importance," Manchin said in a statement following the vote.
"However, I do not support any government vaccine mandate for private businesses. It is not the place of the federal government to tell private business owners how to protect their employees from COVID-19 and operate their businesses," he said.
Manchin added he was fully vaccinated and had received a booster shot, and encouraged all Americans to do the same.
Republicans have said they were inundated with calls from businesses with up to 500 workers that are concerned about having to fire employees who oppose COVID-19 vaccines and testing.
"It's got Main Street America scared," Republican Senator Mike Braun, who was spearheading the legislative drive, said before the Senate vote.
The White House said in a statement on Tuesday that employers would face no burden from the mandate because the vast majority of American adults are fully vaccinated and noted that the rule exempts small businesses.
Biden's private business mandate has already been put on hold by a federal appeals court https://www.reuters.com/world/us/federal-appeals-court-affirms-stay-biden-vaccine-mandate-2021-11-12. A U.S. judge https://www.reuters.com/legal/litigation/us-judge-blocks-last-remaining-biden-admin-covid-19-vaccine-rule-2021-12-07 in Georgia also blocked a Biden vaccine mandate aimed at federal contractors on Tuesday.
"We are in the middle of a public health crisis. Everyone sees the damage it causes," Senate Majority Leader Chuck Schumer, the top Democrat, said in a speech. "The way to solve this is to be driven by science."
The United States has the world's highest daily average of new reported coronavirus infections. The virus has infected 49.5 million Americans and killed more than 794,000, the highest death toll of any country, according to the Reuters COVID-19 Tracker.
Republicans touted the measure's bipartisan support as a clear message of public concern about the mandate's potential impact on workers, businesses and the economy.
The chamber's top Republican, Mitch McConnell, branded the Biden mandate as an "illegal" and "absurd" government effort to micromanage the lives of private citizens.
(Reporting by David Morgan; Additional reporting by Richard Cowan, Trevor Hunnicutt, Eric Beech and Chris Gallagher; Editing by Sonya Hepinstall and Peter Cooney)
'No one with power is listening:' Activists warn redistricting moves in the South threaten Black political power – CNN
(CNN)Nicole Love Hendrickson made Georgia history last year, becoming the first Black woman elected chair of the Gwinnett County Board of Commissioners.
But under a bill that a Republican legislator has pledged to advance in the Georgia General Assembly early next year, Hendrickson would be stripped of most of her voting powers and the board reconfigured after Democrats of color occupied all five seats this year in
a county that had once been a Republican stronghold.
"The optics are just very obvious," Hendrickson told CNN. "It's a perception that there's a loss of control for Republicans, and we have people of color who are assuming leadership roles and now you are trying to take that power away."
The expected legislative battle over the future of Gwinnett's county board is just one of the fights flaring up at the local level as
officials redraw electoral maps
and work at cementing political power, following the 2020 Census. Voting rights activists are sounding alarms about what they say is a broad effort to dilute the voting strength of people of color and sideline the Black elected officials across the South who have made inroads into local government in recent decades.
In Galveston County, Texas, for instance, a map recently approved by the Republican-controlled county board is expected to squeeze out the county's only Black commissioner. In Lee County, North Carolina, a new map adopted by a 4-3 vote of the county commission reduced the number of minority voters in the county's only majority-minority district. If it stands, it could lead to the ouster of the county's sole Black commissioner, after more than three decades in office.
These moves, along with redistricting efforts at the state legislative level, represent "an all-out assault on Black political power," said Allison Riggs, co-executive director of the Southern Coalition for Social Justice, which is working on voting rights and redistricting issues. "We are backsliding terribly."
Activists like Riggs say there are more efforts to limit Black political representation at the local level than voting rights advocates and Justice Department lawyers can monitor and confront. The high court, Riggs said, "threw out the umbrella that was keeping us dry in a rainstorm, and we're getting drenched."
Texas spotlight
People of color drove 95% of Texas' population boom between 2010 and 2020, Census figures show. But the two new seats Texas will gain in the US House were designed to have "Anglo voting majorities," the Justice Department
said in its lawsuit.
Texas Attorney General Ken Paxton, a Republican, has called the DOJ's action "absurd" and a Biden administration "ploy to control Texas voters."
DOJ's lawsuit rests on one of remaining pillars of the voting law — Section 2, which paves the way for legal challenges of laws that have a racially discriminatory effect. Unlike preclearance, however, the legal action under Section 2 comes after new voting rules are enacted, and the litigation can be costly, complicated and time-consuming.
In Galveston County, Stephen Holmes — the only Black member and sole Democrat on the county's commissioners court — is urging the Justice Department to use its remaining powers to challenge a newly approved county map that likely will cost him his seat when he is up for reelection in 2024.
Holmes, who has served on the county commission for 22 years, represents a precinct where Black and Hispanic residents currently account for about two-thirds of eligible voters, he said. But under new maps approved by the Republican majority over his objection, the minority makeup of the precinct will fall to roughly 30%, Holmes said.
"It makes every precinct a majority Anglo precinct, despite the fact that our population is about 45% minority," Holmes told CNN. "This is an illegal map. They are diluting the votes of minorities in Galveston County."
This is not the first fight over the contours of Holmes' precinct.
A decade ago, when preclearance was still in effect, the Justice Department rejected an effort to redraw the county's electoral precincts, on the grounds that they diluted minority power.
The 3-1 vote to advance the new maps last month followed a
heated public hearing
in which dozens of residents implored the commissioners to abandon their plans.
Edna Courville, a retired social worker who has lived in the Galveston area since 1968, was among those at the hearing and told the commissioners the plan would lead to the "destruction of the community where I have lived for 50 years."
In an interview with CNN this week, she was still fuming.
"They took our voices away," Courville said. "No one with power is listening."
Galveston County Judge Mark Henry, the top official on the county's commissioners court, did not respond to a CNN interview request, nor did the two other Republican commissioners who voted in favor of the redrawn precinct.
A Justice Department spokeswoman declined to comment about the agency's view of Galveston County's redistricting and whether it would pursue legal action.
Holmes has vowed to fight the new map, even if the Biden administration declines to weigh in.
But he said big hurdles remain. His fellow commissioners "have an open pocketbook" of taxpayer dollars to defend the new maps, Holmes said. "And we have to assert ourselves, through litigation, with money we come up with."
Voting rights advocates say redistricting fights at the county level often are overlooked amid the broader battles over map-making at the state and congressional level.
But Michael Li, a senior counsel and redistricting expert at the liberal Brennan Center for Justice, said who controls local government is "hugely consequential" both for residents and the candidates for whom these positions can become stepping stones to higher office.
States like Texas and Georgia have seen rapid demographic change in recent years, particularly in suburban areas — making them more politically competitive, Li said.
"But as places like Gwinnett County get more diverse, communities of color are starting to challenge for power, and that threatens the status quo," he said. "People are asking for a seat at the table, and that worries some of the people who are at the table right now."
Georgia fight looms
Gwinnett County officials are awaiting the start of a new state legislative session early next year and a fresh fight over Republican plans to dramatically change the makeup of local government.
In 2020 — amid a blue wave that saw Joe Biden become the first Democratic presidential contender to win Georgia in nearly three decades — Democrats in Gwinnett flipped the balance of power in the state's second most populous county.
The party took control of the Gwinnett school board, captured every seat on the county commission and won several other key elected posts, including the leadership of the district attorney's office.
Hendrickson said she and other county leaders were
"blindsided" last month
when Republican state Sen. Clint Dixon introduced a bill to nearly double the size of the county commission, redraw district boundaries and strip Hendrickson of her voting powers — except to break ties.
A companion bill by Dixon also sought to make the county's school board nonpartisan.
Dixon, a freshman lawmaker, did not respond this week to multiple telephone calls and emails from CNN seeking an interview. He has said his goal in expanding the board is to make elected officials more accountable to their constituents in a county that has grown to nearly 1 million residents.
"This bill would help the citizens of Gwinnett be better represented at the local level," he told a Senate panel last month, during a special session of the Georgia Assembly. At the time, the measure appeared on a fast track, passing a key Senate committee just days after Dixon introduced it.
Republicans control both chambers of the state's legislature, along with the governor's office — leaving Gwinnett officials few options to stop the remake of county government if Dixon's plans gain momentum in the state Capitol.
"The threat has not gone away," Hendrickson said.