Maple Leafs Could Have a Trade Partner in Coyotes – The Hockey Writers
As the trade deadline approaches, all eyes are going to be on the Toronto Maple Leafs as to what they may do. It's no secret that they've been in the market to acquire help for the team's top-six. Though recent news shows that there could be other factors at play.
Sportsnet's Chris Johnston reported that the Maple Leafs are the front runner for Nashville Predators defenseman Mattias Ekholm, while Elliotte Friedman disagrees as he talked about positioning and the cost to acquire him. Both make great arguments and it'll be interesting to see what happens as the Predators are now in the fight for a playoff spot.
However, the Maple Leafs do have questions surrounding their goaltending. Jim Parsons Sr. recently wrote a great piece on why general manager Kyle Dubas, who is very familiar with making deals with the Los Angeles Kings, could look to acquire both a goalie and a forward in Jonathan Quick and Alex Iafallo.
When Parsons Sr. brought this article up on the latest episode of the Maple Leafs Lounge, it got me thinking about another potential trade scenario with another team. Dubas could look to the Arizona Coyotes to acquire someone like Darcy Kuemper and Conor Garland to help bolster the Maple Leafs at both positions.
Maple Leafs Dealing With Injuries in Goal
It's well known that the Maple Leafs have had their fair share of concerns in the crease, especially in regards to the play of starter Frederik Andersen.
With his recent struggles, including a lingering injury that has played a factor, now the team is managing the amount of games that Jack Campbell is playing as he's still not 100 per cent with his lower-body injury. While he has been fantastic this season with a 1.48 goals against average and a .945 save percentage, it's now got to the point where they're managing his starts so that he won't re-aggravate his injury. It's something that may force them to make a move to address goaltending.
If both Andersen and Campbell are out long term, then Michael Hutchinson is the next in line to be the starter. While he has had a good season, a performance like his game against the Ottawa Senators where he allowed two goals on three shots is concerning. The Maple Leafs haven't made it a point to be in the market for a goaltender as the team has something great with Andersen and Campbell (when healthy).
As the trade deadline approaches, it wouldn't hurt to try and address goaltending now so that way the team can be certain at the position for the future. Will Andersen return? Will Campbell be the starter next season? There are a lot of unknowns at the moment.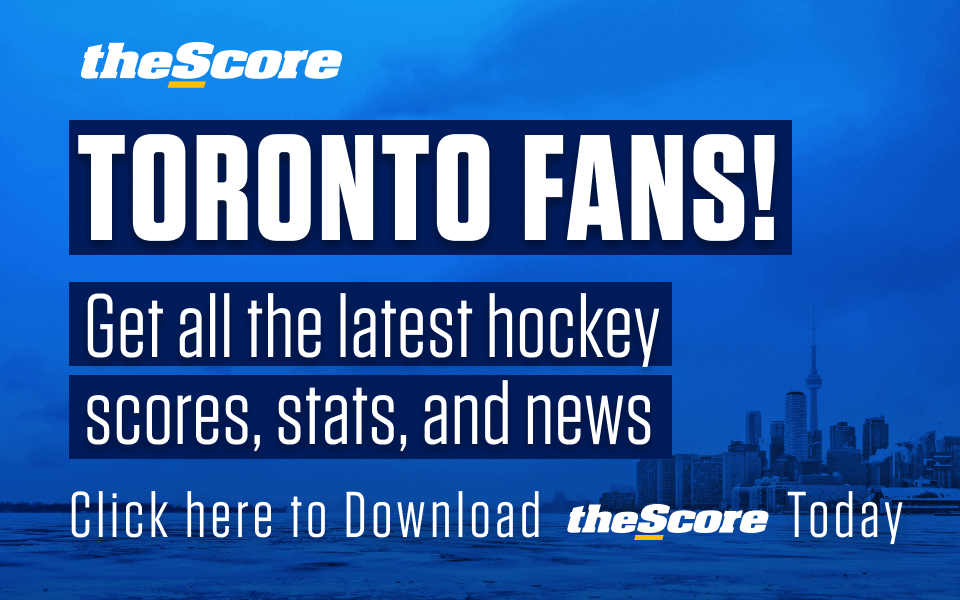 The talk of Andersen's future has been a focal point in Leafs Nation all season and it may have come to a boiling point. In his article Parsons Sr., writes that whether he's healthy or not, Andersen may not be the goaltender for the future. Even Friedman mentioned that the Maple Leafs have inquired on goalies, including the Coyotes.
Why Acquiring Kuemper Makes Sense
While many, including myself, feel that Campbell could be their go to guy in net, the recent news of his load management and injury could be a concern for the team going forward. If Andersen doesn't have a future in Toronto and they still have some worries with Campbell's injury, they need help immediately. Bringing Kuemper in makes sense.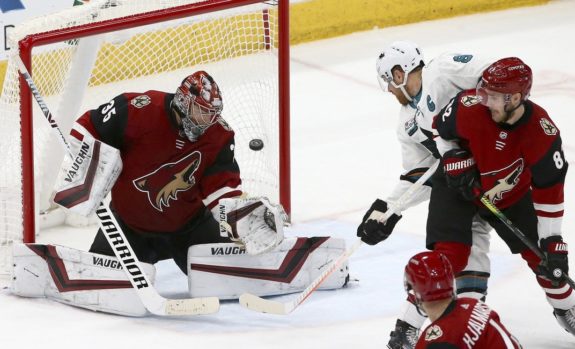 Kuemper has had a pretty good track record with his play over his nine year career as he has a 2.45 GAA and .918 SV%. Since becoming the starter for the Coyotes, his numbers immediately stand out as he was in the top-10 for the Vezina trophy the last two seasons. He was off to another great start this season with a 2.41 GAA and a .914 SV% but has since been sidelined with a lower-body injury.
As a comparison to Andersen, Kuemper's numbers provide a stark contrast over the last three seasons.
| | | | | |
| --- | --- | --- | --- | --- |
| Season | Kuemper's SV% | Kuemper's GAA | Andersen's SV% | Andersen's GAA |
| 2018-19 | .925 | 2.33 | .917 | 2.77 |
| 2019-20 | .928 | 2.22 | .909 | 2.85 |
| 2020-21 | .914 | 2.41 | .897 | 2.91 |
Kuemper's numbers have been steady while Andersen's numbers have declined. This season, Andersen has arguably had the best defense he has seen in his time in Toronto and his numbers aren't anywhere near to what Kuemper is posting.
While Kuemper's statistics are noticeably better, his contract is something that the Maple Leafs would love to have. According to Cap Friendly, he has a cap hit of $4.5 million and is signed for the 2021-22 season, something that benefits them greatly. If Dubas moves on from a pending unrestricted free agent in Andersen, getting a goalie with term and upside would be a great move. Since teams have called about Andersen, swapping goalies could be a good option.
Even though Kuemper is injured, with the quarantine for players entering Canada is being shifted from 14 days to seven, it helps out a team like the Maple Leafs but also Kuemper. Since he's on the injured reserve list and while his return is up in the air, the quarantine would coincide while he's recovering from his injury.
Conor Garland in the Mix?
As Parsons Sr. used Iafallo as his forward, the Maple Leafs could look to add Conor Garland as he's in the midst of a strong season. After posting 22 goals and 39 points in 2019-20, he could match his point total from last season as he already has 26 points.
His contract wouldn't be an issue at all as he's making $775,000 and is a restricted free agent at the end of the season. After his last two seasons, you can expect an increase from what he's making now. Though Friedman mentions that the Coyotes have been asked about him, they aren't shopping him unless the price is right.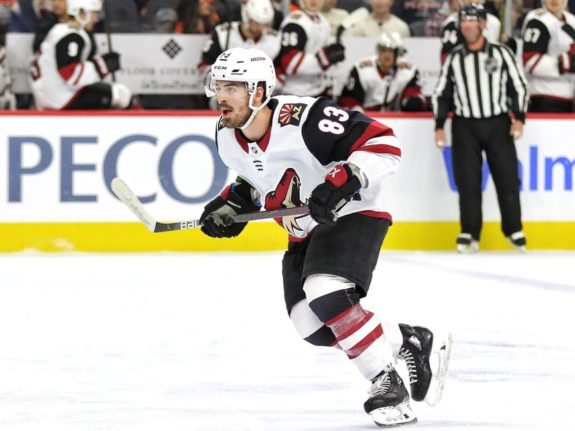 While he's 5-foot-10, 165 pounds, he has great energy and a strong offensive skillset that matches the Maple Leafs play style. He isn't afraid of going to the front of the net or battling in the corners.
Having Garland on the wing with John Tavares and William Nylander would definitely round out the top-six very well. While Alex Galchenyuk has played well with them, Garland would provide a slightly better production offensively. Garland likes to generate speed and has great control when the puck is on his stick. He's quick with his speed and has a knack for being very deceptive sneaking into the open areas on the ice.
When he's on the ice at five-on-five, the Coyotes have a good Corsi for percentage (shot attempts) of 51.58%. But his impact is felt in the high danger area as the team's percentage when he's on the ice is at 57.23%, second overall on the team with a minimum of 100 minutes played. Adding him would be a major addition to the Maple Leafs.
What Could a Deal Look Like?
If a deal were to be made, it's likely that both Andersen and Kuemper are going to swap. If Garland is coming the other way the Maple Leafs could move a forward in Alexander Kerfoot (21st on TSN's Trade Bait List). Even if Kerfoot wasn't involved, they could offer up a prospect they're willing to part ways with.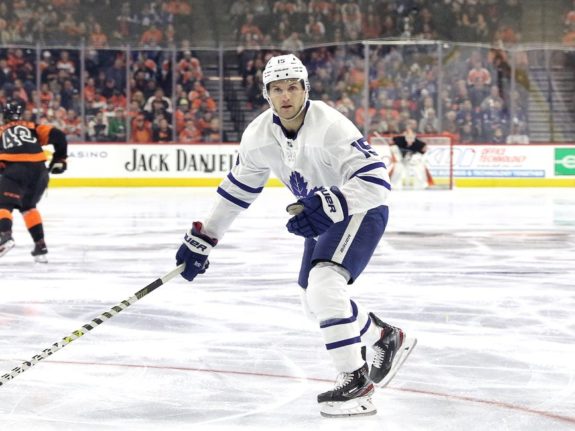 The Maple Leafs could also deal their first-round pick in 2021 for a few reasons. One, this draft is unpredictable as there could be a lot of movement outside of the top-10. Two, the Coyotes don't have a first-round pick as they forfeited theirs after violating the league's combine testing policy. The Maple Leafs would keep their prospects in place, while giving up a first in what could be a weird draft season.
Whether or not the Maple Leafs are looking at the Coyotes for help to upgrade their goaltending or the top-six forward group, both Kuemper and Garland fit what they're looking for. Dubas is no stranger to making a package deal before and it's very possible that he can do that again this time around.
Statistics from Natural Stat Trick, Hockey Reference and Cap Friendly.
---
---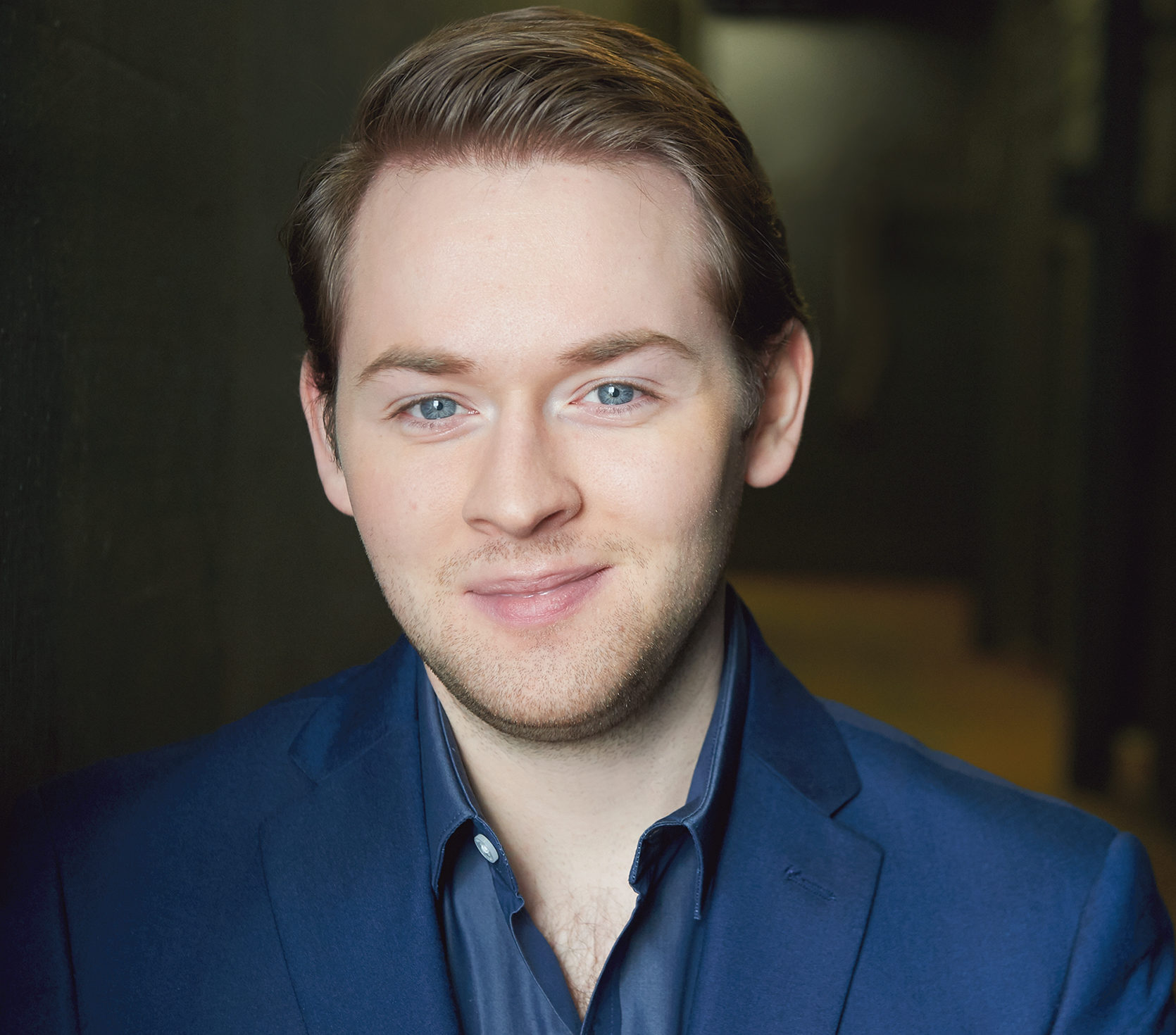 Hockey has been a big part of my life since watching my first Leafs game to currently coaching minor hockey. I previously interned at The Hockey News and worked on Toronto Marlies broadcasts for Rogers TV. Aside from hockey, I also enjoy drumming, animation and impressions/ voices.
Rafael Nadal rallies from set down to advance in Barcelona
Top seed Rafael Nadal rallied from a set back to beat Ilya Ivashka of Belarus 3-6, 6-2, 6-4 on Wednesday in the second round at the Barcelona Open in Spain.
Nadal lost serve in the opening game of the match and wasn't able to break Ivashka's serve throughout the first set. He won just 70.6 percent of points on his first serve, was broken twice and had two double faults in an uncharacteristically poor showing on service in the opening set.
By the second set, he had righted his serve, winning 86.7 percent of points on his first serve in the second set and 83.3 percent in the third. He didn't face a break point in either set.
In other action, No. 2 seed Stefanos Tsitsipas of Greece, No. 3 Andrey Rublev of Russia, No. 4 Diego Schwartzman of Argentina, No. 6 Pablo Carreno Busta of Spain and No. 10 Felix Auger-Aliassime of Canada were among those advancing.
No. 9 Fabio Fognini of Italy defaulted for verbal abuse. He was losing 6-0, 4-4 to Zapata Miralles of Spain when the line judge reported him for swearing after a foot fault. He had been warned earlier in the match
Serbia Open
Top seed and home-country favorite Novak Djokovic needed just 68 minutes to top South Korean Soon-woo Kwon 6-1, 6-3 and advance to the quarterfinals in Belgrade, Serbia.
Djokovic capitalized on five of his eight service break opportunities in the win. In the next round, he'll meet fellow Serb Miomir Kecmanovic, the eighth seed, who needed three sets to oust Arthur Rinderknech of France 6-3, 3-6, 6-3.
Also advancing was the No. 2 seed, Matteo Berrettini, who defeated fellow Italian Marco Cecchinato 6-4, 6-3. Fifth seed Filip Krajinovic beat Nikola Milojevic 6-1, 6-1 in an all-Serb match.
(Field Level Media)
Ice hockey-Women's world championships cancelled due to COVID-19
(Reuters) -The women's ice hockey world championships set to be played in Halifax and Truro, Nova Scotia have been cancelled because of a surge in COVID-19 cases in Canada, Hockey Canada said on Wednesday.
The announcement came one day before the 10 teams were to arrive to begin their quarantine ahead of the May 6-16 tournament.
"This is very disappointing news to receive with just a few weeks until the tournament was to begin," said International Ice Hockey Federation president Rene Fasel in a statement.
"We strongly believe that we had the adequate safety measures in place. In the end, we must accept the decision of the government."
The IIHF and Hockey Canada were informed by the Nova Scotia provincial government on Wednesday that the 10-country tournament could not go ahead due to safety concerns associated with COVID-19.
Still the news came as a shock after Nova Scotia's chief medical officer had 24 hours earlier given the event the thumbs- up.
"At five o'clock this morning we were full go and at 7:30 am we were not," explained Hockey Canada chief executive officer Tom Renney. "That is the way the world is right now and there is only so much we can control.
"At the end of the day there is a bigger game than the one we play here and quite honestly it is about the safety of the general public."
The cancellation was another blow for the women's game that has endured a number of recent setbacks, including the folding of the Canadian Women's Hockey League.
It was also the second consecutive year the Nova Scotia world championships have been stopped by COVID-19.
"Definitely, a little bit of disbelief, a little shock, a lot of emotion," said Canadian coach Gina Kingsbury, who pulled some players off the ice to deliver the bad news. "This is a group that has been through a lot this past year and two years so they are definitely familiar with disappointing news."
Both the IIHF and Hockey Canada indicated they plan to play the world championships this year, possibly this summer, in Canada.
"Our intention, and that of the IIHF, is to reconnect with this event as a world championship in 2021 in Canada," said Renney. "That's our number one objective. We have every desire to hold this event in Canada."
(Reporting by Steve Keating in Toronto, Editing by Ed Osmond)
Nick Foligno hopes to make Leafs debut Thursday vs. Jets
Former Columbus Blue Jackets captain Nick Foligno is eyeing Thursday as his potential debut for the Toronto Maple Leafs, he said on an NHL.com podcast.
The Maple Leafs acquired the left wing on April 11 in a three-team trade with Columbus and the San Jose Sharks, with each team retaining a portion of Foligno's salary so he can join the North Division leaders for their Stanley Cup pursuit. Toronto visits the Winnipeg Jets on Thursday.
Because he moved from the U.S. to Canada, Foligno was required to quarantine for seven days before joining his new team for practices and games, in accordance with COVID-19 protocols.
"Seven days of just nothing, and then you jump right into it, it would be nice to probably have a practice, but I rather just that — let's go," Foligno said on "The Chirp with Darren Millard." "I'm here to play for them and get this thing rolling, so I probably prefer just to jump right into it and get going."
If the Leafs put Foligno in their lineup Thursday at Winnipeg, he'll get to play against his former Columbus teammate, Pierre-Luc Dubois.
Foligno played eight-plus seasons for the Blue Jackets and his first five NHL seasons with the Ottawa Senators. In 950 career games, he has tallied 203 goals and 279 assists.
The Maple Leafs sent their 2021 first-round pick and 2022 fourth-rounder to Columbus and their 2021 fourth-rounder to San Jose in order to add Foligno to their stacked group of forwards, which includes NHL goal-scoring leader Auston Matthews, John Tavares and Mitch Marner.
Foligno's father, Mike Foligno, was an NHL veteran who played parts of four seasons for the Leafs
(Field Level Media)