MBL group brings in real estate partner to help select developer – MidlandToday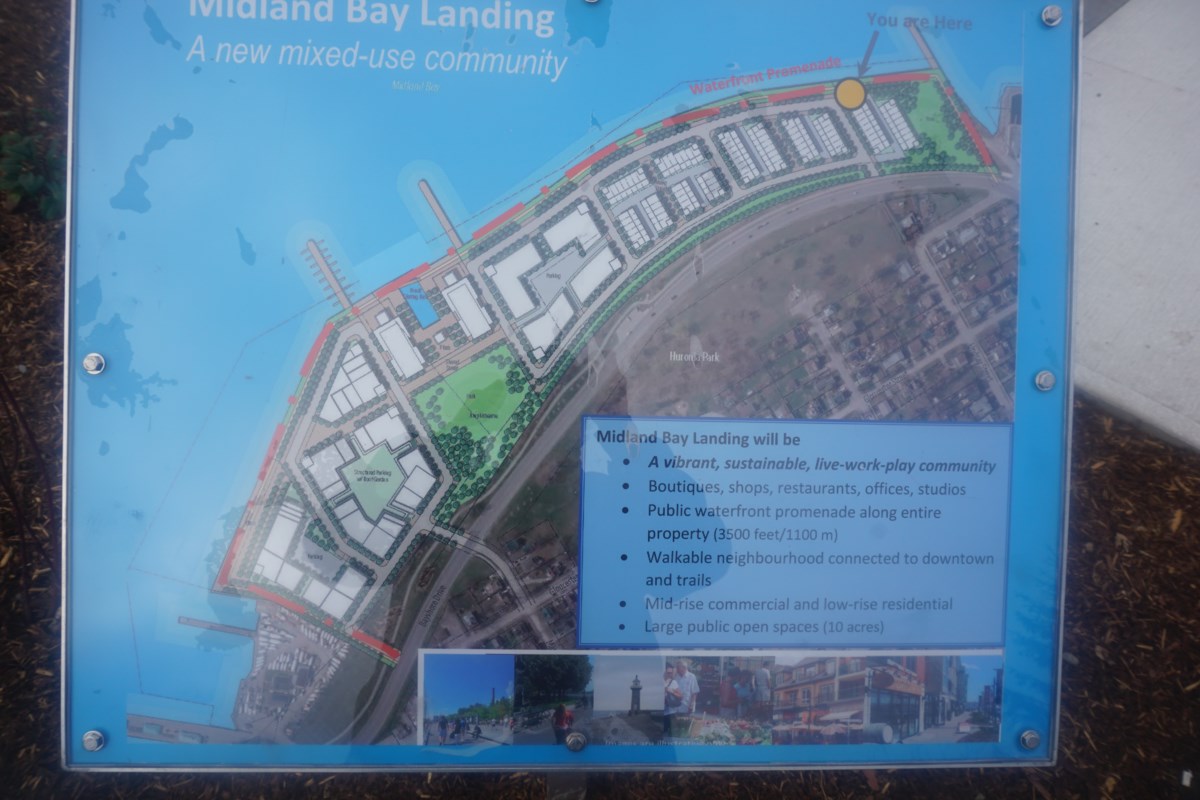 A new partner has signed on to help transform a prime piece of Midland's waterfront into a mixed-use residential development.
Midland Bay Landing Development Corporation (MBLDC) recently brought aboard Toronto's N. Barry Lyon Consultants for a $129,500 fee (plus HST) to help with a two-stage procurement process to select a developer (or developers) for the 40-acre "revitalization" project set to take place on Midland's waterfront.
The Toronto-based firm specializes in housing, community renewal, development feasibility and real estate strategy.
Corporation chair Bill Kernohan said outside help was needed since neither the town nor the board have the necessary expertise to conduct the process internally.
"A specialist real estate advisor with deep industry experience is needed and is usually used by government for this type of procurement process," Kernohan said.
Kernohan also addressed the proposed development, which will see commercial and residential neighbourhoods as well as a quarter of the property set aside for area residents to enjoy.
"The public realm includes the promenade, trail, parks and plaza spaces totaling 10 acres or 25% of the whole property," he said.
"The promenade demonstration is the first part of the whole promenade, which may have different configurations along the entire 1,100-metre length in the final design."
Kernohan said the 10 acres of new "public realm space is a significant feature" of the Master Plan consultation process.
"By building out the whole Master Plan, which will occur over time, new property tax revenue will be generated for the town that will expand its tax base beyond its current base, which in turn, will enable the town to ​create new programs and services."
Kernohan said the Master Plan consultation process started with a list of desired characteristics for the property that included both buildings and open spaces.
"The final plan was seen by the public as generally meeting its input," he said. "At no time during that process was the property envisioned as 100% parkland, but a mix of buildings and open spaces with access by the public to the waterfront."
As for the process involving N. Barry Lyon Consultants, starting next month, the firm will conduct a request for pre-qualifications (RFPQ) that will be widely advertised to identify interested developers and to prequalify a short list of appropriate candidates.
Those who meet the criteria outlined in the RFPQ will then proceed to the second stage of the selection process wherein a formal request for proposal (RFP) will be issued in March.
From there, proposals will be evaluated, and the successful proponent(s) are expected to be selected in June, recommended to council, and will then enter into a Letter of Intent.
The development board noted an independent fairness monitor will oversee the whole selection process.
Simplicity Changes the Real Estate Conveyancing Software Landscape in Ontario with Launch of Prolegis – Canada NewsWire
'Simplicity is incredibly pleased and excited to offer Ontario real estate lawyers and conveyancers a fresh new choice in a legal software provider. Collaborating with our valued customers and a network of trusted stakeholders, we are building a better, brighter future for real estate legal professionals and Canadian homebuyers. At Simplicity, we envision a future where innovative technology is at the forefront of enhancing the customer experience in the real estate ecosystem. We are committed to helping advance technology utilization and adoption within the real estate sector by providing solutions that are user-friendly, easy to implement, and economical to acquire and operate.' said Neil N. Babiy, Co-Founder and CEO of Simplicity Global Solutions Ltd.
About Prolegis Real Estate
Prolegis is a powerful, easy-to-use, cloud-based real estate conveyancing solution built for lawyers by lawyers. The solution integrates seamlessly with a real estate practice, providing a rich set of tools and information to help each user unlock exciting new levels of performance, customer engagement, and work-life balance.
Prolegis provides customers with exceptional value:
Thoughtfully designed to save time with all the capabilities and key third-party integrations needed to convey a real estate transaction efficiently and economically.
User flexibility to configure and organize work, communicate with clients, and manage the real estate transaction end-to-end from a single solution; anytime, anywhere.
An extensive library of precedent document templates, powerful document and workflow management tools, community databases, stakeholder portals, and real-time support.
Prolegis Real Estate raises the competitive bar with its unique set of Communication, Practice Management, and Document Preparation tools which enable quick, easy, and accurate processing of real estate transactions.
Ontario real estate lawyers and conveyancers can click here to Learn More about Prolegis and to Book a Demo. Simplicity has highly skilled Customer Success Specialists in place across Canada to welcome new customers.
Click here to view a Prolegis Product Teaser Video.
About Simplicity Global Solutions Ltd.
Simplicity Global Solutions Ltd. is a Canadian technology company offering innovative, secure, cloud-based solutions designed to inter-connect lawyers, real estate professionals, mortgage professionals, lenders, registry services, title insurers and the end consumer to offer quick, easy, accurate and secure sharing of information. Simplicity's mission is to interconnect all real estate and lending stakeholders to enable the frictionless flow of information across the entire real estate and lending lifecycle to eliminate inefficiencies while improving productivity for consumers and industry participants.
Additional information can be found at www.prolegis.ca and www.simplicity.global
SOURCE Simplicity Global Solutions Ltd.
For further information: Media and investor contact: Neil N. Babiy, Co-Founder and CEO, Simplicity Global Solutions Ltd., [email protected], (587) 899 1147
This Ontario city has the most overvalued real estate market in Canada – blogTO
Good luck buying a home anywhere in Ontario right now, as meteoric price gains and a historic inflation spike push housing markets in the province further out of reach.
And as bad as things are in the Greater Toronto Area in 2022, rampant speculation is not limited to urban centres. According to one housing market assessment, Peterborough is now the single most overvalued housing market in the entire country.
Moody's Analytics has ranked Peterborough, Ontario, at the top of the list for most overvalued housing markets in the company's fourth-quarter assessment of housing price valuations in Canada.
Peterborough's 107.8 per cent valuation comes after years of substantial price growth for the municipality northeast of Toronto.
Though with an average annual household income of about $70,000 and the average May 2022 selling price climbing nearly 19.8 per cent to $836,843, the city's market is firmly on the unattainable side of the scale.
According to RE/MAX Canada's analysis of the valuation, recent activity "has first-time homebuyers priced out of the market, especially local buyers," adding that "too many prospective homebuyers are still stuck waiting to achieve the dream of home ownership."
Experts attribute Peterborough's valuation to factors like rampant investor speculation, blind bidding, and low interest rates.
Despite all the doom and gloom, home sales took a nosedive in the region in May, sales falling at an annualized rate of 34.3 per cent with a year-over-year decline of 18 per cent and a 17.7 per cent dip below the ten-year average.
Though May home prices leapt significantly in May, this downturn in demand could soon translate to decreasing value.
A spike in supply could further ease conditions, though Kate Kidd, President of the Peterborough and the Kawarthas Association of Realtors, says "it's going to take more than a few months of stronger supply to have any meaningful impact on the market balance in the long term."
After Peterborough, Canada's second most overvalued housing market was also found not too far from Toronto, with St. Catharines-Niagara's market valued at 106.9 per cent.
This Week's Top Stories: Canadian Real Estate Slowdown Is Just Getting Started & "This Time Is Different" – Better Dwelling – Better Dwelling