Media to tour part of White Rock Lake wildfire evacuation zone – Vernon Morning Star – Vernon Morning Star
Members of the media will get an inside look at the Regional District of Central Okanagan's evacuation zone today (Aug. 24), much to the dismay of some evacuees.
Some evacuees displaced by the 80,951-hectare lightning-caused White Rock Lake fire have spoken up on social media sharing plans to halt the "voyeuristic event."
Resident Camilla Labine said the people of the North Westside are "totally against this."
"We are currently organizing a protest or blockade of our residents to prevent media access as coordinated by the RDCO to our communities," Labine wrote Black Press. "The public needs to be made aware of our outrage at such an unnecessary violation of our privacies and media porn which will add to our existing pain and stress."
Westshore Estates resident Val Trevis echoes Labine's message.
"Many of us do not want the media to tour our neighbourhoods but our concerns have fallen on deaf ears at the regional district."
Meanwhile, Trevis said the majority of residents are still in the dark about the condition of their neighbourhood.
"Residents who tragically lost their homes have been contacted and they should be first priority throughout this disaster," she wrote Black Press and district CAO Brian Reardon. "However, for 22 days now, we (the remaining evacuees) have not received one single update for our respective neighbourhoods.
"We are worried and waiting."
A large-scale ignition operation is planned to tackle the White Rock Lake wildfire which could start Wednesday, Aug. 25.
Crews look to target the northeast flank, in the area of Irish and Six Mile creeks, covering upwards of 3,000 hectares.
Significant amounts of smoke will be visible from nearby communities, including Vernon, Armstrong, Spallumcheen, Falkland and Glennema, BC Wildfire Services said.
The combined efforts of hand and aerial ignitions would remove fuels that remain between the control line and advancing fire, giving firefighters the chance to gain control of the fire burning in the steep terrain.
Fire activity has been minimal but with warming temperatures, BCWS anticipates the activity will pick up again over the course of the week. Gusting winds of up to 30 km/h from the east-northeast are called for today (Aug. 24) and temperatures are expected to reach mid-20s by Wednesday.
---
@VernonNews
newsroom@vernonmorningstar.com
Like us on Facebook and follow us on Twitter.
Five Thoughts on Negotiating Through the Media, PTOs, Player Personalities & More – Silver Seven
On Changing Expectations
Last offseason, if you'll recall, the Ottawa Senators made some veteran acquisitions. They added the likes of Erik Gudbranson, Derek Stepan and Austin Watson, while also bringing in Alex Galchenyuk and Cedric Paquette. Effectively, Pierre Dorion "ruined" any opportunity a prospect had to make the roster out of camp by filling it with players who DJ Smith would almost certainly opt to play over someone with little to no NHL experience.
Fans were, understandably, frustrated.
Why add replacement level (or worse) players instead of giving Erik Brännström, Logan Brown and/or Alex Formenton a chance to cement a role on the roster from the start?
This offseason, interestingly, the Senators haven't done much of anything. Yes, they brought in Nick Holden and Michael Del Zotto but, for a team claiming to be stepping in to the next phase of the rebuild, that doesn't amount to much of an impact. After talk of looking to add a first line centre and a top four defender – of which, it's very possible Dorion believes he accomplished with the aforementioned additions – the offseason has been pretty quiet.
Fans are, understandably, frustrated.
Why not make additions to the team that ended last year with a 9-2-1 record in their final 12 games? Why not take this group to the extra level by spending the abundance of assets in the cupboard on someone who can do so.
Funny how things change, isn't it? This time last year we were clamouring for the Brännström's, Brown's and Formenton's of the lineup to get a shot at cracking the roster but this year, many fans have expressed some frustration that Ottawa hasn't done much. If they had, players like Egor Sokolov, Ridly Greig and Jacob Bernard-Docker wouldn't have a spot to fight for.
As we see the future of the Ottawa Senators hitting the ice this week for development and rookie camps, with reports of players like Sokolov, Grieg and Angus Crookshank standing out, you can sense a cool down from Sens fans across Twitter on their desire for incoming additions.
A long offseason is finally coming to an end, the anxiety around the roster is slowing down, let's get to it.
On Negotiation Through the Media
Over the past four seasons, after plenty of public messes in the realm of player negotiations, Dorion's most used phrase might now officially be "we don't negotiate through the media." While it can be frustrating as fans, particularly when we're all waiting not-at-all-patiently for news of a long term extension for Brady Tkachuk, it's in the best interest of the organization to ensure as much of this stuff happens behind closed doors as possible. After all, a team like the Senators can't afford any more negative media attention than they tend to generate for themselves outside of contract negotiations.
On this topic, however, there has appeared to be plenty of negotiation through the media – just not by Dorion himself. Over the last few weeks, TSN's Shawn Simpson and PostMedia's Bruce Garrioch have essentially been reporting one-sided updates – Simpson from Tkachuk's side, Garrioch from Ottawa's. The question is, how much of this is each camp trying to leak some information to tip the scales on their favour and how much of it is just genuine reporting of what each journalist has heard?
It's incredibly possible that Simpson doesn't report too much from the Sens side simply because he doesn't have a deep, trustworthy source to keep him in the know. Similarly, it's possible (read: incredibly likely) Garrioch's information comes directly from the team and he doesn't have much in the way of a network within the NHL Agents community.
It's hard to ignore, though, how regularly these two indirectly spar on Twitter. For every Garrioch article, there tends to be a Simpson subtweet. For example, Garrioch recently penned a piece updating on the Tkachuk contract negotiations, claiming Tkachuk not being at camp on day one would have an impact on his chances of making the Olympic team. The next morning, Simpson tweeted this:
Tkachuk wanting to play in the Olympics is less than zero leverage for the Sens. Not even on the radar at this point. If it's November 1st maybe it turns up the heat.

As @TSNHammer looked up, Matthew signed in the middle of camp in 2019.

— Shawn Simpson (@TSNSimmer) September 14, 2021
At the end of the day, I like that Dorion tries to keep things under wraps as much as possible but it's really hard to take those words too seriously with how frequent these types of pieces and interactions happen. I don't blame Garrioch, Simpson or any other media member for releasing to the public information they find out. Not one bit. That's their job!
But the Sens definitely negotiate through the media, Dorion just doesn't reveal information himself with a microphone in his face.
On Player Personalities
Thomas Chabot and Tim Stützle attended the NHL media event in Toronto this past week and it was a refreshing reminder of how gosh darn likeable the new era of Ottawa Senators are.
It was great to see both players interacting with the media, answering questions, playing fun games and, of course, drawing the teams logo from memory. It's a good thing they're both good at hockey so they don't have to try their hands at the starving artist career – they'd be quite hungry, I suspect.
This summer we also got the chance to see a number of players hop on The Wally and Methot Show and get a glimpse into their personalities, as well. From Josh Norris to Brady Tkachuk to Egor Sokolov, we had the pleasure of getting to know these people better, not just the players, and, for me, that felt incredibly relatable.
Many joke on Twitter about Ottawa trying to rebuild their team based on vibes and it seems to be true. Maybe it's because we have more mediums to get to know them better or maybe it's because the dust is settling and the black cloud above the organization appears to be dissipating, but overall I'm really looking forward to the upcoming season and a big part of that is feeling more connected to the people under the uniforms.
On Professional Tryouts
We're getting to the part of the offseason, right before camp, where teams are starting to announce players who will be attending camp on professional tryouts (PTO). Over the past week, we've seen Tobias Rieder heading to Anaheim on a PTO, Artem Anisimov to Colorado, Mark Jankowski and Jimmy Vesey to New Jersey and more.
With the idea that Ottawa was expected to add more to its roster than they have, I'd think we'll see at least a few players invited to the main camp next week on PTOs. As the blueline is relatively busy already, if the Sens are going to bring anyone in, you'd think it'll be up front.
Looking through the list of free agents on CapFriendly, a few names popped for me. The first name was Alex Galchenyuk. I know, I know. Why revisit this? At the end of the day, Galchenyuk is a player you can toss onto your third line and second power play unit and get something done, in a pinch. He's someone who's played up the lineup and down the lineup and while his skillset is a much closer match to a top six role than a bottom six role, bringing him in on a PTO certainly wouldn't hurt.
Another familiar face would be Tyler Ennis. I loved Ennis when he was on the Sens. He was the perfect energy player, rarely out of position and can certainly be trusted with extra responsibility from time to time.
If we're going down the familiar face rabbit hole, neither Bobby Ryan nor Zack Smith have contracts for the upcoming season but… I think those years are behind us.
Joseph Blandisi recently didn't receive a qualifying offer from the Montreal Canadiens. He spent last years shortened AHL season in Laval, where he wore an A and compiled 21 points in 28 games. He's a 27 year old centre with 101 games of NHL experience that I'm sure could either push the kids to compete or, at worst, get a contract and head to Belleville to provide veteran leadership as a player who's cleared the 200 game mark in the AHL as well.
None of these names are fancy or shiny, but PTOs rarely are. Nonetheless, I think we can expect a name or two to surface over the next week and I'd be happy to see any of Galchenyuk, Ennis or Blandisi join the Sens when main camp opens up.
On Logan Brown
I'd like to start this thought of by saying I've always been a fan of Logan Brown – likely more so than the average Sens fan.
There are a lot of knocks on Brown's game and his development. There are claims that he doesn't work hard enough or move his feet but the only thing lazy related to Brown is that narrative. That's not the real problem.
The real problem has been his health. This isn't news, even the most casual of Sens fans knows that Brown hasn't had a full, healthy season since before he was drafted. If you don't know this about Brown, you'd be shocked to learn he hasn't been able to crack the NHL roster yet. After all, he's a 6'6" centre with the softest hands and he's put up 0.84 points per game at the AHL level.
As Development Camp has come and gone and Rookie Camp is kicking off, Brown is nowhere to be found. Without a contract, it's been stated that if Brown can't be moved, he'll be off to Europe until another NHL team is ready to give him a shot.
It saddens me to say, but it's time to cut ties and move Brown for whatever you can. He's not going to play another game in the Senators organization and, even if it's just a mid round pick two years in the future, Pierre Dorion should be looking to get something – anything – for the 2016 11th overall pick.
Black Press Media Weekly Roundup: Top headlines this week – Summerland Review – Summerland Review
Happy Friday! Fall is definitely starting to make its way into the region, so in case you were busy enjoying the cooler weather this week, here's what happened in the news to catch you up before your weekend begins.
False B.C. fur farm ban announcement a 'rollercoaster of emotions': activist
A fake news release was sent out to media outlets on Tuesday (Sept. 14) morning, announcing that the Ministry of Agriculture, Food and Fisheries was banning fur farms, phasing them out over the next five months and providing support for mink farmers.
But that announcement was confirmed to be false when the real agriculture ministry sent out a memo saying that they are not, in fact, banning fur farms.
Kelowna animal rights activist Amy Soranno said it was a rollercoaster of emotions and that finding out the announcement was fake was upsetting.
"There remain a plethora of reasons why a ban should indeed be implemented for environmental, human, and animal concerns," she said.
Princeton man calls 911 after restaurant customer is refused breakfast
A Princeton man called 911 on Monday (Sept. 13) after he saw someone being turned away from a local restaurant as the vaccine card regulations kicked in.
Princeton RCMP's Sgt. Rob Hughes said the caller wanted it known that he was outraged that someone didn't get their breakfast.
Hughes said the man blamed Liberal leader Justin Trudeau for the country "falling apart."
COVID crisis puts strain on Vernon hospital: physician
A record number of patients suffering from COVID-19 is straining resources at Vernon Jubilee Hospital, according to a doctor who works there.
He said that in order to take care of and accommodate COVID patients, they've had to put non-emergent surgeries on hold.
At baseline, VJH only has 10 ICU beds, with nine COVID patients taking up the beds. The hospital is taking care of around 32 COVID-positive patients and has put the hospital at 30 per cent over capacity.
Okanagan offender Curtis Sagmoen allegedly terminated from LNG site in Kitimat
Convicted offender Curtis Sagmoen had been allegedly hired, then let go, by LNG Canada at its Kitimat site after locals brought forward their concerns about the new hire.
LNG Canada released a statement about the situation after Kitimat's City Centre Mall was vandalized with the words "LNG Canada hires serial killers."
Sagmoen has been found guilty of two separate charges involving offences against a sex worker, and he also pleaded guilty to assault in an unrelated incident involving a sex worker in Maple Ridge in 2013.
---
@twilamam
twila.amato@blackpress.ca
Like us on Facebook and follow us on Twitter.
Social media harming people's access to facts: Horgan – Alaska Highway News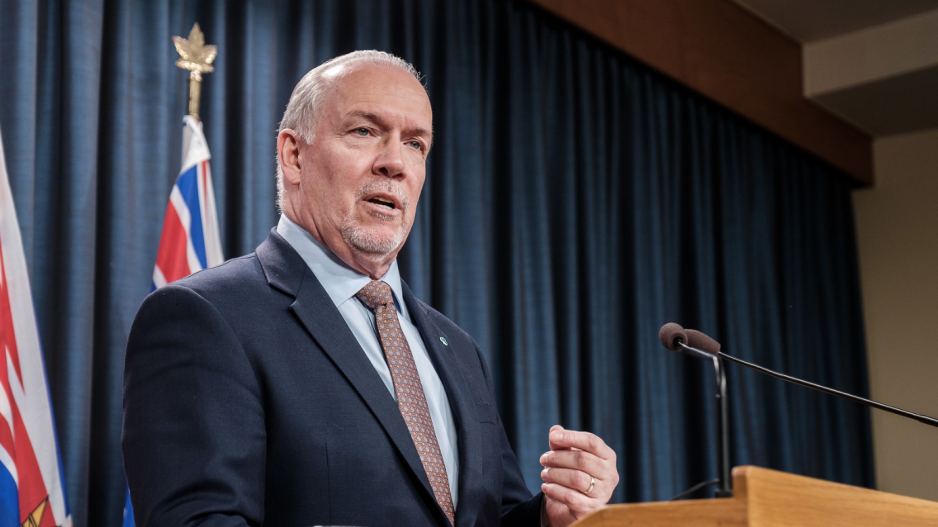 Social media is harming people's ability to get factual information about their communities, the country and the world, Premier John Horgan said Sept. 17.
"That worries me a lot," Horgan told delegates of the Union of BC Municipalities as their annual convention wrapped up Sept. 17.
The premier, who had considered journalism as a career, said unlike news produced by journalists, much of what is found on social media is not fact-checked or verified.
But, he said, as more people turn to questionable sources, news outlets lose advertising and have to lay off journalists — resulting in less verified news coverage.
"I've seen the erosion of local information, credible reliable, verifiable information for the public to better understand the challenges they face locally, provincially, nationally and internationally."
He said he often grumbles to friends who depend on social media for news, and often reminds them none of what they read there is verified or fact-checked.
"It is opinion that is put out into the world and then absorbed by the multiple millions depending on whether or not it starts to trend," he said.
Horgan said citizens need accurate information but asked, "how do we do that without appearing to be the state intervening?"
"We have, I think, a tussle right now between how does the government protect open access to information and how does open access to information protect the public that is consuming that information."
"We just don't know where it's coming from anymore."
Nelson Coun. Keith Page posed the question to Horgan, saying social media has hollowed out the revenue model of traditional media outlets leading to attrition in the ranks of journalists. Further, he said, under-investment in libraries combined with the harms of social media have led to a decline in social knowledge infrastructure in B.C.
"It affects everybody here and it affects everybody out there," said outgoing UBCM president Brian Frenkel.