NASA's Nicole Mann reveals the emotional reason she wants to be the first woman on the Moon – Inverse
In late 2020, Nicole Mann received a call that would alter the course of her life — and may even alter the course of human history. On the line was NASA veteran astronaut Reid Wiseman: He had called to let Mann know she had been chosen to be part of the Artemis mission. Put bluntly: Mann could be going to the Moon.
In an interview with Inverse conducted in late January, she recalled how, despite all her training to prepare her for this great endeavor, she was still dumbstruck.
"First you try to process it, taking it all in and trying to think: 'Okay is this real? Am I just dreaming this?'" Mann tells Inverse.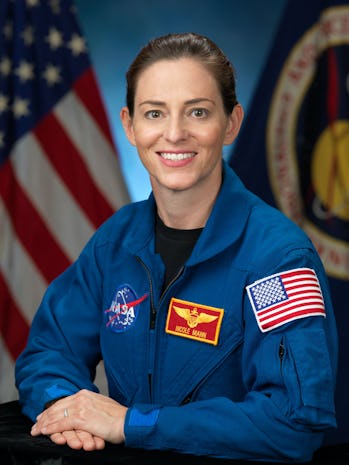 "It's just that sense of incredible excitement and just thinking about all the possibilities, and thinking, 'Oh my gosh I have so much work to do.' Then it's back to excitement again."
"Yes you want to be the first person to walk on the Moon…but really it's not about you, it's about the bigger mission."
Since the news broke, the 43-year-old NASA astronaut has been in an intense training regime along side 18 other candidates selected as part of the Artemis Team. Of the 18, only two will ever actually make it to the Moon and retread Armstrong and Aldrin's steps on the lunar surface.
If Mann makes the cut, she would be the first woman on the Moon.
"It's just this really overwhelming sense of emotion in the best of ways that I can describe," she says.
As the pandemic raged here on Earth, NASA continued its plans to send humans off the planet and on to our natural satellite. On December 9, 2020, NASA revealed the 18 astronauts for their Artemis mission, which will land the next man and the first woman on the Moon by 2024.
One noticeable difference between the Artemis Team and those who took part in NASA's earlier mission to the Moon, the Apollo Program, is the sheer diversity of the astronauts. Of the 18 potential astronauts, 9 are women, including Mann — 12 men have already walked on the Moon as part of past NASA missions.
"It's a huge team working together for this goal which is so much bigger than yourself."
"We are in way different times than we were back in the '60s and '70s," Mann says.
"It's just a great example that our country needs right now to show that these barriers are being knocked down," Mann says. "Anyone and everyone has the ability to participate and be a part of these amazing endeavors, whether that be something in science and technology, or something in society, or something as incredible as going to the Moon."
Road to the Moon: A slow start
Mann first became a NASA astronaut in June, 2013, at the age of 36.
"I didn't realize that that was what I wanted to do until a little bit later in my career," she says.
Before she made the switch, Mann was a lieutenant colonel in the Marine Corps. Flying to space was just not really on her agenda, until she visited NASA as part of her training in test pilot school. After this brush with the space agency, she started to look more closely at becoming an astronaut herself.
"I got a chance to meet astronauts and really get a better sense of what do astronauts do on a daily basis other than go to space," Mann says.
"It's a huge team working together for this goal which is so much bigger than yourself, and that's what really drew me towards NASA."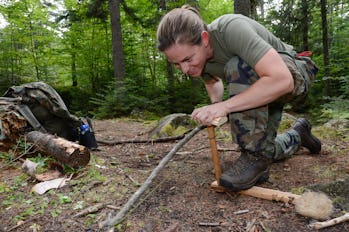 Will Nicole Mann be the first woman in space?
From not caring about going to space at all, to being selected as part of the first astronauts to go to the Moon in more than 50 years, Mann has come a long way in her relatively short career as an astronaut.
Since being chosen for the Artemis Team, Mann and her colleagues now train day in, and day out, for the journey to the Moon.
"It's busy, it's pretty diverse, and you wake up excited every day for the cool things that you get to do," Mann says.
As part of their preparation to go to the Moon, the Artemis Team works on refining the spacecraft which could take them there. This includes drilling down on the procedures they will need to follow to fly the craft and stay safe on the journey, as well as how to land safely on the lunar surface. They also need to practice the science experiments they hope to conduct on the lunar surface.
"How are we going take what the engineers have built, and now incorporate human beings into this amazing machine — which can be much more complicated than you originally think?" Mann asks, rhetorically.
"How are we going live, and work, and function in space?"
To answer these questions, NASA can only prepare the astronauts so much. Ultimately, a lot will depend on the individual characteristics of each crew member. Mann and her team will need to keep training as if they are the chosen ones for a while yet, however.
NASA plans to put the astronauts through more specific training in preparation for the journey, and place them under pre-flight restrictions just 18 months ahead of the scheduled 2024 launch. For now, Mann and the astronauts are learning how to take care of their bodies in space — how to eat food, use the restroom, sleep, and live in a microgravity environment.
Doctors, scientists, and former astronauts are also helping to prepare them for the mission, Mann says.
As 2024 approaches, the astronauts will conduct test flights — critical trials of whether what they have learned on the ground can help them survive and thrive in space.
"We are going to learn a lot," Mann says. "You may come up with the perfect plan here on the ground and the perfectly designed solution, but you will still learn something in space."
Up there, she says, "things will not always work perfectly."
A new era for space exploration
As much as Mann wants to leave her footprints on the Moon, she also recognizes the bigger picture of the mission as a whole.
"Yes, you want to be the first person to walk on the Moon, you want to fulfill that role, but really it's not about you," Mann says. "It's about the bigger mission, so you're just excited to support in whatever role you can."
It has been more than 50 years since humans landed on the Moon, and this time our species is going back with more advanced technology than ever to probe the lunar surface. Ultimately, we hope to discover the origin story of our natural neighbor, as well as our own.
NASA hopes to establish our presence on the lunar surface, starting with Artemis. The agency hopes to build a lunar base on the Moon for sustained exploration and development. The lunar base may one day help humans reach further destinations like Mars and beyond.
Mann feels the weight of that legacy for future generations, especially when she goes to talk to children in schools as part of outreach for NASA.
"You can see their eyes light up," Mann says.
"You can tell their brain is clicking and thinking and they have such incredible questions. It just gives you such an incredible perspective on life — they're filled with excitement and wonder."
"That's what we all need, especially right now," she says.
Asteroid twice the size of the CN Tower to make fastest flyby of Earth this month – CTV Toronto
TORONTO —
The biggest and fastest known asteroid of 2021 is expected to make a flyby of Earth later this month.
The space rock, officially called asteroid 231937 (designated 2001 FO32), will zoom past Earth on March 21 travelling at a speed of 123,887 kilometres per hour or 34.4 kilometres per second, according to NASA.
The asteroid is an estimated 1.1 kilometres wide, which is roughly twice the size of the CN Tower. Of the approximately 25,000 near-Earth asteroids that scientists know about, NASA says only about 3.5 per cent of them are larger than a kilometre.
Due to its size and proximity to Earth, asteroid 231937 has been classified as "potentially hazardous" by NASA's Center for Near-Earth Object Studies (CNEOS) and is being tracked by the space agency.
NEOs are defined as space objects, such as asteroids or comets, that come within 1.3 astronomical units (195 million kilometres) of the sun. If the object is larger than 140 metres across, it is considered a potentially hazardous object (PHO).
Nearly one hundred known asteroids are set to fly past Earth before the end of 2021, NASA says, but asteroid 231937 is set to be the largest and fastest.
However, NASA says the asteroid's orbit is well known and poses no threat to humans.
According to the space agency, the asteroid will make is closest approach at 16:03 UTC (11:03 a.m. EST), at over two million kilometres away from Earth. NASA notes that this is nearly five times farther than the distance the moon orbits Earth.
Despite being two million kilometres away, NASA says this will be the asteroid's closest encounter on record. According to NASA's records dating as far back as the early 1900s, the space rock has not come closer to Earth and won't do so again for 200 years.
Asteroid 231937 was discovered on March 23, 2001, by the Lincoln Near-Earth Asteroid Research program in New Mexico, according to NASA. It orbits the sun every 810 days and is classified as an Apollo asteroid as it travels from inside Mercury's orbit to the asteroid belt and back, crossing Earth's orbit in an elliptical pattern.
While those interested in catching a glimpse of the asteroid won't be able to do so with their eyes, EarthSky reports that stargazers may be able to see it using a telescope 20 centimetres or larger in diameter to detect the asteroid's motion in real time.
The asteroid will be relatively low in the southern sky, but EarthSky said observers might spot it moving between the constellations of Scorpius and Sagittarius just before dawn.
Organic matter was discovered on an asteroid – The Saxon
In both interesting and important news in the field of space research, researchers have just discovered water and organic matter in a sample of an asteroid in our solar system. The asteroid in question is called Itokawa and the sample, which is actually a single grain, was taken during the first Hayabusa mission carried out by Jaxa or Japan Aerospace Exploration Agency in 2010.
According to the results, the water and organic matter detected did not come from outside but from the asteroid itself. Researchers at the University of London's Royal Holloway thus suggest that the space object evolved over a period of billions of years by incorporating water and organic matter in the same way it did. is happening on Earth. According to scientists, the asteroid went through phases of extreme heat, dehydration, but also phases where it broke. He was, however, able to reform and rehydrate using the materials he was able to collect.
Pixabay credits
– Advertisement –
It is known that this study, published in the journal Scientific Reports, also shows that S-type asteroids, that is, those which are most common among those that come to Earth, may contain the primordial components of life. According to specialists, this could change everything we know about the history of life on Earth. Indeed, research has so far focused on type C asteroids.
The Hayabusa mission
According to the explanation of Dr Queenie Chan of the Department of Earth Sciences at the Royal Holloway, the Hayabusa mission was a robotic mission developed by JAXA. Its goal was to bring back samples from a small asteroid close to Earth called Itokawa in order to analyze them in laboratories on Earth.
Dr Chan said that the in-depth study of the sample, dubbed "Amazon", showed the preservation of primitive organic matter, that is to say that was not heated, but also of organic matter. having been heated, in a space measuring 10 micrometers in length. The part that has been heated indicates that the asteroid has been exposed to a temperature above 600 ° C in the past. But the presence of primitive organic matter nearby shows that it arrived on the surface of Itokawa after the space object cooled.
Read also : Windows 10 at a knockdown price
A basis for future research
Compared to these results, Dr Chen said these were very interesting since they reveal the most intricate details in the history of an asteroid. These results also show that the evolution of the asteroid is very similar to that of the prebiotic Earth.
Scientists hope that these first results will serve as a basis for the analysis of other samples. The Haybusa 2 mission has just brought back samples of another asteroid named Ryugu last year. We can thus hope for other equally important discoveries in the weeks or months to come.
s https://www.independent.co.uk/life-style/gadgets-and-tech/space/water-asteroid-hayabusa-mission-space-b1812285.html
Important Alert
Dear reader.
I hope you are in health and well.
I offer you important instructions regarding this article
The article has been translated based on the content of the source link below these instructions
If there is any problem related to the content, copyright, correctness of the information contained in this article, or If there are errors in the language, please leave a report below the article. or contact us via email [email protected]. We will try to process as quickly as possible to protect the rights of the author. Thank you very much!
We only want readers to access information quickly and easily using other multilingual content, rather than information only available in a specific language.
We always respect the copyright of the author's content and always include the original link of the source article, and if the author does not agree, leave the report below the article, the article will be edited or deleted at the author's request. Thank you so much! Warm greetings!
Source link
https://www.fredzone.org/on-a-decouvert-des-matieres-organiques-sur-un-asteroide-98547
A large asteroid known as Apophis zipped silently past the Earth – SlashGear
On Friday, a large asteroid roughly the size of the Eiffel Tower zipped past the Earth. The asteroid posed no hazard to the Earth on this flyby as it was more than 40 times as far away from Earth as the moon. However, on April 13, 2029, Apophis will get much closer to the Earth.
Scientists considered this week's flyby a dress rehearsal for 2029, when Apophis will get incredibly close to the Earth. That year, Apophis will get closer to the Earth than some of the highest-orbit satellites surrounding the planet. The asteroid measures 1120 feet wide and is made of rock, iron, and nickel.
Scientists believe it's shaped roughly like a peanut and its near pass by the Earth on Friday gave them a closer opportunity to inspect the asteroid. Apophis was too far away to be seen by the naked eye so scientists used the NASA Goldstone Deep Space Communications Complex in California and the Green Bank Telescope in West Virginia to image the asteroid it flew by.
The planetary radar study was meant to give researchers a baseline for the significantly closer flyby in 2029. Apophis is expected to get as close as 19,800 miles to Earth on its next pass. Scientists say that Apophis has a very complicated spin state that sees the asteroid spinning and tumbling simultaneously.
Interestingly, during its closest approach in 2029, Apophis will be briefly visible by the naked eye over Western Australia. In that area, the asteroid will be as bright as the stars in the Big Dipper. Its closest pass to Earth will happen at 6 PM EDT on April 13, 2029. It won't hit the Earth in 2029 or on its next pass in 2036. However, there is a slight chance the asteroid hit the Earth in 2068.