New map shows COVID-19 infections in Waterloo Region by neighbourhood – CTV News
KITCHENER —
Region of Waterloo Public Health has launched a map that shows the highest concentration of infections in the region.
Accounting for both outbreak-related cases and non-outbreak cases, the Forest Heights/Forest Hill/Lakeside neighbourhood has the highest infection rate, at 992.9 per 100,000 people.
The Vanier/Rockway neighbourhood is next, with a rate of 945.6 cases per 100,000 people.
While both of those neighbourhoods have a high rate of outbreak-related cases, Vanier/Rockway also has the highest infection rate when adjusting for non-outbreak cases only.
Note: You can explore the map yourself by scrolling to the bottom of this article.
When looking at only non-outbreak cases, that neighbourhood has an infection rate of 260.2 per 100,000 people, with 41 cases.
Woolwich Rural North also has one of the highest rates of infection rate, with 212.9 infections per 100,000 people. There are 15 non-outbreak cases there.
The neighbourhood with the third-highest infection rate is Southwest Kitchener. There, the rate is 190.4 per 100,000 people.
Public health officials have reported 39 non-outbreak cases there, and 62 total cases.
On the region's website, officials note that the data is skewed because of previous testing guidance that prioritized certain groups.
The website also notes that, just because your neighbourhood may look okay on the map, it doesn't mean you're safe.
"There is broad circulation of COVID-19 in our community. You should assume you could get COVID-19 anywhere in Waterloo Region," the region's website notes.
Several neighbourhoods on the map are considered not reportable because they have five cases or fewer.
The data also shows that five cases have invalid or missing postal codes.
Since the pandemic began, there have been 1,299 confirmed cases of COVID-19 in Waterloo Region. That includes 1,094 resolved cases and 116 deaths.
Having trouble viewing the map on the CTV News mobile app? You can see the interactive content on our mobile website.
3 deaths now linked to COVID-19 outbreak at Edmonton's Misericordia Hospital – Globalnews.ca
One more person has died amid a COVID-19 outbreak at Edmonton's Misericordia Community Hospital.
Covenant Health — the organization that runs the hospital — confirmed the third death linked to the outbreak on Tuesday. Alberta Health confirmed the patient was a man in his 70s.
"Our sympathies are with their family members and loved ones at this difficult time," Covenant Health said in a media release.
The first case of COVID-19 related to the outbreak was identified at the Misericordia on June 21, according to Alberta Health Services.
As of Tuesday afternoon, AHS said there were 17 patients at the hospital who have tested positive for COVID-19. So far, 14 staff members have tested positive for the disease and three people have died, according to AHS.
LISTEN BELOW: Heather Smith with United Nurses of Alberta joins The Ryan Jespersen Show on Tuesday morning
No new cases of COVID-19 have been identified in patients in the past 24 hours, according to Covenant Health, and the number of cases in staff has not changed in the last two days.
[ Sign up for our Health IQ newsletter for the latest coronavirus updates ]
Patients who have tested positive are being cared for together on three units, including the hospital's designated COVID-19 unit. On Monday, AHS said eight units were included in the outbreak restrictions as a precaution.
Also Monday, AHS announced the hospital had suspended new admissions and transfers for surgical and medical patients, in an effort to reduce the risk of further transmission of the novel coronavirus.
A number of other measures were also implemented at the hospital, including restricting surgical capacity to day surgery. Overnight surgeries will be postponed or completed at another site.
The hospital's emergency department remains open, but AHS said EMS will take patients to other hospitals in the Edmonton zone with the exception of emergencies where the Misericordia is the nearest acute care site.
Women in labour can continue their birth plans at the Misericordia at this time, AHS said Monday.
"Patients should be reassured that the Misericordia is safe for patients," AHS said in a media release Monday.
Covenant Health said it is testing all patients on the affected units and is also testing all staff who have either worked on or have been present on those units even if they are not showing symptoms.
The latest numbers released by Alberta Health Tuesday afternoon showed there were 620 active cases of COVID-19 in the province, 243 of which were in the Edmonton zone.
In total, there have been 8,436 cases of COVID-19 and 157 deaths related to the disease in Alberta. As of Tuesday afternoon, 7,659 people have recovered from COVID-19.
© 2020 Global News, a division of Corus Entertainment Inc.
Coronavirus (Covid-19) vaccines latest updates: Covaxin to be tested on 375 people in Phase I; Moderna delays final phase trials – The Indian Express
Coronavirus (Covid-19) Vaccine Latest Update: A volunteer receives a COVID-19 test vaccine injection developed at the University of Oxford in Britain, at the Chris Hani Baragwanath hospital in Soweto, Johannesburg. (AP)
Coronavirus (Covid-19) Vaccine Latest Update: China's Sinovac Biotech has become the latest company to start Phase III trials of its coronavirus vaccine candidate in Brazil following a fast-track approval by regulators last week.
So far, the vaccine candidates being developed by AstraZeneca-University of Oxford and China National Pharmaceutical Group (Sinopharm) are the only other jabs in late-stage trials. Moderna also plans to start its late-stage trial this month.
According to the World Health Organisation (WHO), there are 19 vaccine candidates currently in the clinical evaluation as of July 6. India's own vaccine development efforts has gained pace, with Bharat Biotech planning to complete enrollment of Phase I trial participants by July 13 for its candidate Covaxin.
However, amid the race for a Covid-19 vaccine, top US infectious disease expert Anthony Fauci has cautioned that a shot to protect against the infection won't work like the measles vaccine, which lasts throughout a person's lifetime.
"You can assume that we'll get protection at least to take us through this cycle. We may need a boost to continue the protection, but right now we don't know how long it lasts," Bloomberg quoted Fauci as saying.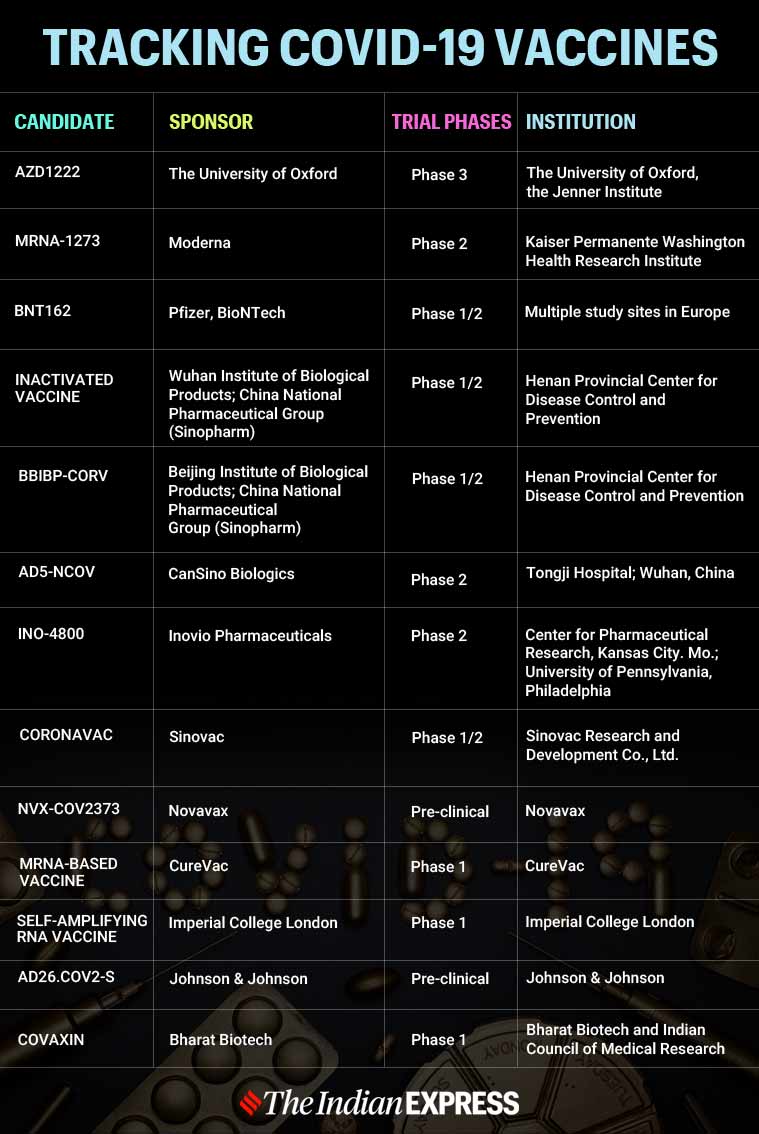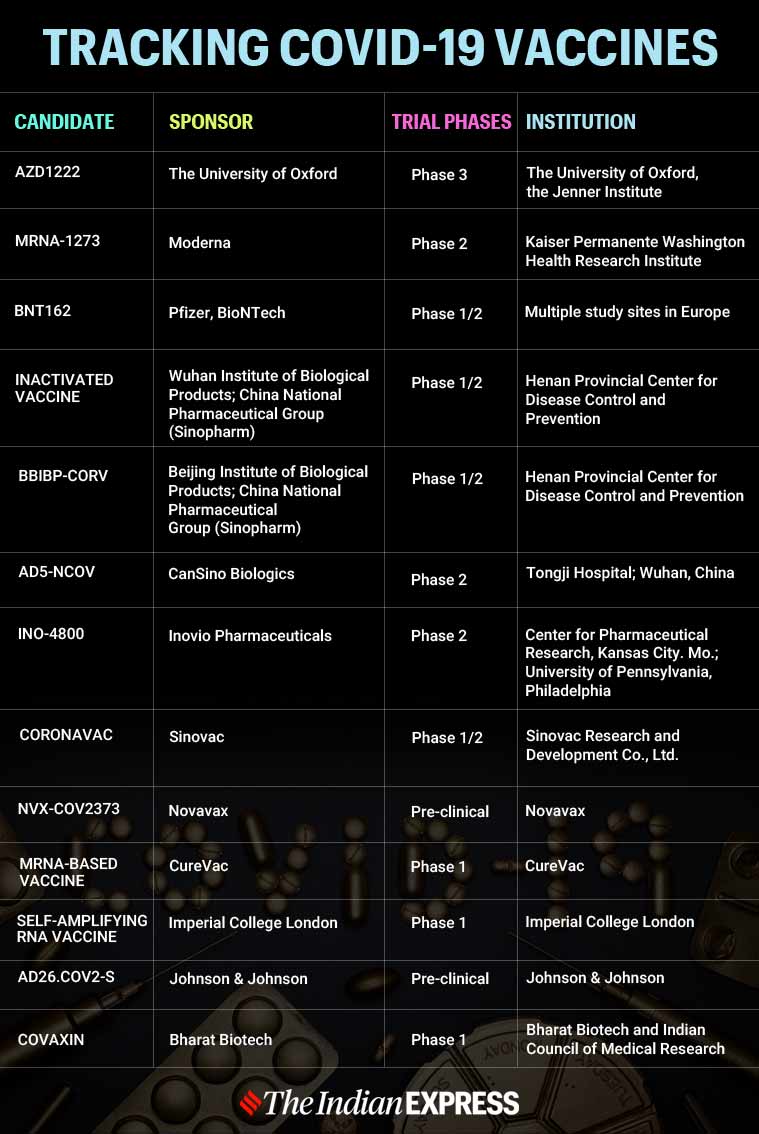 Coronavirus (Covid-19) vaccine latest updates, status check
---
💉 Sinovac Biotech coronavirus vaccine status
Nearly five months after it initiated the development of a vaccine candidate, China's Sinovac Biotech has started Phase III trials in Brazil. Sinovac will dose nearly 9,000 healthcare professionals working in Covid-19 specialised facilities, Reuters reported.
The study will be done in partnership with Brazilian vaccine producer the Instituto Butantan. Simultaneously, Sinovac is also preparing a coronavirus vaccine plant, which it hopes will be ready this year and capable of making up to 100 million shots a year.
Phase I and Phase II trials typically test the safety of a drug before it enters Phase III trials that test its efficacy.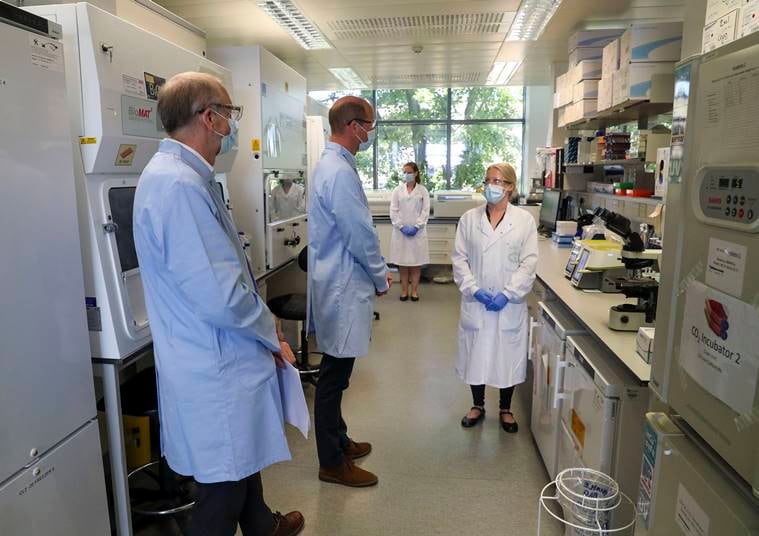 Britain's Prince William wears a mask as he meets scientists during a visit to the manufacturing laboratory where a vaccine against COVID-19 has been produced. (AP)
💉 Moderna coronavirus vaccine status
Moderna Inc, which was supposed to start phase III trials of its experimental mRNA-1273 Covid-19 vaccine on July 9, has delayed it for an indefinite period of time, a news report said.
The trial, part of the US government's Operation Warp Speed, will involve 30,000 patients. In its June update, Moderna said the primary objective of the trial was to assess the ability of the vaccine to prevent symptomatic Covid-19 disease.
A report by STAT News said Moderna was making changes to the trial's protocol, which has pushed back the expected start date. However, CEO Stephane Bancel told CNBC the drugmaker still intended to start the trial in July.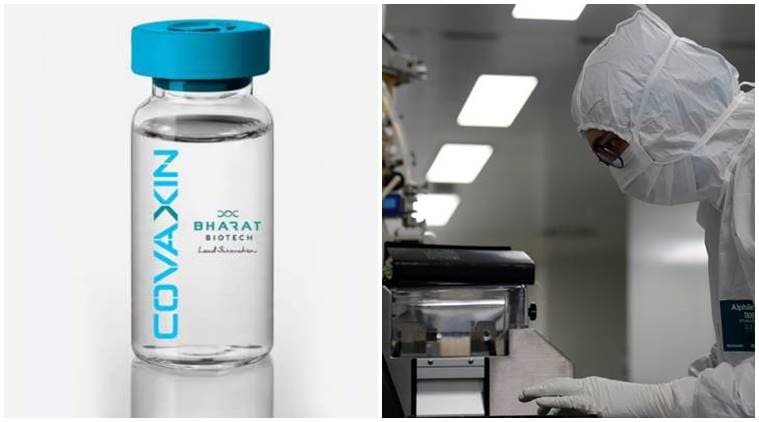 Covaxin has been cleared for Phase-I and Phase-II trials by the Drug Controller General of India. (File)
Covaxin, which has been cleared for Phase-I and Phase-II trials by the Drug Controller General of India, will be tested on more than 1,000 people in the two phases, Bloomberg reported. Jointly developed by ICMR and Bharat Biotech India Limited, Covaxin will be tested on 375 people in Phase I trial and on 750 people in the next phase. The company has set July 13 as the final date of enrollment for the trials.
Meanwhile, the process of conducting clinical trials for Covaxin began on Tuesday at the Nizams Institute of Medical Sciences (NIMS) in Hyderabad.
An investigator who is part of the trial said "immunogenicity" – the ability to provoke an immune reaction – will be the key aspect to be examined and which will decide if the trial can move from Phase I to II. Another investigator said the first phase was likely to take "at least three months".
Covaxin is an "inactivated" vaccine — one made by using particles of the SARS-CoV-2 that were killed, making them unable to infect or replicate. Injecting particular doses of these particles builds immunity by helping the body create antibodies against the dead virus.
READ | All you need to know about Bharat Biotech's Covaxin
💉 GSK-Sanofi coronavirus vaccine status
Human trials of the Covid-19 vaccine candidate being jointly developed by Sanofi and GlaxoSmithKline is set to begin in September. Sanofi is working on two possible COVID-19 vaccines, one of which uses an adjuvant made by GSK to potentially boost its efficacy.
Recently, a Reuters report said Britain was close to signing a 500 million pound ($624 million) supply deal with Sanofi and GSK for 60 million doses of its vaccine. The UK government has already landed a deal with AstraZeneca for 100 million doses of their vaccine candidate.
While Sanofi is contributing S-protein Covid-19 antigen based on its recombinant DNA technology, which is also used in its seasonal flu vaccine Flublok, GSK is offering its vaccine booster AS03 for their candidate.
📣 The Indian Express is now on Telegram. Click here to join our channel (@indianexpress) and stay updated with the latest headlines
For all the latest Coronavirus Outbreak News, download Indian Express App.
3 Reasons You Shouldn't Get Your Hopes Too High About COVID-19 Vaccines – Motley Fool
A safe and effective vaccine would be a shot in the arm for a world that's grown weary of the COVID-19 pandemic. The good news is that there's a lot of work going on to produce just such a vaccine. At least 19 novel-coronavirus vaccine candidates are now in clinical testing, according to the World Health Organization (WHO). Another 130 candidates are currently in preclinical trials.
But you shouldn't get your hopes too high for COVID-19 vaccines. Here are three reasons why.
1. The probability of success isn't as great as you might think
Many Americans assume that regulatory approval of a vaccine is right around the corner. President Donald Trump even publicly suggested that a "vaccine solution" for COVID-19 will be available "long before the end of the year." But these assumptions could be off-base.
WHO's list of COVID-19 vaccines includes only one U.S.-made candidate in phase 2 testing. Moderna (NASDAQ:MRNA) recently announced that its late-stage study of COVID-19 vaccine candidate mRNA-1273 would be delayed. The biotech still hopes to begin the trial in July, however. Meanwhile, AstraZeneca (NYSE:AZN) and its partner, the University of Oxford, are already recruiting for participants in a phase 3 study for their COVID-19 vaccine candidate.
The probability of these or other vaccines being successful isn't as great as you might think. Only around 24% of vaccines in phase 2 clinical testing go on to win approval from the Food and Drug Administration, according to a historical analysis conducted by biopharmaceutical trade group BIO. That percentage jumps to 74% for vaccines in phase 3 testing. But that's still a 1-in-4 chance of failure.
2. COVID-19 vaccines might not be as effective as you expect
Even if one or more COVID-19 vaccines win FDA approval, they might not be as effective as you'd expect. Why? The bar isn't all that high when it comes to efficacy.
Last week, the FDA issued guidelines for its review and approval process for COVID-19 vaccine candidates. To be considered effective, a vaccine only has to "prevent disease or decrease its severity in at least 50% of people who are vaccinated."
This threshold isn't unusual for the first vaccines against a virus for which no vaccines currently exist. However, it also means that there's a real possibility that among those who receive a COVID-19 vaccine, nearly half won't be effectively immunized against the novel coronavirus.
3. Many Americans will refuse to get a COVID-19 vaccine
Michael Jordan once said, "You miss 100% of the shots you don't take." He was, of course, referring to basketball. However, the idea is also relevant to COVID-19 vaccines.
A survey conducted by the Associated Press-NORC Center for Public Affairs Research in May found that only 49% of Americans said that they planned to get vaccinated if a vaccine against the novel coronavirus becomes available. That number isn't too surprising, considering that it's roughly in line with the percentage of American adults who get the flu vaccine.
It's possible that more Americans would want to be vaccinated against the novel coronavirus, though. Another 31% of the survey respondents stated that they weren't sure about getting a COVID-19 vaccine. However, if the percentage of Americans who refuse to be immunized isn't high enough, even an effective vaccine won't be enough to prevent COVID-19 from spreading.
Still a big opportunity
The probabilities for approval, efficacy, and potential immunization rates don't paint an encouraging picture. However, there's still a chance that one or more COVID-19 vaccines that are highly effective will win regulatory approval and gain widespread public acceptance.
And there's still a big opportunity for investors hoping that coronavirus-focused biotech stocks pay off in a huge way. For example, even though its shares have tripled so far this year, Moderna would almost certainly soar even higher if mRNA-1273 is successful in late-stage testing.
Any vaccine that's safe and effective enough to secure approval will help in the fight against COVID-19. COVID-19 vaccines might not be the magic bullet that many hope for. But combined with new treatments and better testing, they could be part of an overall arsenal that enables the world to move past the pandemic and return to normal.