Ontario reports 119 new COVID-19 cases, including 9 in greater Kawarthas over past 3 days – kawarthaNOW.com
Here's an update on COVID-19 cases in Ontario as well as in the greater Kawarthas region.
Ontario is reporting 119 new COVID-19 cases today — the same number of cases reported a year ago today.
Of Ontario's 34 health units, 4 are reporting double-digit increases — Toronto (22), Hamilton (15), Waterloo (14), and Peel (13) — and 12 are reporting no new cases at all. The seven-day average of daily cases has decreased by 2 to 157.
Hospitalizations have increased by 8 to 96, but more than 10% of hospitals did not submit data for the daily bed census yesterday so the actual number of hospitalizations may be higher. The number of ICU patients has increased by 4 to 131, and the number of patients on ventilators has decreased by 2 to 79. Ontario is reporting 3 new COVID-related deaths, including 1 in a long-term care home.
Over 19 million vaccine doses have been administered, an increase of 65,920 from yesterday, with over 8.6 million people fully vaccinated, an increase of 56,180 from yesterday, representing over 58% of Ontario's total population.
For a daily summary of cases in Ontario, including a breakdown of cases in each of Ontario's 34 health units, visit ontario.ca/page/how-ontario-is-responding-covid-19.
Advertisement – story continues below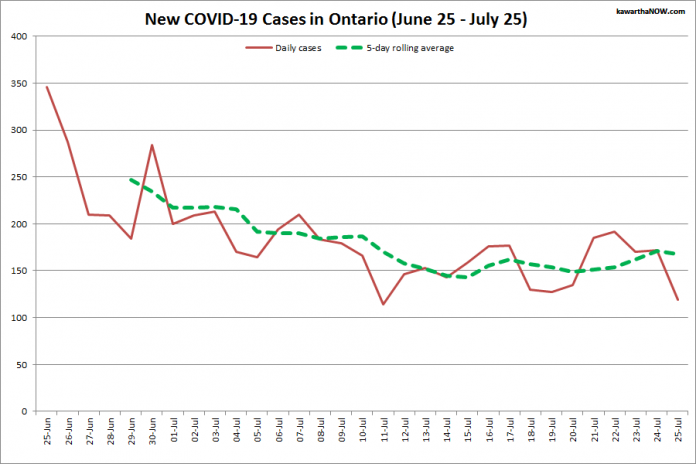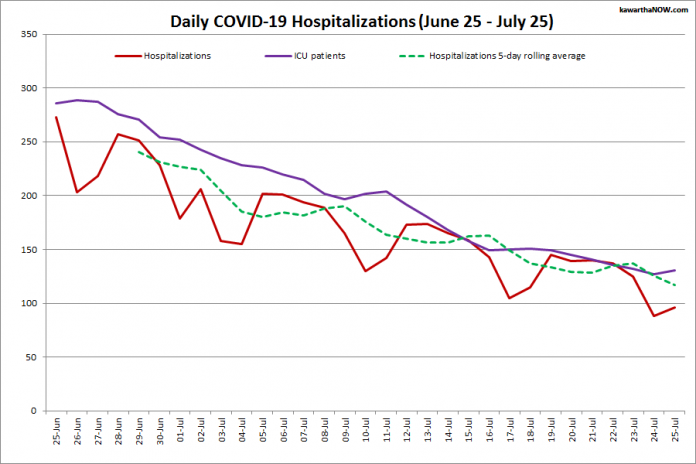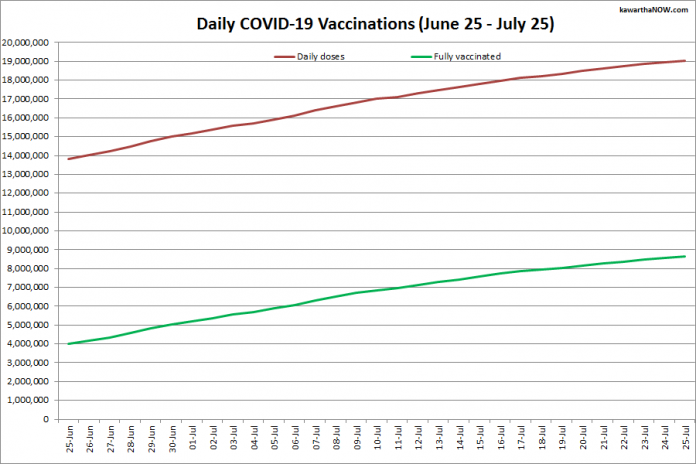 Advertisement – story continues below
In the greater Kawarthas region, there have been 9 new cases over the past 3 days, including 6 in Kawartha Lakes, 2 in Haliburton, and 1 in Peterborough. There have been no new cases over the past 3 days in Northumberland or Hastings Prince Edward.
An additional 7 cases in the region have been resolved over the past 3 days, including 6 in Hastings Prince Edward and 1 in Peterborough.
Regional active cases have increased by 6 in Kawartha Lakes and by 2 in Haliburton, decreased by 6 in Hastings Prince Edward, and remain the same in Peterborough.
There are currently 30 active cases in the greater Kawarthas region, an increase of 2 since July 23, including 19 in Kawartha Lakes, 5 in Peterborough, 3 in Hastings Prince Edward (1 in Quinte West, 1 in Belleville, and 1 in North Hastings), and 3 in Haliburton. There are no active cases in Northumberland.
Since the pandemic began in the greater Kawarthas region, there have been 1,629 confirmed positive cases in the Peterborough area (1,602 resolved with 22 deaths), 1,158 in the City of Kawartha Lakes (1,094 resolved with 58 deaths), 946 in Northumberland County (929 resolved with 17 deaths), 125 in Haliburton County (121 resolved with 1 death), and 1,146 in Hastings and Prince Edward counties (1,132 resolved with 11 deaths). The most recent two deaths were reported in Peterborough and Kawartha Lakes on June 29.
Advertisement – story continues below
For detailed data for each health unit, visit the COVID-19 trackers for Peterborough Public Health, Haliburton, Kawartha, Pine Ridge District Health Unit, and Hastings Prince Edward Public Health.
For more information about COVID-19 in Ontario, visit covid-19.ontario.ca.
Rural schools close as Alberta's COVID-19 vaccine passport system begins – Powell River Peak
EDMONTON — Two schools in rural Alberta closed their classrooms Monday over the number of students not attending because of COVID-19 infections as Edmonton police introduced tough new vaccine requirements on the first day of the province's new proof-of-vaccination program.
The Big Valley and Donalda schools, both in central Alberta's Clearview Public School Division, announced that too many students are away from school to continue in-person classes.
"The percentage of students away continues to be over 10 per cent with reported cases of COVID-19," the division said in a release.
The two schools are closed to in-person learning for students in Grades 1 through 9 until Oct. 1. Kindergarten and playschool classes will continue.
"Instruction and learning opportunities will be offered using a combination of online and paper-based materials," the release said. "Classroom teachers will provide a detailed schedule so that students will have direct access to them at specified times during the day."
Alberta Education spokeswoman Nicole Sparrow said the province received the request from the school division, which must be approved before a school can actually close.
"Approval from the Minister of Education is required for a short-term shift of one or more schools or an entire school authority to at-home/online learning," she wrote in an email.
"A decision for a school authority request will be based on the ability of a school to have staff available to operate in-school classes."
The Edmonton Police Service said it will give its members three choices on immunization: vaccinate, pay for their own rapid COVID-19 tests or stay home without pay until the situation changes or one of the first two conditions is met.
"(Police) volunteers and contractors will also be required to either indicate they have been fully vaccinated or submit to rapid testing to engage in their duties," the service said in a release.
Police spokeswoman Chery Sheppard said more than 86 per cent of the service's sworn and civilian employees have been fully vaccinated.
Alberta averaged about 1,500 new cases daily over the weekend, recording 4,633 cases between Friday and Sunday. The province had 954 people with COVID-19 in hospital, 216 of them in intensive care.
The province recorded 22 deaths over the three days.
Earlier Monday, the government released more details about which businesses and institutions come under its restriction exemption plan, allowing eligible public organizations to function more normally.
Retail stores, libraries, hotels and post-secondary institutions will not be required to take part in the program, nor will worshippers at a church, employees on a work site or students on a school trip.
Some restrictions will still apply.
Stores must limit shoppers to one-third of normal capacity, for example, and people in indoor public spaces must still be masked.
Entertainment facilities from restaurants to nightclubs to art galleries are all eligible to participate in the program, allowing them to operate with fewer restrictions as long as they require patrons to show proof of vaccination.
Premier Jason Kenney announced the program last week. Retail stores and libraries were initially on the list of eligible organizations but were removed on the weekend.
Kenney had previously opposed a vaccine passport over what he said were privacy concerns. He switched to support for passports as Alberta's hospitals faced the prospect of being overwhelmed in the pandemic's fourth wave.
Starting Sunday, immunized Albertans could download proof-of-vaccination cards, but some pointed out they could be easily altered.
A health ministry spokeswoman said work continues on a more secure QR code that would be available in the coming weeks. Starting Tuesday, Albertans will be able to request a free, printed version of their vaccination records from a registry agent.
Over the weekend, the province's four largest health-care unions asked Kenney to request help from the military, the Red Cross and any other available medical resources able to assist hospitals caring for an increasing number of patients.
This report by The Canadian Press was first published Sept. 20, 2021.
Bob Weber, The Canadian Press
Saskatchewan's digital proof of vaccination launches ahead of October requirement – Red Deer Advocate
REGINA — Saskatchewan residents were able on Monday to start downloading a digital QR code from their eHealth account showing proof of vaccination.
The government said in a news release that the code — which can be downloaded or printed — replaces the COVID-19 vaccination record that was made available in August but did not include a digital format.
The province announced last week that proof of vaccination will be required at non-essential businesses — including restaurants, casinos, movie theatres and indoor sports venues — beginning Oct. 1.
It won't be required for civil services, retail or grocery stores, places of worship, hotels or at non-ticketed amateur sporting events.
Businesses can verify the QR codes on mobile devices using a special app.
The news release said travellers at international borders will also be able to use the code.
"This is the next, improved, version of Saskatchewan's COVID-19 vaccination record," Health Minister Paul Merriman said in the release.
"It has been something that travellers, businesses and organizations have been asking for."
The announcement followed a record-breaking 543 daily cases in Saskatchewan on Sunday.
On Monday, the province reported 519 infections and two deaths. The active number of cases stood at 4,672. Some 253 people were being treated in hospital.
Saskatchewan remains in the first phase of its triage plan, which means choices are being made about which surgeries need to be cancelled to free up space.
This report by The Canadian Press was first published Sept. 20, 2021.
Nova Scotia reports 25 new cases of COVID-19 on Tuesday, active cases rise to 137 – CTV News Atlantic
HALIFAX —
Health officials in Nova Scotia are reporting 25 new cases of COVID-19 on Tuesday, along with 17 recoveries, as the number of active cases in the province rises to 137.
Fourteen new cases were identified in the province's Central zone. Of the new cases, eight are close contacts of previously reported cases and six are under investigation.
Health officials say there are signs of community spread among people in the Central zone aged 20 to 40 who are unvaccinated and participating in social activities.
Five new cases were identified in the province's Northern zone. Four are close contacts of previously reported cases and one is under investigation
Health officials say there is a large cluster of linked cases in a defined group in the Northern zone, and most of the group is unvaccinated, so more cases are expected.
Three cases new cases were identified in the province's Western zone. One is a close contact of a previously reported case and two are under investigation.
Three cases new cases were identified in the province's Eastern zone. One is a close contact of a previously reported case and two are under investigation.
Public Health says it is closely monitoring all four health zones for community spread.
COVID-19 CASE DATA
Nova Scotia Health Authority's labs completed 2,984 tests on Monday. A total of 1,180,686 COVID-19 tests have been processed since the start of the pandemic.
According to the province's online COVID-19 dashboard, there have been 6,392 cumulative COVID-19 cases in Nova Scotia. Of those, 6,161 people have recovered and 94 have died due to COVID-19.
There are currently nine people in hospital in Nova Scotia due to COVID-19, with no one in an intensive care unit.
Since April 1, there have been 4,650 positive COVID-19 cases and 28 deaths. Of the new cases since April 1, 4,485 are now considered resolved.
There are cases confirmed across the province, but most have been identified in the Central zone, which contains the Halifax Regional Municipality.
The provincial government says cumulative cases by zone may change as data is updated in Panorama, the province's electronic information system.
The numbers reflect where a person lives and not where their sample was collected.
Western zone: 326 cases (7 active case)
Central zone: 4,923 cases (80 active cases)
Northern zone: 490 cases (42 active cases)
Eastern zone: 653 cases (8 active cases)
The provincial state of emergency, which was first declared on March 22, 2020, has been extended to Oct. 3, 2021.
VACCINE UPDATE
The province's COVID-19 online dashboard provides an update on the number of vaccines that have been administered to date.
As of Tuesday, 1,488,276 doses of the COVID-19 vaccine have been administered.
In total, 79.6 per cent of the province's overall population has received at least one dose of COVID-19 vaccine, while 73.6 per cent of Nova Scotians have received their second dose.
The province says it has received a total of 1,661,340 doses of COVID-19 vaccine since Dec. 15.
All Nova Scotians are encouraged to get vaccinated against COVID-19 as soon as they are eligible. COVID-19 vaccination appointments can be made online or by phone at 1-833-797-7772.
COVID ALERT APP
Canada's COVID-19 Alert app is available in Nova Scotia.
The app, which can be downloaded through the Apple App Store or Google Play, notifies users if they may have been exposed to someone who has tested positive for COVID-19.
LIST OF SYMPTOMS
Anyone who experiences a fever or new or worsening cough, or two or more of the following new or worsening symptoms, is encouraged to take an online test or call 811 to determine if they need to be tested for COVID-19:
Sore throat
Headache
Shortness of breath
Runny nose/nasal congestion