People first drove on the Moon 50 years ago today – Yahoo Movies Canada
NASA just celebrated another major moment in the history of Moon exploration. The New York Times noted that July 31st, 2021 marks the 50th anniversary of the Lunar Roving Vehicle's first outing — and the first time people drove on the Moon. Apollo 15 astronauts Dave Scott and Jim Irwin took the car on a stint to collect samples and explore the lunar surface more effectively than they could on foot.
Scott and Irwin would eventually drive the rover two more times (for a total of three hours) before returning to Earth. The Apollo 16 and 17 missions each had an LRV of their own. There was also a fourth rover, but it was used for spare parts after the cancellation of Apollo 18 and further missions. All three serving models remained on the Moon.
Early development was problematic, in no small part due to the lack of real-world testing conditions. They couldn't exactly conduct a real-world test drive, after all. The team eventually settled on a collapsible design with steel mesh wheels that could safely handle the Moon's low gravity, lack of atmosphere, extreme temperatures and soft soil.
The LRV was modest, with a 57-mile range, four 0.19kW motors and an official top speed of 8MPH. It was also expensive, with cost overruns bringing the price of four rovers to $38 million (about $249 million in 2021 dollars). It was key to improved scientific exploration during the later stages of the Apollo program, though, and it was also an early example of a practical electric vehicle — humans were using a battery-powered ride on the Moon decades before the technology became mainstream on Earth.
We wouldn't count on humans driving on the Moon any time soon, although that reflects the progress made in the 50 years since. NASA and other space agencies are now focused on robotic rovers that can explore the Moon without worries about crew safety. Those humans that do go on rides will likely use autonomous vehicles. Think of this anniversary as celebrating a first step toward the technology you see today.
Meteor shower set to fill the sky both Thursday and Friday night – St Thomas Today
Perseids meteors reach peak – Alaska Highway News
One of the best and most anticipated meteor showers of the year will soon be lighting up the sky.
Every year the earth moves through a trail of debris from a passing comet and the result is the Perseids meteor shower, which takes place from mid-July to the end of August.
The meteor shower will peak between August 11 to 13 this year which means that will be the best time to see a meteor or what you may call a shooting star.
"But unfortunately, this year the Perseids won't be as spectacular as last year in 2021 and the reason behind that is because we have a full moon coming up," explained Malhar R. Kendurkar, president of the Royal Astronomical Society of Canada Prince George Centre.
Kendurkar said during the Perseids there are 100 to 150 meteors per hour, however, because of the full moon some of that light will block fainter meteors from view.
"But I'm hopeful because we are going to have lots of clear nights coming up. Every night has been clear so far, but tomorrow night and Friday night are going to be clear. Those two nights will be excellent."
He added that Perseids is actually known for its fireballs, which are larger explosions of light and colour.
"Fireballs actually stay longer than an average meteor streak. So, an average meteor streak will stay like milliseconds or something but with Perseids you can actually see for one or two seconds sometimes. I have seen it for six seconds a couple of years ago."
The meteors are visible because the Earth travels through the debris, ice and rocks, left behind from the passing Swift-Tuttle comet which was first discovered in 1862 by amateur astronomers Lewis Swift and Horace Tuttle.
Kendurkar said the last time this comet passed close to the earth, where it could be seen by the naked eye, was in 1992 and the next pass by of this comet will be in 2126.
How to see the Perseids
The best place to observe the Perseids meteor shower is just outside of town where it's a little bit darker.
"The best place to see the meteor shower is of course to go out of town where there's little to no light pollution and you don't really need binoculars or a telescope to see this meteor shower," explained Kendurkar.
"The trick is to take in as much sky as possible and just allow 30 minutes for your eyes to adjust to the darkness because we are so used to seeing light and light pollution but eyes actually need time to adjust to the dark sky."
He said travelling anywhere between 25 to 35 or 50 kilometres away from the city should be a sufficient distance.
"The peak will actually start in the early hours of the morning because that's when the Perseids constellation actually rises in the northern hemisphere."
The Prince George Observatory won't be open in time for the Perseids as it's closed for August and will be open again to the public starting on September 2.
However, the Royal Astronomical Society of Canada Prince George Centre has a lot of great resources on its website to help space enthusiasts.
There are tips on light pollution abatement, meteor detection, aurora forecast, clear sky chart as well as a sky map and space weather forecast.
Where the Perseids get their name
According to NASA, the Perseids get their name as they appear to come from the constellation Perseus, first catalogued by the Greek astronomer Ptolemy in the 2nd century.
"However, the constellation for which a meteor shower is named only serves to aid viewers in determining which shower they are viewing on a given night," the space agency says on its website. "The constellation is not the source of the meteors."
Perseus is a hero of Greek mythology, son of the god Zeus, and regarded as the founder of the ancient city of Mycenae. He beheaded the snake-haired monster Medusa by using a reflective shield to "turn her powers against her" and rescued princess Andromeda, daughter of Cepheus, king of Aethiopia, and his wife Cassiopeia, from being sacrificed to the sea monster Cletus.
From the Canadian Space Agency:
"According to the legend, Perseus's most famous feat was defeating Medusa, the Gorgon sister with snakes instead of hair. Medusa would turn anyone who gazed at her into stone, and Perseus defeated her by using a reflective shield to turn her power against her. That is why Perseus is often represented holding her head. The star Algol, or demon star, in the constellation Perseus actually represents Medusa's head.
"According to the myth, Perseus also married the princess Andromeda. They forever rest next to each other in the sky, as two constellations. You can find them in the sky close to the constellation Cassiopeia, Andromeda's mother in the myth, a fairly easy constellation to find because of its W shape."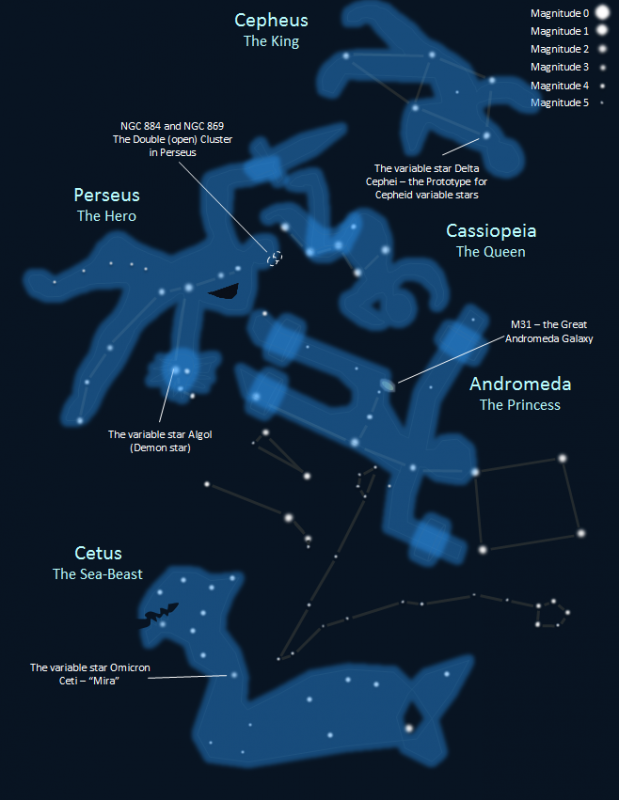 ​— with files from Matt Preprost, Elana Shepert
---
Email your letters to editor@ahnfsj.ca
Red Deer-area boy discovers ancient shark's tooth in his yard – Red Deer Advocate
A dinosaur-loving Red Deer-area boy found a 60 million-year-old fossilized shark tooth — right in his own front yard.
Max Maurizio, 7, was exploring gravel near his house on an acreage southeast of Red Deer on Monday, when he spotted something that didn't look like other rocks. It was sharp at one end and about an inch and a half long.
"He came running into the house saying, 'I found a tooth! I found a tooth!" recalled his mom, Carly Maurizio.
At first, Max's parents assumed it came from one of their cats. But Carly carefully examined it and decided, "'it looks pretty old…"
Intrigued by Max's discovery, his dad, Claudio Maurizio, emailed a photo of the tooth to the world-renowned Royal Tyrrell Museum of Palaeontology in Drumheller.
On Tuesday, an emailed response arrived from the museum. The photo had been passed on to Dr. Don Brinkman, an expert on fossil fish and turtles.
Brinkman believes the fossilized tooth very likely belonged to the genus Scapanorhynchus — a type of extinct ancient shark with an elongated snout, whose closest living relative is the goblin shark.
"That is an interesting find," stated Brinkman in the email.
Scapanorhynchus reached a length of about three metres and was a fully marine animal, "so it is a little unusual getting it in the Red Deer area. However, I have seen a tooth of this genus from exposures of the Horseshoe Canyon Formation in the Tolman Bridge area," east of Trochu, wrote Brinkman.
He noted rocks around Red Deer are from the Paskapoo Formation and are about 60 million years old.
From 100 million to 66 million years ago, the Prairies were covered by a warm inland sea. Scientists believe this Western Interior Seaway extended 3,000 km, from the Arctic Ocean to the Gulf of Mexico, was 1,000 km wide and 700 metres deep.
The ancient water body contained a wide array of life, including sharks, bony fish, marine reptiles, birds, snails, ammonites and other mollusks.
The Maurizio family appreciates the information the museum provided on the tooth.
Max is particularly thrilled by his find and wants to become a paleontologist someday, said Carly.
Claudio noted his son is always noticing things that other people don't. Once, before heading on a nature walk with his grandfather in Ontario, Max predicted he would find a bone — and sure enough, he did discover a small piece of wild animal bone, recalled his father.
Since Max has always been fascinated by dinosaurs, the whole family, including younger brother Meyer, regularly camp at Drumheller and visit the museum at least once a year, said Carly.
"Even when we go on little hikes or regular walks, Max is always looking down at the ground, looking for fossils… It's quite remarkable that they can be found literally anywhere, even in your own yard," she added.
---

lmichelin@reddeeradvocate.com
Like us on Facebook and follow us on Twitter