Perry scores in debut to help lead Canadiens past Canucks – Sportsnet.ca
VANCOUVER — Corey Perry scored in his debut for the Montreal Canadiens on Saturday — even if putting the puck in the back of the net wasn't exactly his aim at the time.
Midway through the second period, the veteran right-winger slid a puck through the crease and saw it glide through the pads of Vancouver netminder Braden Holtby.
"I'll always say I wanted to shoot but I think I did see (Canadiens centre Jesperi Kotkaniemi) backdoor and I think it went off the d-man's stick or something and in the net," Perry said after Montreal topped the Canucks 5-2.
"But (Kotkaniemi) made a great play going to the back post and it kind of opened up a seam for me."
Perry slotted in for Joel Armia who suffered a concussion in a hit from Vancouver's Tyler Myers as the Canadiens trounced the Canucks 7-3 on Thursday.
Montreal was quick to avenge Armia's injury on Saturday.
Edmundson and Myers dropped the gloves 3:09 into the first period. The Montreal defenceman got a few good whacks in before the pair were separated by the officials and each given a five-minute sanction for fighting.
"Our team wasn't a big fan of the hit and he stepped up and didn't back away," Edmundson said of the fight. "So you got to respect that. But I still wasn't a fan of the hit."
After 14 seasons with the Anaheim Ducks, Perry spent last year with the Dallas Stars. The 35-year-old signed a one-year, US$750,000 deal with Montreal in December.
Getting back on the ice with the Canadiens felt good, he said.
"It was quick, the first couple shifts. But once you get in the flow of the game, I've played a few games in this league so it comes back," Perry said of his debut. "I felt good overall. The hands felt good. I played with some pretty good players tonight so it made it easy on me."
Saturday's game — the third in four nights between the two sides — also saw Nick Suzuki, Brendan Gallagher and Joel Edmundson score for Montreal (4-0-2). Jonathan Drouin had a goal and an assist.
Carey Price made 23 saves to collect his 350th NHL win.
The Canadiens now have points from their first six games of the season, all of which were played on the road. The only other team to accomplish that feat in NHL history is the 1968-69 Canadiens.
Montreal coach Claude Julien said there's still work to be done, but there are a lot of positives to come out of his team's first trip of the year.
"We took it one game at a time, I thought we played well and we got better as the games went on, and obviously building a little bit more chemistry along the way as well on the ice and off the ice," he said.
"So, there's a lot of good things that came out of this road trip and as a coach, you have to be happy when you can come up with that many points in that short trip."
The Canucks (2-5-0) were down 2-0 heading in to the third and had been outshot 18-13 across the first two periods.
Elias Pettersson ignited a comeback 3:50 into the final frame, batting a long shot by defenceman Jordie Benn out of the air and between Price's legs for his first goal of the season.
The marker snapped a five-game point-less skid for Pettersson, the longest drought of his short career.
Nils Hoglander tied the score at 2-2 just over two minutes later with a backhanded shot from the slot that beat Price stick side.
Gallagher put away the game winner 9:07 into the third with a wrist shot from low in the faceoff circle.
Drouin added some insurance about two minutes later, beating Holtby on a breakaway, and Edmundson scored an empty-netter with 2:54 left on the clock.
Holtby stopped 28-of-32 shots.
Despite the final score, Canucks coach Travis Green liked much of what he saw from his squad in the loss.
It was a tight-checking game where Vancouver hit some posts, saw some shots sail wide of the net but stuck with the game, he said.
"I felt bad for our group," Green said. "I thought for 50 minutes it may have been our best game to date. A couple of mistakes cost us the game in the last 10 minutes."
After turning heads in the Edmonton "bubble" during the playoffs last year, the Canucks hoped to take another step this season.
So far, that hasn't been the case.
"Obviously it isn't the start we wanted, but I don't think anyone's sulking and hanging their heads at this point in time," defenceman Quinn Hughes said Saturday.
"We're only seven games in and we've got a lot of hockey left to play. We've got time to figure it out, but hopefully sooner rather than later."
The Canucks will host the Ottawa Senators in the first match of a three-game series on Monday. The Canadiens are headed back to Montreal where they'll host the Calgary Flames on Thursday.
NOTES: Suzuki has a point in all six of Montreal's games this year, tallying two goals and four assists to start the season…Tyler Toffoli was credited with an assist on Perry's goal, extending his point streak to four games (five goals, three assists)…A pair of veteran defencemen returned to Vancouver's lineup… Alex Edler slotted back in after missing Thursday's tilt with an undisclosed injury and Benn made his season debut after sitting out the start of the year due to COVID-19 protocols.
Mitch Marner magic helps Toronto Maple Leafs navigate injury issues – TSN
TSN Toronto Reporter Mark Masters reports on the Maple Leafs, who held an optional skate in Edmonton on Monday ahead of their evening game against the Oilers.
---
Sheldon Keefe smiled when asked about potentially making changes to a winning lineup.
"Well, I think we'd always make room for Auston [Matthews]," the Leafs coach said.
Whether Keefe will be able to write No. 34 onto his lineup card tonight in Edmonton remains unclear. The National Hockey League's leading goal scorer missed Saturday's game with a wrist injury.
Matthews stayed out late at Monday's optional workout and skated hard, which is something only the projected scratches usually do. Toronto's No. 1 centre still doesn't appear to be shooting the puck particularly hard. Keefe referred to Matthews as a game-time decision.
The Leafs played extremely well without Matthews during a 4-0 win on Saturday.
"A really special player who's having an incredible year, so any time you have a guy like that out … the whole team has to step up," said winger Zach Hyman. "We did that."
The absence of Matthews may open up more shooting opportunities for crafty winger Mitch Marner, who scored his 10th goal of the season on Saturday.
"When you're playing with a guy like Auston you're always trying to find him in spots and not really thinking of shooting," Marner said after the game. "This year, now, my mindset is still to try and find Auston if I think I can get it to him but, if not, then it's trying to get it on net and realizing that sometimes a play off a goalie is better than a pass. I'm trying to do that more. I worked on my shot a lot this year and I just feel confident when I'm shooting nowadays."
The new-look line of Marner, John Tavares and Joe Thornton found instant chemistry. It was the first time Tavares and Thornton lined up together in a game this season. The trio all touched the puck on Marner's goal.
"Joe puts himself in a good spot and stretches the ice and [Morgan] Rielly finds him and he finds John in the space that Joe's created underneath," Keefe said. "John attacks the middle of the ice and kicks it back to Mitch and drives through the middle of the ice making it harder on the defence and the goalie and it leads to a goal so there's a lot of things that go into that."
Swish and flick 🪄#LeafsForever pic.twitter.com/kpHtGGHPBO

— Toronto Maple Leafs (@MapleLeafs) February 28, 2021
Marner also picked up an assist on the William Nylander power-play goal.
More impressive than the offence was the responsible two-way play. Toronto's top line outscored the Connor McDavid line 1-0 and kept the Oilers captain quiet most of the night.
"We didn't really over-complicate things," Marner said. "We were playing smart with the puck. When we were getting it down low we were talking to each other, finding exits out of corners and off the wall. We got to make sure we keep doing that. The communication throughout our D-zone and getting the puck in our hands to go up the ice with speed was very, very good."
The whole Leafs team was very good and very disciplined. Toronto didn't take a single penalty.
"They played such a good game," said McDavid, who managed just one shot on net. "They were so solid everywhere. They were never in a desperate situation where they needed to hook or hold a guy. Part of that is us not going hard enough to the net or making enough plays. Another part is them just playing so well and being in the right position all of the time."
—
Frederik Andersen and Jack Campbell are also listed as game-time decisions. Andersen, like Matthews, stayed out late at the morning skate. Keefe indicated yesterday it was unlikely Toronto's No. 1 goalie would be ready to return from a lower-body injury on Monday.
For the second straight day, Campbell wasn't on the ice. He returned from a leg injury on Saturday and stopped all 30 shots faced, but also looked to be in discomfort after being run into by Tyler Ennis in the first period.
Michael Hutchinson was in the starter's net at Monday's skate and also the first goalie off the ice. He's 2-1-0 with a .924 save percentage this season. Hutchinson was in net last season when McDavid scored a highlight-reel against the Leafs in Toronto.
—
The Leafs signed T.J. Brodie in the off-season with these type of matchups in mind. The veteran blueliner stared down McDavid and Leon Draisaitl on Saturday and didn't blink during 22 minutes and 15 seconds of work.
"He doesn't care who he's playing against," said Keefe. "It doesn't rattle him. It doesn't concern him. He's comfortable in his own game and realizes he's got to stay within his skill set and do what works for him. Even if he gets beat or makes a mistake, he's just going to go back and drink some water and go out and give his best shot the next time out and more often than not it works out for him. That's why he is who he is in the league."
Brodie picked up an assist and finished Saturday's game with a plus-2 rating. The former Flame sees a lot of similarities between current partner Rielly and former running mate Mark Giordano​.
"They're both great defensively and look to jump offensively," the 30-year-old observed. "They're the type of guys who know how to get open and be available for you to get that outlet pass and, at the same time, they make great, quick passes out of the zone so it's been a pretty easy transition."
—
Hyman is playing through some discomfort right now after blocking a couple of shots off his foot.
"You can battle through a little bit of pain," he said. "I feel like I am able to skate and do all the things that I can do otherwise. It's more painful not playing, to be honest, when you're out and you're watching games."
Hyman, who missed a couple games with the injury, blocked another shot on Saturday.
"It's part of the game," he said. "You don't have enough time to think, 'Oh, I should get out of the way on this one.' When you're out there playing, you're not hurt or injured or anything, you're just playing the game so you don't think about it. For me, just go out there and do my job and if there'​s an opportunity to block a shot then get in the lane."
Hyman wears plastic coverings on his skates, but the initial shot that hurt him hit him in a vulnerable spot.
"The second time I was lucky I was wearing shot blockers so that definitely helped," he said.
—
Jason Spezza snapped a 10-game goal drought in style on Saturday. The 37-year-old completely fooled veteran Oilers goalie Mike Smith.
"That was a sweet move," said linemate Travis Boyd. "We were joking a little bit about how that's his trusty, old go-to move from back in the day. He really got Smith to bite on that fake and that was a sweet move."
"Wow! What a treat it was to watch that," Campbell gushed after the game. "He does it in practice so it was nice to see it on our end."
It was career goal No. 346 for Spezza. How is he able to keep goalies guessing on his go-to move?
"He sells the shot really well," Boyd said. "A lot of people fake a shot, but it's kind of quick and it doesn't actually fake anyone out. You can kind of read that it's a fake. He sold the fake on the slap really hard and then just pushing it that few feet before he shot it gave him that whole side and really locked up Smith."
𝓥𝓲𝓷𝓽𝓪𝓰𝓮 top shelf strike 🔥#LeafsForever pic.twitter.com/EQO3QhXkm0

— Toronto Maple Leafs (@MapleLeafs) February 28, 2021
—
Leafs projected lines for Monday's game:

Thornton – Tavares – Marner
Barabanov – Kerfoot – Nylander
Mikheyev – Engvall – Hyman
Vesey – Boyd – Spezza

Rielly – Brodie
Muzzin – Holl
Dermott – Bogosian

Hutchinson
Woll
Watt to sign with Cardinals on reported 2-year, $31M deal – theScore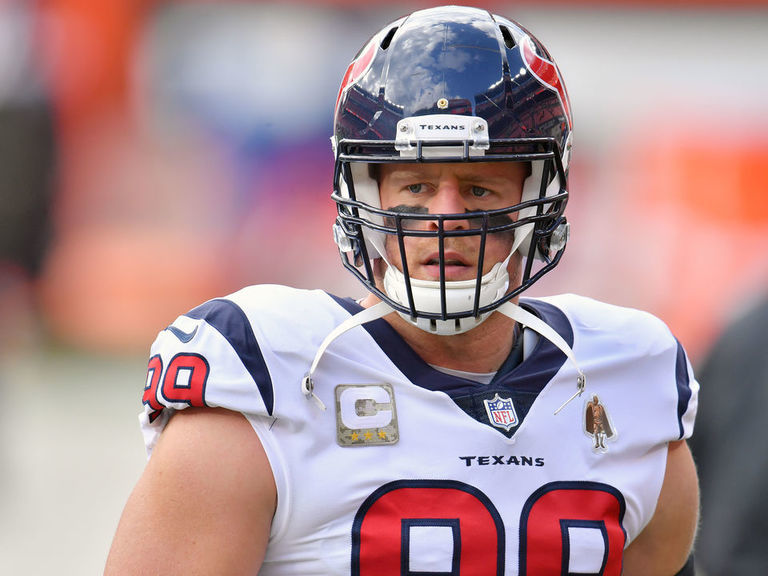 J.J. Watt is signing with the Arizona Cardinals, he announced Monday.
The three-time Defensive Player of the Year and former Houston Texans defensive lineman will ink a two-year pact worth $31 million, $23 million of which is guaranteed, a source told Ian Rapoport of NFL Network.
Watt hit free agency early because the Texans released him from his contract. The 31-year-old asked out of Houston after growing disgruntled with the organization's culture.
In the desert, Watt will join a squad that features former Texans co-star DeAndre Hopkins, who began recruiting him following his release. Arizona missed the playoffs for a fifth straight season in 2020 and is entering a pivotal third year under head coach Kliff Kingsbury.
The Cardinals now have a pair of high-profile pass-rushers in Watt and Chandler Jones, though the latter could become a casualty of the declining salary cap. General manager Steve Keim said recently that he won't cut Jones, but that was before he landed Watt.
Watt had only five sacks in 16 games last year, but he was still proficient in generating pressure. His 101 career sacks rank 31st in NFL history. Watt's greatest concern is the injury bug, which has limited him to eight games or fewer in three of the past five seasons.
The Cardinals were seldom mentioned as a possible landing spot for Watt, who reportedly drew offers from numerous teams. The Cleveland Browns, Green Bay Packers, Buffalo Bills, and Pittsburgh Steelers were speculated to be his top suitors.
Edmonton Oilers claim goalie Alex Stalock off waivers — a wise, wise, wise move – Edmonton Journal
Article content
This in, news that the Edmonton Oilers have claimed goalie Alex Stalock, 33, off of waivers. Bob Stauffer of Oilers Now has tweeted: "Stalock is in year 2 of a 3 year deal with a 785K AAV. He went 20-11-4, 2.67 GAA, .910 SVP last season in Minnesota. He started all 4 games in the Wild's Play-in Series. He missed the start of this season with an upper body injury."
My take
1. This is sharp move by the Edmonton Oilers, as there is no goalie in the organization who is ready to step in if either Mikko Koskinen or Mike Smith get injured.
2. To hold on to Stalock, Edmonton will have to keep waiving forwards who are outside the Top 12, but with the Top 12 solidified now that Jujhar Khaira and Gaetan Haas have stepped up as third and fourth line centres, this isn't such a chore. Players like Kyle Turris, Joakim Nygard, Devin Shore, Patrick Russell and James Neal will have to be waived regularly as they go in and out of the line-up but none of them are likely to be claimed by another team. And if one of them is claimed, it's not the end of the world. Not having an NHL quality starting goalie, on the other hand, just might be the end of the world when it comes to Edmonton's playoffs aspirations.
Article content
3. If Evan Bouchard is in the line-up, and if all other Oilers d-men are healthy, then two d-men, say Kris Russell and William Lagesson, will eventually take up the 20th and 21st roster spots, with Stalock taking up the 23rd spot. The Oilers can't waive Russell due to his limited No Movement Clause, and if they put Lagesson on waivers he will most certainly be claimed.
4. Stalock is an improvement over Troy Grosenick, the last goalie brought in under these circumstances. Grosenick had limited NHL experience, while Stalock has plenty. He'll do in a pinch, and that pinch will hit hard if Smith or Koskinen ever get hurt.
5. In four AHL games, Stuart Skinner has a fine .916 save percentage, while Olivier Rodrigue has an .873 percentage in three games. This is a strong start for Skinner, but he needs more AHL seasoning before he's ready for the NHL. The acquisition of Stalock means Skinner will get that necessary AHL time. And the loss of Slater Koekkoek to injury means the Oilers have a roster spot for Stalock.
6. The Journal's Jim Matheson notes: "Since Oilers keep losing goalies they claim suspect Stalock when he gets through quarantine would go on 23 man roster. Plus he qualifies as goalie to leave it available in expansion draft with next year at $785,000."
7. Sarah McLellan, Wild hockey writer for the StarTribune, reports: "The 33-year-old former Minnesota Duluth has been sidelined all season. He was on the COVID-19 protocols list, but has also been listed out because of an undisclosed upper body injury. Stalock recently had been back working on the ice with goalie coach Frederic Chabot."
At the Cult
STAPLES: Now we're talking! Bouchard back in against Leafs
STAPLES: If anything Edmonton Oilers power play is better this year
LEAVINS: For a Stanley Cup Playoff run, what starting lineup ingredient are Oilers missing the most?