PlayStation 5 vs. Xbox Series X: Which Should You Buy? – How-To Geek
The stage is set for the next-generation console battle, as Sony and Microsoft go head-to-head this November with the release of the PlayStation 5, and Xbox Series X and S.
If you want to get onboard from launch, it's time to pick a side, as preorders go live in anticipation of a surge in demand.
The Green Corner: Xbox, Game Pass, and Halo Infinite
Nov. 10, 2020, two new Xbox consoles are launching worldwide: the Series X and the Series S. The Series X ($499.99) is an ultra-HD powerhouse, targeting a native 4K resolution. The Series S ($299.99) aims for a lower, 1440p (half of 4K) resolution and also foregoes a disc drive.
[embedded content]
Both devices will target a baseline of 60 frames per second. Microsoft claims both will hit 120 frames per second on titles like Halo Infinite and Gears 5. Without seeing the hardware in action, though, we'll just have to take Microsoft's word for it (especially when it comes to the Series S).
Buying a console at launch can often feel like a raw deal. Few titles are available, and those that are tend to be iterative sports titles or underwhelming tech demos. Microsoft plans to address this issue with Game Pass, providing a library of over 100 titles people can play from the outset. Most of these are titles already available on last-gen systems.
[embedded content]
Game Pass doesn't scrimp on quality, either. First-party titles, like Forza Horizon 4, Minecraft, and Sea of Thieves (plus every Halo game), will be available at launch. There's also a rotating selection of decent third-party titles, as well. At this writing, Resident Evil 7, Monster Hunter: World, and Wasteland 3 are all available.
Microsoft also announced it's partnering with Electronic Arts to bring EA Play to Game Pass for the holidays. This means you'll get all Microsoft's exclusives, EA's first-party titles, and a rotating lineup of third-party games with your subscription.
[embedded content]
The biggest disappointment for many who were awaiting the release of the next-gen Xbox consoles was the news that Halo Infinite was being delayed until 2021. This was Microsoft's killer title to get consoles into living rooms for the holidays in 2020. The new consoles will now launch without any big-budget exclusives and lean heavily on Game Pass and future promises, instead.
Fortunately, that future looks bright. Below are some of Microsoft's Xbox first-party exclusives:
A new Fable game.
The next-generation Forza Motorsport title.
A new game from Rare called Everwild.
Obsidian Entertainment's first foray into the open-world fantasy RPG genre, Avowed.
[embedded content]
There are other "timed exclusives" and "Xbox console debuts" to come next year. These include a follow-up to legendary PC mid-2000s shooter, S.T.A.L.K.E.R., Geiger-inspired horror show Scorn, and Hellblade II—the next chapter in Ninja Theory's Senua Saga.
How Much Does It Cost?
The Xbox Series X will cost you $499.99, while the Series S will cost $299.99. Game Pass Ultimate, which includes Xbox Live Gold (required for online play) and access to Game Pass for PC costs $14.99 per month, but you get your first month for $1.
If you'd rather just pay for a regular Game Pass Console, it's $9.99 per month. However, you'll also need Xbox Live Gold to play online, which costs another $9.99 per month ($24.99 per quarter). Game Pass Ultimate is by far the best value, with over 100 games (even more on PC) and online play.
[embedded content]
Microsoft also offers the Xbox Series X and Series S under their All Access plan. For $34.99 (Series X) or $24.99 (Series S) per month, you can get an Xbox console with Game Pass Ultimate. After two years, the console is yours, and you can extend Game Pass if you want. This option is marginally cheaper than buying each console and a Game Pass Ultimate subscription.
In addition to the hardware, one game might cost you up to $70 for this generation. Some publishers have already committed to the $10 price hike over last-generation's $60.
For the best possible savings, we recommend you avoid the all-digital Series S. Then, you'll always be able to purchase physical releases anywhere, including the secondhand market.
What About Backward Compatibility?
Microsoft confirmed that both the Series X and Series S will be fully backward compatible with the Xbox One, Xbox 360, and original Xbox. The Series X will play titles that have been enhanced for 4K, while the Series S will get its own enhanced versions.
For maximum backward compatibility, make sure you pick up a Series X with a disc drive so you can play any of your older discs. Digital titles will also work, whether you already have them in your library or purchase them from the store.
The Blue Corner: PlayStation, PS Plus Collection, and Spider-Man
Sony will also launch two consoles in November: the PlayStation 5 ($499.99), and the PlayStation 5 Digital Edition ($399.99). Both will launch on the same day, but the release is staggered in two waves. The consoles release November 12 in the U.S., Japan, Mexico, Australia, New Zealand, and South Korea, and November 19 in Europe, and the rest of the world.
[embedded content]
Outside of the price, the only difference between the two devices is the presence of a physical disc drive. If you want the best deals possible or also want to use your PS5 as a Blu-ray player, the more expensive console is probably the better option.
Sony's earliest PS5 first-party "exclusive" will be Marvel's Spider-Man: Miles Morales, a follow-up to 2018's critically acclaimed Spider-Man. While exclusive to Sony consoles, the game will also launch simultaneously on PS4.
You can expect a game that's shorter in scope, with Sony also promising a more compact experience, reminiscent of Uncharted: The Lost Legacy. The game's launch window is "holiday 2020" which means it might not be quite ready for the November 12 launch.
The PlayStation 5 does include one pack-in game called Astro's Playroom. A follow-up to the PSVR Astro Bot Rescue Mission, the game guides new players around the PlayStation 5's dual-sense controller. It should provide a fun distraction for new owners.
[embedded content]
Sony's answer to Game Pass is the PlayStation Plus collection. It's required for online play and provides members with additional benefits, like free monthly games and discounts. On the PS5, members will also be able to download 18 of what Sony calls "generation-defining" PS4 games.
This list includes first-party titles, like God of War, Uncharted 4, and Days Gone. There are also a handful of third-party titles, like Battlefield 1, Fallout 4, Persona 5, and Final Fantasy XV. It's a far cry from the more than 100 games available on Game Pass—especially since titles like Spider-Man and Horizon Zero Dawn are oddly missing.
[embedded content]
When it comes to first-party exclusives, Sony's future lineup includes Horizon Forbidden West, Ratchet and Clank: Rift Apart, and the hotly anticipated Demon's Souls remake. Final Fantasy XVI will be a PlayStation-console exclusive, and a follow-up to 2018's God of War has also been teased for 2021.
What Will It Cost Me?
The PlayStation 5 will cost $499.99 or $399.99 for the all-digital edition. PlayStation Plus is required for online play, and will now provide access to a collection of games for $9.99 per month, or $59.99 per year. Sony hasn't yet announced any monthly payment plans that compete with Xbox All Access.
Like Xbox titles, some PlayStation 5 games will also cost $70 this generation. However, you can always save money by shopping around or purchasing secondhand copies if you buy the console with a physical disc drive.
What About Backward Compatibility?
Sony announced the PlayStation 5 will be 99 percent compatible with PlayStation 4 titles. The company also confirmed the "top 100" PS4 games had been tested, and that they worked on the new console. However, the company stopped short of claiming blanket compatibility.
Unfortunately, neither PS5 console will be compatible with titles created for pre-PS4 Sony consoles—at least, not at launch.
Struggling to Choose?
If you're finding it hard to choose which console you want, you can always wait. Alternatively, if you're flush with cash, you can buy both. For most people, the decision will be guided by the exclusives available on both platforms. Unfortunately, at launch, those games are very thin on the ground.
It's no secret that Sony's exclusives have been consistently excellent throughout the PS4's life span, with Microsoft somewhat lacking in this department. That could all change this generation, though, with big-name studios, like Obsidian Entertainment and Double Fine, joining Microsoft as first-party developers.
If neither console piques your interest, waiting is probably best. If you don't have an Xbox One or PlayStation 4, those consoles will be headed for a significant price drop.
Of course, you could also buy neither and build your own gaming PC, instead.
body #primary .entry-content ul#nextuplist list-style-type: none;margin-left:0px;padding-left:0px;
body #primary .entry-content ul#nextuplist li a text-decoration:none;color:#1d55a9;
Apple ramps up efforts to build own search engine to rival Google, says report – CNET
Apple is ramping up efforts to develop its own search engine, according to a Financial Times report published Wednesday, as US antitrust authorities threaten a lucrative deal that sets Google's search engine as the default option on iPhones and Samsung phones.
The iPhone's latest operating system version, iOS 14, has started to show its own search results and link directly to websites when users type in search queries directly from the home screen, according to industry sources cited in the report.
This move adds to mounting evidence, according to the report, that Apple is working to build a rival to Google search, including Apple's poaching of John Giannandrea, Google's head of search, more than two years ago.
Earlier this month, the US Justice Department filed a long-expected antitrust lawsuit against Google over its search dominance, alleging that Google "unlawfully maintained monopolies through anticompetitive and exclusionary practices in the search and search advertising markets."
At the heart of the Justice Department's case are Google's contracts with other companies, which allow the tech giant's search engine to be used as the default option. Google pays billions of dollars each year to maintain that default spot.
Google has been the iPhone's default search engine for more than a decade. It's been widely reported that Google pays Apple between $8-12 billion each year for its search engine deal, which is a boon for both tech giants. If it turns out the deal is blocked by the DOJ, Apple will need to supply an alternative for its iPhones.
Apple couldn't immediately be reached for comment.
Apple seems pretty interested in search
Apple might be building a Google competitor, Audible adds more podcasts and an ad measurement company raises $350 million. This is your Daily Crunch for October 28, 2020.
The big story: Apple seems pretty interested in search
Apple has a growing interest in search technology and might even be working on a product to compete with Google, according to The Financial Times.
The most visible change is the fact that in iOS 14, Apple is now showing its own results when you type queries in the home screen. In addition, there seems to be an increase in activity from Apple's web crawler.
There may be more of an opportunity here as the U.S. Justice Department has sued Google over what it claims are anticompetitive behaviors around search. However, this doesn't necessarily mean Apple and Google will soon be going head-to-head in search — it could just be a sign that Apple's Siri voice assistant is getting more search queries.
The tech giants
Joe Rogan, Alex Jones and Spotify's illusion of neutrality — Spotify is facing criticism after Joe Rogan brought Alex Jones of InfoWars onto his show.
Audible further expands into podcasts — Audible is adding approximately 100,000 podcasts.
Apple eyes the TikTok generation with an updated version of Clips — The update brings much-needed support for vertical videos, allowing for sharing to TikTok and the "Stories" feature in other social apps.
Startups, funding and venture capital
DoubleVerify, a specialist in brand safety, ad fraud and ad quality, raises $350M — DoubleVerify's technology can detect fraud, viewability and brand safety.
Outrider raises $65M to bring its autonomous tech to distribution yards — The startup has built a three-part system that includes an autonomous electric yard truck, software to manage the operations and site infrastructure.
Lunchbox raises $20M to help restaurants build their own ordering experiences — CEO Nabeel Alamgir said that if restaurants can handle more online orders themselves (rather than just relying on delivery apps), they'll make more money while also maintaining a direct relationship with their most loyal customers.
Advice and analysis from Extra Crunch
As venture capital rebounds, what's going on with venture debt? — While venture capital is back setting new records, it appears that its lesser-known sibling won't be able to match the past few years' results.
Current and upcoming trends in Latin America's mobile growth — Latin America is home to one of the fastest-growing mobile markets in the world.
Dear Sophie: Any upgrade options for E-2 visa holders interested in changing jobs? — Another edition of Sophie Alcorn's column answering immigration questions about working at technology companies.
(Reminder: Extra Crunch is our membership program, which aims to democratize information about startups. You can sign up here.)
Everything else
Qualtrics CEO Ryan Smith is buying majority stake in the Utah Jazz for $1.6B — Smith sold Qualtrics to SAP for $8 billion in 2018.
US online holiday sales to reach $189B this year, up 33% from 2019 — That's according to a new forecast from Adobe Analytics.
The Daily Crunch is TechCrunch's roundup of our biggest and most important stories. If you'd like to get this delivered to your inbox every day at around 3pm Pacific, you can subscribe here.
Source:- TechCrunch
AMD announces Radeon RX 6000 series gaming graphics cards – GSMArena.com news – GSMArena.com
AMD today announced the Radeon RX RX 6000 series of gaming graphics cards. Built on the new 7nm RDNA 2 architecture, these cards provide up to 2x improvement in performance over the previous generation AMD flagship while also including support for the new Microsoft DirectX 12 Ultimate API and will be available starting November.
The most important card in this series will likely be the $649 Radeon RX 6800 XT. It features 72 compute units and 16GB of 16Gbps GDDR6 memory on a 256-bit wide memory bus. The 6800 XT can clock up to 2015MHz under load (or Game Clock as AMD likes to call it) and can occasionally hit peaks of 2250MHz for short durations under ideal conditions (Boost Clock). AMD claims a total board power of 300W for this card.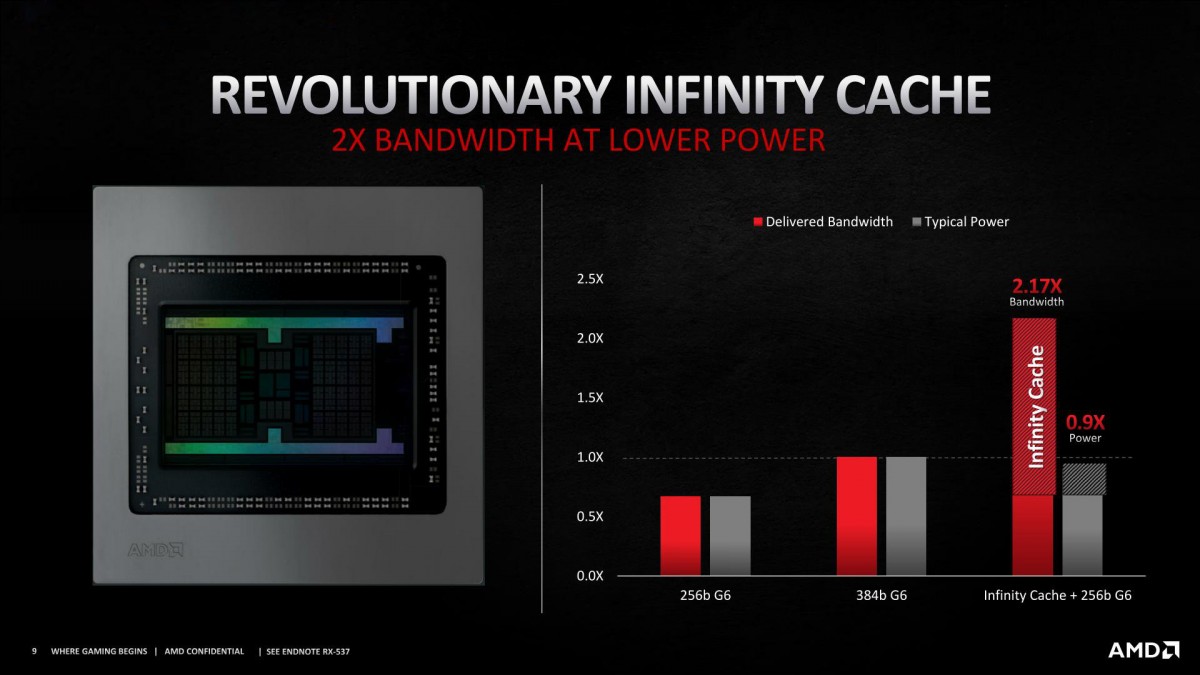 The 6800 XT also has 128MB of what AMD calls the Infinity Cache. This is high-density, high-speed cache based on the Zen L3 cache. It is designed to minimize DRAM bottlenecks, latency, and power consumption and is especially effective at 4K and 1440p resolutions. Combined with the VRAM, AMD claims the Infinity Cache offers 2.17x the effective bandwidth of a 384-bit wide GDDR6 memory.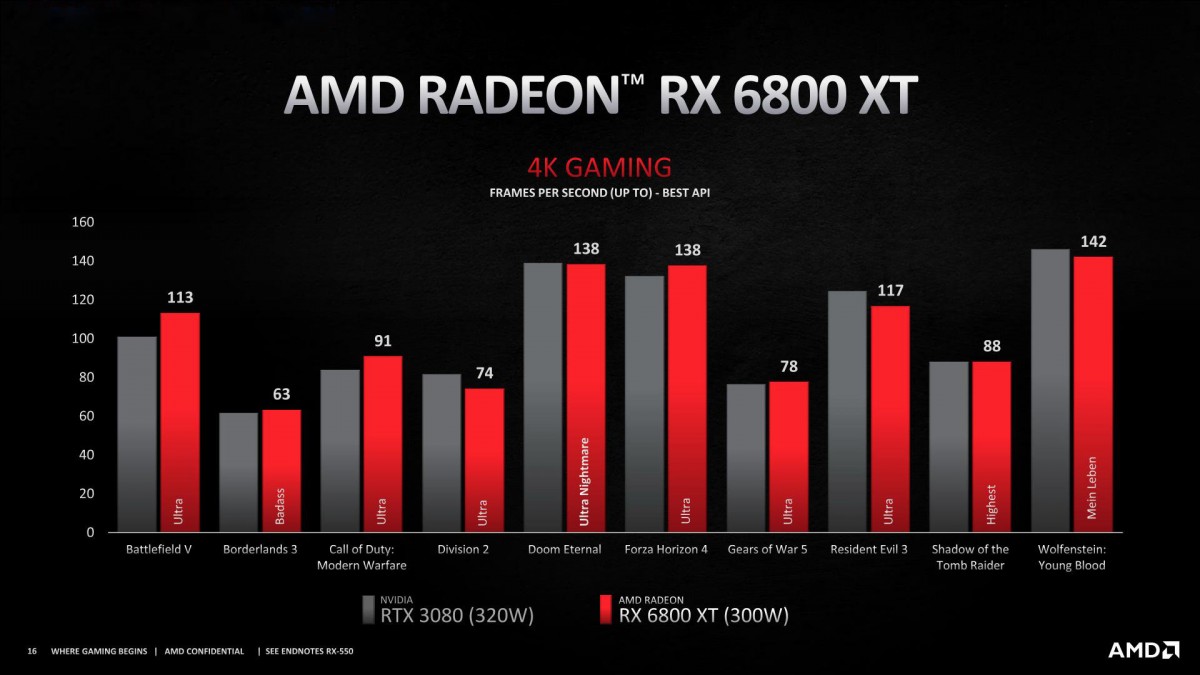 AMD also had some charts to show comparing the performance of the 6800 XT to the $699 RTX 3080. We usually take these with a grain of salt but in the absence of any reliable third-party reviews, these can be taken as a rough guidance.
Next is the $579 Radeon RX 6800. Despite being cheaper, the 6800 doesn't lose out on much compared to the 6800 XT. The major difference is to the number of compute units, which has dropped from 72 to 60 due to one of the shader engines being disabled. The "Game Clock" has also been dropped down to 1815MHz with the Boost Clock down to 2105MHz.
Despite that, the Radeon RX 6800 will still have the full 16GB 16Gbps GDDR6 memory and 128MB Infinity Cache. And because it's a bit slower, the board power has also dropped down to 250W instead.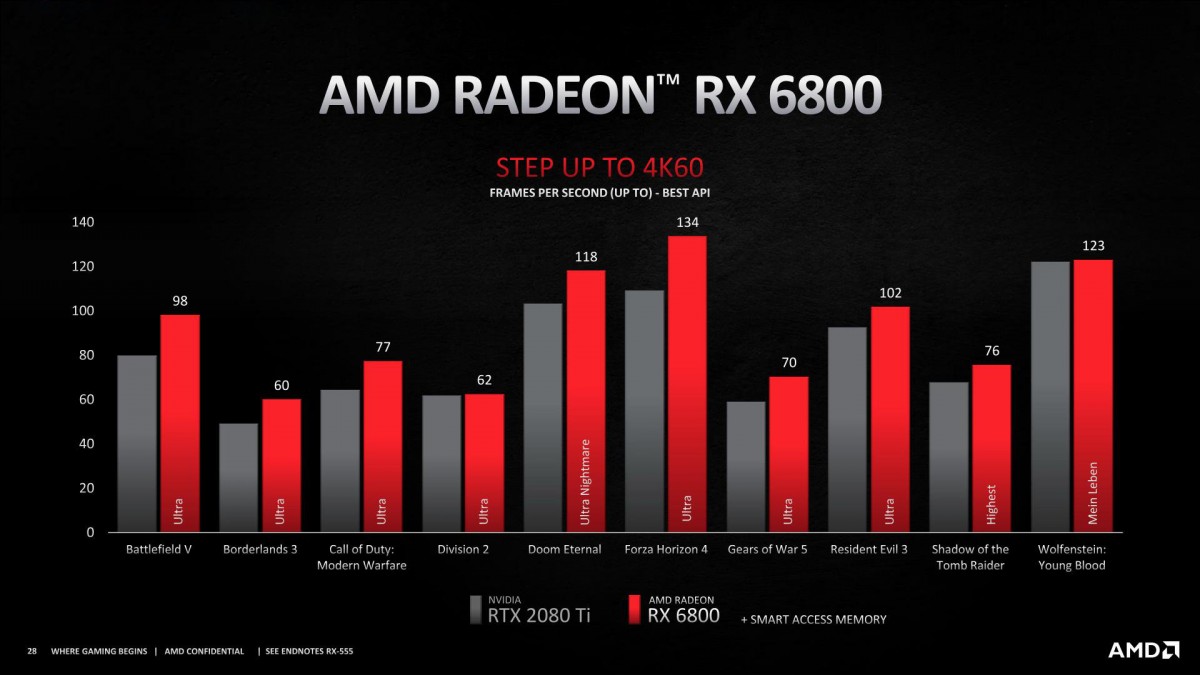 The 6800 will mostly compete with the $499 RTX 3070, even though it's more expensive. AMD claims in its charts that the 6800 is faster than the RTX 2080 Ti, which has similar levels of performance as the RTX 3070. However, we would take this chart with an even bigger pinch of salt as it makes use of a feature called Smart Access Memory, which we will discuss shortly.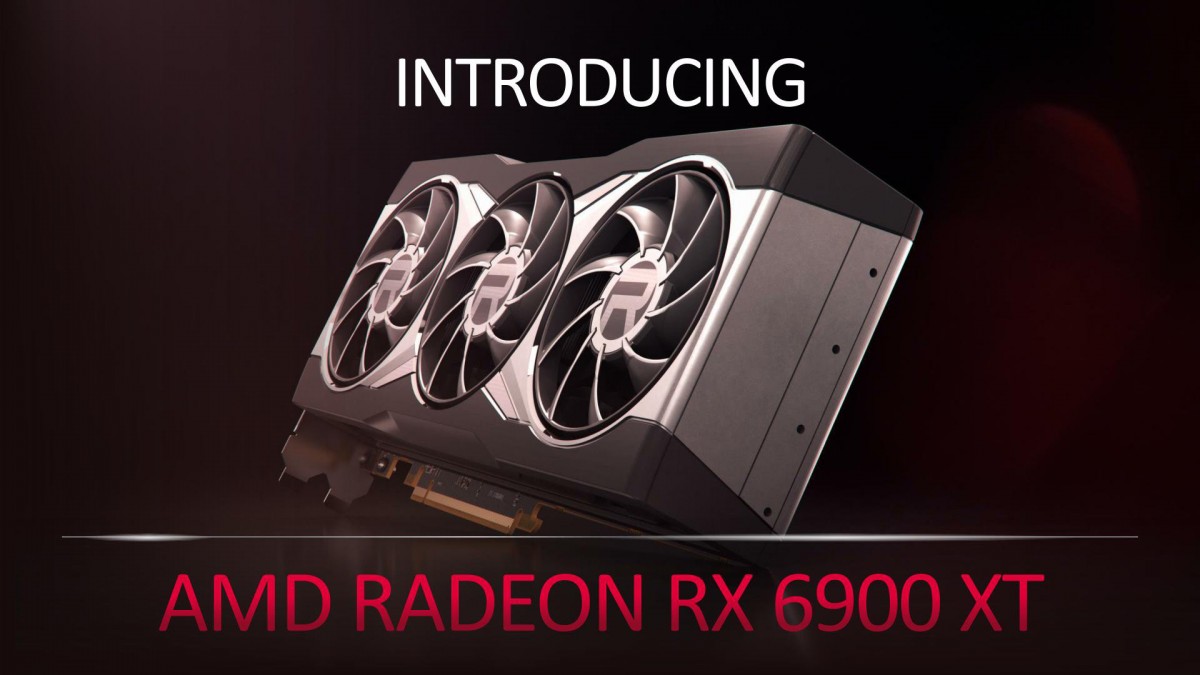 Lastly, there is the flagship Radeon RX 6900 XT. This $999 graphics card comes with the full complement of 80 compute units along with the same game and boost clock speeds as the 6800 XT. The rest of the specifications are similar as well.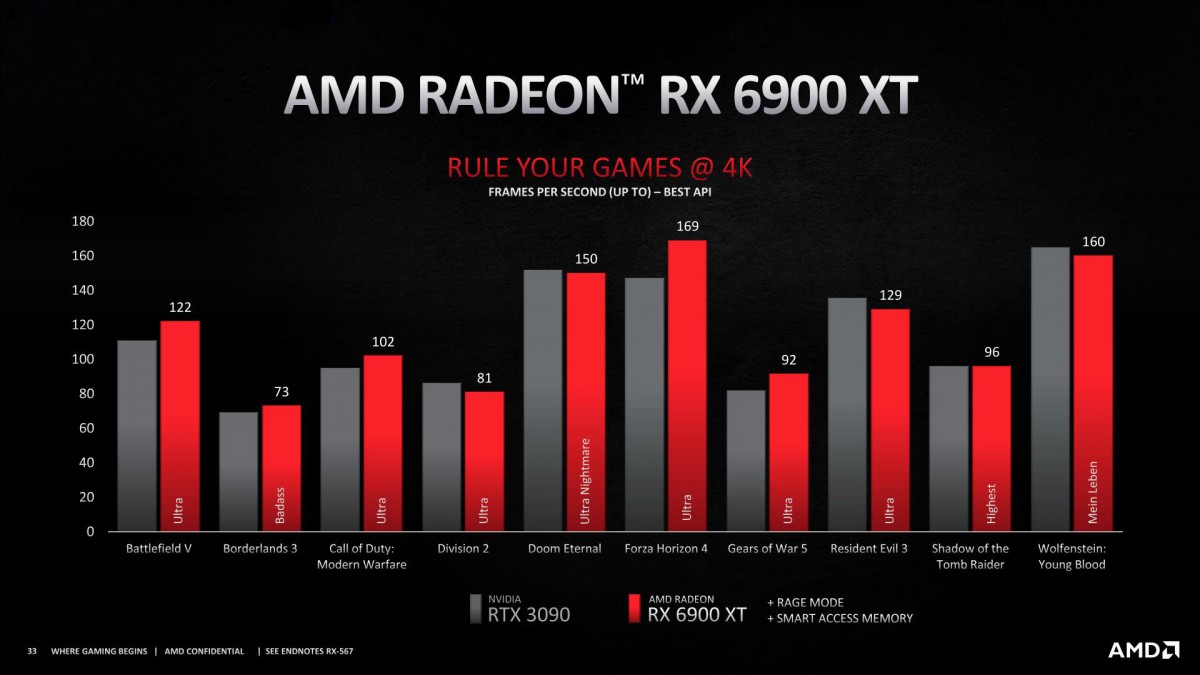 AMD decided to take a swipe at the lofty $1499 RTX 3090 with the 6900 XT in its comparison charts. This time, however, we would suggest a small teaspoon of salt as these results are taken with Smart Access Memory and something called "Rage Mode" enabled.
So what is this comically named Rage Mode? AMD calls it a one click overclocking solution. According to Gamers Nexus, Rage Mode unlocks the power targets on these cards so they can clock higher. It doesn't actually overclock the card itself, just removes some of the power restrictions that could prevent it from clocking higher in some instances. For manual overclockers, this is nothing new but those who are either new or uncomfortable with overclocking can just click this one button and hope it does something.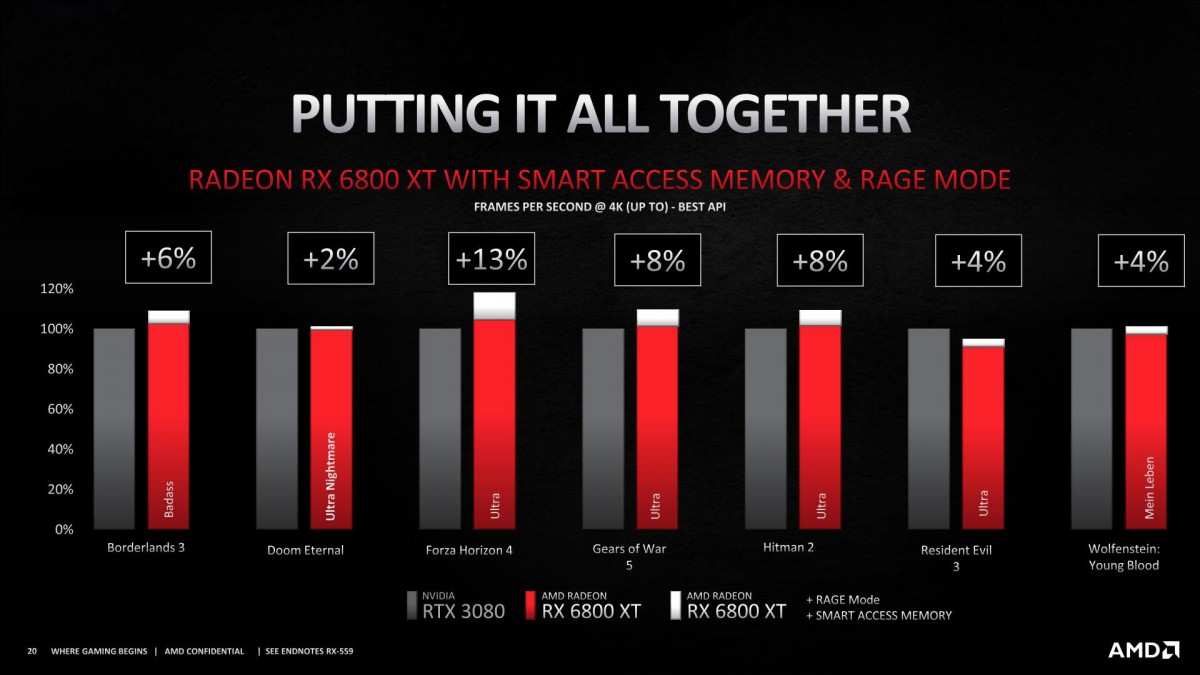 As for the aforementioned Smart Access Memory, this one's a bit more interesting. For this to work, you need a Radeon RX 6000 series GPU, a Ryzen RX 5000 series desktop CPU and a 500-series chipset motherboard. Once you have this trifecta and enable an option in BIOS, it allows the CPU access to the full 16GB VRAM on the graphics card, which supposedly reduces memory fragmentation on the VRAM and improves performance.
Within AMD's test samples, they say anywhere from single digit to low double digit gains in performance with Rage Mode and Smart Access Memory enabled on the 6800 XT.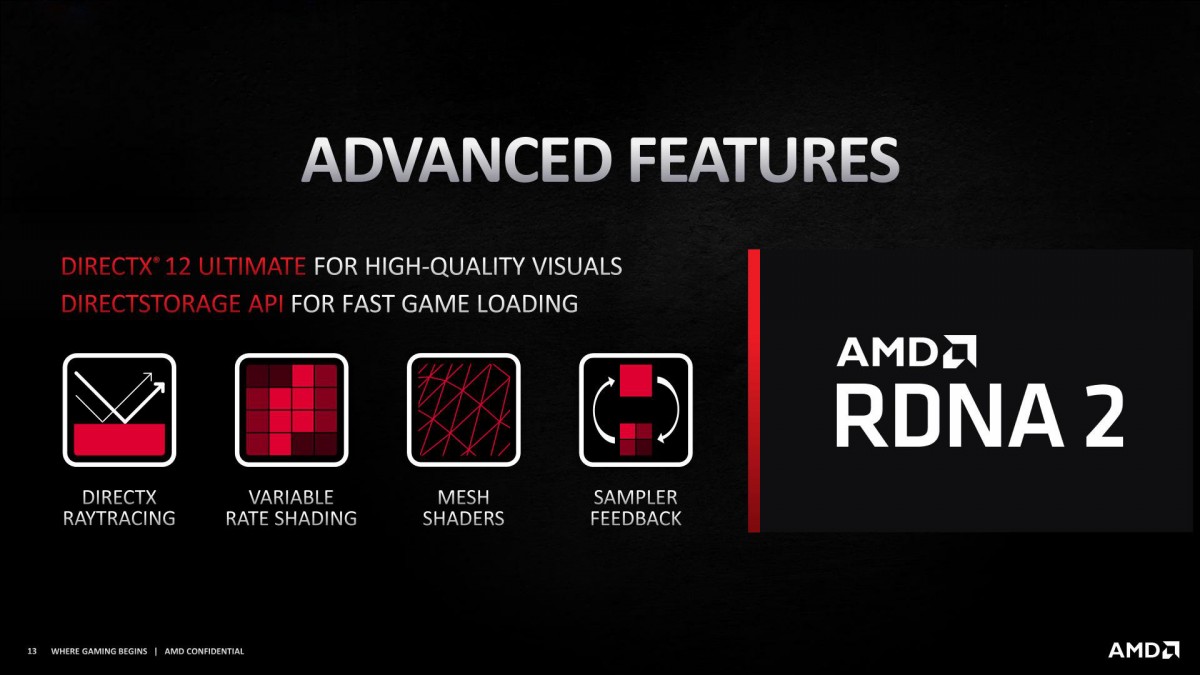 RDNA 2 also includes support for Microsoft's DirectX 12 Ultimate API. This enables support for features like hardware-accelerated ray tracing, variable rate shading, mesh shaders, and sampler feedback, features that were previously only available on select NVIDIA GPU.
Ray tracing will likely be the one most were looking forward to. AMD announced a handful of titles that will be available soon that support ray tracing on AMD cards, although technically nothing really stops the existing titles such as Control, Metro Exodus, Battlefield V, etc. from working on RDNA 2 hardware since they are all based on Microsoft's DXR implementation. It will be up to AMD to enable support for them in its drivers. Eventually, all DXR based titles should work on all RTX, Radeon RX 6000, and Xbox Series X|S hardware.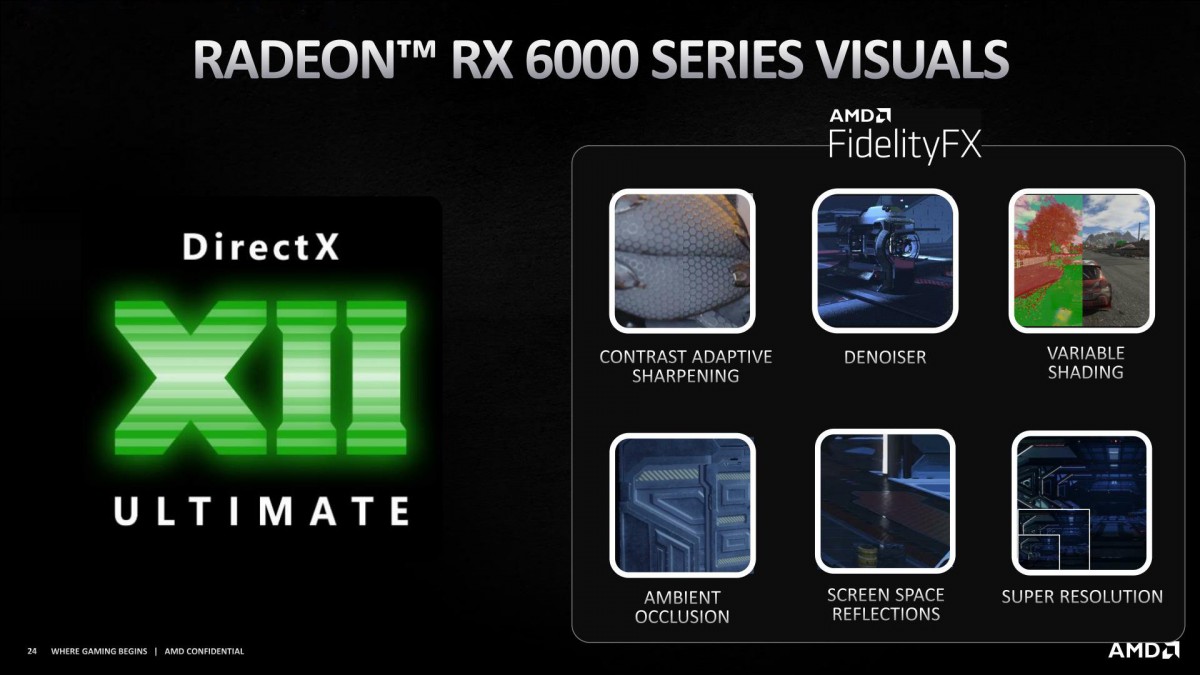 AMD is also supporting the Microsoft DirectStorage API, which aims to improve load times and improve texture quality. Along with that, the company will continue to support its own technologies, such as AMD FidelityFX, Radeon Anti-Lag, and Radeon Boost.
What's missing from AMD's arsenal for now is an alternative to NVIDIA's DLSS or deep learning super sampling. This enabled AI-assisted upsampling of game assets using scans of high resolution assets, which results in close to native resolution image quality but with a lower rendering budget.
AMD has promised a technology called Super Resolution, which seems similar to DLSS but provided no further details that would let us know how well it would work. The feature is also still in development and won't be available for some time after the launch of these cards. That should put a severe dent in AMD's ray tracing performance compared to NVIDIA's DLSS, which is likely why AMD hasn't announced support for existing DXR titles as most of them have some form of DLSS.
[embedded content]
Now for availability. The RX 6800 and 6800 XT will be available starting November 18 for the aforementioned prices of $579 and $649 on AMD.com. The RX 6900 XT will be available starting December 8 for $999. Cards will also be available from the usual board partners, such as ASRock, ASUS, Gigabyte, MSI, PowerColor, SAPPHIRE, and XFX in November.