Posthaste: Interest rates aren't affecting Canada's love affair with real estate like they used to – Financial Post
Good Morning!
Today's data on Canada's biggest housing market saw benchmark prices shoot up 8.7% from the January before, the biggest jump in more than two years. Toronto sales also rose 15.4% from last year, the 10th straight advance. Active listings fell 35%, pointing to a tightening market, said BMO senior economist Sarah Howcroft in a morning note.
"It bears repeating that ongoing housing market strength will be front of mind for the Bank of Canada in any policy easing considerations," she said.
But should it? The Bank of Canada has raised concerns about "housing froth", suggesting a rate cut would further fuel the escalation.
Yet TD Economics argues in a recent report that a Bank of Canada cut would benefit the economy's growth, while its influence on the housing risk is limited.
"The Bank of Canada doesn't want to further stoke this fire via rate cuts that could encourage home buying behaviour. But the unfortunate truth if that it probably can't do much to manage this market," TD economists Beata Caranci and James Orlando said in the report.
The rebound in the housing market has happened despite the Bank holding rates at a higher level than in the United States, and supply and demand is driving the market now. Canada's population growth is two to three times higher than peer economies, and most of the newcomers settle in or around a handful of cities, TD said. In Canada, 60% of the population lives within 200 kilometres of just five cities.
Record supply of housing is underway, but still playing catchup. TD says interest rates are not likely the catalyst anymore, especially because of tighter mortgage rules.
Canadians have a love affair with homes, TD said. Because they were spared the carnage of the U.S. housing crash in 2008, Canadians also love investing in real estate. Over the past 10 years, the average sale price of a Canadian home has averaged a compound annual return of 4.6%, compared with 4.3% in the U.S., says TD. Toronto and Vancouver are even higher, with returns of 7.5% and 5.2% respectively. Compare those to the returns of the 10-year Canadian government bond at 3.7% annually and the S&P TSX Composite at 6.9%. The numbers "drive home the point that the last 10 years have offered good returns for financial assets."
TD warns that it might not always be that way. There are real risks that if Canada entered recession, the levered gains would become levered losses. Financial stress is already becoming apparent in rise of insolvencies, which were related to Bank of Canada hikes starting in 2017.
"An interest rate cut by the Bank of Canada would influence an easing in financial conditions in the consumer loan market," said the report.
TD says the Bank should continue to raise awareness of financial risks, but government and regulators need to address the housing market.
"The interest rate lever should be pulled to protect broader economic growth and domestic sentiment at earliest signs of a wobbling," TD said.
Here's what you need to know this morning:
Canada's trade deficit shrank to one of the smallest in recent years, data showed yesterday. The December gap fell to $370 million, down from the revised deficit of $1.2 billion in November and smaller than economists' estimates. But in this case, slimmer is not much better, according to CIBC economist Andrew Grantham. The rebound in exports from the disruption in November of a pipeline rupture and a rail strike was not as robust as CIBC economists expected, he said. Exports gains were mostly driven by oil. Excluding energy, exports were only up 0.3%. and exports of manufactured products were down. "Even with the slightly slimmer than expected headline print, today's trade data will do little to inspire confidence in the underlying trend within the Canadian economy," Grantham wrote. "The lack of progress in non-energy exports, even with expected boost from the rail strike ending is a somewhat disappointing first signal for December GDP."
— Please send your news, comments and stories to pheaven@postmedia.com. — Pamela Heaven @pamheaven
With files from The Canadian Press, Thomson Reuters and Bloomberg
Best Real Estate Shares Five Ways To Increase Trust In Your Ad Campaigns – Net Newsledger
When it comes to online advertising, gaining the trust of your audience is critical. If people don't trust you, the experts at Best Real Estate in Tampa, Florida, say they won't buy from you. This article will discuss five ways to increase your ad campaigns' trust and boost sales!
Trust is essential for ad campaigns because it helps connect the advertiser and the consumer. When consumers see an ad, they need to trust that the advertised product or service is legitimate and that they won't be ripped off if they purchase it. This can be difficult for advertisers, as many unscrupulous companies are more than happy to take advantage of unsuspecting consumers.
However, Best Real Estate experts say a few things advertisers can do to help build trust with their audience. First, they can be transparent about their product or service, clearly explaining what it is and how it works. Second, they can use testimonials from satisfied customers to show that their product or service delivers on its promises. Finally, they can provide a money-back guarantee to show that they stand behind their product or service. By taking these steps, advertisers can help build trust with their audience and ultimately increase sales.
In the past, advertisers have not been entirely transparent about how they create and place ads. As a result, there has been a lot of mistrust between brands and consumers. However, increased transparency will help to increase trust in advertising campaigns. When consumers understand how ads are created and placed, they are more likely to trust the campaign and the brand.
Additionally, Best Real Estate professionals say transparency helps build relationships between brands and consumers. When brands are open and honest about their advertising, consumers are more likely to feel closer to the brand and be more likely to purchase its products. Therefore, transparency is essential for increasing trust in ad campaigns.
Another way to increase trust in your ad campaigns is to use customer reviews. Customer reviews are a form of social proof, which is when people see that others are using and enjoying a product, they are more likely to want to use it themselves. Therefore, by featuring customer reviews in your ads, you can show potential customers that your product or service is trustworthy and worth their time.
Additionally, customer reviews help to build credibility for your brand. When potential customers see that other people have had positive experiences with your brand, they are more likely to trust it and be willing to try its products.
As mentioned above, social proof is essential in increasing trust in ad campaigns. Social proof is the idea that people are more likely to trust a product or service if they see that others are using and enjoying it.
One way to create social proof for your ad campaign is to feature testimonials from satisfied customers. Testimonials are a great way to show potential customers that your brand can be trusted and that you have happy customers.
Another way to create social proof is to show media mentions of your brand in your ads. If you've been featured in any news articles, magazines, or other publications, mention it in your ad! This will help increase trust by showing potential customers that your brand is credible and has been noted by reputable sources.
You can create social proof and increase trust in your brand by featuring testimonials and media mentions in your ad campaigns.
Ad campaigns can be a great way to promote your product or service. However, ensuring that your ad campaigns are adequate is essential to get the most return on investment. There are a few key things to keep in mind when creating ad campaigns:
Define your target audience
Who are you trying to reach with your ads? When you know your target audience, you can create ads that are more likely to resonate with them.
What are you trying to achieve with your ad campaign? Are you looking to increase brand awareness, drive traffic to your website, or generate sales? When you know your goal, you can create ads that are more likely to achieve it.
Where will you be placing your ads? There are various advertising platforms, each with its strengths and weaknesses. You'll need to choose the medium most likely to reach your target audience and help you achieve your goal.
By following these tips, experts at Best Real Estate say you can create ad campaigns that are more likely to succeed. Keep these things in mind as you complete your next marketing campaign!
Ad campaigns can be a great way to promote your product or service. However, ensuring that your ad campaigns are adequate is vital to get the most return on investment. When creating ad campaigns, the key things to remember are defining your target audience, determining your goals, and choosing the right platform. By following these tips, you can create ad campaigns more likely to succeed.
Best Real Estate is a company focused on providing innovative marketing solutions for real estate professionals. For more information on their products and services, please visit the official site at https://bit.ly/bestrealsystem
B.C. real estate prices dip for fourth straight month – Business in Vancouver
Compared to last summer, prices are still up 3.6% in B.C. | Photo via Artie Photography (Artie Ng) / Getty Images
B.C. real estate prices have fallen for a fourth straight month, shaving about 4% off their value from June, transaction statistics show.
Average home sale prices across the province are now down 15.7% in July — sitting at about $920,000 — as compared to the market's latest peak in March, when the average price was nearly $1.1 million.
Prices in the Fraser Valley have fallen the most of any region in B.C. since March — 20.5%, as the average unit now sells for just over $1 million.
"High mortgage rates continued to lower sales activity in July," said BC Real Estate Association chief economist Brendon Ogmundson Thursday in his monthly market update for July.
"Many regions around the province have seen sales slip to levels well below normal for this time of year," added Ogmundson.
Compared to last summer, prices are still up 3.6% in B.C.; however, prices are trending to a point where they will soon see a year-over-year decline, after peaking at 24.9% gains in March.
Active July listings of 31,386 remain below the estimated 38,000 needed for long-term market balance. Last July there were 24,473 listings.
Sales volume is down 42% year over year, from $8.6 billion worth of transactions in July 2021 to $5.2 billion last month. More properties sold in B.C. last January (6,138) than they did in July (5,572).
Chilliwack and the Fraser Valley saw the biggest drops in year-over-year sales, with declines of 57% and 50%, respectively.
The association noted that as the pace of sales activity declines below normal levels, inventory is accumulating.
"Inventories remain quite low, but the slow pace of sales has tipped some markets into balanced or even buyers' market territory," stated the association.
In an effort to curb inflation, sitting at 8.1% in June, the Bank of Canada has increased interest rates from 0.25% in January to 2.5% in July and another rate hike is expected Sept. 7. The bank has stated it is targeting a 3% or 3.25% rate by the end of the year, which will further erode homebuyers' qualifying levels.
Real estate downturn could be good news for Sault home buyers – SooToday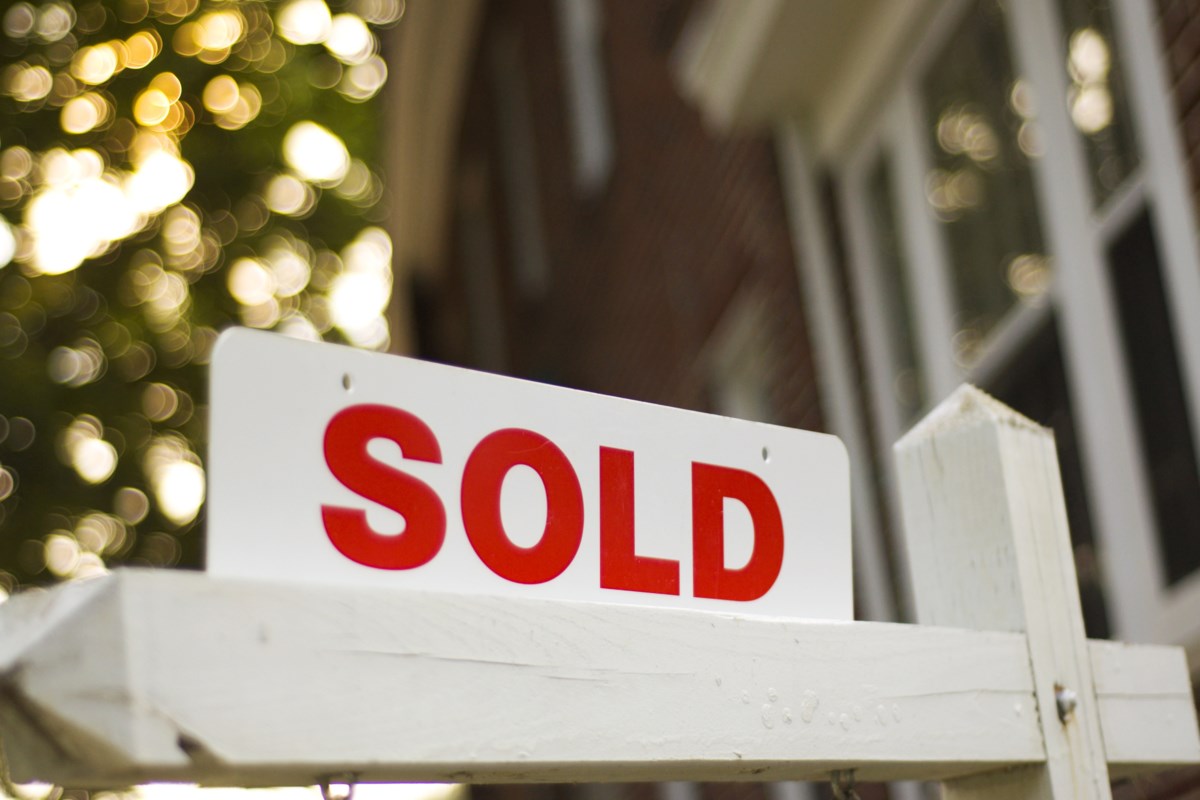 RBC – Canada's largest bank – foresees the country's real estate bubble popping with a big downturn in both sales and prices.
With inflation pushing lending rates up, those rising rates are expected to cool down the real estate market.
As reported earlier, local home sales were down significantly in July as compared to July 2021 but the average price was still up at $320,314 – a 20.3 per cent increase from last year.
While RBC forecasts the overnight rate will climb to 3.25 per cent by October, the bank and real estate industry experts see the anticipated downturn in prices as a correction and a welcome change.
"What we're experiencing in Sault Ste. Marie is more of a market stability, which to me is a good thing because it's allowing buyers to have a little more power to buy a home," said Jonathan Mogg, Sault Ste. Marie Real Estate Board president.
That could turn out to be good news for first time home buyers in the Sault, some of whom lamented back in March that out of town home buyers, many from southern Ontario, were paying big money for homes in the Sault, those buyers either GTA residents eager to relocate away from the hustle and bustle or absentee buyers purchasing Sault homes and renting them out.
That trend squeezed out many Sault residents desiring to buy a house in their hometown.
"That seems to be cooling off," Mogg told SooToday.
"Big time investors will always be in play, people who are in southern Ontario and decide that they want to invest in housing but can't afford that market so it's been pushing those kinds of people up north. But we're noticing that with the interest rates going up there's a lot less of those types of investors entering the local market, so that's positive."
"It's kind of hit a point where a lot of people have cooled off on the idea of investing in housing so that's good for the local people because now they're starting to have a chance at buying a home again," Mogg said.
"What I'm noticing is that a lot of buyers who were previously disillusioned are starting to come out of the woodwork and getting excited about trying to buy a house again. That's awesome because these are people who had tried previously and the market was just too hot for them at the time. Now they're seeing things cool off a little bit so it's spurring them to say 'okay, now's the time I'm actually going to buy a house, this is it.'"
"It's good to see that," Mogg said.
Mogg said renting a home is still an option for those who can afford it because the average three bedroom bungalow in Sault Ste. Marie's price is approximately $320,000 – making it hard for anyone with a budget under that amount.
That can cost between $1,500 and $2,000 a month.
That's not the best option for most people, but the option is there for those who have the cash.
As far as apartment rentals are concerned, rates for two bedroom apartments in the Sault cost at least $1,300 a month.
Though realtors naturally prefer people to buy homes as opposed to renting them or renting apartments, Mogg said "it goes beyond a professional thing. Being a member of this community I want everybody to have the chance to have good quality housing."