Prominent Art Advisor Lisa Schiff Has Been Hit With a Second Lawsuit, Alleging She Embezzled Nearly $3 Million
High-profile art advisor Lisa Schiff was hit with a second lawsuit from longtime client and close friend Candace Barasch, who claims Schiff owes her at least $2.5 million plus interest and damages for a series of art purchases Schiff was meant to facilitate for Barasch that were only partially completed or never completed. 
This second suit, filed on May 17 in New York State Supreme Court, outlines a years-long pattern: Schiff would allegedly alert Barasch of available paintings for sale—all of which were by in-demand contemporary artists with fast-rising prices—get her permission to acquire the piece, take full or partial payment—including a sales commission, taxes, and crating, shipping and insurance fees—and then in most cases fail to complete the purchase. 
The suit alleges breach of contract, conversion, fraud, conspiracy, replevin, and unjust enrichment. Schiff and the limited liability corporation associated with her New York-based advisory, Schiff Fine Art, are named as defendants. Schiff's attorney John Cahill declined to comment.
Barasch has been friends with Schiff for roughly two decades, and the two talked every day, multiple times a day for many years, according to the complaint. Barasch said she knew nothing about the alleged fraud until May 8, when she confronted Schiff about money that was owed to her from the sale of a painting by sought-after Romanian artist Adrian Ghenie.
The Ghenie transaction, a private sale brokered by Sotheby's Hong Kong, was the basis of an earlier lawsuit, filed on May 11, by Barasch and another investor, Richard Grossman, who say they are each owed $900,000 for a total of $1.8 million on the deal. Sotheby's declined to comment.
That suit appears to have opened the floodgates.
The May 17 complaint alleges that Schiff and her companies "have been engaged in a massive fraud…remitting millions of dollars to Schiff to pay in full for art purchases which she never transmitted to the galleries selling the works; likewise, [Schiff] failed to remit the proceeds of sales of Plaintiffs' artwork. Instead, [Schiff] used Plaintiffs' funds to spoil themselves with luxury travel, shopping sprees, and the like, or to pay obligations owed to other clients, or to purchase artworks for other clients."
Barasch claims she wasn't aware of any of the alleged fraud until May 8, "when Schiff called Candace and confessed that Defendants could not remit over $2 million owed to Candace and a third party for the sale of their Adrian Ghenie painting despite the fact that Schiff was paid in full for the painting and collected the final installment from Sotheby's on January 17, 2023." 
The more recent suit claims that over the course of their friendship and advisory relationship, Barasch virtually gave over control to Schiff, including use of her credit card. Schiff "came to manage all aspects of Plaintiffs' art collection, from purchases and sales of artworks, to framing, installation, transportation, handling, and storage of artworks," according to the complaint. Further: "Eventually, Defendants' management of Plaintiffs' collections was so complete and longstanding that Plaintiffs came to completely rely on and trust Schiff and her entities; it never occurred to them that Schiff would steal from them."
On May 8, Schiff admitted that she had dug herself into "a large financial hole" that she could not get out of, that her financial woes had been going on for many years, and that she had considered filing for bankruptcy protection prior to the start of the pandemic, the court papers state. Schiff did not file for bankruptcy at that time because she was afraid of a criminal investigation, the suit alleges.
Schiff explained that she had intended to map out a plan to get herself and her company out of the hole during her stay in a rehabilitation center in San Francisco, which she was admitted to in January 2020 for addiction treatment (which cost over $100,000), according to the suit.
Since the Ghenie case was filed, Barasch has received numerous texts and phone calls from galleries regarding works that Schiff purported to purchase on her behalf, but were never paid for or only partially paid for, she claims in the suit. She believes that wires she made to pay galleries for many artworks, were used "to cover art purchases by other clients and to fund Schiff's lavish lifestyle." Barasch estimates that nearly $3 million was embezzled from her.
The complaint details 14 separate transactions spanning from February 2020 to April 2023 involving works by a who's who of blue-chip artists represented by prestigious contemporary galleries in New York and London. Acquisition deals between Schiff and Barasch were struck for work by artists including Alvaro Barrington, Ernie Barnes, Adrian Berg, Andrea Bowers, Hadi Falapshi, Lauren Halsey, Louis Hammond, Hayv Kahraman, Mindy Shapero, and Anicka Yi. The galleries mentioned include Gladstone, Pilar Corrias, Frestonian (London) Kaufman Repetto, Andrew Kreps,47 Canal, David Kordansky, Nino Mier, and Pace.
One of the most expensive works mentioned is a $650,000 sculpture by Wangechi Mutu, whose work was prominently featured on the facade of the Metropolitan Museum of Art in 2019.
According to the complaint, in February 2020, Schiff consulted with Barasch about a bronze sculpture by Mutu, The Seated IV, (2019), that was available for purchase for $650,000 from the Gladstone Gallery in New York. At Schiff's request, Barasch paid for the Mutu sculpture by check payable to Schiff Fine Art. Each transaction bears the line: "Until Schiff's confession on May 8, 2023, Candace had no reason to doubt that Defendants had carried out Schiff's representation that Candace would purchase" the artwork and Schiff would use the payment received from Candace to pay the gallery.
However, when Barasch followed up with Gladstone senior partner Max Falkenstein this month, he informed her that there was an outstanding balance of $252,000 owed for the Mutu sculpture.
Similarly, in March 2020, Schiff alerted Barasch to a Sarah Lucas sculpture available for $390,000, also from Gladstone, for which Bartsch also wrote a check to Schiff Fine Art. In May, she learned that Schiff never paid Gladstone for that sculpture either—a pattern repeated for several transactions outlined in the complaint.
In one deal, for a painting by Harminder Judge bought via Pace Gallery, Barasch paid roughly $45,000 including additional fees and commission. However, while the work is in Pace's possession at a warehouse, the gallery will not release the work to Barasch because Pace's invoice was made out to Schiff Fine Art.
Schiff has also allegedly made efforts to take posession of artworks in Barasch's name even since admitting her financial situation and misconduct to her friend. In an effort to secure assets, Schiff recently tried to obtain two Chloe Wise paintings that Barasch had committed to buy for for $160,000 from Journal Gallery, the complaint asserts.
Schiff's SFA Advisory office and showroom in Tribeca and her space at London's Cromwell Place have shuttered.
Jaw-dropping immersive environmental art exhibit 'Arcadia Earth' is coming to Toronto this fall – NOW Toronto
Just when you think Toronto has been spoiled enough with world-class interactive art exhibits we get yet another one.
But we're not complaining.
A jaw-dropping immersive environmental art exhibit called Arcadia Earth is coming to Toronto this fall and from the looks of it, it's not one to pass up.
READ MORE: Explore centuries of Inuit life with a new exhibit at the Royal Ontario Museum
After a wildly successful run in New York, Las Vegas and Saudi Arabia, the exhibit is making its way up north for its Canadian debut.
Visitors can experience a 17,000-square-foot journey through planet Earth in all its glory and weaknesses.
The exhibit combines both large-scale art installations and technology.
"Arcadia Earth Toronto will transport visitors to the heart of global challenges such as overfishing, plastic waste, and biodiversity loss," the exhibit creators said in a statement.
"From an underwater world built from salvaged commercial fishing nets to a large-scale beehive made from thousands of pages of reclaimed books, the spaces promote individual empowerment and equip guests with actionable suggestions to help protect the future of our planet."
The exhibit will officially open in the fall of 2023 and set up shop at The
Well in Toronto.
Theatre, art, and water security central in international USask exhibition – USask News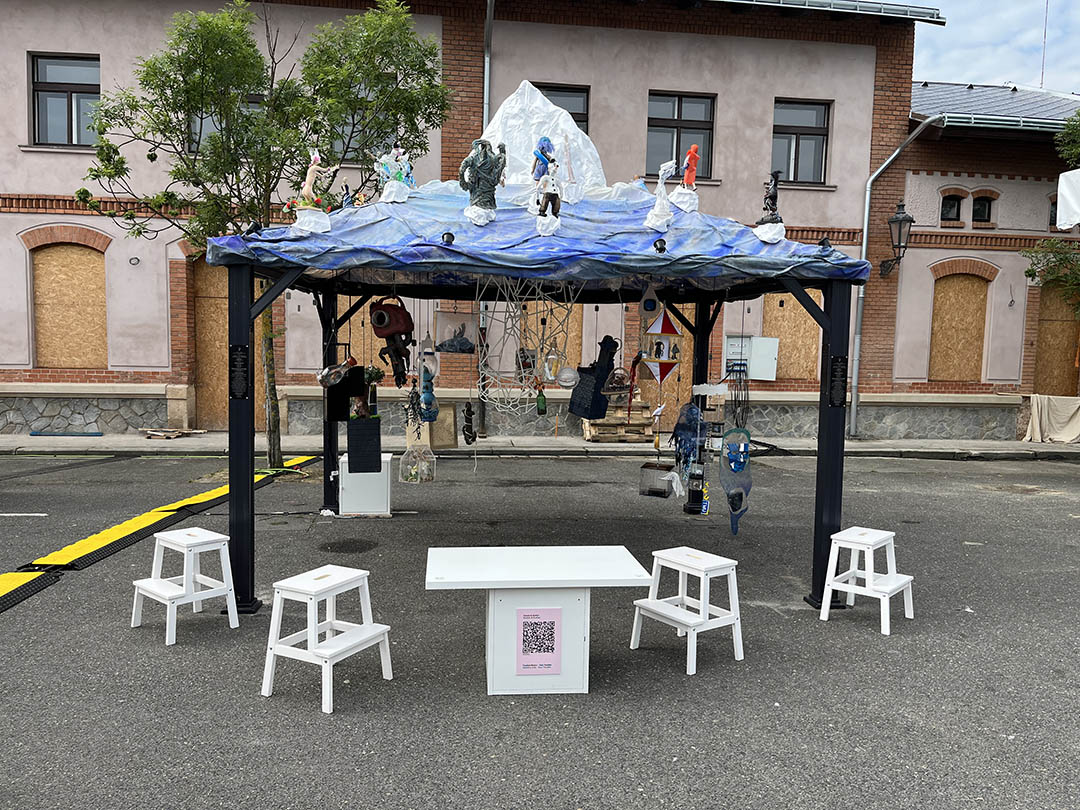 Per Orosz, the main "gazebo-like" structure is meant to invoke the idea of an iceberg, with other art pieces attached above or suspended below the structure's roof to symbolize thoughts and ideas that are either visible and talked about, or metaphorically "below the surface" when it comes to water security.
Six USask undergraduate students and two recent alumni contributed artwork to the exhibit. In addition, 20 USask students will be travelling to Prague to perform and engage with the public for the Canadian exhibition. Overall, around 150 students from across Canada will be participating in the exhibition at PQ.
Orosz spoke glowingly about the students' dedication to creating something that reflected ideas of water security and access to clean water in Canada, as well as their eagerness to collaborate with like-minded students from across the country.
"I feel pure pride for what USask does," she said. "It's an international stage, we're showing off the work to the rest of the world, but it's also important to show off to the rest of Canada."
In addition, Dr. Graham Strickert (PhD) with USask's School of Environment and Sustainability, and the Global Institute for Water Security, spoke to the students involved with the project about being mindful and thoughtful about the topic their artwork is focusing on.
USask has identified water as one of its signature areas of research that garners the university recognition and distinction around the world. Orosz and the students taking part in the PQ exhibition are shining a light on that focus in a unique and interdisciplinary way.
"What's important about these kinds of connections between art and science is that we're collaborating and feeding off of each other," Orosz said. "We're showing that scientists are hearing from us and thinking about new ways to approach their work, and we think about new ways to approach ours."
Richmond youth visual art contest draws worldwide participation – Richmond News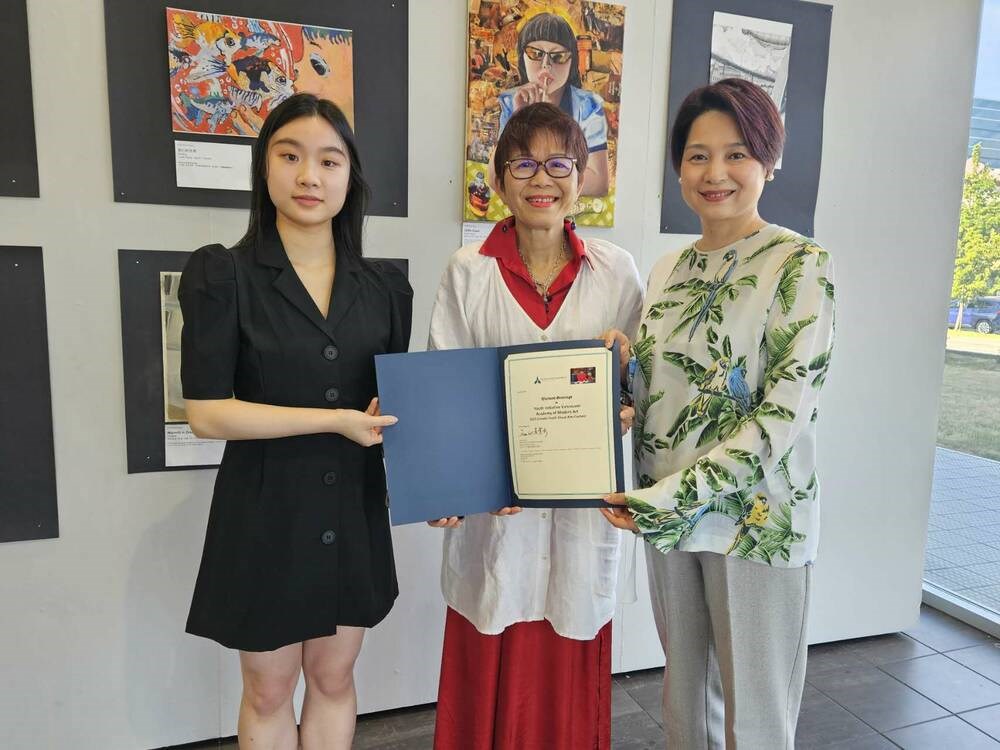 A Richmond-based visual art contest has received hundreds of submissions from across the world this year.
Canada Youth Visual Art Contest, an annual competition open to young people around the world is held by Youth Initiative Vancouver and Academy of Modern Art (AOMA) and was first launched in 2021.
This year, the contest received 660 pieces of artwork from 13 countries. The majority of the artwork will be on display at Lipont Place on No. 3 Road this weekend and can be viewed online after.
"Our competition was to connect young artists worldwide, especially during the global segregation because we started during the pandemic years," said Yoshier Hu, a student from Hugh McRoberts secondary and co-president of Youth Initiative Vancouver.
"We believe art is basically a universal language for creativity, especially in youth."
The contest is open to any type of art media, including traditional painting, mixed media, digital art, photography, 3-D models, sculptures and more.
A jury panel from different countries have selected 177 artworks as award recipients that will be announced at an award ceremony in Vancouver Saturday evening. More than 300 young artists are expected to attend the in-person event. The students also hope to raise funds for charities through the contest with the goal of raising $15,000 this year, Hu explained.
"In the past, we have raised money for UNICEF Canada, BC Children's Hospital Foundation, and this year we are doing VGH and UBC Hospital Foundation," she said.
"One of our main fundraising methods is artwork donation and charity auctions. Contestants and award recipients can choose to donate their artwork, and then we will auction it and raise funds that way."
The winning artwork will be available on AOMA's website.