Raptors still looking to iron out rotation and roles – Sportsnet.ca
A new year often brings with it new possibilities, and for the Toronto Raptors that certainly seems to be the case.
Picking up their first victory of the season with a 100-83 rout of the New York Knicks Thursday evening, the Raptors still have a lot to figure out about themselves, particularly in terms of their rotation and roles.
Of course, the surprise announcement that the Raptors were giving Pascal Siakam the night off for disciplinary reasons just before their New Year's Eve tilt with the Knicks played a factor, but the level of experimentation seen from Raptors coach Nick Nurse in the game suggested he's still probing and searching for more consistent answers across the board.
The team is still only four games into its season, but some level of role certainty would be a better look instead of what has appeared to be a bit of scramble from Nurse, searching for answers all throughout games.
Here's a quick glance at some of the clutter the Raptors are dealing with right now.
Norm dilemma … again
Over the course of his career, a common trend with Norman Powell has been the splits he's put up between starting and coming off the bench.
A perfect example is what we saw in regards to this last season, where he played 26 games each as a starter and as a key bench piece.
In contests that he earned the start, Powell averaged 18.7 points per game, shooting 52.2 per cent from the field and 44.4 per cent from deep. When he came off the bench, however, he only averaged 13.2 points, shooting 46 per cent from the floor and 34.2 per cent from three-point range.
Powell did play more minutes as a starter, averaging a little more than 31 per game as opposed to the 26 per contest he would get coming off the bench, but that's still a large difference in production and we saw a small example of that play out once again Thursday night.
In Toronto's first three games this season, Powell was averaging a measly six points per game on a truly abysmal 17.4 per cent from the field, but with Siakam being disciplined Thursday, Powell drew into the starting lineup and popped off for 17 points on 7-of-13 shooting.
Powell was quickly able to establish himself, scoring seven of Toronto's first 10 points, something that seemed to jumpstart his game and led to his best performance of the season.
So this begs the question once again, if the Raptors seem to be getting consistently better performances out of Powell as a starter, would it not make more sense to make him a full-time member of the first unit?
It's something that Nurse has wrestled with before and after Thursday's performance he may be giving it another long look.
"I think it needs some consideration," Nurse said of Powell perhaps more permanently acting as a starter. "I think the statistics really bear it out. For sure. So I think it needs some evaluation. The only part that makes it tough is who goes out of the starting lineup?
"And I don't know, maybe we'll get to a point where we move it around a little bit. I kind of had grand visions of that when I took the job, that we have like eight starters moving around a little bit."
The dilemma of who moves out of the starting lineup is a big one as the current starting five appears to be the most logical, but the idea of a rotating starting lineup with Powell drawing in from time to time depending on matchup does sound interesting, especially because Powell already views himself as something of the team's sixth starter.
"Obviously it's nice to start. I see myself as a starter in this league," Powell said. "So every time I get a chance to go out there and start it shows that I can fill that role and I try to take advantage of that. Obviously, I've always been a team guy, to focus on what the team needs of me in whatever role that is, and the last three games prior to this one I really looked at myself to see what I could do better."
Like a broken record every season, monitoring how Powell is utilized will once again be interesting as the season progresses.
Many, many reserve wing options
During training camp and pre-season, Nurse mentioned wanting to have a certain level of role certainty at the No. 8 spot of his rotation, specifically narrowing in with, preferably, a three-and-D wing there.
So far there hasn't been close to an answer yet as to who will take that role and run with it.
Nearly every reserve wing option at Nurse's disposal has been used, with Matt Thomas getting more consistent looks in the first two games, DeAndre' Bembry getting some quick glances here and there, Stanley Johnson being used more heavily over the past two games, Terence Davis getting his first taste of action Thursday playing 16 solid minutes, Yuta Watanabe even playing a little over nine minutes Thursday as well, and even rookie Malachi Flynn and Paul Watson Jr. finally seeing the floor Thursday in garbage time.
In other words, it's a complete jumbled mess at that spot and Nurse just appears to be going with whatever he feels is the right matchup at the moment because no one has impressed enough to stake claim to that rotation spot.
It's why we've been seeing funky lineups like the Kyle Lowry-Johnson-Chris Boucher-Davis-Watanabe look. This was just one example of a plethora of strange lineups used Thursday and given the fact Nurse is still searching, we can probably expect more weirdness in the games to come.
Can't centre in on a consistent centre
Another question mark Nurse is dealing with is how to divvy up minutes between his three centres.
Aron Baynes has been the starter, and while that likely won't change, the question of whether he'll end up playing starter-type minutes over the course of a full game is worth asking.
This is because Baynes has had ups and downs to start the season much like his other three counterparts, leading to Nurse also looking for an answer at the five spot as well — both with the primary and secondary unit.
"I think it's going to be a game-to-game type of thing," said Nurse. "I think Aron's had two good games and two not so good games so he's batting about .500. Chris has had a couple of real good games, but Alex [Len] has had a couple of good ones, too.
"I don't know, I think we're going to feel it out, feel it through and just keep evaluating."
Len, in particular, looked to take a big step in the Raptors' centre battle Thursday, finishing with 11 points and drilling three triples. All this production came in the third quarter and the form on Len's three-point stroke looked exceptional, with the Raptors even appearing to run a set play to set up a corner three for the seven-footer.
"I was looking like crazy for a corner three-point shooter and I can't believe I couldn't find one and there it was tonight, Alex Len," Nurse joked Thursday after the game. "He made some big shots for us tonight and I'm just glad he goes out there and competes, he looks like he's getting more comfortable."
Whether that comfort Len is feeling leads to more consistent opportunity is anyone's guess at the moment, but at the very least his name will be in the hat as Nurse continues to search for consistency.
Maple Leafs' goaltending depth evaporates quickly with Campbell injury – Sportsnet.ca
Depth is a wonderful luxury in this compacted sprint of an NHL season. But, oh boy, can it dry up fast.
Even a team as prepared for absentee goaltenders as the Toronto Maple Leafs — who made sure to load up on four netminders with a minimum of 17 NHL appearances in 2019-20 — can have their most critical position tested before their eighth game of 2021.
Last week, cap-tight Toronto lost stud third-string goalie Aaron Dell to a New Jersey Devils waiver claim.
On Tuesday, coach Sheldon Keefe announced that backup Jack Campbell (2-0-0, .923) would be sidelined "weeks, not days" with a leg injury suffered in Sunday's victory over the Flames, interrupting the affable No. 2's stellar start.
Re-enter Michael Hutchinson, who will don the ballcap on the Maple Leafs bench for the foreseeable future.
Ostensibly, Hutchinson was signed back to Toronto in the off-season for two years and $1.45 million to fulfill an expansion draft qualification, improve the farm club's save percentage and provide a known commodity in an emergency situation.
It's not a five-alarm blaze yet, but the pressure on starter Frederik Andersen to perform — and stay healthy — just ratcheted up a notch.
"That's the game," Keefe said. "That's why you try to set yourself up with as much depth as possible, to deal with whatever might come our way. I do think the way the schedule sets up here now, it's pretty favourable for us and for Fred Andersen's workload."
Knock on wood, Andersen (3-2-0, .898 save percentage) could well start all of Toronto's next nine matches before the club's next back-to-back, Feb. 17-18 versus Ottawa.
"We still have lots of confidence in both Fred and Hutch," Keefe said. "He's coming here with a different level of confidence than what he had last time around."
Hutchinson — a 30-year-old journeyman — went 4-9-1 with a .889 save percentage for the 2019-20 Maple Leafs and was dealt to the Colorado Avalanche at the 2020 trade deadline.
When the Avs suffered multiple goaltending injuries in the playoff bubble, Hutchinson played admirably in relief, going 2-1 with a .910 save percentage in Colorado's tight second-round series against the Dallas Stars.
"He had a tough go here. At the same time, I believe there was a point in time where he won [three] consecutive starts for us," Keefe said. "He was finding his way, and then towards the end, it didn't go well. But he went off to Colorado, got put in a really tough position in the playoffs and gave them an opportunity to compete and get to Game 7."
Hutchinson's forced promotion to the backup role is just one of a handful of lineup changes Keefe is making in advance of Tuesday's rematch in Calgary.
Mikko Lehtonen will draw in for defenceman Travis Dermott, who was dealt his first healthy scratch since 2018-19.
Forwards Travis Boyd and Joey Anderson will both make their Maple Leafs debut, replacing Jason Spezza and Alexander Barabanov.
And Ilya Mikheyev has earned himself a promotion to the top six, where he'll flank John Tavares.
"Mikheyev has played very well. Lots of speed," Keefe said.
"Mickey has been really good here for the last few games. It hasn't resulted in goals or points or anything like that here quite yet, but he's been getting these opportunities. It's just a matter of time."
Joseph Woll, the club's 22-year-old prospect, is en route to Alberta. He'll join the Leafs road trip and fill the taxi squad's goaltending spot.
Maple Leafs goalie Jack Campbell out 'weeks' with leg injury – Sportsnet.ca
Toronto Maple Leafs goaltender Jack Campbell will be out for "weeks" with a leg injury, head coach Sheldon Keefe said Tuesday.
Michael Hutchinson will act as Toronto's backup goalie in Campbell's absence, while Joseph Woll is moving to the team's taxi squad as a result of the injury.
It is not yet clear how Campbell was injured. The 29-year-old started in net for the Maple Leafs on Sunday when they took on the Calgary Flames. Near the end of the third period, Campbell appeared to be in discomfort after making a save and was seen hunched over in the crease and shaking his leg while the action was out of the Leafs' zone.
With less than a minute left in the game, a crease scramble led to Flames forward Matthew Tkachuk's knee driving onto Campbell while he was lying face-down on the ice. Afterwards, it took a few moments for Campbell to get back on his feet, however he did stay in net for the remainder of the game.
Campbell did not practice with the Leafs on Monday. So far this season, Campbell is sporting a 2-0-0 record with a 2.00 goals-against average and a .923 save percentage.
Defenceman Travis Dermott will be a healthy scratch against Calgary Tuesday as Mikko Lehtonen will take his spot in the third pairing. It's the first time Dermott will be a healthy scratch since the 2018-19 season.
Tkachuk: It's 'classic' to accuse me of purposefully falling on Campbell – theScore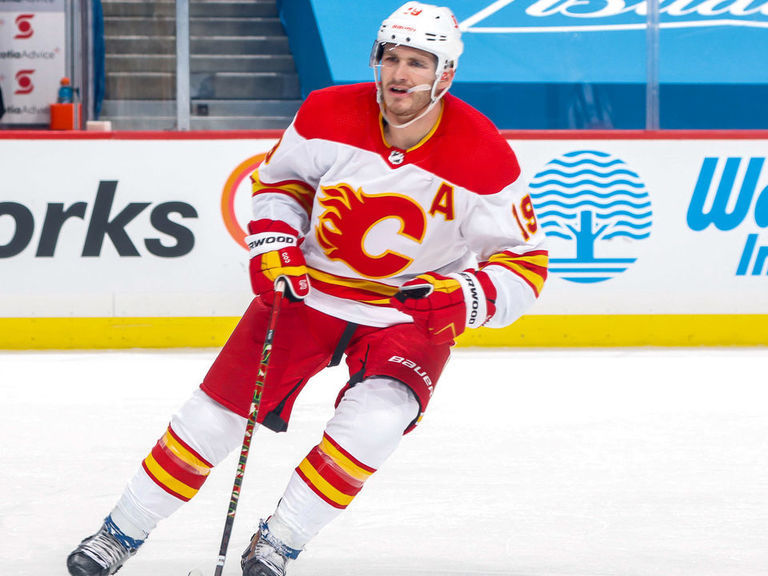 Matthew Tkachuk is well-aware of his reputation around the league, but the Calgary Flames pest denied any notion he intentionally fell on netminder Jack Campbell in the dying moments of Sunday's 3-2 loss to the Toronto Maple Leafs.
"It was just a battle in front … six-on-five situation just banging away at the puck," Tkachuk told reporters Monday. "I live in that area, I live in that crease area throughout the games, and I'm just digging for a puck and I was battling with Brodes (TJ Brodie) a little bit there and guys started coming in.
"I just got knocked over and obviously I didn't have any intention of falling into him or anything like that. That's a complete … it's just a classic thing to try and accuse me of there."
Campbell, who had seemingly tweaked something in his lower body just minutes earlier, remained in the game and collected his second victory of the season.
Tkachuk, who leads the Flames with three goals in four games this campaign, says he has no problem tuning out the criticism.
"I get very surprised with some things that come out of other people's mouths these days, but it's a good thing I don't listen to it. I just get asked it from other people," he said. "Thank god I don't go on my phone I guess too much after games or else I'd drive myself crazy."
The Leafs and Flames meet again Tuesday for the second of nine matchups between the sides this season.