Real Estate Token Contracoin to List on ProBit Exchange
SINGAPORE, Oct. 19, 2020 (GLOBE NEWSWIRE) — Global real estate token project Contracoin is pleased to announce that it will be listing its native token CTCN on popular global digital asset trading platform ProBit.
"We are happy to onboard the Contracoin token (CTCN) to the ProBit trading platform," says Ronald Chan, CEO of ProBit Exchange. "It is exciting to see blockchain technology being used in real estate and we are happy to support Contracoin in an emerging industry for which we see huge upside potential."
Disrupting a USD 228 Trillion Global Real Estate Market
Real estate is one of the largest alternative asset classes with the total global real estate market estimated to be about USD 228 trillion. The past couple of years has seen the concept of tokenizing real estate gaining momentum in many regions around the world.
"Raising capital by utilizing blockchain technology to issue tokens democratizes the whole process of buying and selling real estate," states Barry Lipscombe, CEO of Contracoin. "Removing traditionally high barriers to entry as well as intermediary fees for real estate, tokenization is an extremely attractive concept. We are happy that ProBit, a fast-growing crypto exchange that garners a Top 10 ranking in Korea, is supporting Contracoin and look forward to a successful listing partnership!"
Designed to Streamline Overseas Property Transactions
Contracoin is a global real estate blockchain-powered platform which allows property investors anywhere in the world to invest and benefit from the international real estate market.
The ERC-20 Contracoin token (CTCN) is designed to streamline overseas property transactions and overcome challenges in cross-border remittances. Eliminating complicated banking processes and excessive fees, CTCN transactions will speed up fund transfers, reduce costs and remove restrictions associated with cross border transfers. The ultimate aim is to empower Contracoin investors by enabling them to purchase real estate globally using CTCN for up to 100% of the selling price.
Leveraging blockchain technology and smart contracts to get rid of manual errors, Contracoin ensures that transactions will be secure, transparent and immutable.
Backed by a Global Barter Network and a Team of World-Class Professionals
The strength of the Contracoin marketplace lies in its extensive database of more than 200,000 global merchants through Contracoin's parent company, Contracard and its Virtual Barter network. 65% of Fortune 500 companies are included in Contracard's global trade exchange network, which will aid in the drive to mass adoption of the Contracoin tokens.
Furthermore, the team of Contracoin consists of world-class professionals who specialize in real estate, blockchain technology, finance, legal, marketing and IT development.
Trading on ProBit Exchange Soon
Currently trading on crypto exchanges CoinBene and P2PB2B, CTCN will soon be available on ProBit.
Launched in 2018, the ProBit platform presently provides four hundred tokens for trading in seven hundred markets with 800,000 monthly active users. ProBit has 50 million combined monthly visitors on Coingecko and Coinmarketcap, a testament to why the exchange features amongst the most popular global digital trading platforms in terms of real website traffic and volume.
The details for the CTCN token listing on ProBit Exchange are as follows:
Deposits: 13:00 (KST), October 21, 2020
Trading: 13:00 (KST), October 22, 2020
Withdrawal: 13:00 (KST), October 21, 2020
Trading Pair: CTCN/USDT
With more trading promos and other details on the way, the community should stay tuned to Contracoin's official social channels for the latest announcements of the CTCN token listing on ProBit.
About Contracoin
Contracoin is a global real estate platform built on blockchain technology which aims to revolutionize the global real estate market. Utilizing smart contracts to ensure secure, cost-efficient, transparent and immutable transactions, Contracoin offers a technology solution to facilitate cross border real estate transactions. https://contracoin.network/
About ProBit Exchange
ProBit is a centralized cryptocurrency exchange launched in November 2018. Built with features guaranteed to provide traders with the ultimate trading experience, ProBit delivers a world-class trading engine, strong presence in major financial markets and enhanced superior security. https://www.probit.com/en-us
Contracoin Officials:
FB: https://www.facebook.com/Contracoin.Global.Real.Estate.Blockchain.Platform
LinkedIn: https://www.linkedin.com/company/contracorp/
Twitter: https://twitter.com/Contracoin_CTCN
Media Contact
Cecilia Wong, yourPRstrategist.com
cecilia@yourPRstrategist.com
+65-91826605
Source:- GlobeNewswire
Metro Vancouver, Fraser Valley remain a sellers' markets, say real estate groups – CBC.ca
Housing sales in Metro Vancouver fell almost 17 per cent in November compared to the previous month, according to the Real Estate Board of Greater Vancouver.
But the industry group says as trends go, demand remains high, making it a sellers' market.
REBGV's monthly tally shows 3,064 homes sold last month across the region, compared to 3,687 in October 2020.
Compared to November 2019, sales were up 22.7 per cent.
Colette Gerber, REBGV chair, says demand from buyers has been at "near record levels" since the summer.
"This is putting upward pressure on home prices, particularly in our detached and townhome markets," she said.
The Sunshine Coast showed the largest increase in year-over-year sales according to the data, with Squamish and the Gulf Islands not far behind.
"The rise of work-from-home arrangements and physical distancing policies is causing some home buyers to opt for less densified areas," said Gerber.
The total number of Metro Vancouver homes currently listed for sale is 11,118, representing a 10 per cent decrease from October 2020.
Gerber says the current market favours sellers because demand is outstripping supply.
The Multi Listing Service home price index composite benchmark price for all residential properties in Metro Vancouver — detached homes, townhomes and apartments — is $1,044,000, a 5.8 per cent increase year-over-year and a 0.1 per cent decrease compared to October 2020.
Benchmark prices in each of the three categories are:
Detached home: $1,538,900
Attached home: $814,800
Apartment: $676,500
Fraser Valley
The sales scene in the Fraser Valley is even hotter, according to the Fraser Valley Real Estate Board.
It describes the level of demand as "unrelenting," even though like Metro Vancouver, November sales dropped by 8.3 per cent from October.
In total, there were 2,173 property sales, an increase of 54.7 per cent compared to November 2019.
The boards says monthly sales records were set in September, October and November compared to previous years.
"We expected November activity to moderate due to the season, but the desire for family-sized homes and their benefits continues to dominate," said president Chris Shields.
"Since the summer, we've seen the strongest demand in our board's 99 year history, specifically for single-family detached and townhomes,"
The FVREB calculates the benchmark prices for the region as:
Single family detached: $1,061,500
Townhome: $570,100
Apartment/condo: $435,900
Hamilton-Burlington real estate sales slow down in November – Global News
The latest real estate statistics for Hamilton and Burlington show the market continues to cool off after a red hot summer.
The Realtors Association of Hamilton-Burlington (RAHB) says 1,233 homes were sold in November, down 24 per cent from October, but up 17 per cent compared to November of last year.
The average price for a home in the area is now $722,317, 0.11 per cent higher than last month and a 21 per cent jump from November 2019.
Realtors Association President Kathy Della-Nebbia says there are a number of reasons for the slowdown in activity, including the rising cases of coronavirus and Hamilton being placed in the province's COVID-19 red zone, as well as the colder weather.
"What we can initially see is that the market has slowed from last month, and this is due to the colder weather, the COVID-19 cases increasing throughout the province, and Hamilton/Burlington moving to Red Zone as of November 16 where open houses are now banned," says RAHB President Kathy Della-Nebbia. "An extremely low number of active listings at the end of each month is continuing to drive average prices higher. It's a vicious cycle of sellers not listing their homes until they are confident they will find another home to buy."
RAHB says new listings were down nearly 29 per cent over October 2020 and up 16 per cent over last November.
The number of active listings available at the end of the month was 40.8 per cent lower compared to the previous year.
The number of sales of single-family properties in the RAHB market decreased in November 2020 by 3.8 per cent compared to the same month last year, the number of new listings was down 10.5 per cent over last year, and the average sale price increased by 24.4 per cent to $812,912.
Townhouse sales activity across the entire RAHB market area increased from November 2019 by 15.2 per cent, new listings were up 19 per cent, and the townhouse average sale price increased by 17.6 per cent to $606,367.
"The activity for single-family properties was slower, and this is most likely because fewer sellers chose to list their homes during this time," says Della-Nebbia. "We can also see that towns and apartments are still quite active, but their average price did not increase as much as single-family properties, and so this could indicate that single-family properties are still much more in demand — this would make sense during these times as we see a movement towards homes with more elbow room and outdoor space."

4:20


How to choose between multiple offers on your real estate listing



© 2020 Global News, a division of Corus Entertainment Inc.
Kudos: Richmond Hospital receives $250,000 from real estate developer – Richmond News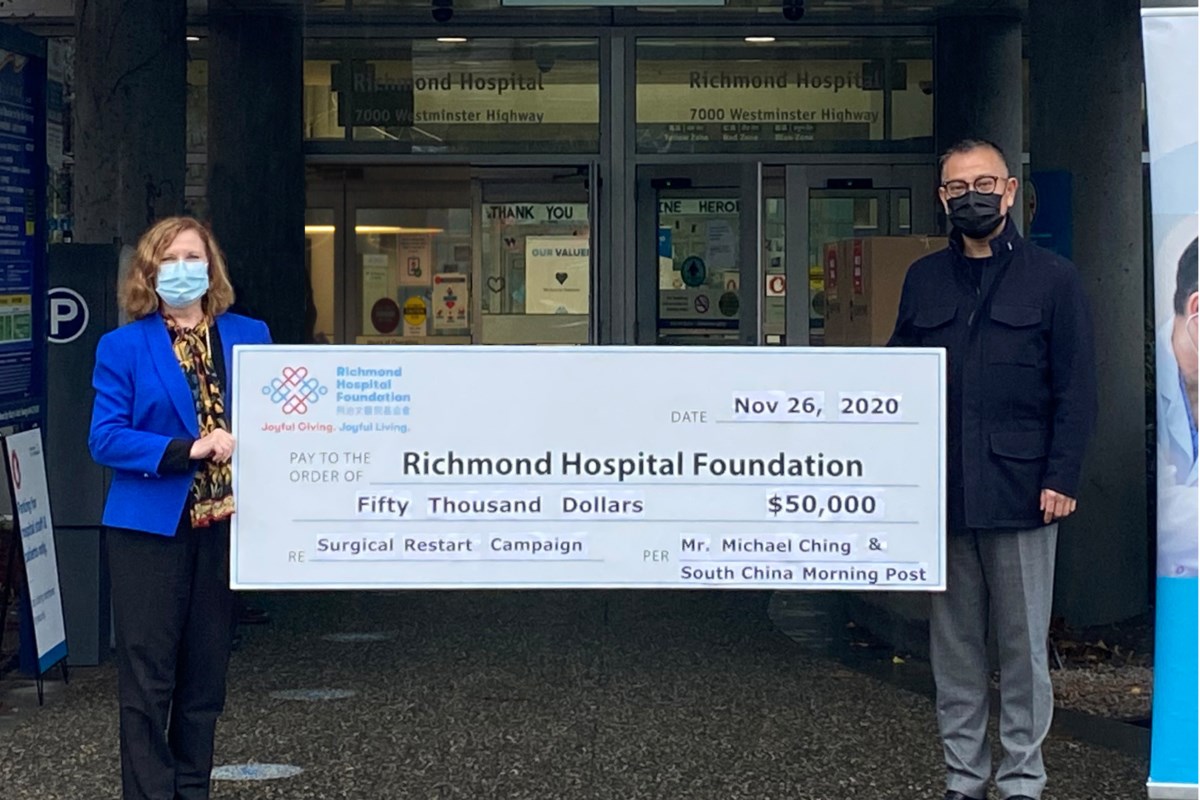 A Richmond and Vancouver real estate developer donated a total of $250,000 to Richmond Hospital.
Michael Ching donated $200,000 towards Richmond Hospital's new acute care tower and partnered with South China Morning Post to donate an additional $50,000 towards Richmond Hospital Foundation's Surgical Restart campaign.
He also donated 25,000 masks to the Vancouver Diamonds Lions Club as part of their disposable masks fundraiser for the Richmond Hospital Foundation.
"Having lived in Richmond for a decade and Richmond being home to most of my projects and work, this contribution is a thank you for the care the hospital has provided for its community over all of these years," said Ching.
He added that new equipment and facilities are important to provide the best care to Richmond residents.
Natalie Meixner, CEO of the Richmond Hospital Foundation, said they are thankful to Ching's donation.
"Mr. Ching's philanthropic leadership and his partnership with South China Morning Post, is an inspiration to the community and we are very grateful for his dedication in building a better and healthier future for Richmond."
The Richmond Hospital Foundation raised over $100 million to help fund for medical equipment, improvements in patient care services and upgraded facilities in the past 30 years.