Red Fish Art Studio aims to meld welding and art in Cambridge Bay – Nunatsiaq News
The studio opened on Tuesday inside the site of the community's former fish plant
With too much rain to celebrate outside Tuesday evening, nearly 100 people in Cambridge Bay packed into a building to experience a transformation.
What was a fish plant in the 1950s has become the Red Fish Art Studio. It's a place for people to dream up creations, such as an eight-foot welded sculpture of Nuliajuk, an Inuit goddess of the sea.
"Looking at people's faces and hearing the oohs and ahhs of that evening and people still talking about it now, we know it was pretty successful," said Marla Limousin, the chief administrative officer of the municipality of Cambridge Bay, which owns the gallery.
Four years of preparation have gone into its opening. The aim is to teach youth and adults alike a mixture of welding and art.
The name of the studio ties into its purpose for being built. Arctic char, one of the fish processed at the former plant, is red when it spawns. Now, Red Fish Studio spawns new ideas, Limousin said.
That creativity can help with other things as well.
"We know that when people get involved in the arts it creates that place where a community can be formed within itself," Limousin said.
To ensure the studio meets those goals, it has programming for this fall planned for elders, youth and adults, said Ceyanna Pohl, the studio's manager.
Youth programs will include drawing and making tie-dye clothing. Elders programs will also include painting, as well as candle making and sewing. Adults will get to try their abilities in welding and mala bracelet making, among other programs.
Inside, Limousin describes the studio as "magic." The ceilings are close to 12 feet high with bright yellow and red walls. On the back wall, Pohl has painted a giant mural of fish.
Half of the building is dedicated to teaching welding, for both practical and artistic purposes. The other half of the building is dedicated to other forms of art, such as painting.
Welding's role in the studio is an interesting twist. Through their creation of muskox and wolf sculptures, local welders in the community won a $100,000 Arctic Inspiration Prize in 2019, showing how their trade can be used as an art form.
The process for building the Red Fish Studio began in 2017. After buying the former fish plant for one dollar from the Nunavut Development Corporation, Limousin and the municipality got to the work of renovating the building. The building was mouldy, dark and wet, but after receiving money from multiple supporters they were able to reinvigorate the location.
Limousin said the first part of the studio's inception will be for figuring out what else is needed and whether more programming can be rolled out. For now, Pohl will be the only staff member and the studio will be looking for volunteers and instructors.
But after four years of hard work, the studio is open and programs will be offered and what was once a goal is now a reality.
"[This was] such a faraway dream," Limousin said.
Richmondite contributed artwork to support councillor Au's mobile art gallery – Richmond News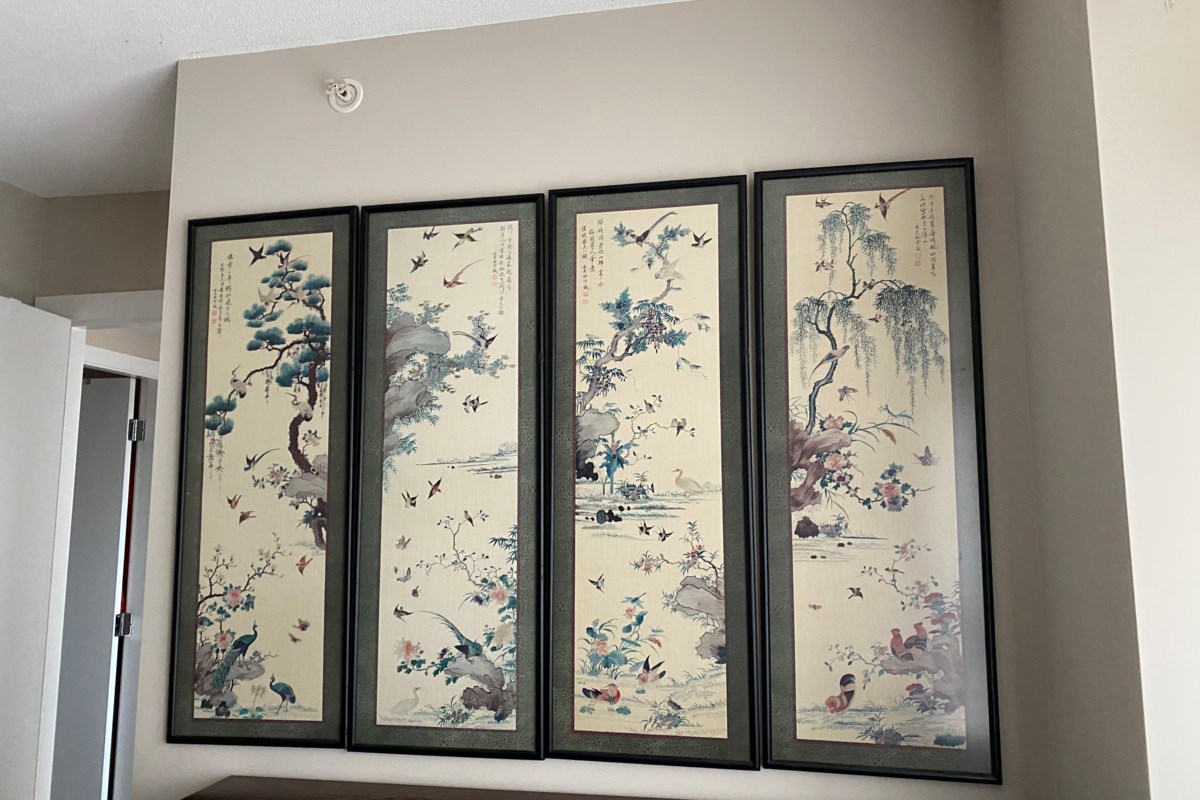 Richmond city councillor Chak Au has spent the past year pondering launching a mobile art gallery for showcasing folk art and connecting the community.
Au is still looking for a venue to showcase such art, but he's already collecting items to exhibit, including one from retired Richmond chartered accountant James Heish, who donated a piece of Chinese decorative needlework this week.
"My idea for the gallery is more like a mobile communication hub. The artwork displayed in the gallery shouldn't be limited to one culture. Instead, it could be as diverse as possible, encouraging more people to share their thoughts on who we are and where we are going as an evolving community," said Au.
The artwork exhibited at the gallery can be returned to the owner when the show comes to an end, added Au, noting that hopefully, Heish's donation could stir up conversations in the community.
Heish told the Richmond News he got his piece dozens of years ago through an auction held by a bank and, since then, it has been kept in his bedroom.
Au said some Chinese immigrants told him how surprised they felt when they first came across some pottery work in galleries around the world, including some from European countries and the Middle East – with the colours being as fresh as painted yesterday and the details so delicate.
The most important thing, added Au, was that they felt ignorant after seeing these art pieces.
"They said we wish we could have known these fantastic work earlier. Looking at other countries' art broadens our horizons and inspires us to embrace their languages and cultures," said Au.
"Artwork represents history and tells fascinating stories, which could be used as a way to connect us."
Heish's donation is now well-preserved at Au's home, and later, they will invite the public to a small exhibition when they find a decent place to display the work.
City of Nanaimo puts together public art advisory group – Nanaimo News Bulletin – Nanaimo Bulletin
The five Nanaimo residents tasked with advising city council on matters relating to public art are set to meet for the first time early next month.
In August, the City of Nanaimo announced the members of its new art in public spaces working group. They include Nanaimo Art Gallery curator Jesse Birch, art conservator Cheryle Harrison, art historian Marie Leduc, art educator Yvonne Vander Kooi and artist Eliot White-Hill, Kwulasultun.
"We were looking for people specifically who have demonstrated experience in aspects of visual arts and we wanted people who represented a variety of professions and experiences to be able to speak to public art," city culture and events manager Julie Bevan said.
The members are all volunteers appointed to a two-year term. Bevan said they will be meeting "several times a year" and their duties will include serving on selection panels for art projects, reviewing and providing feedback on requests for proposals and calls to artists and helping the city proceed in line with its 2010 community plan for public art.
"Part of their role, big picture, is to champion the role of art, artists and creative practitioners and promote processes and policies at the city that support the livelihood of artists and to promote awareness and understanding about the public value of art in public spaces," Bevan said.
Birch said he was drawn to the position because of his commitment to supporting the "cultural fabric" of Nanaimo.
"I'd love to see Nanaimo continue to develop an innovative and inspiring public art policy and body of public art that speaks to this place and honours Snuneymuxw and other regional Indigenous communities and sparks community connections," he said.
As a conservator, Harrison has worked on public art work including the E.J. Hughes mural at the Vancouver Island Conference Centre and projects at the B.C. legislature, Vancouver Post Office and Victoria city hall. She said the 2010 community plan could use some updating.
"In the last 10 years Nanaimo's grown a lot. Our public spaces and how we use them has also changed," she said. "And I see that public art … can communicate and inspire and contribute in new and diverse ways and part of that is looking at our spaces now that we have in our community."
Aside from writing and researching, Leduc has also studied and taught studio art and art history at the post-secondary level and has been a gallery curator. She said she's concerned about how Nanaimo is represented through art and wanted to be involved with the decision making.
"This group, I think, is a really good addition," she said. "A lot of big cities have such a committee and help to guide the selection choices and help to not just guide that, but to nurture more art activity. So it's a reciprocal thing."
Vander Kooi has created public art projects with students from Bayview Elementary School and as participants of the NAG's youth art groups. She also facilitated the creation of a memorial mural for murdered Nanaimo teenager Makayla Chang.
"I've participated with some public art in Nanaimo and I think it's really an important part of our local culture in identifying who we are in a playful way," she said. "So it's part of my experience and it's part of what I hope to continue to help support in the community."
White-Hill has exhibited his work at the Nanaimo Art Gallery, painted murals at Beban Pool and this year he was awarded the City of Nanaimo's Emerging Cultural Leader award. He said public art can have a role in educating people about the city's Indigenous history.
"When there's public art work it fundamentally shifts the nature of a space and the way that people interact with that space," he said. "And I think it's really important that Snuneymuxw is represented and our stories are talked about and that this is coming back to the surface in Nanaimo and teaching people about where they are and the history of this place."
---

arts@nanaimobulletin.com
Like us on Facebook and follow us on Twitter
Art Installation Occurring At Tom Thomson Art Gallery As Part Of #HopeAndHealingCanada Project – Bayshore Broadcasting News Centre
The Tom Thomson Art Gallery is announcing the launch of the #hopeandhealingcanada project, featuring Métis artist Tracey-Mae Chambers.
A release notes this live, one-day outdoor art installation on Sept. 18, reflects upon the challenges of the current global and national climate, including the impacts left by the pandemic and the realities of past and present racial discrimination. This is further emphasized by the discovery of Indigenous children buried on the grounds of residential schools over the summer.
In her art-work, Chambers asks "Where do we go from here – individually and collectively. How do we heal and remain hopeful?"
For the project, Chambers aims to create site-specific art installations for both indoor and outdoor spaces at museums, galleries, and cities across the country.
"This is a poetic and powerful public art project and I look forward to seeing this one-day installation take place in our community – creating conversation, connecting us through our desire and hope for a better future," says Owen Sound Mayor Ian Boddy.
The installations will be used with red yarn, which she will reuse at various locations to act as a way of creating a visual and tangible image of connectivity. Also aimed as an act of decolonization and offering hope to find healing and a way of deeper understanding.
"The red yarn represents danger and power, but also courage and love," says Chambers.
Tom Thomson Chief Curator and Director Aidan Ware adds this project responds to crisis with elegance, humanity, and a prevailing optimism for a future in which we are all more deeply connected, compassioned, and kindred.
"The Tom Thomson Art Gallery is honoured to join the other spaces across Canada in hosting this intimate and resonant performative art installation," says Ware.
Each of the installations with be temporary, ranging from only a day, to six months.
Residents are invited to watch and engage with Chambers as she works on the art installation west of the Tom Thomson Art Gallery and the Library buildings on 2nd Avenue West.
The project ends Sept. 18 at 3 p.m.