Rogers Communications revenue boosted by cable power
(Reuters) -Canadian telecoms operator Rogers Communications Inc trumped first-quarter revenue estimates on Wednesday, buoyed by strong demand in its cable unit that provides internet and cloud-based services.
Total revenue rose 2% to C$3.49 billion ($2.77 billion) in the quarter, compared with analysts' average estimate of C$3.35 billion, according to IBES data from Refinitiv.
Telecom providers have benefited from a surge in demand for high-speed internet from the COVID-19 pandemic caused shift to remote working and entertainment.
Revenue from the media segment, which includes television, radio broadcasting and digital media, rose 7% to C$440 million, boosted by the return of live professional sports broadcasting.
Cable service revenue increased 5% during the quarter.
Rogers, which is looking to expand its 5G infrastructure, said in March it was buying Canadian telecom services provider Shaw Communications Inc for about C$20 billion ($16.02 billion).
However, the company's wireless service reported a 6% drop in revenue, hit by lower roaming revenue from fresh pandemic-induced travel curbs.
Net income rose to C$361 million, or 70 Canadian cents per share, from C$352 million, or 68 Canadian cents, a year earlier.
Excluding items, the company earned 77 Canadian cents per share, while analysts had expected 66 Canadian cents.
U.S.-listed shares of Rogers, which did not provide second-quarter forecast due to pandemic-led uncertainty, rose nearly 1% in low pre-market trading volumes.
($1 = 1.2596 Canadian dollars)
(Reporting by Tiyashi Datta in Bengaluru; Editing by Sherry Jacob-Phillips and Sriraj Kalluvila)
Oil dips as China considers intervention to ease coal crunch – CNBC
An oil tanker docks at a 300,000-ton crude oil terminal in Yantai, east China's Shandong Province, May 17, 2021.
Costfoto | Barcroft Media | Getty Images
Oil prices slipped on Wednesday after the Chinese government stepped up efforts to tame record high coal prices and ensure coal mines operate at full capacity as Beijing moved to ease a power shortage.
Chinese coal prices and other commodity prices slumped in early trade, which in turn pulled oil prices down from an uptick earlier in the day.
"With coal and gas prices easing and with the relative strength index (RSI) technical indicators still in overbought territory, the odds of a sharp, but material fall in oil prices are rising," said Jeffrey Halley, senior market analyst at OANDA.
China's National Development and Reform Commission said late on Tuesday that it would bring coal prices back to a reasonable range and crack down on any irregularities that disturb market order or malicious speculation on thermal coal futures.
Brent crude futures dropped 86 cents, or 1%, to $84.20 a barrel, paring a 75-cent rise in the previous session, but still lingering close to multi-year highs.
U.S. West Texas Intermediate (WTI) crude futures for November, which expires on Wednesday, fell $1.00 to $81.96 a barrel.
"Brent crude could fall to $82 and WTI to $78.50 a barrel, and still comfortably remain in a strong bull market… Even if oil was to stage a $5 pullback, I continue to believe that it will be short in duration," analyst Halley said.
Oil markets in general remain supported on the back of a global coal and gas crunch, which has driven a switch to diesel and fuel oil for power generation.
But the market on Wednesday was also pressured by data from the American Petroleum Institute industry group which showed U.S. crude stocks rose by 3.3 million barrels for the week ended Oct. 15, according to market sources.
That was well above nine analysts' forecasts for a rise of 1.9 million barrels in crude stocks, in a Reuters poll.
However U.S. gasoline and distillate inventories, which include diesel, heating oil and jet fuel, fell much more than analysts had expected, pointing to strong demand.
Data from the U.S. Energy Information Administration is due later on Wednesday.
Proposed Sugary Drink Tax "Regressive," says Opposition Finance Critic – VOCM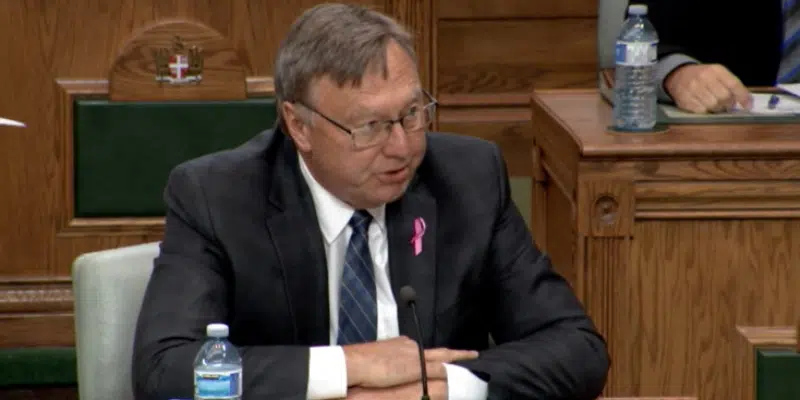 The provincial government's tax on sugary drinks comes into effect next September, and the minister responsible is pointing to data suggesting that the tax will work in changing people's habits.
Siobhan Coady points to a study that was done by a British medical journal called The BMJ. She says the study, which focuses on a similar tax in the UK, found that overall sales of soft drinks did not change, nor did share prices and domestic turnover. But what did change was the sugar purchased in those drinks, which Coady says decreased by almost 10 per cent.
PC MHA Tony Wakeham asserts that such taxes do nothing to affect health outcomes, and counters that the study Cody references is completely different from what's being proposed in this province.
In the UK, he says they were taxing producers to lower the amount of sugar in their products, and not taxing those using the product.
Wakeham says the proposed tax is negative and regressive. He says if Premier Andrew Furey is looking to modify behaviours to create healthy lifestyle changes, it should be based on positive things, not a negative tax.
Sleep Country Canada buys controlling stake in Hush Blankets – CBC.ca
Sleep Country Canada Holdings Inc. has signed a deal to buy Hush Blankets, a direct-to-consumer seller of weighted blankets, pillows, sheets and bed-in-a-box mattresses.
Under the deal, Sleep Country will acquire a 52 per cent stake in Hush for $25 million.
The company has also agreed to buy the other 48 per cent in annual 16 percentage point stake increments starting March 31, 2023, at a price based on the business's financial performance.
Hush was founded in 2017 by Lior Ohayon and Aaron Spivak and launched a weighted blanket in Canada in 2018.
Sleep Country says Hush will continue to operate as an independent business led by Ohayon and Spivak and a board including senior management from Sleep Country and Hush.