Sale of $37M property could be biggest residential real estate deal in Kelowna history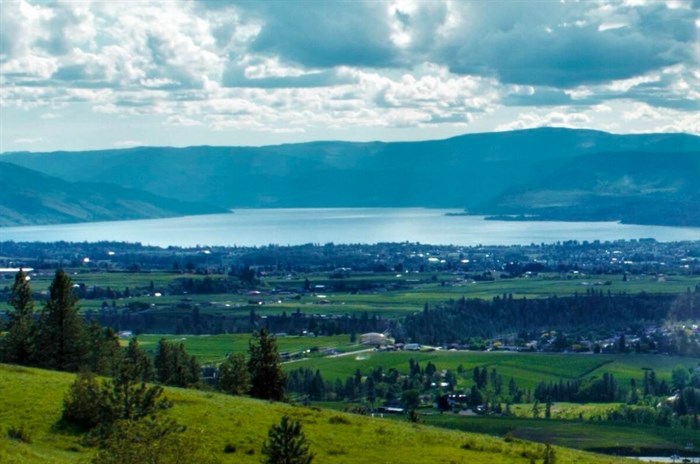 A 90-acre parcel of land in the Rutland area of Kelowna has gone on the market for $37 million.
It's not listed through any realtor but is posted on the For Sale by Owner Inc. website.
It's 90.19 acres at 1151 McKenzie Rd., which is north of the Toovey Road subdivision and west of the Black Mountain Golf Course.
The land went on the market two to three weeks ago, according to the owners' lawyer, Crystal Wariach.
"Over 90 acres of Kelowna's finest future development land with spectacular panoramic views of the lake and city lights," the real estate listing says.
The land is not in the agricultural land reserve and is designated for housing.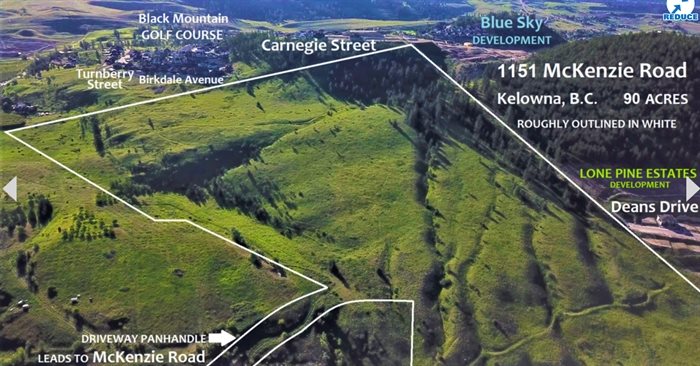 This outlines the property.
Image Credit: Submitted/ForSalebyOwner.ca
In 2019, when city council was looking at various growth scenarios, Wariach emailed councillors on behalf of the owners (cited as Balbir Wariache and Mrs. Prem Wariache).
She asked that this parcel retain is designation as future housing, which is what happened.
"Over the past two years, my clients have had professional development plans created for the property," she wrote. "The plans provide for the build out of up to 320 lots for single-family homes on the property."
The owners bought the property in 1999 and continue to own it, Wariach confirmed.
She wasn't able to confirm, by publication time, whether development options had changed from the 320 lots envisioned in 2019.
The land is included in the Bell Mountain Area Structure Plan that was adopted by council in 2003.
Most of the land within that plan has been developed into single-family housing in subdivisions such as Blue Sky, Prospect Mountain and Lone Pine Estates, Wariach's 2019 email says.
The largest sale through the MLS listing service that has been publicized to date was announced in January 2021 when the Kirschner Mountain housing development sold for $22 million.
It included 190 acres of land left from a larger parcel that was part of the Kirschner Mountain housing development.
If the McKenzie Avenue property sells for $37 million it will eclipse that sale in terms of residential property sold through the MLS system in the city.
Since the Kirschner Mountain sale, there have been bigger real estate deals in Kelowna.
Last December, the Mission Group paid $24 million for the former B.C. Tree Fruits plant near the North End of downtown.
Earlier this year, Victor Projects spent $33 million to buy the former Costco site near the Highway 33 and Highway 97 intersection.
The McKenzie Road listing can be seen here and Wariach can be contacted by email at cwariach@outlook.com.
---
This Week's Top Stories: Canadian Real Estate Correction Only Half Over, & US Prices Slip – Better Dwelling
[unable to retrieve full-text content]
This Week's Top Stories: Canadian Real Estate Correction Only Half Over, & US Prices Slip Better Dwelling




Source link
How Real Estate Investor in Chicago Scaled up and Built Wealth – Business Insider
[unable to retrieve full-text content]
How Real Estate Investor in Chicago Scaled up and Built Wealth Business Insider




Source link
Changing rules have an impact on real estate – Mortgage Matters – Castanet.net
[unable to retrieve full-text content]
Changing rules have an impact on real estate – Mortgage Matters Castanet.net




Source link