Samsung Galaxy Z Flip release date, news and leaks – TechRadar India
It's becoming increasingly clear that Samsung has not one but two (or more) foldable phones in the works, because as well as a proper successor to the Samsung Galaxy Fold (which for now we're calling the Galaxy Fold 2), the company is also heavily rumored to be working on the Samsung Galaxy Z Flip.
While it's possible that this is the Fold 2 in all but name, it sounds very different to the Galaxy Fold, with a likely different, smaller form factor and a lower price. Plus, some sources specifically suggest that both are in the works, so we're treating it as a different device.
Below then you'll find all the news and rumors that specifically seem to be talking about the Galaxy Z Flip, along with those which could be talking about either phone. And make sure to check back here regularly, as we'll update this article whenever we hear anything new.
Cut to the chase
What is it? Samsung's next foldable phone
When is it out? Possibly February 11
What will it cost? Rumors suggest around $1,400 (roughly £1,075 / AU$2,075)
Samsung Galaxy Z Flip release date and price
The Samsung Galaxy Z Flip will probably be announced on February 11. That's when Samsung is holding its big smartphone event for the first half of the year and where we're expecting to see the Samsung Galaxy S20 range, so it's an obvious candidate.
It's also something we've heard from a leaker, who added that the phone would be available to buy from February 14.
However, that's not the only possible announcement date. The Galaxy Z Flip could alternatively land at MWC 2020, which takes place at the end of February. That has also been put forward by a source, albeit in an earlier leak.
And yet another source has said to expect a new Samsung foldable in April, but this claim is older still. Further confusing matters is that some of these sources could be talking about the Samsung Galaxy Fold 2, as that will probably also land sometime this year.
With all that in mind, our best guess is February 11, as the most recent leak points to that date, and it's also the only one to mention the Samsung Galaxy Z Flip by name.
As for what the Samsung Galaxy Z Flip will cost, the same source as the February 11 announcement date said to expect a price of $1,400 (roughly £1,075 / AU$2,075), while earlier leaks (linked above) point to either 1,000,000 Korean Won (around $835 / £640 / AU$1,230), or roughly $1,500 (around £1,165 / AU$2,200).
We're skeptical of the lowest of those prices, but the other two options sound believable, as well as being similar. Any of those would make it cheaper than the $1,980 / £1,900 / AU$2,900 Samsung Galaxy Fold though, which makes sense, as the Z Flip is rumored to be a bit less of a flagship.
Samsung Galaxy Z Flip design and display
Our clearest look yet at the likely design of the Samsung Galaxy Z Flip can be seen below. This leaked image shows a phone that looks a lot like the Samsung Galaxy S10… if the screen of the Samsung Galaxy S10 could be folded in half.
It's a design that we've also seen in an image supposedly leaked from a Samsung presentation, though notably there the phone was referred to as the Samsung Galaxy Bloom, which is likely its code name.
Elsewhere we've heard that the phone will have a clamshell-like design, which would match the images above.
As for the screen, several sources have now said it's a 6.7-inch one, which would make it smaller than the 7.3-inch Galaxy Fold. The most detailed of these leaks adds that the display has a 1,080 x 2,636 resolution and a 22:9 aspect ratio.
Another leak adds that it will have a Dynamic AMOLED screen and that there will be a fingerprint scanner on the side of the phone.
As with so much about the phone, some of the earlier leaks linked above refer to it as the Samsung Galaxy Fold 2, but we now believe they were talking about the Z Flip, as the leaks line up with recent leaks that mention the Galaxy Z Flip by name.
We've also heard multiple times that the Galaxy Z Flip will use 'Ultra Thin Glass', sometimes referred to as UTG. This could make the device slimmer, but is likely to have plastic layered over the top to make it more durable.
The phone is said to also have a small screen that's visible when the main display is folded shut. This is apparently a 1.06-inch 116 x 300 one, so will probably mostly just be used for checking the time and notifications.
But you won't be limited to just having the main screen open or closed, as you can apparently also lock it at 90 degrees, using the bottom half of the screen like a stand. You can see how this would apparently look in the tweet below.
Basically, it locks into this position and more than just the camera will be supported pic.twitter.com/nmD8sraRx2January 22, 2020
Samsung Galaxy Z Flip specs
The latest significant specs leak points to the Samsung Galaxy Z Flip having a Snapdragon 855 Plus chipset, 8GB of RAM, and 256GB of storage, with no microSD card slot, no 5G, and no 3.5mm headphone port.
The most notable thing there is that chipset, which while being one of the best in any phone at the time of writing, is likely to be superseded by the chipsets in most of the early 2020 flagships, including the Galaxy S20. So including it here marks the Galaxy Z Flip out as a slightly lower end phone, despite the inevitably high price.
That's not totally unheard of though, as the Motorola Razr takes a similar approach. In fact, that phone's chipset is positively mid-range. And while big name foldables are always likely to be expensive for now, using a lesser chipset can help keep the cost below astronomical levels.
Elsewhere we've heard that the Galaxy Z Flip might even just have a standard Snapdragon 855 chipset, rather than the Plus version. That seems less likely, but could reduce the price even further.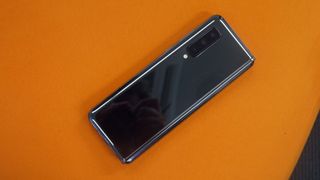 Samsung Galaxy Z Flip camera and battery
The only camera leaks that refer specifically to the Samsung Galaxy Z Flip state that it will have a dual-lens 12MP main camera, with both standard and wide-angle lenses, while the front camera might be a 10MP one.
Elsewhere we've heard mention of a 108MP sensor paired with a zoom lens, but that's probably headed for the Samsung Galaxy Fold 2 if anything, since that's likely to be more of a flagship.
As for the battery, that's rumored to be 3,300mAh, which would put it on the small side. It apparently supports 15W charging, which is 'fast' but nowhere near as fast as some phones.
It's also said to support wireless charging and reverse wireless charging. Most of this battery information comes from just one source though, so we'd take it with an extra helping of salt.
Armored Core VI Announced, Which Isn't A Souls Game
ARMORED CORE VI FIRES OF RUBICON – Reveal Trailer
I have not played an Armored Core game in a very long time, and even then I was never the biggest fan. But this looks cool as hell. It's coming in 2023 for Xbox One, Xbox Series X|S, PS4, PS5 and PC.
Here's some official words:
ARMORED CORE VI FIRES OF RUBICON will offer a game experience based on the mech game know-how FromSoftware cultivated over 25 years of developing games in the series, but now introducing groundbreaking gameplay found in the developer's recent action games. The new ARMORED CORE title will combine these elements into thrilling action that only mechas can provide. The game promises to be a unique entry in the mech action game genre.

In ARMORED CORE VI FIRES OF RUBICON, players will be able to freely move through massive three-dimensional environments with rapid maneuverability while experiencing visceral vehicular combat. Signature to FromSoftware's carefully crafted game design, the game will feature challenging and memorable battles along with a fulfilling progression system and deep gameplay, all of it now powered by assembling mechs and going into combat with massive bosses. Players will recognize the sense of satisfaction and achievement when they overcome a difficult situation and relish momentary victory, and perhaps a boost to their standing, before encountering the next challenge.
After Heated Battle, Genshin Impact Wins Player's Voice at The 2022 Game Awards
Genshin Impact has won the Player's Voice award at The Game Awards 2022, following an intense battle against Elden Ring and Sonic Frontiers.
Unlike other awards bestowed at The Game Awards, which are primarily determined by members of the press and other influential individuals in the industry, the Player's Voice category is 100% fan-voted. Earlier this week, ahead o the show, the results projected that Genshin Impact would edge out both Sonic Frontiers and Elden Ring. Other nominees for the Player's Voice category include God of War: Ragnarok and Stray.
Although Elden Ring, in particular, did not get selected, FromSoftware's latest project did go home with a few awards, including Best Art Direction and Best Game Direction. For more on the winners from this year's Game Awards, check out our roundup that features the nominees and winners of each category.
Taylor is the Associate Tech Editor at IGN. You can follow her on Twitter @TayNixster.
Super Mario Bros. Movie "Mushroom Kingdom" Official Reveal
When he's not paying off a loan to Tom Nook, Liam likes to report on the latest Nintendo news and admire his library of video games. His favourite Nintendo character used to be a guitar-playing dog, but nowadays he prefers to hang out with Judd the cat.