Scientists may have solved mystery of why some sharks bite humans – The Weather Network
The long-believed theory of why some sharks bite humans may actually ring true after all.
New research from Australia's Macquarie University has indicated that numerous shark bites by great whites could be a case of mistaken identity because of how close surfers, paddle boarders and swimmers on the ocean's surface resemble seals and sea lions.
According to the research, white, bull and tiger sharks account for — by a large margin — the most bites on humans.
SEE ALSO: Why more great white sharks are showing up in Atlantic Canada
"We found that surfers, swimmers and pinnipeds (seals and sea lions) on the surface of the ocean will look the same to a white shark looking up from below, because these sharks can't see fine details or colours," said lead author Laura Ryan, a postdoctoral researcher in animal sensory systems at Macquarie University's Neurobiology Lab, in a press release.
"Surfers are the highest-risk group for fatal shark bites, especially by juvenile white sharks."
Ryan, an avid surfer, stated the study will help scientists gain a better understanding of what provokes certain sharks to bite humans.
The findings have prompted scientists at the Neurobiology Lab to develop non-invasive, vision-based devices as possible protectionary tools for surfers and swimmers from shark bites.
The latest study, published in the Journal of the Royal Society Interface, was a hands-on experiment developed on years of work by the researchers to understand how sharks see — by investigating the neuroscience of white sharks' visual systems, Ryan said.
The team involved in the study did a comparison of underwater video of rectangular floats, seals and sea lions swimming, humans swimming in different patterns, and humans paddling on surfboards of distinct sizes in a sizable aquarium at Taronga Zoo. This included cameras that were motionless and travelling, directed at the water surface.
"We attached a GoPro to an underwater scooter, and set it to travel at a typical cruising speed for predatory sharks," says Ryan.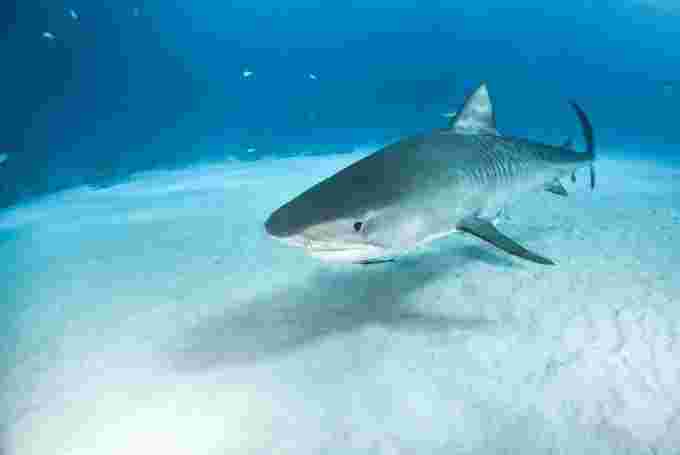 (Getty Images)
At the lab, the group relied on substantial shark neuroscience data to apply filters to the video footage, then establishing modelling programs to simulate how a juvenile white shark would interpret the movements and shapes of different objects.
To a juvenile white shark, humans swimming and paddling on surfboards bear striking similarities to seals and sea lions, the results showed. Because smaller surfboards were harder to differentiate from pinnipeds, they could present a more tempting prey than longboards or standup paddleboards to white sharks, who normally target smaller, young pinniped pups.
RISK OF SHARK BITES IS VERY LOW
Although the chances of a shark bite is very low, Australia remains one of the countries where one most often occurs — registering six of the world's 10 recorded unprovoked fatal shark encounters in 2020.
The occurrences of sharks biting humans has jumped in the past 20 years, and according to Ryan, surfers may have an elevated risk because they spend "far more time" in the ocean than swimmers, also frequently in deeper water.
"Sharks use a range of sensory cues to distinguish between different objects and zero in on their food, and these differ in sensitivity between shark species," Ryan said.
today's shark is none other than the great white! male sharks grow to be 11-13 feet long on average, and females grow to be 15-16 feet but can sometimes get as big as 20 feet! they're characterized by their size and the sudden change in color from gray to a white underbelly!

today's shark is none other than the great white! male sharks grow to be 11-13 feet long on average, and females grow to be 15-16 feet but can sometimes get as big as 20 feet! they're characterized by their size and the sudden change in color from gray to a white underbelly! 𓇽 🦈 shark otd 🦈 𓇽 on Twitter: "today's shark is none other than the great white! male sharks grow to be 11-13 feet long on average, and females grow to be 15-16 feet but can sometimes get as big as 20 feet! they're characterized by their size and the sudden change in color from gray to a white underbelly! pic.twitter.com/Wvh2QxWSYi / Twitter"

— 𓇽 🦈 shark otd 🦈 𓇽 (@sharkfriend_otd) 𓇽 🦈 shark otd 🦈 𓇽 on Twitter: "today's shark is none other than the great white! male sharks grow to be 11-13 feet long on average, and females grow to be 15-16 feet but can sometimes get as big as 20 feet! they're characterized by their size and the sudden change in color from gray to a white underbelly! pic.twitter.com/Wvh2QxWSYi / Twitter"
People's fear of sharks, even with the low chance of bites, has led to preventive methods such as shark nets and drumlines, which further threaten marine life, according to the university.
"Understanding why shark bites occur can help us find ways to prevent them, while keeping both humans and sharks safer," says Ryan.
Thumbnail courtesy of Sharkdiver68/Wikipedia.
Follow Nathan Howes on Twitter.
'Mystery hut' on the moon just the latest weird lunar find by China's Yutu 2 rover – Space.com
China's Yutu 2 rover is the first spacecraft to explore the surface of the moon's far side, and the wheeled robot has made some interesting discoveries during its historic journey.
Yutu 2 landed in Von Kármán crater atop the Chang'e 4 lander in January 2019 and has been working its way northwest during each 14.5-Earth-day-long lunar day ever since, using its four science payloads to image and analyze its surroundings as it goes.
The solar-powered rover recently spotted a weirdly cube-shaped 'mystery hut' on its horizon that has generated quite a bit of media buzz, despite most likely being just a rock. But other findings have also drawn attention over the past couple of years.
Photos: Here's what China's Yutu 2 rover found on far side of the moon
'Gel-like' moon discovery and rocks
Yutu 2 discovered an object in the middle of a small crater that was initially described by Our Space — a Chinese-language science outreach channel affiliated with the China National Space Administration — by the term "胶状物" ("jiao zhuang wu"), which can be translated as "gel-like." There was no accompanying image.
Outside scientists suspected the substance was glassy material created by an impact, and that turned out to be correct. A recent paper in the journal Nature authored by Chinese scientists reported that the material was likely from a meteorite strike on the moon less than one million years ago.
Yutu 2 rover and the 'milestone' rock
Another discovery was a number of shards of rock sticking out of the surface, referred to by Our Space as a "milestone." Once again, a meteor impact is the likely culprit.
While seemingly mundane, such rocks stand out on a surface that has been pulverized over billions of years by both micrometeorites and harsh solar radiation. When Yutu 2 discovers sizable rocks, they're generally indicators of impact activity. Such rocks provide clues about the history of the moon and the composition of material excavated or ejected by impactors, as was the case with a set of relatively young rocks discovered in early 2020.
Yutu 2 has also been peeking beneath the lunar surface, using its ground-penetrating radar to build an image of layers beneath the rover by collecting reflected electromagnetic waves. Yutu 2 detected three distinct layers in the near subsurface, suggesting that separate, large impact events had delivered ejecta into the region.
The fuzzy image of the "mystery hut" left some people wondering about the quality of Yutu 2's photographic gear. However, the rover's pair of panoramic cameras have returned a huge batch of impressive images from the lunar far side.
The lunar far side never faces Earth; it was not seen until the Soviet Union's Luna 3 spacecraft traveled around the moon in 1959. Chang'e 4 and Yutu 2 therefore cannot beam data directly to Earth and are supported by a relay satellite beyond the moon, which facilitates communications between the spacecraft and its handlers. The relay satellite, known as Queqiao, also collects some data of its own, using a pioneering low-frequency astronomy instrument.
So far, Yutu 2 and its Chang'e 4 lander have been active for over 1,000 (Earth) days on the far side of the moon. Yutu 2 has set a new longevity record for a rover working on the lunar surface, surpassing the previous record of 321 days set by the Soviet Union's robotic Lunokhod 1 rover.
Yutu 2 and Chang'e 4 are currently in their 37th lunar day (each of which is around 29.5 Earth days). The two solar-powered spacecraft hibernate during the two-week-long lunar nights, when the temperature plummets as low as minus 310 degrees Fahrenheit (minus 190 degrees Celsius).
The image of the "mystery hut" was taken during lunar day 36, in November 2021. It's possible that the China Lunar Exploration Program will release new images in the weeks following the end of lunar day 37, which will come on the evening of Dec. 10. Yutu 2 travels an average of roughly 66 feet to 98 feet (20 to 30 meters) per lunar day, meaning the rover is expected to cover the approximately 260 feet (80 m) to the object by lunar day 38 or 39.
Follow us on Twitter @Spacedotcom or on Facebook.
Hubble telescope clicks photo of colliding gases in `running man` nebula – WION
Hubble space telescope has been humankind's eye in the sky for decades and though the space telescope has developed glitches, hit snags and has required frequent repairs, it has clicked wonders lying in unimaginably distant corners of the universe and enhanced our knowledge.
It has now clicked an image of colliding gases in 'Running Man' Nebula.
Nebulas are where stars form. When this image was clicked, Hubble was trying to observe effect young stars have on their surroundings.
The image it clicked was of Herbig-Haro object (HH 45). Herbig Haro nebula is a type of nebula that forms when gas from a young star collides with surrounding dust and produces shockwaves.
Also Read: NASA depicts solar eclipse from space in a brilliant photo
Herbig Haro objects are a rare sight in the universe. This Herbig Haro object has been spotted by Hubble in nebula named NGC 1977. This nebula is also called 'Running Man Nebula'. This is a complex structure of three nebulae. The Running Man Nebula is about 5000 light-years away from Earth. The Running Man Nebula is a reflection nebula. This means that it does not emit light of its own but reflects light emitted by other nebulae.
NASA is soon launching a 'successor' to Hubble Space Telescope. In December, it is going to launch James Webb Space Telescope. This space telescope is more powerful than Hubble telescope and will be equipped with latest technology.
Alien 'super-Jupiter' breaks the mold on where planets can exist
One of the largest planets ever detected orbits at an enormous distance around two stars with a combined mass up to 10 times greater than our sun, an extreme celestial family that shatters assumptions about the type of places where planets can exist.
The planet, located about 325 light years from Earth, is a gas giant apparently similar in composition to Jupiter but about 11 times more massive, researchers said on Wednesday. It belongs to a planetary class called "super-Jupiters" exceeding the mass of our solar system's largest planet.
It orbits a pair of stars gravitationally bound to one another, called a binary system. It has what might be the widest orbit of any known planet – about 100 times wider than Jupiter's orbit around our sun and about 560 times wider than Earth's.
Until now, no planet had been found orbiting a star more than three times the sun's mass. Stars larger than that emit so much radiation that they were thought to torch the planetary formation process. This discovery dashes that view.
"Planet formation appears to be an incredibly diverse process. It has surpassed our imagination many times in the past, and will probably keep doing so in the future," said astronomer Markus Janson of Stockholm University in Sweden, lead author of the research published in the journal Nature.
Since the discovery in the 1990s of the first planets beyond our solar system – so-called exoplanets – scientists have sought to learn whether or not our solar system represents standard "architecture."
"From the trend seen so far, our solar system is not the most common type of planetary system architecture that exists," said study co-author Gayathri Viswanath, a Stockholm University astronomy doctoral student.
"For instance, there are planetary systems with so-called 'hot Jupiters' where massive Jupiter-size planets orbit their host stars at a very close distance. A vast majority of the discovered planets also seem to have a size between that of Earth and Neptune, a size range in which our solar system has no planets," Viswanath said.
The larger of the tandem stars in the b Centauri system in which the newly discovered planet resides has a mass around five to six times that of the sun and is more than three times hotter, unleashing large amounts of ultraviolet and X-ray radiation.
It is a so-called B-type star, a category of extremely luminous blue stars. It is quite young in cosmic terms, at around 15 million years old. In comparison, the sun is roughly 4.5 billion years old.
Less is known about the smaller of the tandem. It is estimated at anywhere from one-tenth to four times the sun's mass. The two stars orbit relatively close to one another, within about the distance of the Earth from the sun. They can be seen with the naked eye from Earth in the constellation Centaurus.
The European Southern Observatory's Chile-based Very Large Telescope captured an image of the planet, named b Centauri (AB)b. Like Jupiter, it is believed to be comprised mostly of hydrogen and helium.
Scientists had doubted that stars larger than three times the sun's mass could host planets because they would present an unfriendly environment for planetary formation.
Planets form from material coming together inside huge disks of swirling gas and dust surrounding newborn stars. Big stars, it was thought, give off so much high-energy radiation that this material might be evaporated. The newly identified planet coalesced so far from its stars that it may have avoided this cauldron.
"The distance from the stars probably matters a lot, at least it did when the planet formed," Janson said.
(Reporting by Will Dunham, Editing by Rosalba O'Brien)