Showdown looms between Silicon Valley, U.S. states over contact tracing apps – Financial Post
SAN FRANCISCO — U.S. states promoting apps that could prove essential to ending the coronavirus lockdown may be headed for a showdown with the two Silicon Valley companies that control key software on 99% of smartphones over the collection of sensitive GPS location data.
Apple Inc and Alphabet Inc's Google plan to release technology jointly in the coming weeks for digital contact tracing through Bluetooth sensors on phones. Public health authorities have determined that the technology is crucial to apps that will alert people when they have been close to people who have tested positive for the novel coronavirus.
For contact tracing apps to work, however, millions of people must be willing to use them without fear their locations and other personal data is being tracked and stored.
Google and Apple have sought to build public trust by emphasizing that the changes they are making to Bluetooth to allow the tracing apps to work will not tap phones' GPS sensors, which privacy activists see as too intrusive.
But the states pioneering the apps – North and South Dakota, and Utah – say allowing public health authorities to use GPS in tandem with Bluetooth is key to making the system viable.
The Bluetooth technology will enable users to be notified if they crossed paths with a coronavirus carrier, but will not specify where the encounter happened, information crucial to authorities who want to identify hotspots for virus transmission and move fast to stop outbreaks.
Apple and Google said on Friday that they still have not decided how to proceed.
"I would encourage them to go for the 'and' and not the 'or' solution," North Dakota Governor Doug Burgum said of Apple and Google in an interview late Thursday.
"During this new normal, there is a place for having solutions that protect privacy and enable more efficient contact tracing," said Burgum, himself a former software executive who sold a company to Microsoft Corp for more than $1 billion in 2001.
APPS AT WORK
Anonymized GPS location data is already playing a key role in an early version of Care19, an app that about 40,000 people have signed up for in North and South Dakota.
Authorities currently ask Care19 users to give them permission for timestamped GPS location data, which allows officials to manually call places where users could have spread the virus and ask for names and numbers of others who may have been there at the same time.
This laborious process will no longer be necessary with the Bluetooth technology coming from Apple and Google, which will automatically catalog encounters between users and enable carriers to anonymously convey to others potentially infected that they should get tested. Without the changes the two companies are working on, iPhone users would have to keep their phone unlocked and app open at all times.
Utah's Healthy Together contact tracing app, which launched on Wednesday, for now is using a workaround that only catalogs some encounters. Healthy Together also collects location data and its developers hope Apple and Google do not force them to drop that functionality to adopt the more comprehensive Bluetooth technology.
"What Utah wanted to understand is not just who is spreading [the virus] to whom but also location zones," said Jared Allgood, chief strategy officer for Twenty, the startup which developed Utah's app for an initial $1.75 million.
GPS location data allows authorities to decide which businesses may need to be closed because the virus is spreading there, and prioritize which contacts of diagnosed patients to test.
"Is it happening in a park, a Costco or a Walmart? They are trying to make policy decisions that move our economy from a broad-based 'everything is shut down' to a more targeted approach," Allgood said in an interview on Friday.
Privacy experts have warned that any cache of location data related to health issues could make businesses and individuals vulnerable to being ostracized if the data are exposed.
But Tim Brookins, a principal engineer at Microsoft who previously worked for Burgum and developed Care19 independently of his employer, said location data is stored on a Microsoft Azure server that he rents and to which only he and one other person have the keys. North Dakota is paying about $9,000 to license Care19 for six months, he said.
Allgood said the Utah app asks users for their phone number, but location data is stored anonymously in a server rented from Amazon Web Services.
"We don't see a reason why Apple or Google would not allow us to participate in their tools," said Diesel Peltz, Twenty's CEO.
Brookins and Burgum expressed confidence the two tech giants would allow for location data collection after seeing the safeguards Care19 has put in place, including not asking for users' names, phone numbers or email addresses.
"Some people are completely opposed to an intrusion on privacy but there's a younger generation sharing their location on dozens of apps," Burgum said.
"There may be a set of people highly social, young and going out to bars who may see this tool as fantastic." (Reporting by Paresh Dave and Stephen Nellis Editing by Sonya Hepinstall)
Raptors Uprising down Nets GC to improve to 7-0 in NBA 2K league esports play – CKOM News Talk Sports
TORONTO — Raptors Uprising GC continued its perfect start to the NBA 2K League esports season, sweeping Nets GC in its best-of-three series Friday to improve to 7-0.
The Raptors raced out to an early lead in Game 1 but had to rally to take Game 2.
Toronto downed Brooklyn 84-71 in Game 1 and 79-72 in Game 2 with star point guard Kenneth (Kenny Got Work) Hailey, an early MVP candidate, racking up 75 points in the Raptors' two wins.
Hailey was averaging 32.9 points, 6.4 assists, and 3.1 steals going into Friday's game.
The Nets, who had won three straight, fell to 3-2.
Hailey led the way with 32 points — and zero turnovers — in Game 1 while rookie power forward Maurice (ReeceMode) Flowers added 25 points. Centre Jerry (Sick One) Knapp recorded his fourth triple-double of the season with 15 points, 11 rebounds and 10 assists.
Point guard Josh (Choc) Humphries led the Nets with 32 points and 10 assists. Humphries, the ninth overall pick in the February draft, was averaging 31.6 points and 8.3 assists per game prior to Friday's play.
In Game 2, the Nets rallied to lead 18-15 after the first quarter — with Humphries accounting for 14 of Brooklyn's points— and 36-32 at the half. Hailey, who had 14 points in the half, hit a late three-pointer to reduce the Raptors' deficit.
But Toronto reeled off a 22-7 run to open the third quarter and led 60-50 going into the final quarter.
Brooklyn had some connectivity issues in Game 1, according to the NBA 2K official broadcast feed.
The NBA 2K League's third season was to have started March 24 but was postponed until May 5 because of the global pandemic. The first six weeks of the rescheduled season are being played remotely rather than at the league's New York City studio although the league has yet to say what happens beyond Week 6.
It was the fourth game in four days for Brooklyn, which did not open its season until May 29. In contrast, Toronto began play May 5.
Toronto, which has now swept five of its first seven series, hadn't played in 15 days following a Week 4 bye. The Raptors snapped Hawks Talon GC's three-game win streak last time they played on May 21.
Friday marked the second ever meeting between the two teams. Toronto won 54-42 in week 3 last season. That game saw former Raptors centre Seanquai (KingQuai614)Harris pull down a franchise-record 20 rebounds to go along with 10 points.
Toronto plays Blazer5 Gaming on June 11 and Celtics Crossover Gaming on June 12.
This report by The Canadian Press was first published June 5, 2020.
—
Follow @NeilMDavidson on Twitter
Neil Davidson, The Canadian Press
Xiaomi Redmi 9 specs, design and pricing revealed by online retailer – GSMArena.com news – GSMArena.com
The Xiaomi Redmi 9 reportedly arriving on June 25 has been listed on online retailer Lazada's Filipino site with its images, specs, and pricing.
The specs listed on the e-commerce website align well with previous rumors, meaning the Redmi 9 comes with a Helio G80 SoC under the hood and has two memory versions – 3GB/32GB and 4GB/64GB. There's also a dedicated microSD card slot for storage expansion.
The Redmi 9 is built around a 6.53″ FullHD+ display that has a notch up top for the 8MP selfie camera. The back of the smartphone, that has a textured finish and looks like a combination of the Redmi K30 and Redmi Note 8 Pro's back panels, is home to a quad camera setup comprising a 13MP main, 8MP ultrawide, 5MP macro and 2MP depth sensor units.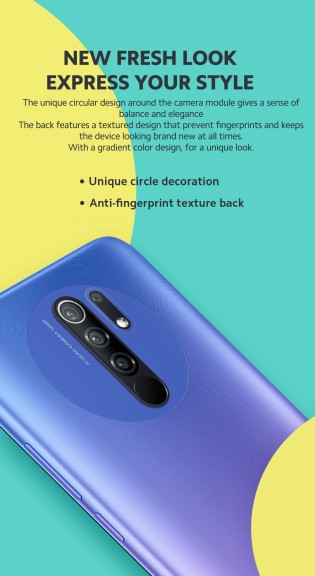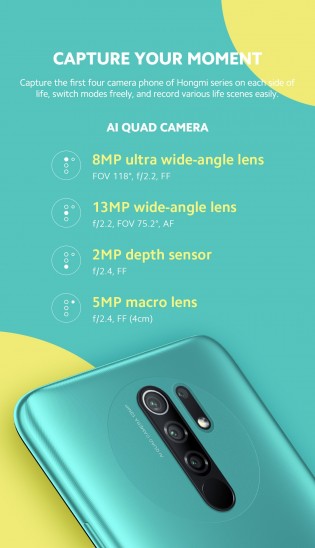 Redmi 9 comes with four cameras on the back
The Redmi 9 comes in three colors and packs a 5,020 mAh battery which draws power through a USB-C port at up to 18W.
Other highlights of the Redmi 9 include a rear-mounted fingerprint reader, AI Face Unlock, IR Blaster, dual SIM support, and a 3.5mm headphone jack.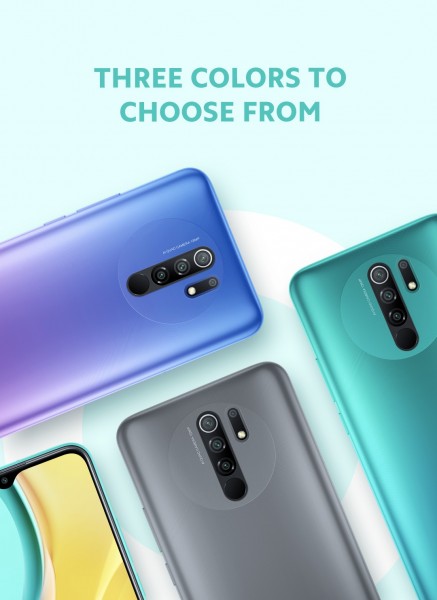 The 3GB/32GB version is priced at PHP6,990 ($140/€125) and the 4GB/64GB at PHP7,490 ($150/€135). At the time of writing this, the 32GB version is available for purchase in a flash sale.
That's surprising since Xiaomi's Philippines branch hasn't made any official announcements about the Redmi 9 at the time of writing this, meaning the retailer likely jumped the guns and an official announcement isn't too far away.
Thanks for the tip!
Montreal weather: A good day to stay inside with the windows open – Montreal Gazette
Article content
Isn't that rain refreshing? Yeah, it's putting a damper on the weekend, but it's not like you can do much out there these days.
Today's forecast calls for the rain to continue until the morning, then maybe come back in the mid-afternoon as we hit a reasonable high of 20 C. (Sunday will be better — sunny and 21.)
We apologize, but this video has failed to load.
Montreal weather: A good day to stay inside with the windows open
Back to video
Tonight: Chance of rain. Low 12.
Don't forget to submit your photos of Montreal via Facebook, Twitter and Instagram by tagging them with #ThisMtl. We'll feature one per day right here in the morning file. Today's photo was posted on Instagram by @tinmarieb.
Quote of the day
The spread of evil is the symptom of a vacuum. Whenever evil wins, it is only by default: by the moral failure of those who evade the fact that there can be no compromise on basic principles. — Ayn Rand
Help support our local journalism by subscribing to the Montreal Gazette.