Social media's 'Millenial Moron' skewers the absurdity of Canadian real estate
As prices remain stubbornly high in Canada's hottest real estate markets some young social media users are finding new ways to highlight what they view as the absurd choices facing new home buyers.
Take the example of @millennialmoron – he refuses to divulge his real name – who posts videos on Instagram and TikTok, and who fully appreciates his social media handle will invite derision. He recently created a video series called "Private Islands vs. Canadian Real Estate," that started with a promise/threat: "Are you frustrated with the high prices of Canadian real estate? Well, prepare to be more frustrated."
His most popular video was actually his second where he detailed Black Rock Cay in Honduras, a private island that was listed for $1.8-million. The island came with two boats, an updated main house, two guest cabanas, all the furnishings and all the mechanical and water equipment needed for island living. The @millennialmoron video contrasted that to a $1.8-million semi-detached house in Toronto at 54 Stewart St. that didn't have quite the same amenity package: there's no toilet in the main bath, the backyard is a junk heap and the kitchen is missing some walls and part of the ceiling. What it has going for it is location: At King and Bathurst streets, it's likely just a land parcel of a future condominium development.
Not that everyone gets the joke: there are many, many commenters on his posts who accuse him of all manner of things. He has had to post videos clearly disclaiming that he is A) not a realtor nor offering real estate advice B) not suggesting there is any real comparable between the upkeep costs of a home in a Canadian city and an island almost anywhere else and C) that his posts are satire, jokes and possibly funny.
"This isn't a fair comparison … and it's not a new idea, it's just a specific comparison," he said in a conversation with The Globe and Mail. Though he says he's not ready to share his real name, he makes no effort to obscure his face on his deadpan send-ups of Canadian property prices. What drives his videos is a deep sense that something's wrong with affordability in real estate. "I'm in my mid-thirties. I wouldn't say there's anyone in my age group who hasn't talked about this issue," he said. "We've seen houses go from completely reasonably priced to something that's wildly out of reach."
He says it all started a few years ago when he saw a couple of news stories about essentially teardown properties selling for millions of dollars in Canadian cities based primarily on land value. About a week ago he decided to crack a few jokes online about another of those homes making the rounds and he wanted to compare it to something really absurd. "What's the most ludicrously luxurious property you could buy, something not even regular rich people have?" he asked himself. The answer: private islands.
In about a week he's collected almost 20,000 followers and his most popular videos have collected tens or hundreds of thousands of views. So far he's profiled islands in Argentina, Brazil, Ireland and closer to home in Wisconsin. He also detoured to compare a $4-million Vancouver single-family home to a castle on 32 acres England for about the same price.
The videos often rely on listings from Privateislandsonline.com, a site maintained by self-proclaimed "Isla-maniac" Chris Krolow of Private Islands Inc., who while not a realtor has built a business helping connect people to private islands for sale. He even co-created a TV show with cable channel HGTV called Island Hunters (there are five seasons so far) and is looking to do another island-themed show soon.
"I call myself an island broker, but I also come up with ideas and help clients through problems so I'm doing a lot of consulting: I go to a lot of places and I'm like what the heck were they thinking," Mr. Krolow said.
Real island hunting comes with dangerous shoals – particularly if the island is undeveloped – and buyers need to understand what the buried costs of a given island are. On his own island he developed in Belize Mr. Krolow spends hundreds in fuel every time he uses his boat to come the mainland meaning a trip for groceries can cost up to $550.
"If you need full-time staff that's really the big leap for costs. In the Bahamas if you need staff you're looking at US$80,000 for a live-in caretaker," he said. "One island that was listed at $10-million sold for $6-million and the owner didn't seem to care about doing things with solar, so he spent about $800,000 a year on maintenance: Most of that was diesel fuel and full-time staff."
Drawing an unfavourable contrast between Canadian real estate and international options is a familiar trope, and @millennialmoron's videos hearken back a decade ago to the work of Toronto-based tech worker Melissa Hart who for a few years published a blog called FML Listings. She appeared in Canadian magazines and newspapers as a spokesperson for a generation sick of seeing properties in Willowdale (a Toronto inner suburb) sell for the same price as mansions in Malibu, Calif.
She never found an island that was comparable to Toronto real estate though.
"I did one to a château in France, in Bordeaux: it had a vineyard, it was an estate, and it was like hundreds of thousands less than a tiny house in Trinity Bellwoods [a downtown Toronto neighbourhood]," she said.
Worse, the prices that drove Ms. Hart to despair a decade ago look quaint by today's standards. "I thought $500,000 should get you a semi – that was nine years ago. Now $500,000 is a down payment," she said. "I was really cynical about the whole thing, and pessimistic, but even in my negative mindset I never thought it would get where it is now. I saw a one-bedroom condominium on MLS yesterday – 700 square feet in the Junction – it was $1.4-million."
Ms. Hart stopped publishing her blog when she had her first child, but her real estate story did have a happy ending of sorts: though she was born and raised in the big city she and her partner eventually bought a house … about 45 minutes north of Toronto.
@millennialmoron also owns a home, in British Columbia, which he feels grateful to have. "My wife and I are both professionals and we were able to buy a modest house. Not what you would expect two people in our careers to have, but relative to everyone else struggling, we're not on the brink," he said.
Treasury Secretary Yellen warns of commercial real estate 'issues' that could strain banks – MarketWatch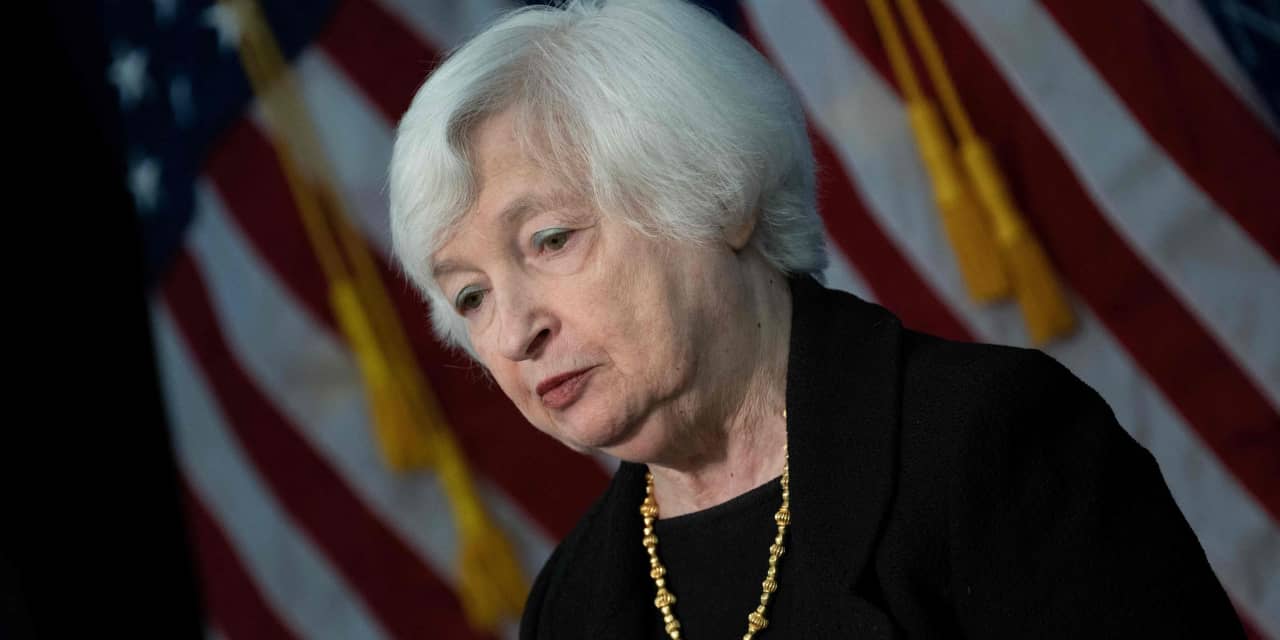 Treasury Secretary Janet Yellen, in her first interview since the U.S. debt-ceiling was lifted last week by Congress, warned on Wednesday about the potential for banks to feel strain from their exposure to weakening commercial real estate valuations.
Yellen was asked by CNBC "Squawk Box" host Andrew Ross Sorkin about if she's worried about the state of estimated $20.7 trillion commercial real-estate market, particularly the office, and if weakness in the sector could potentially spark more bank failures.
"Well, I do think that there will be issues with respect to commercial real estate," Yellen said. "Certainly, the demand for office space since we've seen such a big change in attitudes and behavior toward remote work has changed and especially in an environment of higher interest rates."
Major landlords from Blackstone Inc.
BX,
-0.97%
to Brookfield Corp.
BN,
-1.75%
have been bracing for a significant drop in office property values, as the Federal Reserve's inflation fight puts an end to an era of abundant and cheap debt.
While the final word on wobbling property prices won't be known for some time, PGIM Fixed Income, a key investor in commercial property debt, recently said they expect office values to fall 20%-50% from peak levels, while multifamily values could drop as much as 22.5%, in part because financing has become more expensive and scarce.
See: Commercial real estate's debt machine is broken down
Office property woes and the 'doom loop'
Researchers at the NYU Stern School of Business and Columbia Business School recently estimated there has been a $506.3 billion decline in office values from 2019 to 2022 nationally in the wake of the pandemic which could feed a "doom loop" in some big cities.
They estimate banks own 61% of U.S. commercial property debt. They also see potential for the value of New York City's office stock to drop 44% from 2019 to 2029 due to stress in the sector from flexible work arrangements.
"I think banks are broadly preparing for some restructuring and difficulties going ahead," Yellen said, adding that the overall level of liquidity at banks looks strong and that stress tests of the largest banks show they have adequate capital to withstand fallout from the commercial property market.
She also said banking supervisors will continue to closely monitor "a range of banks to make sure that they are adequately prepared to deal with it."
Yellen also said that, "while there will be some pain associated with this, that banks should be able to handle the strain."
Related: Blackstone wrote down its stake in this Chicago office building to $0. Now it's talking with lenders on the debt coming due.
South Okanagan residential real estate market sales picking up speed – Penticton News – Castanet.net
[embedded content]
Casey Richardson
Buyer activity and real estate listing activity are gaining momentum again in the South Okanagan, as residents have adjusted to the current late spring market.
"The market is doing really well," Association of Interior Realtors Past President Lyndi Cruickshank said.
"I think a lot of people felt really shell shocked when the interest rates started to rise, understandably so, as we often feel that resistance when there's a dramatic change in our lives. And is often the case, people settle into what our new reality is, and our interest rates are certainly significantly higher than they were. But people are finding ways to manage."
There has been a bit of a decline in the average home price, which is helping buyers. And as more homes come on the market, it ultimately helps the consumers looking to purchase.
"I talked to so many people last year that really wanted to be able to sell their home, but there was such a fear as to where they were going to go. So now that we have seen the inventory start to open up quite a bit. It's allowing them more choice."
Home inventory has increased by 38 per cent in active listings.
In the South Okanagan, the benchmark price for a single-family dwelling dipped 6.6 per cent, to $772,200. Townhouses ($558,100) and condominiums ($427,700) also dropped in May compared to this same time period last year.
"We're certainly more into a buyer's market than we have been over the last year. Previously, we were very predominantly held by a sellers market. And we're seeing a lot more strength on the buying side now," Cruickshank said.
She added that this is typically the time of year that people start to look for homes and that people really traditionally look to put their homes on the market.
"That plays a big role, obviously, in that increase in activity that we're experiencing right now."
The more balanced market will give buyers more of an opportunity to do their due diligence before purchasing.
"We've got a long way to go. We came from such an extreme market this time last year. And then we had that real hit with interest rates and things really slowed down very dramatically. So it's really nice to see things starting to just move forward in a more normalized way again.
Still, finding homes in the South Okanagan remains to be a challenge as vacancy rates remain low, even as developments continue to grow.
"It's going to take years, years before we're ever at a place where our inventory is going to meet demand unless we see something really dramatic. And that's right across the country when we look at what the demand is, and the current supply. So I don't see that changing."
Advice for first-time home buyers remains the same: finding a realtor and figuring out what time to buy is best for you.
Real Estate Builder Backed by Ackman Says Lenders Rejecting New Apartment Deals – Bloomberg
[unable to retrieve full-text content]
Real Estate Builder Backed by Ackman Says Lenders Rejecting New Apartment Deals Bloomberg




Source link