Spend on haircuts, home renos and restaurants to stimulate economy: CIBC economist – Delta-Optimist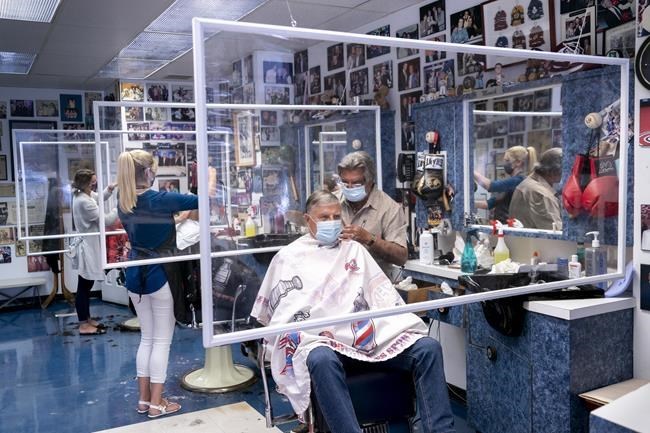 TORONTO — A CIBC senior economist says Canadians who want to help the country's economy rebound should book haircuts, hire tradespeople for home renovations and keep ordering from local restaurants.
Royce Mendes says these actions are more likely to stimulate Canada's economy and keep money within the country than online impulse shopping.
Throughout the COVID-19 pandemic, Mendes says purchases have leaned heavily towards consumer goods instead of services and that's costing the economy.
He says money is less likely to leak out of Canada if it is spent at a local restaurant or on a service than if it is directed towards similarly-priced goods.
Services stimulate a rebound because the people who offer them are more likely to take the money they earn and spend it within the domestic economy again.
Mendes says he doesn't think it will be hard to get Canadians to spend now that lockdowns are lifting and jobs are returning, but he says if people allocate their cash domestically they can trigger an even faster rebound.
This report by The Canadian Press was first published March 12, 2021.
Companies in this story: (TSX:CM)
The Canadian Press
TSX extends gains as gold prices rise, set to rise for third week
(Reuters) -Canada's main stock index extended its rise on Friday after hitting a record high a day earlier as gold prices advanced, and was set to gain for a third straight week.
* At 9:40 a.m. ET (13:38 GMT), the Toronto Stock Exchange's S&P/TSX composite index was up 24.24 points, or 0.1%, at 19,326.16.
* The Canadian economy is likely to grow at a slower pace in this quarter and the next than previously expected, but tighter lockdown restrictions from another wave of coronavirus were unlikely to derail the economic recovery, a Reuters poll showed.
* The energy sector climbed 0.6% even as U.S. crude prices slipped 0.1% a barrel. Brent crude added 0.1%. [O/R]
* The materials sector, which includes precious and base metals miners and fertilizer companies, added 0.3% as gold futures rose 0.7% to $1,777.9 an ounce. [GOL/] [MET/L]
* The financials sector gained 0.2%. The industrials sector rose 0.1%.
* On the TSX, 117 issues advanced, while 102 issues declined in a 1.15-to-1 ratio favoring gainers, with 14.26 million shares traded.
* The largest percentage gainers on the TSX were Cascades Inc, which jumped 4.2%, and Ballard Power Systems, which rose 2.9%.
* Lghtspeed POS fell 5.6%, the most on the TSX, while the second biggest decliner was goeasy, down 4.9%.
* The most heavily traded shares by volume were Zenabis Global Inc, Bombardier and Royal Bank of Canada.
* The TSX posted 23 new 52-week highs and no new low.
* Across Canadian issues, there were 160 new 52-week highs and 12 new lows, with total volume of 29.68 million shares.
(Reporting by Shashank Nayar in Bengaluru;Editing by Vinay Dwivedi)
Canadian economy likely to slow, but COVID-19 threat to growth low
By Indradip Ghosh and Mumal Rathore
BENGALURU (Reuters) – The Canadian economy is likely to grow at a slower pace this quarter and next than previously expected, but tighter lockdown restrictions from another wave of coronavirus were unlikely to derail the economic recovery, a Reuters poll showed.
Restrictions have been renewed in some provinces as they struggle with a rapid spread of the virus, which has already infected over 1 million people in the country.
After an expected 5.6% growth in the first quarter, the economy was forecast to expand 3.6% this quarter, a sharp downgrade from 6.7% predicted in January.
It was then forecast to grow 6.0% in the third quarter and 5.5% in the fourth, compared with 6.8% and 5.0% forecast previously.
But over three-quarters of economists, or 16 of 21, in response to an additional question said tighter curbs from another COVID-19 wave were unlikely to derail the economic recovery, including one respondent who said "very unlikely".
"Canada is undergoing a third wave of the virus and while case loads are accelerating, the resiliency the economy has shown in the face of the second wave suggests it can ride out the third wave as well, without considerable economic consequences," said Sri Thanabalasingam, senior economist at TD Economics.
The April 12-16 poll of 40 economists forecast the commodity-driven economy would grow on average 5.8% this year, the fastest pace of annual expansion in 13 years and the highest prediction since polling began in April 2019.
For next year, the consensus was upgraded to 4.0% from 3.6% growth predicted in January.
What is likely to help is the promise of a fiscal package by Prime Minister Justin Trudeau late last year, which the Canadian government was expected to outline, at least partly, in its first federal budget in two years, on April 19.
When asked what impact that would have, over half, or 11 of 20 economists, said it would boost the economy significantly. Eight respondents said it would have little impact and one said it would have an adverse impact.
"The economic impact of the federal government's promised C$100 billion fiscal stimulus will depend most importantly on its make up," said Tony Stillo, director of Canada economics at Oxford Economics.
"A stimulus package that enhances the economy's potential could provide a material boost to growth without stoking price pressures."
All but two of 17 economists expected the Bank of Canada to announce a taper to the amount of its weekly bond purchases at its April 21 meeting. The consensus showed interest rates left unchanged at 0.25% until 2023 at least.
"The BoC is set to cut the pace of its asset purchases next week," noted Stephen Brown, senior Canada economist at Capital Economics.
"While it will also upgrade its GDP forecasts, we expect it to make an offsetting change to its estimate of the economy's potential, implying the Bank will not materially alter its assessment of when interest rates need to rise."
(Reporting and polling by Indradip Ghosh and Mumal Rathore; editing by Rahul Karunakar, Larry King)
CANADA STOCKS – TSX rises 0.78% to 19,321.92
* The Toronto Stock Exchange's TSX rises 0.78 percent to 19,321.92
* Leading the index were Martinrea International Inc <MRE.TO​>, up 7.4%, Fortuna Silver Mines Inc​, up 7.1%, and Hudbay Minerals Inc​, higher by 6.7%.
* Lagging shares were AcuityAds Holdings Inc​​, down 6.7%, Ballard Power Systems Inc​, down 6.5%, and Northland Power Inc​, lower by 6.0%.
* On the TSX 165 issues rose and 60 fell as a 2.8-to-1 ratio favored advancers. There were 18 new highs and no new lows, with total volume of 203.0 million shares.
* The most heavily traded shares by volume were Royal Bank Of Canada, Suncor Energy Inc and Air Canada.
* The TSX's energy group fell 0.59 points, or 0.5%, while the financials sector climbed 0.86 points, or 0.3%.
* West Texas Intermediate crude futures rose 0.27%, or $0.17, to $63.32 a barrel. Brent crude  rose 0.36%, or $0.24, to $66.82 [O/R]
* The TSX is up 10.8% for the year.