Sumner Redstone: book reveals media mogul's 'astonishing saga of sex, lies and betrayal'
There was a time, not long ago, that America's media and entertainment businesses were largely run as personal fiefdoms of their owners, executives and top stars. Then came the #MeToo movement and the sexual harassment scandals of Harvey Weinstein, Bill Cosby, Charlie Rose, Matt Lauer and a host of others.
Now a new account of the career of media mogul Sumner Redstone, who died in 2020 at the age of 97, reveals just how awful, shocking and abusive that culture was at one of America's biggest media empires.
The book, by New York Times journalists James Stewart and Rachel Abrams, paints a fresh picture of a corporate culture that believed that so long as the stock went up, and complex C-suite power games were in play, there was no compelling reason to place checks on the appetites of those whose need for control spanned institutional and sexual power.
At the peak of his power, Redstone controlled Viacom, Paramount Pictures, movie-theater chain National Amusements, CBS, MTV, Comedy Central, Nickelodeon and the publisher Simon & Schuster. In the age before Netflix and HBO, these household names threw off cash and prestige on an industrial-scale.
But as Unscripted: The Epic Battle for a Media Empire and the Redstone Family Legacy details, there was "an astonishing saga of sex, lies, and betrayal" taking place behind the scenes.
Many incidents, but not all, involved Redstone himself. The son of a Boston linoleum salesman, Redstone finished at the top of his class at the Boston Latin School and won a scholarship to Harvard. He had helped crack Japanese codes during World War II, and turned his turned his father's two drive-in theater business into multi-billion media behemoth of multiplexes – a term he coined – infused with the smell of popcorn.
The structural complexity of the companies Redstone controlled gave him free rein to indulge his instincts. In his houses, TVs were tuned to the stock price of the National Amusements, which he controlled through a preferential share-ownership structure.
But Redstone's fortune was only half the story: what he did with it was itself an epic saga of brutal politicking and sexual predation. His ruthless will made him not a man to be argued with. He had, after all, once saved himself from incineration in a burning Boston hotel by hanging off a window ledge until his hand was badly and permanently disfigured.
According to Unscripted, Redstone amended his trust more than 40 times to add or remove beneficiaries, often the women he dated who got progressively younger as he got older. Several received $20m, "a lot" received $10m, and "many, many" received over $1m.
He propositioned one future girlfriend, 26-year-old Malia Andelin, who was working as a flight attendant on the company jet, with the line: "Who the fuck are you?" She responded in kind. "I hear women like to be spanked," Redstone followed up. "Do you like to be spanked?"
"Some say I created Mission: Impossible, and some say that this mission is impossible," Redstone told Andelin in a message on her voicemail. "But I made this mission possible… I know that if you called me back and you were a risk‑taker, this call could perhaps change your life." He sent her a crystal‑encrusted handbag in the shape of a panther. "I'm a panther and I'm going to pounce," read a note.
Redstone reportedly dated his grandson's girlfriends. "He acts like a 15‑year‑old kid at summer camp," one executive remarked. At age 85, he boasted on a retreat for fellow media moguls: "I have the vital statistics of a 20-year-old!"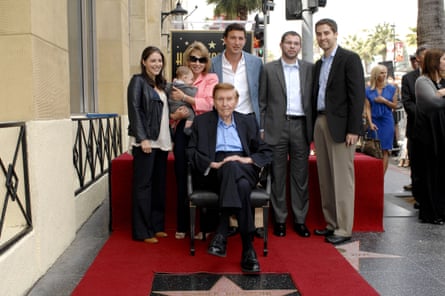 He fought with his daughter, Shari, and into his 80s lived in a mansion with two women, Sydney Holland and Manuela Herzer, who, converted from lovers to gatekeepers, scheduled his girlfriends and isolated him from his family and friends.
As Redstone became increasing senile, his daughter tried to expel his minders and, later, to recover the $150m he had handed over to them after he was warned he would die alone if they left him. But as that drama progressed CBS's CEO Les Moonves becomes embroiled in another.
As the CBS board hatched a plan to dilute the old man's control by merging CBS and Viacom, Moonves, a one-time daytime TV actor, was exposed by then #MeToo crusader Ronan Farrow who located six women with accusations of harassment and intimidation and published their accounts in the New Yorker.
"It's top down, this culture of older men who have all this power and you are nothing," a veteran producer told the magazine. "The company is shielding lots of bad behavior."
Moonves left the company in 2018 and sued for a $120m severance package. Three years later, he settled a New York State investigation into stock sales before the sexual harassment allegations were made public for more than $30m.
Unscripted offers shocking insight into the company's culture during the Redstone-Moonves era. In one instance, Redstone spent $500,000 promoting the Electric Barbarellas, a breathtakingly trashy all-girl band, who made their CBS network debut on The Late Late Show with Craig Ferguson on March 2011.
MTV executives protested the development of a Barbarellas reality show, calling the group "unwatchable and the music just as bad". Sumner insisted: "I won't be defied," he said. Reviewers branded the show a "hypercontrived, superstaged, and hair‑extensioned mess".
One question that hangs over the Redstone-Moonves era, as it does the media industry at large, is how the attitudes and behavior of senior executives within corporates structures exert influence beyond their immediate environment. In which case, the culture of Redstone's empire had a traumatizing and abusive impact far wider than just the corporate offices in which it played out.
"It's common sense that the people who run the media industry have an influence on the things we see and the culture they are controlling,"said Robert Thompson, trustee professor at the S .I. Newhouse School of Public Communications at Syracuse University.
"When American television was run by white males what we saw was reflected in the things they thought interesting. It's one of the reasons why there was a call was to diversify not only what was in front of the camera but also behind the camera", Thompson said.
"One can certainly see how the culture of that period created so much of the misbehavior we got. Executives operating on the level of wealth, power and entitlement are in some ways living in a different world. Whatever their id tells them, they have the resources to fulfill it."
But there's a larger question, too. The corporate structure of Redstone's media creation was so complex and subject to his need for control that few were able or willing to challenge it.
When Redstone died during the Covid-19 pandemic, he was buried in his hometown of Boston. Few were present, but one of those was his daughter Shari. At the end of the service, she knelt close to his grave and sang Frank Sinatra's "My Way" – a song to which Redstone often returned.
Even in death, apparently, his power lingered.
"You use the corporate structure to keep people confused enough to maintain another kind of control," Thompson pointed out. "You've got these bad behaviors that #MeToo tried to exorcise, but that moves into a weird choreography of exploitation. Every element of this is a tale as old as time."
2023 Media Layoff Tracker: Rough Year For Journalism Marked By Increasing Layoffs
Topline
Board members of the Texas Democracy Foundation reportedly voted to put the progressive Texas Observer on hiatus and lay off its 17-person staff following prolonged economic woes and shrinking readership, marking the latest in a brutal series of closures and layoffs rocking the media industry in 2023.
Timeline
From LinkedIn to TikTok: How newcomers are using social media to succeed in Canada
Data from a 2022 survey by CBC's Media Technology Monitor (MTM) indicates that nearly half (42%) of surveyed "newcomers who have consumed news within the last month cited social media as their go-to news source."
According to the survey, over three-in-ten (31%) Canadian newcomers who use social media use "six or more platforms."
Put simply, social media is a significant part of the lived experience for many Canadian newcomers. From finding job opportunities and building a support network to learning about Canadian culture and staying connected with loved ones back home, social media offers a wide range of benefits to new Canadian immigrants.
Discover if You Are Eligible for Canadian Immigration
There are many ways social media can help new immigrants succeed, both before and after they arrive in Canada.
Building a strong personal brand
In 2022, 256,000 permanent residents landed in Canada through economic immigration streams. As defined by the Canadian government, this immigration category focuses on choosing "skilled immigrants who are able to settle in Canada and contribute to [the] economy." This contribution occurs, largely, because these immigrants arrive and find employment in Canada, which allows them to contribute to the economy by then spending money on goods and services.
It is vital that immigrants coming to Canada work hard to establish a strong personal brand, as doing so will help them during the job search and hiring process. Having an active social media presence means job seekers will be better able to market themselves and be accessible to recruiters or hiring professionals looking for an individual with their skills, qualifications, and expertise. In addition, as a job seeker looking for a good place to work, immigrants (and Canadians alike) can also get to know companies (values, culture, day-to-day activities) via their various social channels.
Social media platforms such as LinkedIn, Facebook, and Twitter can be imperative in this journey, as many employers perform online background checks to analyze an individual's online presence when considering candidates for a job position.
In fact, nearly two-thirds (65%) of Canadian companies use social media as a means of screening applicants, and 64% of companies find this screening method effective. This is according to a survey by The Harris Poll published in January this year. More than 40% of surveyed employers who used social media for candidate screening "report finding content on a job candidate's social media that caused the hiring manager not to employ them."
Here are three tips for establishing a strong, positive online presence:
Be active and engaging: Part of creating a positive online persona is engagement. Find others in your field, experts in your industry, and regularly comment and engage with their content
Share relevant and informative content: Sharing informative and relevant content related to your industry can help demonstrate your expertise and passion for your work to potential employers
Keep your content clean and professional: Proofread your posts and captions, use a professional headshot as your profile picture, and avoid mixing personal content with professional content
Social media as a tool for employment opportunities
Once newcomers establish a strong personal brand, social media can be used as a tool for finding employment opportunities.
According to a study by Toronto Metropolitan University, "those that use social media are 3.5 times more likely to be employed than those that use traditional media."
Using Twitter, Facebook and LinkedIn, newcomers to Canada can connect with potential employers, research companies, and learn about job opportunities. In fact, Twitter and LinkedIn can be used to follow companies and connect with individuals in industries/professions of interest.
In particular, LinkedIn can also be leveraged by newcomers to ask questions of their connections, find helpful career resources and engage in conversation around professional topics of interest. Connections made through this platform may ultimately help newcomers to Canada build relationships and expose them to job prospects they may not otherwise get. That is a significant reason why LinkedIn has become an increasingly popular job searching platform. In fact, 2023 data from social media management platform Hootsuite indicates that 52 million people use the platform to search for jobs each week. Every second, 101 job applications are submitted on LinkedIn globally and eight people are hired through LinkedIn every minute.
Note: LinkedIn also offers employers the ability to post jobs directly to the platform, further enabling newcomers to increase their employment prospects through this application
Building a support network by connecting with other newcomers
Apart from arriving in Canada and establishing a professional life, immigrants can use social media to connect with others and form a support network, helping them become more comfortable with life outside of work.
In other words, newcomers to Canada can use features available on traditional platforms like Facebook (groups) to find others in a similar situation as them. Examples of Facebook groups to join include "neighbourhood" groups, specific to an immigrant's local community. These groups are often where people share information about community events, a good way for newcomers to connect with other locals and build a support network, potentially leading to new friendships and opportunities.
Other examples of platforms that are known for community-building are LinkedIn and Reddit, where users can connect and form bonds with others over shared experiences and challenges. Discussion forums like the CanadaVisa Forum also exist for newcomers to connect and discuss their questions, concerns and milestones throughout the immigration journey, both after they land and settle in Canada as well as before they arrive in this country.
Embracing Canadian culture and enhancing the Canadian experience
New immigrants to Canada can also use social media to discover cultural events and activities, stay informed about Canadian news and trends, learn about Canadian culture, and enhance their overall experience in Canada.
Twitter, for instance, allows users to stay informed about what's happening across Canada. Following news outlets, journalists, and bloggers on Twitter also allows newcomers to participate in discussions on current events, just like over 7 million Canadians already do.
Note: Aside from Twitter, subscribing to Canadian news channels on YouTube can also help newcomers remain aware of what's going on around the country
Here are other ways to use social media to become more connected with Canadian culture:
Use Instagram or TikTok to follow Canadian influencers who share insights and perspectives on Canadian culture
Subscribe to channels by Canadian travel vloggers or lifestyle influencers on YouTube for inspiration and ideas on how to get more involved with events and develop a social life in Canada
Influencers, whether they are newcomers themselves or they were born in Canada, will share ideas on activities to experience, places to visit, foods to try and more. Influencers who are newcomers themselves often also share things that helped them get settled or feel at home when they first came to Canada.
Vloggers, meanwhile, often take their viewers on a journey through video, including to different parts of this country. This can help newcomers experience areas of Canada that they may not know about and learn about the general way of life in different Canadian communities.
Staying connected with friends and family back home
While it is crucial for immigrants to embrace their new environment, it is also important that newcomers to Canada do not completely lose touch with the friends and family they may be leaving in their home country. The power of social media makes staying in touch with friends and family back home easier and more accessible than ever before.
In addition to traditional video conferencing tools such as Skype and Zoom, social media platforms like WhatsApp, Telegram, Facebook Messenger and Instagram offer a range of inexpensive international communication options. From free messaging to voice and video calling, these platforms provide newcomers to Canada with an easier way to stay connected with those back home no matter where they are in the world. Additionally, many social media applications enable users to share updates and photos, giving family and friends another way to stay connected with the newcomer's life in Canada and vice versa.
Social media's new pay-for-play rules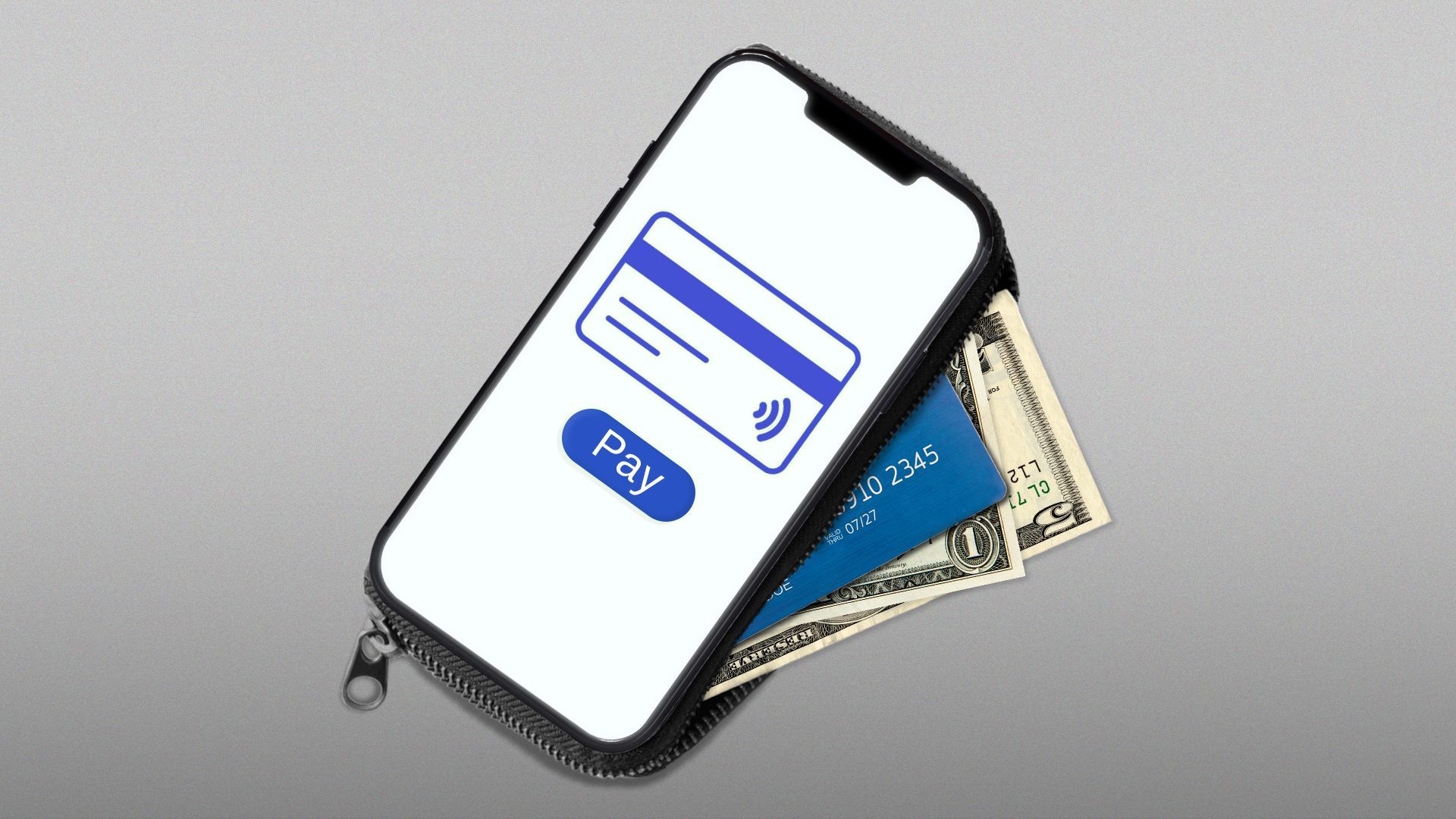 Illustration: Gabriella Turrisi/Axios
Social media is getting pricier for users who want to unlock special features and privileges.
Why it matters: Users who once believed they were contributing their time and creativity are now being asked to pay up by cash-hungry platforms.
Driving the news: Elon Musk on Monday tweeted that beginning April 15, only tweets by verified users will show up in Twitter's default main feed of "For You" recommendations. Verification, formerly a service Twitter offered public figures, is now available only to $8-a-month subscribers.
The new strategy "is the only realistic way to address advanced AI bot swarms taking over. It is otherwise a hopeless losing battle," Musk argued. "Voting in polls will require verification for same reason."
Between the lines: Musk has tried to shift more of Twitter's business towards charging for subscriptions amid advertising pullback.
In addition to charging users to be verified, he also began charging companies for access to Twitter's API, or backend interface, something many used to be able to access for free.
Be smart: Other social networks have made changes to their feeds to prioritize paid traffic over organic posts, but Musk's moves are more drastic.
As The New York Times' Mike Isaac notes, when Facebook transitioned its algorithm to prioritize posts from friends over Pages, brands and news companies were forced to buy ads if they wanted to be seen.
The big picture: Twitter isn't alone in its push for more stable, recurring revenues. Other social networks, having reached a point of maturity and a slowdown in the ad market, are also looking to make more money from subscriptions and licensing.
Meta launched its version of a paid verification subscription service in the U.S. last week. Snapchat introduced a new consumer subscription last year.
Snapchat also last week launched its first enterprise software business, licensing its augmented reality software and tools to enterprise companies.
"[T]his opportunity is major, not just for Snap, but for businesses of all sizes," said Jill Popelka, head of AR enterprise services for Snap Inc. Snap will first focus on licensing out its tech and services to the retail industry before testing other markets.
Yes, but: Musk has announced many new policies and promises from his Twitter account that have fallen by the wayside or remain unfulfilled.
The bottom line: Users may not need all of the new paid perks they're being offered, but tech firms are desperate to sell them.
Musk admitted to employees this week that Twitter is worth less than half of what it was when he bought it.
Stocks for Meta and Snap have both lost all of of their pandemic momentum since the ad market began to crater in 2022.