Tesla's "battery day" Could Be Bad News For Cobalt Miners – OilPrice.com
Tesla currently uses the nickel-cobalt-aluminum cathode chemistry, which has a low cobalt content of about 5%, for their cars produced outside China.
The company also embraces the Responsible Minerals Initiative (RMI) to identify red flags such as child labour in their cobalt sourcing.
A reportedly signed deal between Tesla and Glencore (LON: GLEN) in June has cast doubts on the company's statement that it's close to eliminating cobalt from its batteries altogether.
The contract would involve supplies of 6,000 tonnes of cobalt from the Democratic Republic of Congo for Tesla's new Shanghai factory.
There are rumours about a wider cell design, which would bring down the cost of making batteries. That would be a critical development, given that they are the main cause of EVs' hefty price tag.
Musk, 49, said earlier this year that the event would "blow your mind" and has been adding to the hype over the weekend by tweeting the upcoming announcement "it's big" and "insane", with "many exciting things to be unveiled."
Analysts at Citigroup said that with Tesla having roughly 30% of the pure battery electric vehicle (BEV) market this year, its innovations in battery performance and chemistry have "significant implications for EV metal demand" and so Battery Day "could impact sentiment towards battery metals demand."
Related: What's Next For Gold?
Goldman Sachs believes the focus on Tuesday will be on "production capacity expansion, battery cost and new technology trends."
Even if Tesla is not ready to transition to an entirely new type of battery, updates in the chemistry of its existing cells could also offer extra longevity, with high hopes the coveted "million-mile battery" will be unveiled.
Volkswagen's own battery day earlier this month predicted 300 gigawatt-hours of batteries will be needed in 2025.
Over the last three years, Tesla has mass-manufactured batteries for its cars and energy storage products at its Gigafactory in Nevada with its partner Panasonic.
It has also begun sourcing cells from Contemporary Amperex Technology Co Ltd (CATL) and LG, and making battery packs for the made-in-China (MIC) version of its Model 3 sedans.
Not so near-future news
Most of Tesla's announcements have related to finding ways drive down production costs, increase the lifetime and charging speed of their batteries, and make sure the metals used in the making of its EVs are ethically sourced.
The carmaker events often cause short-term stock volatility, but what Musk shows at these presentations doesn't always result in a working product within the announced timeline.
In October 2016, the South African-born billionaire showed off different styles of roof tiles with solar cells that weren't actually functional. The event helped Tesla score shareholder approval for a $2.6 billion acquisition of debt-saddled SolarCity.
So far, the carmaker has not produced or installed solar glass roof tiles in a significant volume.
A year later, Tesla unveiled its new Roadster vehicle prototype, "the fastest production car ever made", which should have been available this year. Last May, however, Musk listed several other tasks Tesla would need to achieve first, suggesting it may not arrive until after next year.
Tesla's "Autonomy Day", held in April 2019, was all about self-driving cars or "robotaxis" being available in the second quarter of 2020. They have yet to pass all safety tests needed before beginning mass production. "All the things I said we would do them, we did it," Musk said at the event. "Only criticism— and it's a fair one — is sometimes I'm not on time. But I get it done and the Tesla team gets it done."
By Mining.com
More Top Reads From Oilprice.com:
Jack Ma's Ant Group aims to raise $34.5 billion in largest IPO of all time | Markets – Business Insider
Ant Group will raise $34.5 billion through a dual initial public offering in November, making it the biggest-ever IPO.
The financial services giant aims to evenly split its 1.67 billion-share debut across the Hong Kong and Shanghai exchanges.
Shares will be priced at 68.8 yuan ($10.27) each in Shanghai and at 80 Hong Kong dollars ($10.32) in Hong Kong. The collective sum trounces the previous $29 billion record set by Saudi Aramco's IPO last year.
Ant is set to begin trading in Hong Kong on November 5, according to regulatory filings.
---
Ant Group plans to raise $34.5 billion in a dual initial public offering next month, edging out Saudi Aramco's debut to become the largest listing of all time.
The financial services company – an arm of billionaire Jack Ma's Alibaba empire – will evenly split its offering, selling 1.67 billion shares each in debuts in Shanghai and Hong Kong. Shares listed on the Shanghai exchange will be priced at 68.8 yuan ($10.27) each, according to regulatory filings published Monday. The pricing implies a 114.9 billion yuan ($17.2 billion) windfall from the listing.
Shares set to trade on the Hong Kong exchange are priced at 80 Hong Kong dollars (10.32) each, setting up the other half of the listing to bring in 133.7 billion Hong Kong dollars ($17.2 billion). In total, the dual listing can value Ant at $313.4 billion should its market debut enjoy strong investor demand.
Read more: BANK OF AMERICA: Buy these 11 under-owned stocks ahead of their earnings reports because they're the most likely candidates to beat expectations in the weeks ahead
Such an IPO would also trounce the record set by Saudi Aramco in 2019. The oil titan raised $29 billion in a share sale that temporarily established it as the world's highest-valued company.
Ant could even push its fundraising total just below $40 billion if it sells shares through so-called greenshoe options. The agreements allow the company's underwriters to sell additional shares than initially planned. If investor demand permits, Ant can raise another $5.2 billion across both exchanges through the over-allotment options.
The financial tech firm is expected to begin trading in Hong Kong on November 5, according to the filing. It's not yet known when shares will begin trading in Shanghai.
Ant's debut is slated to bring tech-IPO proceeds to their highest level since the dot-com bubble's 1999 peak. Strong demand for new offerings has lifted the market from its March slump and reinvigorated IPO dealmaking despite the bleak economic backdrop. July alone saw companies raise $19 billion through listings, the biggest one-month haul since September 2014.
China International Capital Corp. and CSC Financial will underwrite Ant's Shanghai listing. CICC, Citigroup, Morgan Stanley, and JPMorgan will lead the Hong Kong IPO.
Now read more markets coverage from Markets Insider and Business Insider:
Cries for more stimulus are overblown and stock investors should stop throwing 'tantrums' about it, says a Wall Street chief strategist
Intel will plunge 17% as 3 major problems boost headwinds, Bank of American says in downgrade
A blue sweep will create a 'stock pickers market' and end secular stagnation — A top US fund manager overseeing $34 billion says these are the 3 sectors to watch
Ant Group raises $34 billion in world's largest IPO – CNN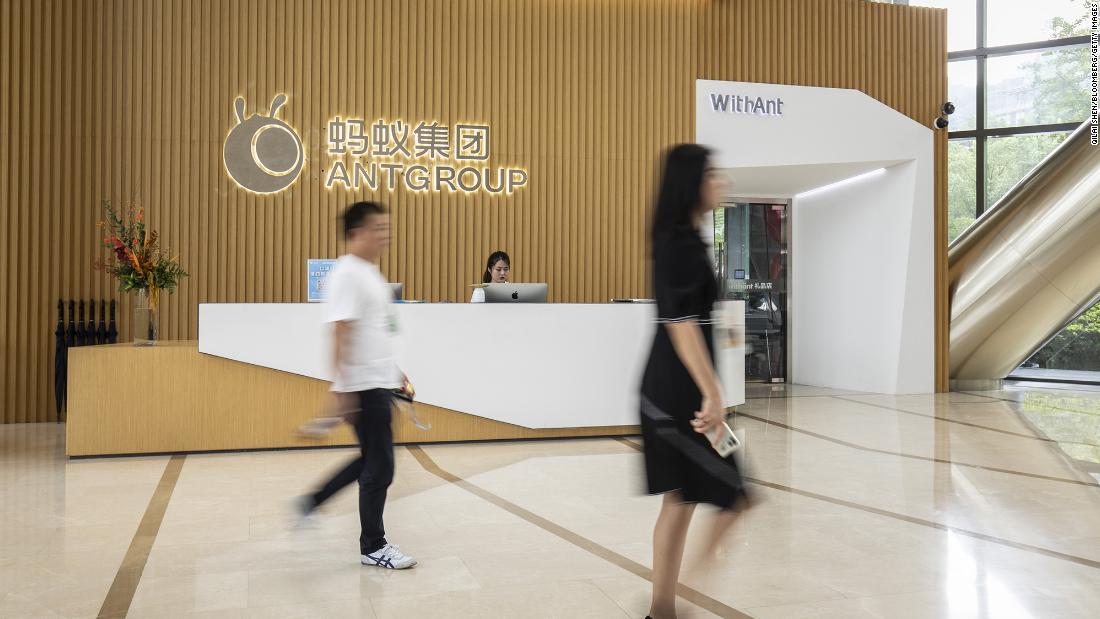 The tech company behind
China's largest online payments platform
priced its dual listing on the Hong Kong Stock Exchange and Shanghai's Star Market at 80 Hong Kong dollars ($10.32) and 68 yuan ($10.13) per share respectively, according to regulatory filings released Monday.
That means the IPO will raise over $34.1 billion and value the company at about $310 billion. The previous record for a stock-market listing was held by Saudi state oil company Aramco, which raised $29.4 billion in an offering on the Riyadh exchange last December.
The listing is a win for China which has been encouraging the country's top tech companies to list at home instead of on top exchanges in the United States.
Ant is splitting the IPO evenly between Hong Kong and Shanghai, selling 1.67 billion shares on each exchange. The shares to be issued are equivalent to about 11% of the company.
Ant is the financial technology company affiliated with Chinese e-commerce group
Alibaba
(BABA)
, which went public on the New York Stock Exchange in 2014 in what was also a world-record setting IPO. Billionaire Ma has ultimate control over Ant.
Ant is one of the biggest technology firms in the world and the biggest online payments platform in China. The app has established its presence in every aspect of financial life in China, from investment accounts and micro savings products to insurance, credit scores and even dating profiles.
The firm's payments app Alipay had 731 million monthly active users as of September, Ant said in regulatory filings. The platform handled 118 trillion yuan ($17.7 trillion) in payments in the 12 months through June.
The company said revenue for the nine months ended in September rose about 43% to 118.2 billion yuan ($17.7 billion) compared to the same period last year. Gross profit for the period rose 74% to 69.5 billion yuan ($10.4 billion).
Canada's transport regulator hasn't settled a single COVID-19 flight cancellation complaint – CBC.ca
The Canadian Transportation Agency has failed to settle a single complaint from Canadians demanding refunds for cancelled flights since the onset of the COVID-19 pandemic, CBC News has learned.
The independent tribunal said it has been inundated with close to 10,000 complaints from mid-March, when global air travel largely ground to a halt, until Oct. 16.
The agency confirmed it's still processing complaints it received before March 11; it has yet to deal with any cases filed during the public health crisis.
For months, Canada's Transport Minister has told Canadians if they are unsatisfied with refunds, the course of action is to file complaints with the tribunal.
Carly Aubertin and her husband Rob McLean are upset that they filed a complaint in April, which has been sitting in limbo ever since.
"It's just so disheartening," said Aubertin. "It's frustrating that the government's not there to support us."
The Ontario residents are considering selling their home as they wrestle with living off a single income because the pandemic has hurt McLean's business. Sunwing gave them a voucher for a cancelled trip to Antigua due to COVID, rather than a full refund that could help pay their mortgage until the spring.
"Right now, I mean, $5,000? There's five months of mortgage right there," she said.
Long backlog before pandemic started
The delay is partially due to a two-year backlog of complaints the CTA received before the pandemic struck. The backlog is tied to a significant influx of complaints received after new air passenger protection regulations came into effect in December 2019.
COVID-19 hampered further efforts to process complaints; the CTA temporarily paused its discussions with airlines regarding "dispute resolution activities" until June 30, 2020 to allow airlines to focus on more urgent matters. The agency also granted airlines an extension until Oct. 28 to respond to passengers seeking compensation.
But the CTA says it's making progress on tackling the caseload. The agency processed a record number of complaints in the past fiscal year. The administrative tribunal also received a funding boost to get through cases more quickly and says it's weeks away from starting on complaints filed during the pandemic.
WATCH | Thousands of Canadian travellers are waiting for flight refunds:
An ongoing battle for closure
The agency said it's now working through about 17,300 complaints.
Those includes complaints from Canadians like Aubertin and McLean, who spent about $5,000 for a spring vacation with a group of friends to celebrate some of their 40th and 50th birthdays.
McLean found himself without work during the pandemic, meaning the Port Robinson, Ont., couple has started to dip into their retirement savings. His last pay cheque was in February.
"It's frustrating because in these times we hear the leaders of our country saying to look out for everybody and do the right thing and respect your community, and then to allow these multimillion dollar companies to keep our money interest free for an extended period of time doesn't feel like the right thing to us," McLean said.
Aubertin said the obstacles have been particularly disappointing given that other countries have taken a firmer stance on helping passengers.
In April, the U.S. Department of Transportation issued a notice reminding U.S. and foreign airlines that they "remain obligated to provide a prompt refund to passengers" despite the pandemic and warned that it would take "enforcement action" as necessary.
In Canada, airlines have been asking the government for financial help to survive an unprecedented drop in business during the height of the pandemic. In many cases, airlines have been issuing travel vouchers redeemable for two years, rather than refunds.
The CTA said it issued a "non-binding statement" on issuing vouchers in the face of "unprecedented and extraordinary circumstances" during the pandemic.
The agency said the industry collapsed worldwide and there was an "absence of any general minimum obligation under the law for airlines to pay refunds for flights cancelled for reasons beyond their control."
After months of public outrage, WestJet announced last week it was changing its refund policy on Nov. 2 to give customers back money for flights cancelled due to COVID-19.
Air Canada took to Twitter shortly afterwards and said it's already repaid $1.2 billion to date for refundable tickets cancelled during the pandemic.
Let's clear the air. We're offering refunds for guests if we cancelled their flight. Even the lowest cost tickets will be refunded to original form of payment if WestJet caused the cancellation.

—@WestJet
John Gradek, a former Air Canada executive and lecturer at McGill University's aviation management program, said the timing is no coincidence.
Canada's major airlines — WestJet, Air Canada, Air Transat, Sunwing and Swoop — are facing a series of class action lawsuits over refunds during COVID and the federal court certification hearing is scheduled for Nov. 2.
Gradek also believes airlines realized there wasn't public support for a government bailout unless carriers refunded passengers first. The Globe and Mail reported Friday cabinet is currently deliberating a package for the aviation sector that includes scaling back airport fee increases and low interest loans.
CTA losing credibility, Bloc MP says
Passengers and consumers have a right to feel upset about the federal government's lack of action, said Bloc Québécois MP and transport critic Xavier Barsalou-Duval.
On Friday, he presented a bill seeking to amend the Canada Transportation Act in order to ensure passengers are fully refunded in the event that an air carrier cancels a flight.
He said Transport Minister Marc Garneau's failure to resolve the issue has put undue pressure on the CTA.
"By not acting, Mr. Garneau's transferring the weight of the situation on the shoulders of the CTA and that's a big problem," said Barsalou-Duval.
"[The CTA is] losing credibility. And that's the big problem because usually they're supposed to… apply the rules, apply the law."
In a statement to CBC News on Sunday, Garneau said he understood the frustration.
"This situation is far from ideal," he said. "We are encouraged to see that some airlines have refunded their customers, and expect air carriers will do their best to accommodate passengers under these extraordinary circumstances," the statement read.
"This is an important issue to Canadians. We also continue to work with the airlines to address the overall challenges they are facing due to the pandemic."