The Best Places to Buy Real Estate in Canada in 2023
Anyone searching for valuable real estate in Canada should steer clear of the Greater Toronto Area and Greater Vancouver.
MoneySense's Where to Buy Real Estate in Canada 2023 report has placed the GTA 42nd out of 45 cities in terms of value and buying conditions, while Vancouver took the 44th spot. Mississauga appears between the two, while Oakville-Milton was ranked the worst place to purchase property in Canada this year.
Created in partnership with Zoocasa, the rankings are based on benchmark home prices and recent real estate price growth, with each city receiving a value score out of five.
With a 2022 benchmark price of $1,195,950 — a staggering $403,092 above the national average — and a three-year growth rate of 54%, the GTA earned a value score of 1.70 out of five. Greater Vancouver's benchmark price of $1,199,242 and three-year growth rate of 33% earned the region a value score of 1.11.
Mississauga received a value score of 1.23, while Fraser Valley rounded out the five least-valuable cities with a score of 2.20.
At the bottom of the list, Oakville, with a benchmark price of $1,401,042 and a three-year growth rate of 51%, received a value score of just 0.97.
"Real estate demand fizzled last year, primarily because of rising interest rates, low inventory, and reduced buyer appetite," the report reads. "Even with declining prices, properties became progressively less affordable as interest rates increased a staggering seven times in nine months."
Home prices reached record-highs across Canada in early 2022 before the Bank of Canada began hiking interest rates in March. Prices plummeted thereafter in most major markets, and many cities ended the year with "weak" year-over-year price gains.
However, smaller markets and those that border larger cities continued to see heightened demand throughout the year. As a result, these minuscule municipalities are where the best value can be found.
With a benchmark price of $320,817 — a cool $472,041 below the national average — a three-year growth rate of 84%, and a five-year growth rate of 102%, Greater Moncton was deemed the best place to buy real estate in Canada in 2023. The city earned a near-perfect value score of 4.75.
Sault Ste. Marie nabbed second place on the list, with a value score of 4.68. The city has a lower benchmark price, at $292,208, but a simultaneously lower three-year growth rate of 75%. North Bay followed, with a benchmark price of $413,252, three-year growth rate of 83%, and value score of 4.23.
Fredericton and Saint John rounded out the top five, respectively, with value scores of 4.04 and 4.03.
While demand dwindled in 2022, the BoC has paused its incessant rate hikes, luring sidelined buyers back to the market.
"The 2023 market is dependent on affordability," said Lauren Haw, broker of record and industry relations officer at Zoocasa. "If interest rates decline, buyer sentiment should shift in a more positive direction."
National home sales edged up in February and March, marking the first two consecutive monthly increases in a year. However, new listings have hit a 20-year low, leading to the tightest market conditions since April 2022.
MoneySense expects that Canada's housing supply shortage will persist throughout 2023 and beyond. Record levels of immigration will drive demand, which will in turn drive up prices, particularly in markets already facing low levels of inventory.
Zoe Demarco is a Staff Writer at STOREYS and was formerly the Urbanized Editor at Daily Hive. Born and raised in Toronto, she has a passion for the city's ever-changing urban landscape.
The shortage of houses is hitting some people and areas harder than others – CNBC
A sign is posted in front of a home for sale in San Francisco, February 20, 2023.
Justin Sullivan | Getty Images
Even in a housing market that has slowed significantly due to rising mortgage rates, the supply of homes for sale is about half of what it was in 2019.
The shortage is hitting some buyers more than others.
The popular 30-year fixed mortgage rate hovered in the high-6% range in May. At that level, buyers with an annual income of $100,000, slightly above the national median, could afford a house with a maximum price of about $341,000. But just 39% of the homes for sale were listed at or below that price point in May, according to a new report Thursday from Realtor.com with the National Association of Realtors.
In a balanced market of supply and demand, 64% of homes should be affordable to buyers who make $100,000 a year, given the size of that population. As a result, the market currently lacks about 285,000 of those listings.
Just five years ago, those same earners could afford two-thirds of homes for sale. Home prices and mortgage rates were significantly lower.
The lack of affordable homes heated up competition in the market this spring, which reversed the cooldown in home prices that started last summer.
"It's almost a tale of two cities where we have houses under $500,000, they're absolutely selling incredibly fast. Under $350,000 and $400,000, there's multiple offers," said Noah Herrera, a real estate agent in Las Vegas, during an open house in mid-May. "Over $500,000, it slows down a little bit."
At the higher price ranges, too many homes are for sale for the number of Americans who can afford them. In fact, for every home listing above $680,000, the market is lacking twice as many homes under $341,000.
"Ongoing high housing costs and the scarcity of available homes continues to present budget challenges for many prospective buyers, and it's likely keeping some buyers in the rental market or on the sidelines and delaying their purchase until conditions improve," said Realtor.com's chief economist Danielle Hale.
The pricy existing home market is pushing more buyers to new construction, which, ironically, used to come at a price premium. Homebuilders have been offering incentives such as upgrades or temporary mortgage rate buydowns. Those, however, are decreasing as builders see more demand and gain more pricing power.
As with all else in real estate, location is everything. The areas that have the biggest deficit of affordable homes are El Paso, Texas; Boise, Idaho; Spokane, Washington; several Florida markets; and of course, Riverside and Los Angeles, California, which are some of the priciest housing markets in the nation.
Areas in the Midwest continue to have the highest number of affordable homes. The four cities with the largest supply of affordable homes are all in Ohio. They are followed by Syracuse, New York; Pittsburgh, Pennsylvania; and St. Louis, Missouri.
The supply situation does not appear to be improving. New listings of homes for sale in the first week of June fell 25% year over year to their lowest level of any early June on record, according to Redfin.
That lack of new listings has pushed the total number of homes on the market down 5% from the same period a year ago.
Treasury Secretary Yellen warns of commercial real estate 'issues' that could strain banks – MarketWatch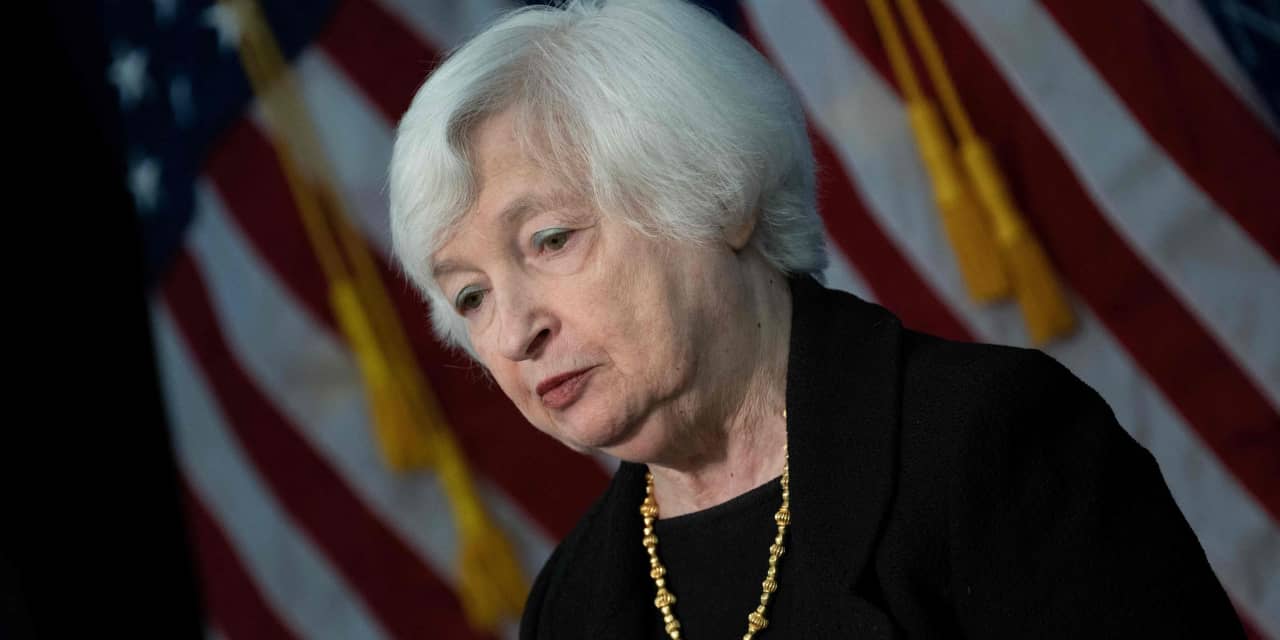 Treasury Secretary Janet Yellen, in her first interview since the U.S. debt-ceiling was lifted last week by Congress, warned on Wednesday about the potential for banks to feel strain from their exposure to weakening commercial real estate valuations.
Yellen was asked by CNBC "Squawk Box" host Andrew Ross Sorkin about if she's worried about the state of estimated $20.7 trillion commercial real-estate market, particularly the office, and if weakness in the sector could potentially spark more bank failures.
"Well, I do think that there will be issues with respect to commercial real estate," Yellen said. "Certainly, the demand for office space since we've seen such a big change in attitudes and behavior toward remote work has changed and especially in an environment of higher interest rates."
Major landlords from Blackstone Inc.
BX,
-0.97%
to Brookfield Corp.
BN,
-1.75%
have been bracing for a significant drop in office property values, as the Federal Reserve's inflation fight puts an end to an era of abundant and cheap debt.
While the final word on wobbling property prices won't be known for some time, PGIM Fixed Income, a key investor in commercial property debt, recently said they expect office values to fall 20%-50% from peak levels, while multifamily values could drop as much as 22.5%, in part because financing has become more expensive and scarce.
See: Commercial real estate's debt machine is broken down
Office property woes and the 'doom loop'
Researchers at the NYU Stern School of Business and Columbia Business School recently estimated there has been a $506.3 billion decline in office values from 2019 to 2022 nationally in the wake of the pandemic which could feed a "doom loop" in some big cities.
They estimate banks own 61% of U.S. commercial property debt. They also see potential for the value of New York City's office stock to drop 44% from 2019 to 2029 due to stress in the sector from flexible work arrangements.
"I think banks are broadly preparing for some restructuring and difficulties going ahead," Yellen said, adding that the overall level of liquidity at banks looks strong and that stress tests of the largest banks show they have adequate capital to withstand fallout from the commercial property market.
She also said banking supervisors will continue to closely monitor "a range of banks to make sure that they are adequately prepared to deal with it."
Yellen also said that, "while there will be some pain associated with this, that banks should be able to handle the strain."
Related: Blackstone wrote down its stake in this Chicago office building to $0. Now it's talking with lenders on the debt coming due.
South Okanagan residential real estate market sales picking up speed – Penticton News – Castanet.net
[embedded content]
Casey Richardson
Buyer activity and real estate listing activity are gaining momentum again in the South Okanagan, as residents have adjusted to the current late spring market.
"The market is doing really well," Association of Interior Realtors Past President Lyndi Cruickshank said.
"I think a lot of people felt really shell shocked when the interest rates started to rise, understandably so, as we often feel that resistance when there's a dramatic change in our lives. And is often the case, people settle into what our new reality is, and our interest rates are certainly significantly higher than they were. But people are finding ways to manage."
There has been a bit of a decline in the average home price, which is helping buyers. And as more homes come on the market, it ultimately helps the consumers looking to purchase.
"I talked to so many people last year that really wanted to be able to sell their home, but there was such a fear as to where they were going to go. So now that we have seen the inventory start to open up quite a bit. It's allowing them more choice."
Home inventory has increased by 38 per cent in active listings.
In the South Okanagan, the benchmark price for a single-family dwelling dipped 6.6 per cent, to $772,200. Townhouses ($558,100) and condominiums ($427,700) also dropped in May compared to this same time period last year.
"We're certainly more into a buyer's market than we have been over the last year. Previously, we were very predominantly held by a sellers market. And we're seeing a lot more strength on the buying side now," Cruickshank said.
She added that this is typically the time of year that people start to look for homes and that people really traditionally look to put their homes on the market.
"That plays a big role, obviously, in that increase in activity that we're experiencing right now."
The more balanced market will give buyers more of an opportunity to do their due diligence before purchasing.
"We've got a long way to go. We came from such an extreme market this time last year. And then we had that real hit with interest rates and things really slowed down very dramatically. So it's really nice to see things starting to just move forward in a more normalized way again.
Still, finding homes in the South Okanagan remains to be a challenge as vacancy rates remain low, even as developments continue to grow.
"It's going to take years, years before we're ever at a place where our inventory is going to meet demand unless we see something really dramatic. And that's right across the country when we look at what the demand is, and the current supply. So I don't see that changing."
Advice for first-time home buyers remains the same: finding a realtor and figuring out what time to buy is best for you.