The lambda COVID-19 variant is now spreading in Canada — here's what you need to know – CBC.ca
Multiple variants of the virus behind COVID-19 are circulating in Canada, and lambda has now joined their ranks.
Cases are being reported across much of the country, and while the numbers are still small, public health officials are keeping a close eye on this variant of interest first identified in South America.
So what do Canadians need to know about lambda? Here's the latest:
What is the lambda variant?
Lambda, or C.37, is one of the latest variants of the virus behind COVID-19, and it's now being reported in Canada.
The first samples were found in Peru back in August 2020, but it was only deemed a variant of interest by the World Health Organization (WHO) in mid-June.
"Lambda has been associated with substantive rates of community transmission in multiple countries, with rising prevalence over time concurrent with increased COVID-19 incidence," reads an epidemiological update from the WHO released on June 15.
How widespread is it?
In Canada, 11 cases of the variant have been reported as of July 5, the Public Health Agency of Canada (PHAC) told CBC News in a statement.
PHAC is "monitoring carefully" for more cases and research tied to the variant's transmissibility and vaccines' effectiveness against it, said spokesperson Anne Génier.
According to the WHO, lambda has also been reported in dozens of other countries.
So far, it's hitting South America the hardest. The variant has been on the rise in countries beyond Peru such as Ecuador, Argentina and Chile — and in the latter, it recently accounted for more than a third of all the country's sequenced cases.
What makes lambda worth keeping an eye on?
Lambda carries a "number of mutations," according to the WHO, which may make it more transmissible or resistant to neutralizing antibodies.
"There are mutations on the spike protein portion of the virus, which as we know is one of the important pieces of the virus, and the mutations are slightly different than some of the previous mutations we've seen," said Dr. Lucas Castellani, an infectious diseases specialist at the Sault Area Hospital in Sault Ste. Marie, Ont.
"That said, what we don't know is what all of this means."
So far, there's "limited evidence" on the impact of the changes to the spike protein, the WHO notes, but public health teams around the world are hoping to learn more about how the variant operates.
Dr. Anthony Chow, professor emeritus at the University of British Columbia's division of infectious diseases, also cautioned that the strain has the potential to turn into a variant of concern.
"It is highly transmissible, and that it has been a hallmark of variants of concern — the way they spread," said Chow.
WATCH | Physician explains what we know — and don't — about the lambda variant:
Sault Ste. Marie, Ont.-based infectious disease specialist Dr. Lucas Castellani explains what we know, and don't know, about the lambda variant and how it operates. 1:00
Do vaccines work against this variant?
Despite its multiple mutations, there's early evidence that yes, vaccines likely protect you from getting infected by lambda.
A recent U.S. lab-based study — which was published online, but has not yet been peer-reviewed — suggests that the "vaccines in current use will remain protective against the lambda variant and that monoclonal antibody therapy will remain effective."
But the WHO stressed that further studies are still needed to "validate the continued effectiveness of vaccines."
Chow stressed the need for Canadians to keep getting vaccinated to protect themselves as best as possible.
"Those who hesitate about getting their vaccines, they're still starting to have doubts or worrying about side effects," he said, "but the real harm from infection by the virus is so much greater than any possible side effects."
How worried should Canadians be?
Most Canadians shouldn't be too worried about lambda, experts told CBC News — at least not yet.
"If you're vaccinated, I think it's not too concerning," said Castellani. "We're changing this virus from one that causes severe illness, death, and debilitation to patients to one that's manageable."
But as the country keeps loosening restrictions, he warned some Canadians will bear the brunt of the variant's spread.
"We'll probably see more cases as more people are travelling," he continued. "Also, we've reduced restrictions at the border to some degree … it's almost impossible to prevent future transmission events from happening."
Jeffrey Joy, an assistant professor in the division of infectious diseases with the University of British Columbia's department of medicine, agreed there's no cause for alarm just yet — but he also stressed the need to keep monitoring for this, and other, virus variants.
"What we really need to do in Canada is set up a good system of molecular surveillance, so that we can act on the hotspots of new variants as they arise in Canada before they spread widely in the population," he said.
Cruising through Canada with a criminal record? – Canada Immigration News
Attention all cruisers! Canada's transport minister, Omar Alghabra recently stated that the country will soon open up to travellers by boat.

As of November 1, 2021, cruise ships and their passengers can enter Canada, if they comply with the Canadian government's public health guidelines.
Contact a criminality expert at the Law Firm of Campbell Cohen
Canada, on both the West and East coasts, is a convenient and popular cruise stop. Boats to or from Alaska commonly dock in Vancouver or Victoria, while east coast ships visit the ports of Montreal or Halifax. Canada welcomes and values the cruise industry. The re-opening news should attract many tourists to come explore what the country has to offer.
By lifting the restrictions in November, the government aims to give the country's tourism industry a boost leading up to the 2022 cruise season. The Canadian government itself notes that the cruise ship industry contributes $4 billion annually to the Canadian economy and supports approximately 30,000 jobs.
If you are one of the many tourists planning on entering Canada with criminal history, it is important to know that you can be denied entry at the border.
Canada has strict rules for people with criminal records. They are designed to keep the country and its people safe. Canada will take the foreign criminal offence and translate it into Canadian law. Factors such as what the offence is, how long ago the sentence was completed, and how many convictions a person has, all factor in. Since late 2018, a driving under the influence conviction means that a person is inadmissible to Canada for serious criminality. In theory, such a person is banned from Canada forever. However, there are ways to overcome inadmissibility.
Denial can take place at any point. It can occur at an airport for example, if you are flying from another country to Canada to get on a cruise leaving from Vancouver. It can also occur at your port outside of Canada. This is because Canada receives the passenger lists before the ship leaves for Canada. Lastly, it can take place at a port in Canada even if you plan on visiting for only a few hours.
How do I go on a Cruise with a criminal record?
The Canadian government offers short and long-term solutions to tourists who have a criminal record. Generally, there are three paths to resolving inadmissibility:
Temporary Resident Permit (TRP): This document grants temporary access to Canada for someone who is otherwise criminally inadmissible. If the traveler is a U.S. citizen or permanent resident, they can apply for a TRP at a Canadian consulate or border. A TRP might be valid for a single day, or for up to three years. It may be good for only a single entry to Canada, or it may allow multiple entries. These elements will depend on the purpose of the visit to Canada. Reviewing officers use discretion when determining how long a TRP is valid for. The purpose for entering Canada is usually the most important factor. Cruise travellers are often suggested to apply for criminal rehabilitation.
Criminal rehabilitation: Criminal rehabilitation gives permanent admissibility to someone who was formerly inadmissible. Being eligible for criminal rehabilitation depends on several factors. These include:
the crime committed,
the sentence, and;
how much time has passed since sentence completion.
If you have been convicted of a crime or crimes in a foreign country, and more than five years have passed since you finished your sentence, you are likely eligible to apply for Canadian criminal rehabilitation. Criminal rehabilitation is a one-time solution that, unlike a TRP, never requires renewal.
Applying for a TRP can often be risky when attempting to enter for leisure purposes. This is because Canadian immigration officers may conclude that the importance of someone who has a criminal record stopping in Canada for a cruise does not outweigh the risks of allowing that person into the country.
Legal Opinion Letter: Another remedy to a potential criminal inadmissibility problem is a legal opinion letter. This is a document that a Canadian immigration lawyer prepares. The letter discusses a past charge or conviction, as well as the lawyer's legal conclusions. The lawyer will identify the relevant Canadian law and explain why the person should be deemed admissible to Canada. A legal opinion letter can also be beneficial to those in a pre-sentencing situation before making a final plea. It can explain the different consequences of various pleas on the person's ability to enter Canada.
Knowing Canada's rules about tourists with criminal records is important. It can help individuals who have records understand what obstacles they may help, as well as what solutions are available.
Contact a criminality expert at the Law Firm of Campbell Cohen
© CIC News All Rights Reserved. Discover your Canadian immigration options at CanadaVisa.com.
Coronavirus: What's happening in Canada and around the world Tuesday – CBC.ca
The latest:
Chinese authorities have announced mass coronavirus testing in Wuhan as an unusually wide series of COVID-19 outbreaks reached the city where the disease was first detected in late 2019.
The provincial capital of 11 million people in central China is the latest city to undergo city-wide testing. Three cases were confirmed in Wuhan on Monday, its first non-imported cases in more than a year.
China has largely curbed COVID-19 at home after the initial outbreak that devastated Wuhan and spread globally. Since then, authorities have tamped down and controlled the disease whenever it pops up with quick lockdowns and mass testing.
The current outbreaks are still in the hundreds of cases in total but have spread much more widely than previous ones. Many of the cases have been identified as the highly contagious delta variant.
The National Health Commission said Tuesday that 90 new cases had been confirmed the previous day.
-From The Associated Press, last updated at 7:05 a.m. ET
---
What's happening in Canada
WATCH | Renewed concern over rising COVID-19 cases, delta variant:
Despite Canada having one of the highest vaccination rates in the world, that might not be enough to slow the spread of COVID-19 driven by the highly contagious delta variant. 2:34
---
What's happening around the world
As of early Tuesday morning, more than 198.9 million cases of COVID-19 had been reported, according to Johns Hopkins University. The reported global death toll stood at more than 4.2 million.
In the Asia-Pacific region, Japan will focus on hospitalizing patients who are seriously ill with COVID-19 and those at risk of becoming so while others isolate at home amid worries about a strained medical system as cases surge in Olympics host city Tokyo.
Pakistan's top health official says his country for the first time has administered one million doses of COVID-19 vaccine across the country in the past 24 hours. The latest development comes days after Pakistan imposed a lockdown in the southern port city of Karachi and in other high-risk areas.
In the Americas, the U.S. states of Florida and Louisiana were at or near their highest hospitalization numbers of the coronavirus pandemic on Monday, a trend driven by the still-spreading delta variant.
Nearly three out of four Americans above the age of 18 have received at least one dose of a COVID-19 vaccine as of Monday, according to the U.S. Centers for Disesae Control.
In Africa, Morocco will lengthen its night curfew as it tightens restrictions to counter a surge in infections.
In the Middle East, Iran on Monday reported 37,189 new cases of COVID-19 — a single-day high, according to Johns Hopkins University's COVID-19 tracker. The country, which has been hit hard by several waves of the novel coronavirus, also saw 411 additional deaths.
In Europe, France's overseas territory of Guadeloupe will to go into a new lockdown for at least three weeks.
British Prime Minister Boris Johnson said he wanted to get the travel industry moving again with a simple user-friendly system to allow for trips abroad without importing new virus variants.
–From The Associated Press, Reuters and CBC News, last updated at 6:55 a.m. ET
Canada fines travellers for fake vaccination and testing papers – BBC News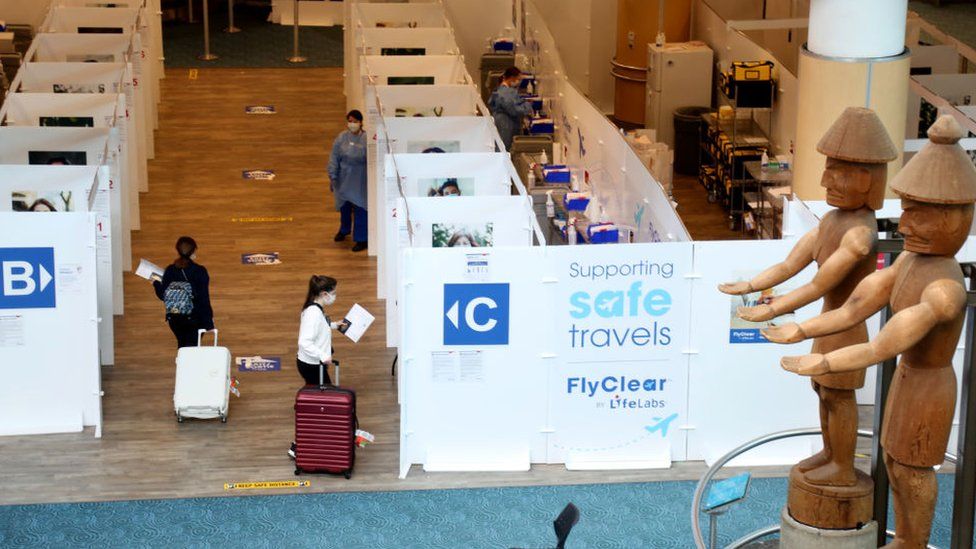 Canada has fined two travellers arriving from the US who, officials say, forged Covid-19 testing and vaccination documents.
Each was fined C$19,720 ($16,000, £11,500) after inspectors at the Toronto airport found their vaccine cards and proof of testing were fake.
It comes as Canada is set to ease travel restrictions on US visitors.
Around the world, nations are grappling with how to re-open their borders to travellers amid a virus surge.
According to a statement from the Public Health Agency of Canada, the two unnamed travellers had entered Canada from the US during the week of 18 July.
The Canada Border Services Agency, which inspects Covid travel documents for authenticity, determined that the duo had faked the documents that they had uploaded to the government's ArriveCAN travel website.
"The Government of Canada will continue to investigate incidents reported and will not hesitate to take enforcement action where it is warranted to protect the health of Canadians from the further spread of Covid-19 and its variants of concern," the agency said in a statement.
Canada did not identify the travellers or their itineraries. The health agency told Newsweek in a statement that they were Canadian citizens.
Canada loosened requirements for international travellers on 5 July. Anyone entering the country must provide proof of vaccination. The unvaccinated have to submit to multiple tests, and stay for three days in a government-run hotel before quarantining for 14 days.
Canada will begin letting vaccinated Americans enter the country starting on 9 August.
The US border with Canada and Mexico, however, remains closed to foreigners until 21 August.
Other countries are quickly amending their travel restrictions, depending on the rise or fall of new infections and vaccinations.
@-moz-keyframes gel-spin0%-moz-transform:rotate(0deg)100%-moz-transform:rotate(360deg)@-webkit-keyframes gel-spin0%-webkit-transform:rotate(0deg)100%-webkit-transform:rotate(360deg)@-ms-keyframes gel-spin0%-ms-transform:rotate(0deg)100%-ms-transform:rotate(360deg)@keyframes gel-spin0%transform:rotate(0deg)100%transform:rotate(360deg).bbc-news-visual-journalism-loading-spinnerdisplay:block;margin:8px auto;width:32px;height:32px;max-width:32px;fill:#323232;-webkit-animation-name:gel-spin;-webkit-animation-duration:1s;-webkit-animation-iteration-count:infinite;-webkit-animation-timing-function:linear;-moz-animation-name:gel-spin;-moz-animation-duration:1s;-moz-animation-iteration-count:infinite;-moz-animation-timing-function:linear;animation-name:gel-spin;animation-duration:1s;animation-iteration-count:infinite;animation-timing-function:linear
@font-facefont-display:swap;font-family:"ReithSans";src:url("https://gel.files.bbci.co.uk/r2.512/BBCReithSans_W_Rg.woff2") format("woff2"),url("https://gel.files.bbci.co.uk/r2.512/BBCReithSans_W_Rg.woff") format("woff")@font-facefont-display:swap;font-family:"ReithSans";font-style:italic;src:url("https://gel.files.bbci.co.uk/r2.512/BBCReithSans_W_It.woff2") format("woff2"),url("https://gel.files.bbci.co.uk/r2.512/BBCReithSans_W_It.woff") format("woff")@font-facefont-display:swap;font-family:"ReithSans";font-weight:bold;src:url("https://gel.files.bbci.co.uk/r2.512/BBCReithSans_W_Bd.woff2") format("woff2"),url("https://gel.files.bbci.co.uk/r2.512/BBCReithSans_W_Bd.woff") format("woff")@font-facefont-display:swap;font-family:"ReithSans";font-style:italic;font-weight:bold;src:url("https://gel.files.bbci.co.uk/r2.512/BBCReithSans_W_BdIt.woff2") format("woff2"),url("https://gel.files.bbci.co.uk/r2.512/BBCReithSans_W_BdIt.woff") format("woff")@font-facefont-display:swap;font-family:"ReithSans";font-weight:300;src:url("https://gel.files.bbci.co.uk/r2.512/BBCReithSans_W_Lt.woff2") format("woff2"),url("https://gel.files.bbci.co.uk/r2.512/BBCReithSans_W_Lt.woff") format("woff")@font-facefont-display:swap;font-family:"ReithSans";font-style:italic;font-weight:300;src:url("https://gel.files.bbci.co.uk/r2.512/BBCReithSans_W_LtIt.woff2") format("woff2"),url("https://gel.files.bbci.co.uk/r2.512/BBCReithSans_W_LtIt.woff") format("woff")@font-facefont-display:swap;font-family:"ReithSans";font-weight:500;src:url("https://gel.files.bbci.co.uk/r2.512/BBCReithSans_W_Md.woff2") format("woff2"),url("https://gel.files.bbci.co.uk/r2.512/BBCReithSans_W_Md.woff") format("woff")@font-facefont-display:swap;font-family:"ReithSans";font-style:italic;font-weight:500;src:url("https://gel.files.bbci.co.uk/r2.512/BBCReithSans_W_MdIt.woff2") format("woff2"),url("https://gel.files.bbci.co.uk/r2.512/BBCReithSans_W_MdIt.woff") format("woff")@font-facefont-display:swap;font-family:"ReithSans";font-weight:800;src:url("https://gel.files.bbci.co.uk/r2.512/BBCReithSans_W_ExBd.woff2") format("woff2"),url("https://gel.files.bbci.co.uk/r2.512/BBCReithSans_W_ExBd.woff") format("woff")@font-facefont-display:swap;font-family:"ReithSans";font-style:italic;font-weight:800;src:url("https://gel.files.bbci.co.uk/r2.512/BBCReithSans_W_ExBdIt.woff2") format("woff2"),url("https://gel.files.bbci.co.uk/r2.512/BBCReithSans_W_ExBdIt.woff") format("woff")@font-facefont-display:swap;font-family:"ReithSerif";src:url("https://gel.files.bbci.co.uk/r2.512/BBCReithSerif_W_Rg.woff2") format("woff2"),url("https://gel.files.bbci.co.uk/r2.512/BBCReithSerif_W_Rg.woff") format("woff")@font-facefont-display:swap;font-family:"ReithSerif";font-style:italic;src:url("https://gel.files.bbci.co.uk/r2.512/BBCReithSerif_W_It.woff2") format("woff2"),url("https://gel.files.bbci.co.uk/r2.512/BBCReithSerif_W_It.woff") format("woff")@font-facefont-display:swap;font-family:"ReithSerif";font-weight:bold;src:url("https://gel.files.bbci.co.uk/r2.512/BBCReithSerif_W_Bd.woff2") format("woff2"),url("https://gel.files.bbci.co.uk/r2.512/BBCReithSerif_W_Bd.woff") format("woff")@font-facefont-display:swap;font-family:"ReithSerif";font-style:italic;font-weight:bold;src:url("https://gel.files.bbci.co.uk/r2.512/BBCReithSerif_W_BdIt.woff2") format("woff2"),url("https://gel.files.bbci.co.uk/r2.512/BBCReithSerif_W_BdIt.woff") format("woff")@font-facefont-display:swap;font-family:"ReithSerif";font-weight:300;src:url("https://gel.files.bbci.co.uk/r2.512/BBCReithSerif_W_Lt.woff2") format("woff2"),url("https://gel.files.bbci.co.uk/r2.512/BBCReithSerif_W_Lt.woff") format("woff")@font-facefont-display:swap;font-family:"ReithSerif";font-style:italic;font-weight:300;src:url("https://gel.files.bbci.co.uk/r2.512/BBCReithSerif_W_LtIt.woff2") format("woff2"),url("https://gel.files.bbci.co.uk/r2.512/BBCReithSerif_W_LtIt.woff") format("woff")@font-facefont-display:swap;font-family:"ReithSerif";font-weight:500;src:url("https://gel.files.bbci.co.uk/r2.512/BBCReithSerif_W_Md.woff2") format("woff2"),url("https://gel.files.bbci.co.uk/r2.512/BBCReithSerif_W_Md.woff") format("woff")@font-facefont-display:swap;font-family:"ReithSerif";font-style:italic;font-weight:500;src:url("https://gel.files.bbci.co.uk/r2.512/BBCReithSerif_W_MdIt.woff2") format("woff2"),url("https://gel.files.bbci.co.uk/r2.512/BBCReithSerif_W_MdIt.woff") format("woff")@font-facefont-display:swap;font-family:"ReithSerif";font-weight:800;src:url("https://gel.files.bbci.co.uk/r2.512/BBCReithSerif_W_ExBd.woff2") format("woff2"),url("https://gel.files.bbci.co.uk/r2.512/BBCReithSerif_W_ExBd.woff") format("woff")@font-facefont-display:swap;font-family:"ReithSerif";font-style:italic;font-weight:800;src:url("https://gel.files.bbci.co.uk/r2.512/BBCReithSerif_W_ExBdIt.woff2") format("woff2"),url("https://gel.files.bbci.co.uk/r2.512/BBCReithSerif_W_ExBdIt.woff") format("woff")