Top 10 Phones for Media Consumption #1
The year 2020 was a rough year for all those who had active lives. We had to spend most of our time stuck at home to prevent the virus from spreading out. During that forced quarantine, many of us created new habits and hobbies. People have spent countless hours watching movies, playing games, navigating through social media apps, and more. Looking at this demand, brands started to improve the "media consumption" capabilities of their devices, offering better batteries and specifications to satisfy their users' needs. Today, we've elaborated a list of the best top 10 phones for media consumption you can get in February 2021.
Top 10 phones for Media Consumption
The devices in the list are, in our opinion, the best devices for watching Netflix and other streaming platforms such as YouTube, Twitch, and others. Moreover, they also deliver great performance and are ideal for trending apps such as TikTok. So if you're needing a device that will meet all your "multimedia needs" check out our list with good recommendations.
Redmi Note 9 Pro / Redmi Note 9S / Redmi Note 9 Pro Max
The Xiaomi Redmi Note 9 family was released in the first half of 2020 bringing a decent upgrade over the Redmi Note 8 family. Interestingly, Redmi unveiled the Redmi Note 9 Pro and Redmi Note 9 Pro Max in India first. Then it launched these devices like Redmi Note 9S and Redmi Note 9 Pro in global markets.
The duo of devices has similar specifications, apart from certain upgrades that make the Pro stand out as the king. Under the hood, both devices have the Qualcomm Snapdragon 720G, both have 6.67-inch displays with FHD+ resolution and a 19:5:9 aspect ratio. The punch-hole cutout is placed in the center of the display, it's not so intrusive while you're watching movies or playing games.
Both phones also bring capable camera setups. The 9S has a 48MP primary camera, whereas the Redmi Note 9 Pro comes with a better 64MP shooter. The Pro certainly offers better pictures and video footage, but the 9S will not fail on this task. It's a good device for capturing photos and videos when you don't want to expend much money in a premium handset.
The icing on the cake here is the 5,020mAh battery. It can ensure several hours of video playback, meaning you can watch multiple episodes of your favorite show on this beast. The 9 Pro will charge in just a couple of minutes thanks to its 33W fast-charging. The 9S will take longer due to its lesser 18W charging.
The device will soon be replaced by the Redmi Note 10 series. However, we believe that that they still deserve a place in our February list of Top 10 phones for media consumption.
POCO M3
The POCO M3 was released in the end of 2020 as a budget offering from POCO. Interestingly, it is the second original device released by POCO not being based on any of Redmi's existing phones. The device surprised us due to its decent package of specifications and a beefy battery.
The POCO M3 starts with a 6.53-inch display with FHD+ resolution and a waterdrop notch at the top. Under the hood, the phone carries a Snapdragon 662 SoC paired with up to 6GB of RAM and 128GB of Internal Storage. This chipset certainly isn't the best for playing games, but it's more than enough for media consumption. Especially when the phone has a huge 6,000mAh battery that can offer up to two days of usage. It also charges rapidly enough thanks to 18W fast-charging. Another important characteristic is the Stereo sound that will offer the richest experience while watching movies or listening to music.
The camera department isn't the most impressive part of the handset. It does bring a capable 48MP shooter but lacks an UltraWide camera. This means that this device isn't the best for capturing photos of a big group of people.
The device is quite cheap but still offers a lot for its price. For that reason, it deserves a place among the top 10 phones for media consumption.
Redmi 9 Power / Redmi 9T
The Redmi 9 Power is the Indian counterpart of the Chinese Redmi Note 9 4G. It reached global markets as Redmi 9T last month. While based on the Redmi Note 9 4G, the devices have an extra camera ensuring better performance when you enjoy photography.
The Redmi 9 Power is similar to the POCO M3 in terms of specifications. It also carries a 6.53-inch display with FHD+ resolution. Moreover, it also brings a 48MP primary shooter. The main difference is that it does come with an 8MP ultrawide snapper. Another semblance is the 6,000mAh battery complete with 18W charging.
The device has Gorilla Glass 3 and WideVine L1 certification meaning that you can watch your Netflix movies at top-notch quality. The device also has stereo speakers with brings media consumption a level ahead of some competitors.
POCO X3
The POCO X3 was one of the biggest surprises unleashed by POCO last year. The device reached the market in September as POCO X3 NFC. In India, it is known just as POCO X3 since it lacks NFC capabilities. This device is one of 2020's best value-for-money devices and also is a beast for media consumption due to its high-quality display and a huge battery. It also a powerful handset thanks to the Snapdragon 732G chipset.
The POCO X3 has a 6.67-inch IPS LCD with a punch-hole in the mid serving as a home for the 20MP selfie snapper. Thanks to that resolution, the device is decent for capturing selfies, especially with MIUI 12's set of optimizations. The biggest icing on the cake of this display is its 120Hz refresh rate, offering a smooth performance while navigating through the UI and websites.
The global variant of the device has a huge 5,160mAh battery, but the Indian variant impresses more with a beefier 6,000mAh unit. Both devices are amazing for watching movies and playing games, you can also use them for several hours while navigating through your social media apps. The Indian variant will have a better battery backup, for obvious reasons. Both handsets charge at the same 33W rate. The device has stereo speakers, so you will have a deeper experience while watching movies or listening to music with this handset.
If you're here for a camera, the handset also has an impressive setup. Its unusual camera shape brings a main 64MP shooter, a 13MP ultrawide, and two additional 2MP units for macro and depth sensing.
Realme 6 Pro
The Realme 6 Pro is as much old as the Redmi Note 9S / 9 Pro Max family at this point. However, this device has some interesting features that will make it better for some users. The performance will be equal thanks to the Snapdragon 720G, but the display is actually better than that of the Note 9 series. Rather than coming with a 60Hz display like most the mid-range phones in this price point, the Realme 6 Pro was one of the first mid-range devices coming with a 90Hz display. This urged other companies to make a quick transition into the world of high-refresh-rate displays.
The device has a 4,300mAh battery, it will offer decent backup, but it's not on par with other devices with 5,000/6,000mAh batteries. However, the pricing point and the 90Hz display will make it a good offer.
While there are better Realme options, we think that at its price point, the Realme 6 Pro deserves a place among the top 10 phones for media consumption.
Realme 7 Pro
Realme improved its game a couple of months later with the Realme 7 Pro. The device brings media consumption a level ahead thanks to a gorgeous AMOLED panel with a 90Hz refresh rate. It brings the same Snapdragon 720G but improves in other aspects.
The Realme 7 Pro has a 64MP main camera, coupled with an 8MP ultrawide and two 2MP helpers. This nice setup can capture good photos especially with the nice set of features available on Realme UI. You can capture great videos and pictures and share them on your favorite social media app.
Besides the gorgeous display, the Realme 7 Pro has a bigger 4,500mAh battery. While this isn't the same capacity as its major rival POCO X3, the Realme 7 Pro outstands most of the devices in this segment due to its 65W fast-charging. So you can watch movies, listen to music for a long time. If you run out without battery juice, you can quickly fill it again thanks to this blazing fast charging tech. This is a level of charging that still isn't available in certain flagship phones.
Realme X7 Pro
The Realme X7 Pro was released last year in China and made its arrival in India last month. This device seems to be a massive evolution over the Realme 7 Pro. If you need a powerful device, perfect for media consumption, and want to be future-proof, then the Realme X7 Pro will be a nice choice for you.
The handset has a 6.55-inch OLED display with FHD+ resolution and a 120Hz refresh rate. Under the hood, it has the 5G-ready MediaTek Dimensity 1000+ chipset that also offers a massive performance increase over devices in the Realme-numbered series. This device can be considered a cost-effective flagship.
It has a 32MP camera for selfie shots, while the rear camera setup remains the same as the Realme 7 Pro. The device also has a 4,500mAh battery with 65W fast-charging. The main difference here is the presence of 50W wireless charging support.
If you can spend a little more in your media consumption needs, then the Realme X7 Pro will be a great option in the Top 10 smartphones for media consumption list. Especially since it will make you ready for the 5G era.
Samsung Galaxy M51
Here we have one of the best options for watching movies, listening to your music, streamings without having to care with your battery. Back in the last year, Samsung introduced the Galaxy M51 as its first 7,000mAh-powered battery. This device easily has the better battery in this list and does not disappoint in the other specifications.
The handset has a 6.7-inch Super AMOLED display with FHD+ resolution. The only downside is that it has a standard 60Hz refresh rate. Under the hood, the phone carries a Snapdragon 730G which offers more than enough performance for media consumption. The device also has capable cameras with a 64MP primary sensor, a 12MP ultrawide, 5MP macro, and a 5MP depth sensor.
The device also has 25W fast-charging, but this isn't so much when you take the battery's capacity in the account. Still, this massive battery makes this a winning phone among the top 10 phones for media consumption.
Vivo V20 Pro 5G
The Vivo V20 Pro is one of the best devices for social media consumption due to its package of specifications. First, the handset has a Snapdragon 765G chipset which is one of the best in its category and also ensures 5G connectivity. The device has a 6.44-inch Super AMOLED panel with HDR10 support and FHD+ resolution. The device has a wide-notch solution, but that is for a good reason. It houses a powerful 44MP shooter alongside an 8MP ultrawide sensor. So it's one of the best devices in the market for taking selfies.
The rear camera also does not disappoint with a 64MP primary shooter, an 8MP ultrawide shooter, and a 2MP macro sensor. The device has a smaller battery in this list with "just" 4,000mAh. However, you can charge it in less than an hour thanks to 33W fast-charging.
Due to its powerful selfie-snappers and one of the best chipset in the market, we believe that the Vivo V20 Pro deserves a place in the Top 10 smartphones for media consumption.
Mi 10T 5G
The Mi 10T 5G isn't the most affordable device in this list. However, there is a good reason for that since the device has the Qualcomm Snapdragon 865 chip which is no less than last year's flagship SoC from Qualcomm. The device flaunts a gorgeous 6.67-inch LCD with a whopping 144Hz refresh rate in tow. It also has a powerful camera setup with a 64MP main camera leading the way, its Pro counterpart has a 108MP sensor.
The device does not disappoint with a 5,000mAh battery complete with 33W fast-charging. This beefier battery and powerful display will provide a stellar experience.
As abovementioned, this handset is expensive, but not too expensive as other devices with Snapdragon 865. If you have enough money, it can be one of the Top 10 phones for media consumption.
Conclusion
And that is our February list of top 10 smartphones for media consumption. Do you have a particular device in mind to add to this list? Feel free to leave it in the comments section. In the next month, we will be bringing the next batch of better devices for consuming media and exploring social media applications.
Official: Redmi Note 10 series will get the 108MP camera sensor – gizmochina
Xiaomi has been teasing several features of the upcoming Redmi Note 10 series of devices. Ahead of the March 4 launch(India & Global), the company has confirmed that the series will feature a 108MP camera sensor.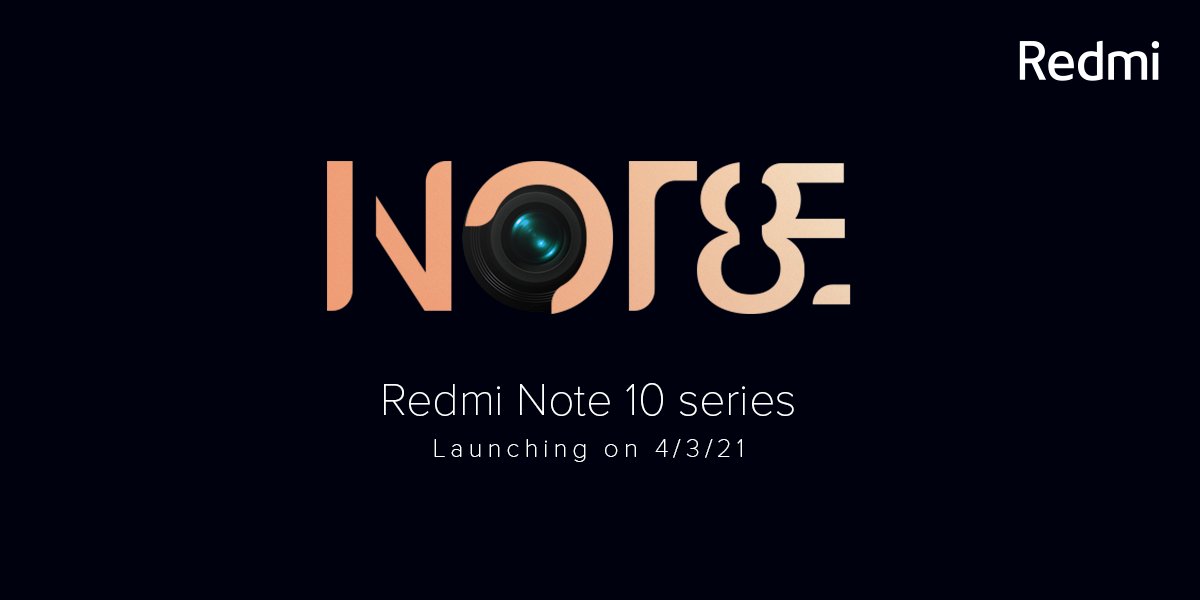 The company, took to Twitter to confirm the camera feature on the Redmi Note 10 series. It says that the series will bring the first 108MP flagship camera. Assuming that the series will have two or more devices, it is likely that the Redmi Note 10 Pro/ Pro Max will have the flagship camera(could be Samsung's HM1 sensor).
The company's only other device to feature a 108MP camera in the affordable segment is the Mi 10i 5G. Either way, it looks like the 108MP game has finally trickled down to the budget devices. This is because realme has teased its own version of the 108MP camera sensor a few hours ago, and it could be on the realme 8 series.
The Redmi Note 10 series is expected to switch over to the AMOLED panel this time. Last year, the company brought the IPS LCD on the Redmi Note 9 Pro Max. It didn't even have the support for a higher refresh rate.
However, the latest hands-on leak reveals that the non-Pro Redmi Note 10 will feature a centered punch-hole AMOLED display. This means that the highest model in the series will definitely feature it.
The top-of-the-line variant in the series is expected to be a 5G device. Rumors say that it could be a Snapdragon 768G 5G chipset but there is no confirmation so far. Let's wait for more details in the coming days.
RELATED:
---
[embedded content]
ALWAYS BE THE FIRST TO KNOW – FOLLOW US!
Season 3 of CTV's Hit Original Comedy JANN Begins Production – Canada NewsWire
– Calgary-based Tenaj Williams (BIG SKY, WYNONNA EARP) and Vancouver-born Charlie Kerr (SUPERNATURAL, THE MAGICIANS) join lead cast –
– Michael Bublé set to guest star this season –
– New eight-episode season of JANN, from EMMY® Award-winning producer Andrew Barnsley (SCHITT'S CREEK), and 2020 WGC Screenwriting Award-winners Jann Arden and Jennica Harper with Leah Gauthier, filming in Calgary –
Key Tags: @CTV_PR, @TheLede_CA, @CTV, @JannArden, #JANNonCTV
To tweet this release: https://thelede.ca/oofOcx
CALGARY, AB, Feb. 25, 2021 /CNW/ – CTV, in association with Project 10 Productions and SEVEN24 Films, announced today that production has begun in Calgary on Season 3 of hit original comedy series, JANN. Starring multi-platinum award-winning Canadian singer, songwriter, broadcaster, and author Jann Arden as a fictionalized version of herself, Season 3 consists of eight half-hour episodes.
Joining the cast of JANN in leading roles this season are Canadian actors Tenaj Williams (BIG SKY, WYNONNA EARP) and Charlie Kerr (SUPERNATURAL, THE MAGICIANS). Williams stars as Trey, Jann's (Jann Arden) personal assistant; while Kerr plays Nate, who finds himself in a love triangle with Jann and her ex-girlfriend Cynthia (Sharon Taylor).
Confirmed to guest star on the series' third season is GRAMMY® Award-winning Canadian singer-songwriter Michael Bublé as himself.
Season 3 of JANN is a period of new beginnings as Jann takes her life, career, and relationships into her own hands. She hires a personal assistant, commits to making a new album from the heart, and, after her girlfriend refused her marriage proposal, starts dating someone new… a younger man.
"I'm very excited and relieved to be going forward with Season 3 of JANN in light of all the strange things happening in the world," said Jann Arden, Co-Creator, Executive Producer, and star of JANN. "It feels like a little ray of sunshine to be back with my TV family working on JANN. We are all very excited about what the future holds for all these characters this season."
To view full press release, click here.
SOURCE CTV
For further information: For more information, please contact: Matthew Almeida, CTV Networks, 647.389.2337 or [email protected], Christy Sullivan, CTV Networks, 416.557.2840 or [email protected]
When And Where To Buy An Nvidia GeForce RTX 3060 Graphics Card Today – Forbes
Nvidia's latest budget graphics card hits digital store shelves today.
The GeForce RTX 3060 is the little sibling of its RTX 3070, 3080 and 3090 counterparts, but it's still a powerful GPU in its own right.
Early reviews all seem to agree: The RTX 3060 is a perfectly fine card at a decent price, but it's not as impressive as its more powerful siblings.
The RTX 3060 goes on sale today at 9 am PT / 12 pm ET and if you're looking to score one you should be at your online retailer of choice, refreshing the page, by this time. It's possible some websites could crash, but more likely that bot-equipped scalpers and crypto miners will simply try to scoop all these up before normal gamers can buy one.
Be sure to already be logged in with payment info saved at whichever site you choose.
Note: These sites don't have live product pages yet, so these links will take you to a search at each site that should populate with the GPU when it goes live.
The RTX 3060 features DLSS and Ray-Tracing and has impressive specs for a budget card, including:
3584 CUDA Cores
1.78Ghz boost clock
1.32Ghz base clock
12 GB GDDR6 memory
192-bit memory interface width
Good luck finding one of these today. It's a terrible time to try and find a new GPU as Bitcoin and Ethereum continue to go up with no signs of stopping and crypto-mining is back in fashion something fierce.