TRREB Predicts Surging GTA Real Estate Market for 2021 – Urban Toronto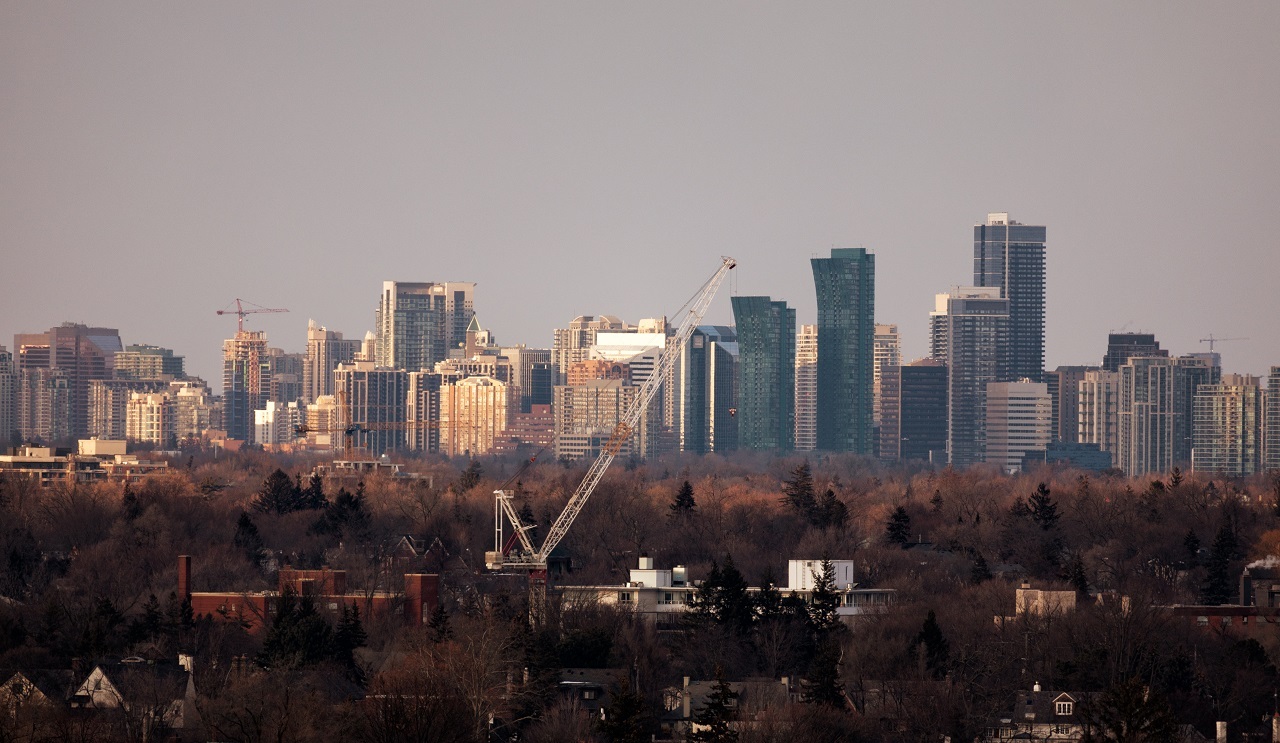 Yesterday, the Toronto Regional Real Estate Board (TRREB) released its annual Market Year in Review & Outlook Report for 2021, projecting optimism for a booming Greater Toronto Area (GTA) real estate market in 2021. The report forecasts near-record sales numbers of 100,000 units, with average selling prices expected to break records and exceed the $1 million mark.
Toronto's North York skyline, image by Jack Landau
2020 market activity was negatively affected by the onset of the global COVID-19 pandemic, though booming late-year demand turned the market around. "The pandemic certainly resulted in an unprecedented year for real estate in 2020, but it hasn't put a damper on the overall demand," reads a statement issued by Jason Mercer, TRREB Chief Market Analyst. "Looking ahead, a strengthening economy and renewed GTA population growth following widespread vaccinations will support the continued demand for both ownership and rental housing. But over the long run, the supply of listings will remain an issue, particularly in low-rise segments."
Also released this week, January's monthly figures show a strong start to the year. 6,928 sales recorded last month represents an over 50% increase measured year-over-year against January, 2020. Sales growth was recorded in all market segments, including condominiums in both the 416 and surrounding 905 regions. New listings also increased year-over-year, though at a less pronounced rate, which led to a tightening of market conditions versus the previous January.
The average selling price for January, 2021 spiked 15.5% year-over-year to $967,885, driven primarily by the low-rise market segments as condominium apartment prices dropped in Toronto during this period. Despite this, TRREB expects that the continued growth of condominium sales could soon lead to sales growth outpacing listing growth, and renewed condo price appreciation.
"When the pandemic hit, TRREB outlined a detailed policy brief on government economic initiatives to municipal, provincial, and federal governments. With regards to housing supply, our key recommendations are to expedite the creation of missing middle housing, that is, multi-unit low-rise housing between detached and mid-to high-rises. It is crucial that we expand these development opportunities in residential areas which are currently only zoned for detached and semi-detached housing. This is why we asked Urban Strategies to research and propose innovative and workable ideas around the provision of missing middle housing across our region," reads a statement from John DiMichele, TRREB CEO.
* * *
UrbanToronto has a new way you can track projects through the planning process on a daily basis. Sign up for a free trial of our New Development Insider here.
Toronto and GTA Rental Real Estate Market in 2021 – RE/MAX News
For years, it's been a tough battle for renters living in Toronto and the surrounding municipalities. Rents have only been on an upward trajectory as supply was limited and demand was through the roof. But after a year of the COVID-19 public health crisis, Toronto and GTA rental real estate is now a renter's market.
The turning point was last spring, when the coronavirus pandemic crippled the nation and forced governments to institute a plethora of new rules and regulations. One of the first items on the chopping block? The short-term rental market, affecting condo investors who relied on Airbnb and other short-term rental arrangements. The other factor was immigration restrictions, which have led to seismic drops in the rental market.
After a year of the COVID-19 public health crisis, Toronto and GTA rental real estate looks very different. Tenants have negotiating power and more options, which was unheard of before the housing boom in North America's fourth-largest city. At the same time, condo owners are either selling their units or renting their apartments below the cost of their mortgage, resulting in both "seller's fatigue" and "handcuffed sellers."
A wide range of reports estimate that the monthly rent of a one-bedroom apartment in Toronto has fallen as much as 23 per cent year-over-year, with prices coming down as low as $1,500 in some of the most appealing locations in the city. Although this is still relatively high compared to the rest of the Canadian real estate market, it is a welcomed relief for renters who have been paying sky-high prices for the privilege of residing in a red-hot urban centre.
Right now, is it even worth it to buy a property when rent is at a multi-year low?
According to Canada Mortgage and Housing Corporation (CMHC), households are paying large premiums to own instead of rent. The crown corporation suggested that condo owners are paying 86 per cent more to own than rent in a purpose-built building. This is the highest premium paid in any housing market of the country, including Vancouver (56 per cent) and Victoria (13 per cent).
This begs the question: will the Toronto and GTA rental market return to pre-pandemic conditions in 2021?
Toronto and GTA Rental Real Estate Market in 2021
When it comes to the COVID-19 pandemic, there is light at the end of the tunnel in Ontario. New cases seem to be declining, more people are getting vaccinated, and the economy is starting to reopen. Even if a third wave strikes amid South African and British variants, the province and many of its sectors have shown their resilience to adapt, survive, and thrive.
Once the Greater Toronto Area returns to some semblance of pre-pandemic life, which officials are optimistic could happen in the third quarter of 2021, the rental real estate market could be one of the first beneficiaries. From restrictions being lifted at the Canadian border and students returning to the classroom, to the short-term rental market being given the green light again, the Toronto and GTA rental real estate industry could rebound.
PricewaterhouseCoopers recently released a report on the outlook for Canada's housing sector. The multinational professional services network of firms predicts that the rental market will see benefits from a slowdown in home ownership and a backlog of immigrants. At the same time, it warned about the end of government income support and wage subsidy programs that could hurt tenants' ability to pay their rent. The organization also said that more university students are likely to enrol in virtual classes instead of in-person learning, which would impact short-term rental activity.
The Toronto Regional Real Estate Board (TRREB) also anticipates a surging GTA real estate market, amid a strengthening economy and widespread vaccinations.
"The pandemic certainly resulted in an unprecedented year for real estate in 2020, but it hasn't put a damper on the overall demand," said Jason Mercer, TRREB Chief Market Analyst, in a statement. "Looking ahead, a strengthening economy and renewed GTA population growth following widespread vaccinations will support the continued demand for both ownership and rental housing. But over the long run, the supply of listings will remain an issue, particularly in low-rise segments."
Put simply, the future largely depends on the vaccine rollout, the coronavirus variants, and the economic rebound.
Transformation of Toronto Rental Spaces?
Perhaps this is an opportunity to reimagine the rental market in Toronto and the rest of Canada's housing market. With more people working and studying remotely, our homes have become multifunctional spaces to accommodate learning, exercising, entertainment and more. And as a result of this, our need for space has been redefined. PwC called this the "amenitization of communities," whereby multi-purpose buildings allow new features to accommodate the new normal, such as videoconferencing rooms, dedicated areas for grocery delivery, and perhaps even additional green space.
Once the rental market returns to growth, developers might need to think about how to redesign apartment living for future generations, perhaps inspiring a new wave of rental demand.
Real estate investment Part 2: condo pre-sales and LPs – Western Investor
Vancouver real estate investor Ralph Case helped his son buy a pre-sale condominium in central Surrey in the summer of 2016, putting $30,000 down for a $200,000 apartment scheduled for completion in late 2018. In the summer of 2018, months before the project closed, his son sold the condo as an assignment for $330,000. Minus the down payment, the net profit was $120,0000, Case told the Jurock Land Rush conference March 6 in Vancouver.
In this second of a four-part Western Investor series on real estate investing, we outline how investments in pre-sale condominiums, or purchasing a share of a limited partnership in new condominium or multi-family rental projects can allow investors to get onto a real estate ladder that could carry them to their first home and beyond.
The advantages of buying pre-sale condominiums is that you are investing at today's prices for a property that will complete in three years, when you expect the price to be higher. Also, a number of Metro Vancouver condo developers are currently offering discounts to move pre-sale units.
There is no guarantee, of course, and investors must be selective about what and where they will be buy. The overall benchmark price of a condominium apartment in Greater Vancouver is now actually 0.4 per cent lower than it was three years ago, but it increased 4.7 per cent in Surrey, 8.7 per cent in Maple Ridge and by 18 per cent in Mission over the same period.
For investors, the concept is not to move into the condo, but to sell it upon completion, or even earlier if assignments are allowed, or to place it on the rental market when the building is complete.
The following are current examples of pre-sale opportunities that are launching shortly, likely by April 2021, compiled with the assistance of Ryznar Media Inc.
• Era, by Swiss RealGroup Canada, is a 20-storey condo tower in Maple Ridge with about 200 units. The developer is offering selected pre-sale one-bedroom condos from $249,900.
• Belvedere, 275-unit condo concrete tower in Central Surrey at a SkyTrain station, by Square Nine Developments. One-bedroom units start in the high $300,000 range. More than 1,000 buyers have registered though it has not officially launched pre-sales yet.
• Telford on the Walk, in Burnaby's Metrotown, by Intracorp, launched pre-sales in January 2021 and sold out 70 per cent of the 332 units in three weeks. The studio units pre-sell from $389,900 and the completion is set for 2024.
Limited partnerships
There are a number of limited partnerships involved in the real estate investment space, some of which allow income-producing property to be sheltered inside of a registered retirement savings fund. Most of these are targeted at accredited investors, who are those holding at least $5 million in assets (not counting a principal residence) and with incomes of $200,000 or more.
Nicola Wealth of Vancouver is one of the larger groups, with holdings in both commercial and residential and with three funds, including two which concentrate on long-term income and one, a capital fund, that focuses on buy-hold opportunities. According to the company, $1 million invested in Nicola Wealth in 2000 would now be worth $4.08 million. Nicola's composite annual return is 6.9 per cent over the past 20 years.
One of the smaller limited partnership, and fairly typical of genre, is the Greater Victoria Property Group (GVPG), which concentrates on new multi-family rental apartments.
The latest GVPG offering is a 22-suite rental building in the Esquimalt area of Victoria, being developed as a joint venture with a general partner. The plan is to complete the building, rent the units and then sell the project within three years. Minimum investment is $50,000. The projection – not guaranteed – is for a net profit of $2.4 million, of which the limited partners would take a 40 per cent share, or about $966,958. The simple return on investment is projected at 48.3%, or 16.1 per cent per annum over the three-year horizon.
Developers can also act as partners for condo investors. An example is Mission Group, Kelowna's largest residential developer, which pre-sells some new condos that are destined to put into a rental pool. An example is the Bertram building, which has 257 condos ranging from studios to two-bedroom suites, with prices starting in the mid-$200,000 range. It is close to the future University of British Columbia Okanagan downtown campus that was approved last summer. The Kelowna rental vacancy rate is 2.7 per cent and monthly rental averages $1,345 for a one-bedroom, but is higher for new projects.
Next in the series: real estate investment trusts.
February residential resales the best since 2014, pushing Calgary into sellers' market – Calgary Herald
Postmedia may earn an affiliate commission from purchases made through our links on this page.
Article content
Calgary's resale market had a banner February with gains across every price range.
Recently released data from the Calgary Real Estate Board shows activity in the market was the highest since February 2014, despite the impact of the pandemic.
Sales were up more than 54 per cent, year over year, with 1,836 sales last month. Only February 2014 and 2007 posted similar or better figures over the last 15 years, CREB statistics show.
The benchmark price also grew by 3.4 per cent, compared with February 2020, to $431,100.
Single-family detached homes led the price gains at five per cent year over year to a benchmark price of $502,500. Semi-detached saw the next highest increase at 3.5 per cent to $398,300. And row housing prices gained 1.2 per cent with a benchmark of $284,700.
Apartments also saw an increase in its benchmark price, year over year, to $246,400, up 0.8 per cent.
Low supply in the face of rising demand helped bolster prices with inventory falling by more than 20 per cent year over year in February.
At the same time, months of supply fell to 2.46 months, down more than 48 per cent from the same span in 2020.
Months of supply is even tighter among single-detached homes at 1.72, down almost 58 per cent year over year.
Overall, the sales-to-new-listings ratio for the market was 65 per cent, exceeding the 60 per cent threshold to be considered a market favouring sellers. The ratio was highest among semi-detached at 72 per cent followed by single-family detached homes at 71 per cent.