Trump Signs Bill With Nearly $500 Billion More in CCP Virus Aid – The Epoch Times
President Donald Trump on Friday signed a new bill that provides a nearly $500 billion infusion of CCP virus spending, with most of it going to supporting small businesses that have suffered during the pandemic, after Congress passed the measure earlier this week.
The bill would provide around $300 billion to help small- and medium-sized businesses with payroll and overhead costs via the Small Business Association's Paycheck Protection Program, which ran out of money last week.
The measure will also provide $100 billion to hospitals and for a nationwide testing program. About $60 billion will also be provided to small banks and community development banks—as well as about $60 billion for grants and loans through the Small Business Administration's disaster aid program.
On Thursday, the House voted 388-5 in favor of the measure after the Senate passed it earlier in the week.
"Today's historic, bipartisan vote on our latest #FamiliesFirst package is essential to protecting families across America and ensuring more small businesses have access to the resources they need. With my signature, this legislation goes to the president's desk," wrote House Speaker Nancy Pelosi (D-Calif.) in a statement.
The latest round of aid comes on top of the $2.2 trillion CARES Act stimulus package that doled out up to $1,200 for individuals and $500 for children. Small businesses and hospitals, respectively, were first assigned $350 billion and $100 billion in the previous stimulus bill.
Trump celebrated the bill's passage during his daily White House update on Thursday, saying, "At a time when many Americans are enduring significant economic challenges, this bill will help small businesses to keep millions of workers on the payroll."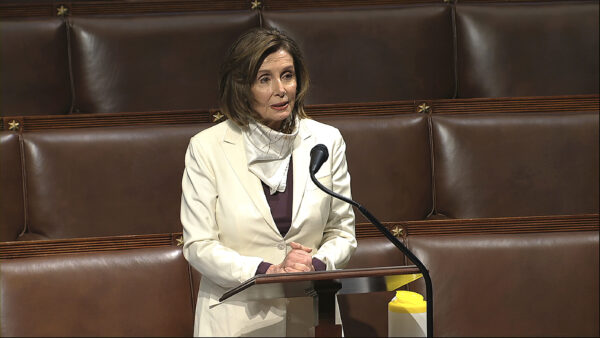 As of Friday morning, more than 800,000 cases of the CCP (Chinese Communist Party) virus have been confirmed in the United States, along with 50,000 deaths from the virus, according to a running tally from Johns Hopkins University. In a bid to slow the spread of the virus, governors across the country have issued stay-at-home orders, leading to numerous business closures and layoffs.
This week, the Labor Department reported that more than 25 million people have filed for unemployment insurance over the past several weeks.
"Millions of people out of work," Pelosi said on the House floor on Thursday. "This is really a very, very, very sad day. We come to the floor with nearly 50,000 deaths, a huge number of people impacted, and the uncertainty of it all. We hope to soon get to a recovery phase. But right now we're still in mitigation."
Some members of the House and Senate have said that more CCP virus relief is likely in the weeks ahead as supporters have said the Payment Protection Program is certain to exhaust the funds almost immediately. The Treasury Department said that more than 1.6 million loans were given last week.
"This bill is 16 days too late," Rep. Kevin Brady (R-Texas) lamented Thursday on the floor. "It got held up for all sorts of extracurricular stuff and we should have come together. It was delayed. Real people lost their jobs as a result."
Google in $5bn lawsuit for tracking in 'private' mode – BBC News
Google has been sued in the US over claims it illegally invades the privacy of users by tracking people even when they are browsing in "private mode".
The class action wants at least $5bn (£4bn) from Google and owner Alphabet.
Many internet users assume their search history isn't being tracked when they view in private mode, but Google says this isn't the case.
The search engine denies this is illegal and says it is upfront about the data it collects in this mode.
The proposed class action likely includes "millions" of Google users who since 1 June 2016 browsed the internet in private mode according to law firm Boies Schiller Flexner who filed the claim on Tuesday in federal court in San Jose, California.
Incognito mode within Google's Chrome browser gives users the choice to search the internet without their activity being saved to the browser or device. But the websites visited can use tools such as Google Analytics to track usage.
The complaint says that Google "cannot continue to engage in the covert and unauthorized data collection from virtually every American with a computer or phone".
Vigorously denying the claims Google spokesman Jose Castaneda said: "As we clearly state each time you open a new incognito tab, websites might be able to collect information about your browsing activity".
The search engine says the collection of search history, even in private viewing mode, helps site owners "better evaluate the performance of their content, products, marketing and more."
While private browsing has been available from Google for some time, Boies Schiller Flexner said it recently decided to represent three plaintiffs based in the US.
"People everywhere are becoming more aware (and concerned) that their personal communications are being intercepted, collected, recorded, or exploited for gain by technology companies they have come to depend on," it said in the filing.
One option is for visitors to install Google Analytics browser opt-out extension to disable measurement by Google Analytics, it says.
Google is sued in US for tracking users' 'private' internet browsing – The Jerusalem Post
Google was sued on Tuesday in a proposed class action accusing the internet search company of illegally invading the privacy of millions of users by pervasively tracking their internet use through browsers set in "private" mode.The lawsuit seeks at least $5 billion, accusing the Alphabet Inc unit of surreptitiously collecting information about what people view online and where they browse, despite their using what Google calls Incognito mode.According to the complaint filed in the federal court in San Jose, California, Google gathers data through Google Analytics, Google Ad Manager and other applications and website plug-ins, including smartphone apps, regardless of whether users click on Google-supported ads.This helps Google learn about users' friends, hobbies, favorite foods, shopping habits, and even the "most intimate and potentially embarrassing things" they search for online, the complaint said.Google "cannot continue to engage in the covert and unauthorized data collection from virtually every American with a computer or phone," the complaint said.Jose Castaneda, a Google spokesman, said the Mountain View, California-based company will defend itself vigorously against the claims."As we clearly state each time you open a new incognito tab, websites might be able to collect information about your browsing activity," he said.While users may view private browsing as a safe haven from watchful eyes, computer security researchers have long raised concern that Google and rivals might augment user profiles by tracking people's identities across different browsing modes, combining data from private and ordinary internet surfing.The complaint said the proposed class likely includes "millions" of Google users who since June 1, 2016 browsed the internet in "private" mode.It seeks at least $5,000 of damages per user for violations of federal wiretapping and California privacy laws.Boies Schiller & Flexner represents the plaintiffs Chasom Brown, Maria Nguyen and William Byatt.
Huawei Snubbed by Canadian Firms Ahead of Trudeau's Crucial 5G Call – Yahoo Finance
(Bloomberg) — Two major Canadian wireless companies said they will build out their next-generation 5G wireless networks with equipment from European providers, sidelining China's Huawei Technologies Co.
Montreal-based BCE Inc. said that Ericsson AB will provide the radio access network equipment — the critical antennas and base stations — for its 5G network. Telus Corp. said in a separate statement that it has selected Ericsson and Nokia Oyj "to support building" its network, without elaborating.
Those announcements come ahead of a closely watched — and long overdue — decision by Prime Minister Justin Trudeau on whether to ban Huawei from participating in the nation's 5G infrastructure amid deeply troubled relations with Beijing. Huawei previously played a large role in Canadian wireless networks but has faced growing national security concerns from Western governments.
BCE would still consider working with Huawei if the government allows their participation in 5G, the Canadian company said in an e-mailed response to questions.
The Trump administration has lobbied allies to ban Huawei 5G, saying its equipment would make networks vulnerable to exploitation by the Chinese government. Despite that, the U.K. said in January it would allow Huawei a limited role. In recent days, Prime Minister Boris Johnson's government has backtracked, saying it seeks to reduce reliance on the company's technology and on China.
Telus and BCE awarded Huawei its first major project in North America in 2008 — a pivotal contract that helped cement the Chinese provider's reputation as a global player that could compete on quality. The deal paved the way for it to become a major supplier to all three of Canada's biggest telecom companies over the next decade.
Stalling in Ottawa
The Telus announcement comes as a particular surprise after Chief Financial Officer Doug French told the National Post in February that "we're going to launch 5G with Huawei out of the gate" by the end of the year.
Telus spokeswoman Donna Ramirez didn't immediately respond to a question on whether the company's announcement still leaves room for Huawei to participate in its 5G rollout. Huawei said in an emailed statement it looks forward to the federal government completing its 5G review and making an evidence-based decision about its role in helping build Canada's next-generation wireless networks.
Trudeau has stalled on whether to ban Huawei. Tensions between the two countries have been rising since Canadian authorities arrested Huawei CFO Meng Wanzhou on a U.S. handover request in late 2018. After her arrest, China put two Canadian citizens in jail, halted billions of dollars in Canadian imports and put two other Canadians on death row.
The extradition proceedings against Meng, the eldest daughter of the company's billionaire founder, have pushed Canada's relationship with its second-biggest trading partner into its worst state in decades. Beijing has accused Canada of abetting a U.S.-led "political persecution" against a national champion.
(Updates eighth paragraph with statement from Huawei)
<p class="canvas-atom canvas-text Mb(1.0em) Mb(0)–sm Mt(0.8em)–sm" type="text" content="For more articles like this, please visit us at bloomberg.com" data-reactid="31″>For more articles like this, please visit us at bloomberg.com
<p class="canvas-atom canvas-text Mb(1.0em) Mb(0)–sm Mt(0.8em)–sm" type="text" content="Subscribe now to stay ahead with the most trusted business news source." data-reactid="32″>Subscribe now to stay ahead with the most trusted business news source.
©2020 Bloomberg L.P.