Two flights into Abbotsford have had recent COVID-19 exposures – Surrey Now-Leader
Two flights to Abbotsford have each had a recent COVID-19 exposure, according to the B.C. Centre for Disease Control (CDC).
The agency indicates on its website that the flights involved were WestJet flight 637 from Calgary to Abbotsford on Wednesday, Oct. 14 (rows nine to 15) and Swoop flight 107 from Hamilton to Abbotsford on Monday, Oct. 19 (rows 20 to 26).
The CDC advises that anyone who was on these flights should self-monitor for symptoms for 14 days.
Passengers on domestic flights are not required to self-isolate, but those who have travelled outside of Canada are required to self-isolate for 14 days upon their arrival.
Passengers seated on a plane with a case of COVID-19 that was later identified are no longer directly notified of their potential exposure. Instead, anyone who has travelled is asked to monitor the CDC website.
Passengers seated in the affected rows are considered to be at higher risk of exposure due to their proximity to the case.
---

vhopes@abbynews.com
Like us on Facebook and follow us on Twitter
Your cellphone is going to make an annoying noise Wednesday afternoon – BradfordToday
On Wednesday afternoon, your TV, radio and mobile devices will make sure you're alert as the Canadian Radio-television and Telecommunications Commission (CRTC) conducts a test of its National Public Alerting System.
The test is scheduled to happen in Ontario at 12:55 p.m. EST.
"Ongoing testing of the National Public Alerting System provides an opportunity for stakeholders to validate and improve the system's performance and reliability to ensure it operates as intended in the event of a life-threatening situation," a news release issued today by the CRTC states. "The messages will be identified as test alerts and will not require Canadians to take action."
Quick facts:
Since January 2019, hundreds of emergency alert messages were successfully transmitted by emergency management officials to warn Canadians of a potentially life-threatening situation. These alerts have been credited with saving lives.
Public alerts are important in times of crisis and have recently been used to relay crucial information to the public regarding the COVID-19 pandemic.
All devices sold by wireless service providers after April 6, 2019, are expected to be compatible with wireless public alerting.
Compatible devices may react differently to public alerts, depending on the phone's brand, model and operating system.
The National Public Alerting System involves various stakeholders:

Public Safety Canada is the lead federal department responsible for emergency management and coordinates the development of policies for public alerting with federal, provincial and territorial stakeholders.
Emergency alert messages are issued by federal, provincial and territorial governments as well as designated emergency management officials to warn the public of imminent threats, such as fires, tornadoes, floods and Amber Alerts.
Provincial officials are responsible for issuing scheduled test messages.
Pelmorex Inc. operates the National Alert Aggregation and Dissemination System, which disseminates alerts to broadcasters and wireless service providers.
The CRTC regulates the broadcasting and telecommunications service providers that distribute emergency alerts to the public.
Radio, television and television service providers broadcast the messages.

Wireless service providers deliver alerts to wireless cellular devices.
COVID-19: Alberta researcher recognized with innovation award for salt mask – Global News
Salt that crystallizes with sharp edges is the killer ingredient in the development of a reusable mask because any COVID-19 droplets that land on it would be quickly destroyed, says a researcher who is being recognized for her innovation.
Ilaria Rubino, a recent PhD graduate from the department of chemical and materials engineering at the University of Alberta, said a mostly salt and water solution that coats the first or middle layer of the mask would dissolve droplets before they can penetrate the face covering.
As the liquid from the droplets evaporates, the salt crystals grow back as spiky weapons, damaging the bacteria or virus within five minutes, Rubino said.
"We know that after the pathogens are collected in the mask, they can survive. Our goal was to develop a technology that is able to inactivate the pathogens upon contact so that we can make the mask as effective as possible."
Rubino, who collaborated with a researcher at Georgia State University in Atlanta to advance the project she started five years ago, was recognized Tuesday with an innovation award from Mitacs. The Canadian not-for-profit organization receives funding from the federal government, most provinces and Yukon to honour researchers from academic institutions.

3:49


Edmonton Health Matters: salt solution and quilt delivery



The reusable, non-washable mask is made of a type of polypropylene, a plastic used in surgical masks, and could be safely worn and handled multiple times without being decontaminated, Rubino said.
[ Sign up for our Health IQ newsletter for the latest coronavirus updates ]
The idea is to replace surgical masks often worn by health-care workers who must dispose of them in a few hours, she said, adding the technology could potentially be used for N-95 respirators.

0:49


This is what makes a good face mask, according to experts



The salt-coated mask is expected to be available commercially next year after regulatory approval. It could also be used to stop the spread of other infectious illnesses, such as influenza, Rubino said.
Dr. Catherine Clase, an epidemiologist and associate professor of medicine at McMaster University in Hamilton, said the "exciting" technology would have multiple benefits.
Clase, who is a member of the Centre of Excellence in Protective Equipment and Materials in the engineering department at McMaster, said there wasn't much research in personal protective equipment when Rubino began her work.
"It's going to decrease the footprint for making and distributing and then disposing of every mask," she said, adding that the mask could also address any supply issues.
The Public Health Agency of Canada recently recommended homemade masks consist of at least three layers, with a middle, removable layer constructed from a non-woven, washable polypropylene fabric to improve filtration.
Conor Ruzycki, an aerosol scientist in the University of Alberta's mechanical engineering department, said Rubino's innovation adds to more recent research on masks as COVID-19 cases rise and shortages of face coverings in the health-care system could again become a problem.
Ruzycki, who works in a lab to evaluate infiltration efficiencies of different materials for masks and respirators, is also a member of a physician-led Alberta group Masks4Canada, which is calling for stricter pandemic measures, including a provincewide policy on mandatory masks.
© 2020 Global News, a division of Corus Entertainment Inc.
China Kickstarts A New Era In The Space Race – OilPrice.com
By ZeroHedge – Nov 24, 2020, 1:30 PM CST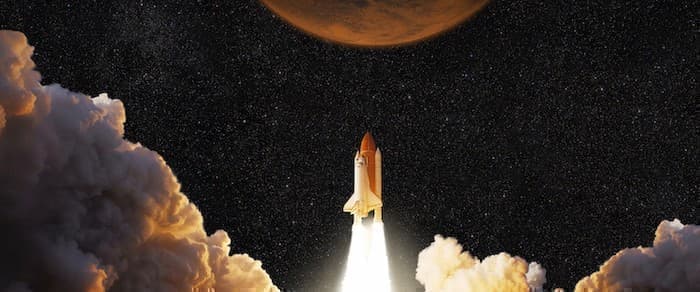 In what could mark the beginning of another era of the "space race", China has officially launched an unmanned spacecraft to the moon with plans of bringing back lunar rocks. It marks the first attempt by any nation to retrieve rocks from the moon since the 1970s. On Monday, Reuters confirmed the launch:
China's probe, the Chang'e-5, sets off with the goal of China learning more about the moon's origin and formation. If China succeeds, it will be only the third country to have retrieved samples from the moon – behind the U.S. and Soviet Union, according to CNN.
The goal of the mission to collect 4.5 pounds of samples in a previously untouched area called Oceanus Procellarum, or "Ocean of Storms". The U.S. Apollo missions had previously landed 12 astronauts and brought back a total of 842 pounds of rocks and soil. The Soviet Union's Luna missions had brought 6 ounces of samples in the 70s.
Both countries visited different areas of the moon than the Chinese aspire to visit.
James Head, a planetary scientist at Brown University, said: "The Apollo-Luna sample zone of the moon, while critical to our understanding, was undertaken in an area that comprises far less than half the lunar surface."
Related: Growing Crude Inventories Put A Cap On Oil Prices
Once it's on the moon, the probe will deploy two vehicles and a lander will drill into the ground. Samples of the moon's surface will then lift off to another module in orbit. Eventually, they will make their way back to Earth in a return capsule.
China has visited the moon with probes in 2013 and 2019. The country says it has plans to establish a "robotic base station" on the moon within the next decade. It plans on doing so using its Chang'e 6, Chang'e 7 and Chang'e 8 missions.
The country has also publicly said it has aspirations of getting samples from Mars before 2030.
By Zerohedge.com
More Top Reads From Oilprice.com:
ZeroHedge
The leading economics blog online covering financial issues, geopolitics and trading.