UK press body chief quits as Meghan racism claims roil media – The Associated Press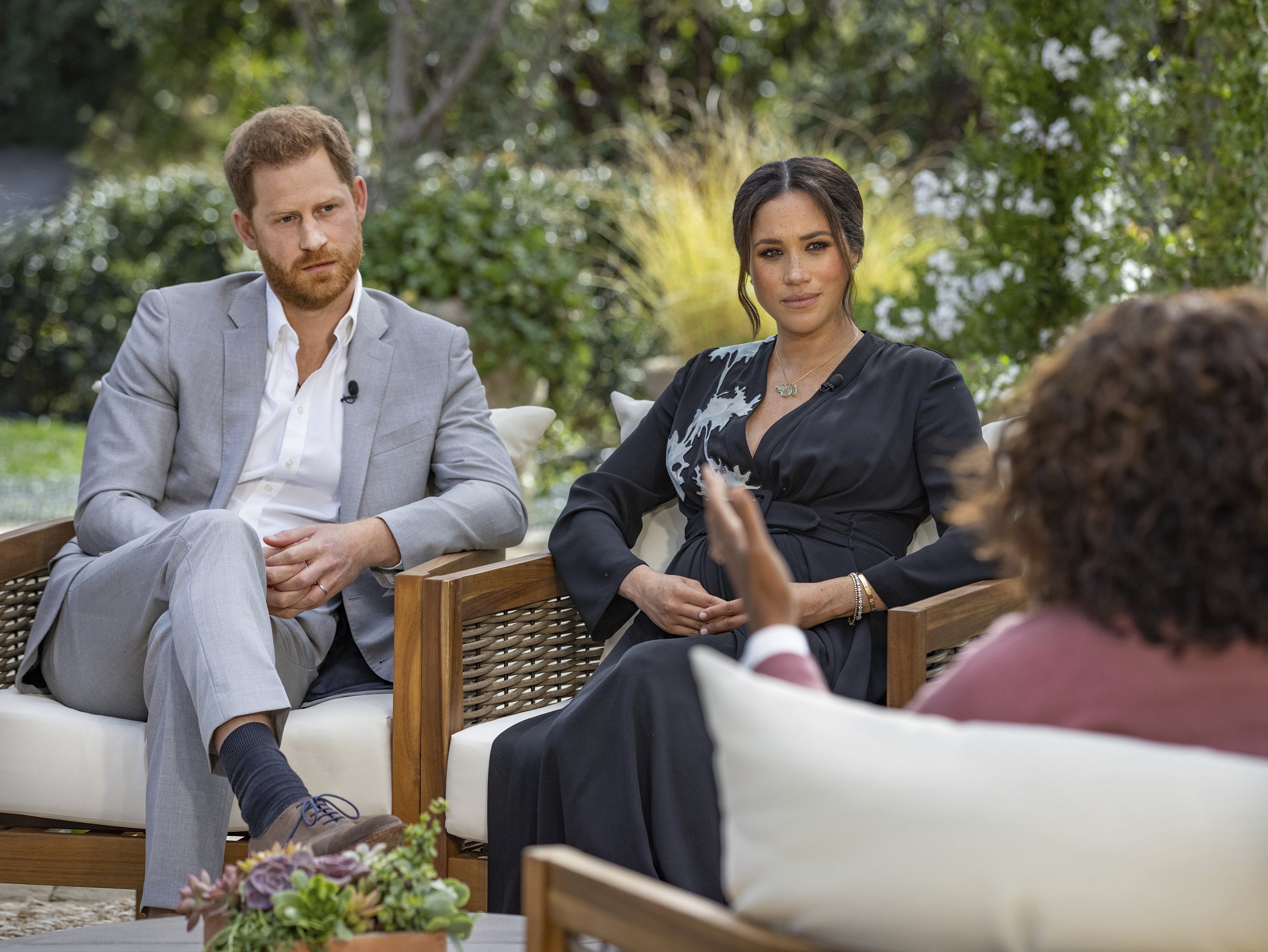 LONDON (AP) — The head of a major British press organization has resigned over his response to Meghan and Harry's television interview — the second senior U.K. media figure to leave amid a heated debate over the royal couple's allegations of racism and bias.
Ian Murray said he was stepping down as executive director of the Society of Editors after issuing a statement that many felt downplayed the problem of racism in the media. —
Murray said late Wednesday that the statement, which accused Harry and Meghan of mounting an attack on the press, "could have been much clearer in its condemnation of bigotry and has clearly caused upset."
"As executive director I lead the Society and as such must take the blame and so I have decided it is best for the board and membership that I step aside so that the organization can start to rebuild its reputation," he said.
In the interview with Oprah Winfrey, Meghan and Harry spoke about the intense pressure of media scrutiny and suggested there was a racist element to coverage of the biracial duchess. Harry also said the British royal family was "scared" of the tabloid press, which he said exercised "control by fear."
The Society of Editors, an umbrella group for almost 400 newspapers and other news outlets, released a strongly worded statement about the interview, saying "the U.K. media is not bigoted and will not be swayed from its vital role holding the rich and powerful to account following the attack on the press by the Duke and Duchess of Sussex."
But some journalists disagreed. More than 160 reporters and editors signed a letter saying the Society of Editors was "in denial" about racism. Katherine Viner, editor of The Guardian, said media outlets needed to become "much more representative and more self-aware."
ITV News presenter Charlene White pulled out of hosting the society's annual Press Awards, saying the organization had asked her to get involved in order to improve its diversity, but failed to live up to its words.
"I only work with organizations who practice what they preach," she said.
"Since the Black Lives Matter movement really took hold in the U.K. last year, every single institution in this country has had to finally look at its failings and its position in terms of how they treat ethnic minorities both inside and outside of its walls. But for some unknown reason, you feel as though the U.K. press is exempt in that discussion."
Murray's exit follows the departure of Piers Morgan from TV show "Good Morning Britain" amid an outcry over his comments about Meghan.
Morgan, a former tabloid editor, quit on Tuesday, a day after he said "I don't believe a word she says" in reference to Meghan's interview. The duchess told Winfrey that she was so miserable during her time as a working member of the royal family that she had suicidal thoughts, and claimed she had not received support from palace staff.
The U.K.'s media watchdog said it had received more than 41,000 complaints about Morgan's comments.
Australian regulator 'concerned' about Facebook's approach to media law – Reuters
SYDNEY, Oct 25 (Reuters) – The Australian regulator behind a law forcing large internet platforms to negotiate licencing deals with media outlets said on Monday he was "concerned" about Facebook Inc's (FB.O) cooperation, seven months after the rule took effect.
Under the News Media Bargaining Code, the social media giant and Alphabet Inc's (GOOGL.O) Google must negotiate with news outlets for content that drives traffic to their websites or face possible government intervention.
"Google is still negotiating and finalising deals with more news media companies and seems to be approaching this exercise in the right spirit," Australian Competition and Consumer Commission Chair Rod Sims said in a statement.
"We are concerned that Facebook does not currently seem to take the same approach."
Since the controversial law was passed in March, Facebook and Google have struck licencing deals with most of Australia's largest news outlets, including Rupert Murdoch's News Corp (NWSA.O) and the Australian Broadcasting Corp.
But some smaller publishers say Facebook, in contrast to Google, has declined to negotiate with them.
Academic publisher The Conversation and foreign language broadcaster SBS were both denied discussions. As reported first by Reuters, Facebook said in an email to publishers in September it had concluded deals to pay Australian companies for content on its "Facebook News" channel. read more
Facebook was not immediately available for comment on Monday. The company told Reuters in September that content deals were "just one of the ways Facebook provides support to publishers" and it continued to have discussions about alternatives. read more
The media law allows for the government to intervene if a platform fails to negotiate with a media company, a condition that has not yet been invoked.
Sims said a planned federal government review of the law next year would "examine closely the performance of all parties and whether the government's expectations have been met".
Reporting by Byron Kaye; Editing by Shri Navaratnam and Jane Wardell
Our Standards: The Thomson Reuters Trust Principles.
'Dune' Opens to $40 Million at the Box Office. Strong Enough for a Sequel?
"Dune," an adaptation of Frank Herbert's sci-fi epic, opened to $40.1 million at the North American box office. It's a respectable start given the ongoing pandemic and the film's unconventional theatrical debut. In addition to playing in 4,125 domestic theaters, "Dune" (like all Warner Bros. movies in 2021) premiered simultaneously on HBO Max, which might have taken a chunk out of overall ticket sales.
In a milestone for the studio, "Dune" landed the biggest three-day tally for Warner Bros. since the company began its day-and-date strategy on HBO Max. "Godzilla vs. Kong," which scored a then-pandemic record $31 million in April, previously held that high-water mark. In the months in between, anticipated movies such as "The Suicide Squad," the LeBron James sports comedy "Space Jam: A New Legacy" and the musical adaptation of "In the Heights" failed to live up to box office expectations while being offered concurrently on HBO Max.
"I'm smiling," Warner Bros. president of domestic distribution Jeff Goldstein said on Sunday morning. "Exhibitors are thrilled. The best part is, fans are loving what they're seeing. They're loving the big-screen experience. It's been a winner of a weekend for movie-lovers."
Directed by Oscar nominee Denis Villeneuve ("Blade Runner 2049" and "Arrival") and starring Timothee Chalamet, Rebecca Ferguson, Oscar Isaac and Josh Brolin, "Dune" is the first chapter in an expected two-part saga. Villeneuve and the cast of the movie have said they would like to make the follow-up to complete the story about warring political dynasties that clash over access to a vital planet. The question now: will ticket sales to start be enough to justify a sequel? Given the film's hefty $165 million price tag, including the millions spent to market it as a cinematic event, it's unclear if box office revenues alone will be enough to warrant a return to the desert land of Arrakis. In that case, "Dune" will have to perform very well on HBO Max to convince the studio it should inject another $165 million to complete the star-studded interplanetary tale. Legendary Pictures co-financed "Dune" in addition to producing and developing the movie.
In an interview with Variety this week, WarnerMedia chair Ann Sarnoff said plans for the sequel will be based on "the entirety of what 'Dune' can do for the company, including HBO Max." She added, "The story in itself sets up for a sequel. The production is so amazing and the storytelling is so compelling that it's not going to be judged on box office alone."
Avid fans of Herbert's seminal 1965 novel sought out "Dune" on the biggest screen possible, with premium formats such as Imax, Dolby and 4DX accounting for 50% of domestic ticket sales. Imax alone contributed $9 million, representing 22.5% of the market share, marking the company's largest opening weekend since the pandemic.
Also new to theaters this weekend, Disney's animated adventure "Ron's Gone Wrong" tanked with $7.3 million from 3,560 cinemas in North America. The family movie, centering on socially awkward middle schooler Barney and his malfunctioning robot friend (Zach Galifianakis), has been well received by audiences (it has an "A" CinemaScore), which could be a promising sign for its theatrical run. Despite playing only in theaters, "Ron's Gone Wrong" placed fifth on box office charts behind holdover titles "Halloween Kills," James Bond entry "No Time to Die" and comic book adaptation "Venom: Let There Be Carnage."
In a distant second place, Universal's slasher sequel "Halloween Kill" collected $14 million in its second weekend in theaters, plummeting 71% from its opening. It has generated $73 million in North America to date, a win for the $20 million-budgeted horror film. Already, the studio has announced that franchise star Jamie Lee Curtis will return for the follow-up "Halloween Ends," scheduled for Oct. 14, 2022.
MGM's "No Time to Die" landed at No. 3 with $11.8 million, boosting its domestic total to $120 million. Sony's "Venom" sequel secured forth place, bringing in $9.1 million between Friday and Sunday. After four weeks, the anti-hero adventure, starring Tom Hardy, has made $181 million.
Social media 'emboldens' stalkers to take action, warns expert – The Guardian