VIDEO: Supporters turn out to honour art gallery curator – Maple Ridge News – Maple Ridge News
Dear Editor,
The community is celebrating Barbara Duncan, curator of the ACT Art Gallery.
Many of you may not know that the art gallery and the gallery store at The ACT were closed and its curator Barbara Duncan and her assistant Susan Thompson were fired by the arts council in late April, a mere five weeks into the lockdown of the COVID19 pandemic.
The gallery as we have always known it, is now referred to as the gallery space.
[embedded content]
The arts council has never publicly admitted that they fired the curator.
In May, two high profile articles in The News featured the financial disaster the ACT was experiencing, but there was no mention of closing the gallery and firing Barbara Duncan.
The subsequent press releases from the arts council are cloaked around the pandemic creating a financial disaster.
RELATED LETTER: Board defends tough decisions ahead for arts centre
This decision has been kept from the public.
Consistent reference to the incident as a personnel matter that couldn't be discussed, raised questions regarding Barbara's competence or whether she was charged with something unlawful and this speculation has resulted in harming her reputation.
In a letter I received from the executive director, Curtis Pendleton, she stated that, "Barbara has done exemplary work in our community in her position as curator and she will be missed."
Why would an employee who has done exemplary work be suddenly fired?
The arts council is effectively standing by and watching the fallout after they lit the bomb!
A 1,250 strong petition has been presented to the arts council and city council requesting a reinstatement of Barbara Duncan. An impressive result considering that not many people knew about it and was collected within a two-week period during a pandemic.
If the arts council had appealed to the public for support to keep the gallery and retain their their employees, I am certain the community would have responded generously.
They showed no confidence that the community would choose to save the gallery. However, taking this unilateral step ensured that the community would have no input nor be given the opportunity to keep this valuable cultural asset alive.
Instead of cutting two jobs, everyone could have agreed to take a pay cut or cut back on work days. But perhaps there always was a different plan before the pandemic and a perfect opportunity presented itself.
I felt proud to have such a professional be in charge of the many facets that a high quality gallery demands and I am requesting a thorough review by a third-party investigator to see if all the proper procedures were followed, if all other avenues to save the gallery were explored and whether the two employees were compensated for their sudden dismissal and given due process financially.
It is a publicly funded organization and this decision has made the public lose trust in this arts council. They have forgotten that they are accountable to the public. I feel the arts council owes Barbara and the community an honest explanation, and perhaps we can start there.
RELATED LETTER: What's happening to key staff at The ACT?
On the sunny June 19, 40 supporters of the art community organized a surprise car and heart parade to honour Barbara Duncan. It should be noted that so many others wanted to attend, but we respected the provincial guidelines regarding large gatherings.
Barbara was our curator for 10 years and in that time, she built an exciting, well respected gallery, which was known for its support of local artists, professional artists and artisans, as well as featuring both contemporary and unique exhibitions.
She was the face of gallery, always respectful, innovative, and open to ideas.
The community did not want Barbara to disappear without a heartfelt appreciation within the park grounds outside of the ACT.
It was not a rally nor a demonstration, but a public celebration in recognition of Barbara's support of our community and showcasing artists in their best light.
The arts community and its supporters wanted to honour and thank Barbara by giving her a warm, genuine, and joyful send off to remember the community of Maple Ridge by, because June 19 would otherwise be only remembered as a very sad day for Maple Ridge.
Betty von Hardenberg, Maple Ridge
.
________________________________
• If there is more to this issue, please let us know about it. Email us at editor@mapleridgenews.com. We look forward to hearing from you. In the meantime, like us on Facebook or follow us on Twitter.
Arts and cultureLetter to the Editormaple ridge
Mental health art show in Vernon until Aug. 17 – Vernon News – Castanet.net
Photo: Contributed
Christine Schmidt with her COVID-19 art calendar.
The therapeutic power of art is being showcased in Vernon.
The Vernon & District Canadian Mental Health Association's 17th annual Awakening the Spirit art show and sale is on now at the Vernon Community Arts Centre.
More than 20 works are featured, including photography, acrylics, pen and ink, and watercolour.
All the artwork is from those living with mental illness, who have used art to positively improve their mental health.
"Through art and creativity, we hope to break down some of the barriers and stigma surrounding mental health and mental illness," said Julia Payson, CMHA Vernon's executive director.
For the past 20 years, CMHA volunteer Christine Schmidt has been using art to help her express herself and practise self-care.
"It keeps the creative juices going, connects me to nature, and is a way of expressing emotion," she said.
She has been contributing to the show and volunteering at the CMHA's Georgette Thrift Shop for three years.
At the beginning of the pandemic, Schmidt spent her time walking, doing photography, cooking, baking, meditating, and connecting with others over the phone.
She also dedicated herself to drawing a picture every day for six weeks.
"It was neat to have a focus, to have something on the go during that time to commit to. I decided to stay calm and collected when B.C. launched its COVID-19 measures," said Schmidt, who decided to create an art calendar.
"My plan was to take a photo for inspiration and do a drawing each day of the month.
The arts centre donated its gallery for the show, which runs until Friday, Aug. 17, Monday to Wednesday: 9:30 a.m. to 9 p.m. and Thursday to Saturday: 9:30 a.m. to 4:30 p.m.
The show and sale is also being featured online.
Art Gallery of Sudbury back in business – The Sudbury Star
New visiting protocols are in place to keep people safe
The Art Gallery of Sudbury said Friday it has re-opened with a new art exhibition and new visiting protocols to keep people safe during the pandemic.
"We thank all community members for incredible support and patience during the period of mandated temporary closure," the gallery said in a release. "Pre-book for your visit. We can't wait to see you."
Like much of Sudbury, the gallery closed in the spring as COVID-19 reached the area. Sudbury is part of Ontario's Stage 3 reopening plans. As a result, the gallery is complying with safety and health requirements for staff and visitors in public spaces as issued by Public Health Sudbury and Districts. If you are planning a visit, you should:
Book your visit online in advance at artsudbury.org.
Booking times are Tuesdays through Saturdays at 10 a.m., 1 p.m., 2 p.m., or 3 p.m.
Each visit provides visitors with 45 minutes of exclusive access to exhibitions and gift shop.
Each booking time is available to one small group comprising from one to six persons from the same social circle.
Visitor contact information is collected at the time of booking.
Bookings are also available by contacting the gallery at 705-675-4871.
Visits are free but we sure appreciate your donations.
All are required to wear masks and practise social distancing. The Gallery has also implemented enhanced cleaning protocols.
NEW SHOW
The Gallery has re-opened with a new thematic exhibition called Change of State/Altération.
The gallery said Change of State is a meditation on the current moment and our shared experiences of the recent past. It draws together 23 signature art works from the Permanent Collection.
Featured artists include Carl Beam, Mary Green, Suzy Lake, Daphne Odjig, Jane Ash Poitras, Jana Sterbak, and Bill Vazan, among others.
Sudbury artist Pandora Topp has contributed a major new mixed media installation called Imperfect Poetry. Her installation comprises 14 video performances based on a series of creative drawings and texts produced during the unusual circumstances of COVID-19 lockdown.
"This is my process: I decided to work with my elements of emergent drawing, automatic writing, embodied voice and to capture it on camera," Topp said. "It was a clear, sequential process: to proceed forward with presence into the unknown and to capture ephemera, movement, feeling through the four elements of drawing, writing, unrehearsed voicing, all captured and witnessed through the visual recording."
ART EDUCATION ACTIVITIES
Art in the Park
August 12, 13, 19, 20, 26, 27
$5 per participant
Register www.artsudbury.org
Families and individuals ages five years and up are invited to register for inspired and imaginative two-hour outdoor art sessions presented by Gallery educators at Bell Park. Space is very limited and must be booked 24 hrs in advance. All art materials are provided in a sanitized sealed bag. Masks are encouraged and social distancing is mandatory. For more information please email Nancy Gareh ngareh@artsudbury.org or Sarah Blondin education@artsudbury.org.
Online art classes
$40 plus HST
Register www.artsudbury.org
New series underway. Taught by practicing artist Dineen Worth, this introductory course in painting is suitable for the novice painter or as a refresher for those who have not painted for some time. This short series of classes encourages exploration of the medium with emphasis on building a personal style. Classes are presented online on four consecutive Thursday nights from 6:30 to 8:30.
sud.editorial@sunmedia.ca
Twitter: @SudburyStar
Family-friendly activities: Enroll in Surrey Art Gallery's Art Takeout "at leisure" courses – Voiceonline.com
THIS summer, have fun while exploring artistic techniques with Surrey Art Gallery's Art Takeout "at leisure" courses. These hands-on, interactive programs are a wonderful way to try new artistic mediums, build on creative skills, all while working at your own pace from home. Everyone of all ages and abilities are welcome to enroll, and participants pick up the course materials from Surrey Art Gallery. Each box includes the necessary art supplies and links to six video lessons with experienced artist educators.
There are two Art Takeout courses to choose from. Drawing in the Field focuses on learning and practicing drawing skills. Each class builds on the next, and participants will use perspective and composition to look at elements of a landscape – from the natural beauty of plants and flowers, to the bustling energy of city streets and buildings. This at your own pace course, led by artist educator Alexandra Thomson, costs $15.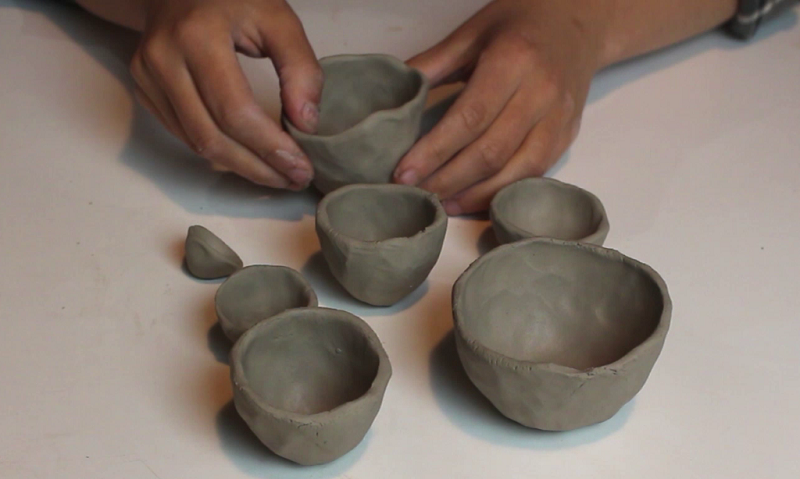 Use your imagination to turn blocks of clay into ceramics in Handbuilding with Clay with artist educator Amelia Butcher. Bring to life coiled pots with animal features, create constructions with clay slabs, experiment with surface and 3D decoration, and more. This at your own pace course is $35 and includes firing and glazing. Register today with Art Takeout materials boxes for both courses available for pick up beginning August 10 at Surrey Art Gallery.
"Ceramics are everywhere, all around us," says Handbuilding with Clay artist educator Amelia Butcher, "clay is a super common, super-human, and a super-global material. We learn a lot about history, archeology, and people through pottery."
"For all ages and abilities, Surrey Art Gallery's Art Takeout "at leisure" courses are a lovely way to spend the summer by doing art with family and friends," says Alanna Edwards, Surrey Art Gallery Engagement Facilitator. "It's a way to still feel connected to each other and the artmaking community during this time."
To register for either program, phone the Call Centre at 604-501-5100, or sign up online at surrey.ca/artgallery.
Handbuilding with Clay with Amelia Butcher Trailer: https://youtu.be/tPDI8340Cbg
Drawing in the Field with Alexandra Thomson Trailer: https://youtu.be/vWY5ndL9eeA