VILLAGE ARCADE: Three sports gaming stories to watch out for in 2021 – OrilliaMatters
One of the subjects I never expected to be excited about this year is sports games. This is partly because I've become bored with the genre in past years, because it feels like there's only so many ways you can innovate a professional sport.
Graphical improvements have become a necessity, as well as new ways to design career modes—but beyond that there's not a whole lot that has kept me interested in past years.
Another reason I never expected I'd be interested in sports games is because sports have changed drastically in the past year, and the uncertainty of a normal season has disrupted my interest.
But three stories these past weeks have changed that, and I'd like to break down why these stories have once again piqued my interest in sports games.
MLB The Show 21 finds a new home on Xbox
One of the craziest gaming stories I've been following these past few weeks is the announcement that MLB The Show 21 will be released this spring on the Xbox family of consoles.
It's strange to be surprised by a sports game releasing on Xbox, but The Show has been a staple of the PlayStation ecosystem for years. It's developed by Sony's San Diego Studio, and published by Sony Interactive Entertainment, so it has always made sense to be a PlayStation exclusive.
Not only is it the first time The Show has been released on a console other than PlayStation—in fact, this is the first time a AAA Major League Baseball game has been released on Xbox in more than eight years—but it might be the first occurrence of Sony actively publishing a title for a competitor's console.
That's why The Show's announcement is exciting to me. It's not just about new players getting to enjoy this specific game, but instead it's about the potential for Sony to branch out and release more titles on Microsoft platforms—something it's also experimenting with by developing titles for PC.
The return of College Football
Another interesting story in the sports genre is the announcement that EA Sports will be returning to college football over the next few years as EA Sports College Football.
Not much is known about this title at the moment, except that EA will not be including the likeness of players or their names. Instead, EA Sports will be working with the Collegiate Licensing Company to include the uniforms, stadiums and traditions of more than 100 NCAA football teams.
But EA Sports doesn't actually need to use the likeness of college players to bring me back to the franchise. All they really need to focus on is creating a connected ecosystem between College Football and Madden.
That's why I was always drawn to the franchise. I never had a huge interest in football, but I was fascinated by the way EA could experiment with collegiate sports games to influence the experience of their "main" professional sports franchises.
One of my fondest memories of NCAA Football was being able to create a player at the university level and spend the weeks leading up to Madden's release tweaking my player and ultimately drafting them in the first round of the NFL Draft.
Cross-platform multiplayer
MLB The Show 21's Xbox announcement was so big I had to talk about it twice. Once to highlight the importance of the announcement itself and another to talk about cross-platform multiplayer in The Show 21.
The Show is the first major licensed sports game to ever include cross-platform multiplayer between Xbox and PlayStation consoles. And that's a huge deal, because cross-platform play is still a fairly new experience in the history of the "console wars" for any game.
Sony is setting a precedent with MLB The Show 21 that sports games shouldn't be exclusive and if this trend continues and more franchises move to cross-platform multiplayer, the experience will be better for all gamers.
The time where gamers had to choose between playing on their favourite console or playing with their friends is ending, and that will ultimately create a better marketplace for games.
OPPO F19 Pro and F19 Pro+ 5G reportedly launching in India next week – XDA Developers
All eyes are set on OPPO's upcoming Find X3 lineup, which is launching on March 11. But before that, the Chinese company is planning to warm up for the big day by launching two new mid-range smartphones in India: the OPPO F19 Pro and F19 Pro+ 5G. Ahead of their rumored launch next week, both devices have been leaked in their full glory.
The leak comes from Ishan Agarwal, who has revealed key specifications of the OPPO F19 Pro and F19 Pro+ 5G along with their official press renders. As per the leak, OPPO is set to unveil the lineup on March 8. Both phones are said to be pretty much identical in most regards but differ in areas such as chipset and charging speeds.
Both the F19 Pro and F19 Pro+ 5G will sport a flat 6.43-inch Super AMOLED punch-hole display on the front with a rectangular module housing a quad-camera array on the back. On the inside, the F19 Pro will reportedly pack a MediaTek Helio P95 chipset, backed by 8GB RAM and either 128GB or 256GB flash storage. On the camera side, the F19 Pro has a 48MP primary shooter, an 8MP ultra-wide-angle camera, and 2MP depth and macro lenses. It's unclear if the Plus variant will offer different camera hardware or share this aspect with the regular model. But in any case, the 16MP shooter is said to be identical on both models.
Meanwhile, the OPPO F19 Pro+ 5G will be fueled by a more powerful MediaTek Dimensity 800U chipset, paired with 8GB of RAM and 128GB/256 storage. OPPO will be the second OEM to launch a MediaTek Dimensity-powered smartphone in India, the first being Realme with its Realme X7.
In terms of battery, the F19 Pro will pack a 4,310mAh battery with 30W VOOC Flash Charge support. Although the Plus variant's battery capacity is unknown, the leak says it will come with a 50W fast charger. Moreover, both phones will come equipped with an in-display fingerprints scanner, a 3.5mm audio jack, a USB Type C port, and Android 11 with ColorOS 11.1 on top. Finally, the OPPO F19 Pro will come in Black, Silver, and Purple colors, while the F19 Pro+ 5G will be offered in Black and Silver options.
iQOO 7 retains first place in AnTuTu's rankings for February, Snapdragon 870 makes first appearance – GSMArena.com news – GSMArena.com
The iQOO 7 managed to fend off new challengers for the performance crown in AnTuTu's rankings for February 2021. The Snapdragon 888-powered flagship retains first place, despite a slight decline in average points.
The vivo X60 Pro+ mounted a strong challenge and lost by the slimmest of margins – just 14 points. As averages shift, we wouldn't be surprised to see the X60 on top next month. Note that AnTuTu rankings are based on the average of multiple results rather than the best individual score. As more sample points are gathered the average shifts slightly.
Another newcomer, the Redmi K40 Pro, got into third place, just ahead of its sibling, the Xiaomi Mi 11. If you've been keeping score, that's four Snapdragon 888 phones at the front. And it's all Snapdragon down the list with the sole exception of the Kirin 9000-powered Huawei Mate 40 Pro in 5th.
One chipset we've been curious to see is the Snapdragon 870 – a souped up 865. The Redmi K40 rode the 870 to seventh place, ahead of older 865 models, but behind the new 888 ones. This is pretty much where this chipset wants to be, an option for the not quite top of the line flagships.
Moving on to the mid-ranger charts, the Redmi 10X 5G and Redmi 10X Pro 5G retain their leading positions with the vanilla model extending its lead over the Pro. Third place was won by the new vivo S7t. All phones in the Top 3 are powered by the Dimensity 820.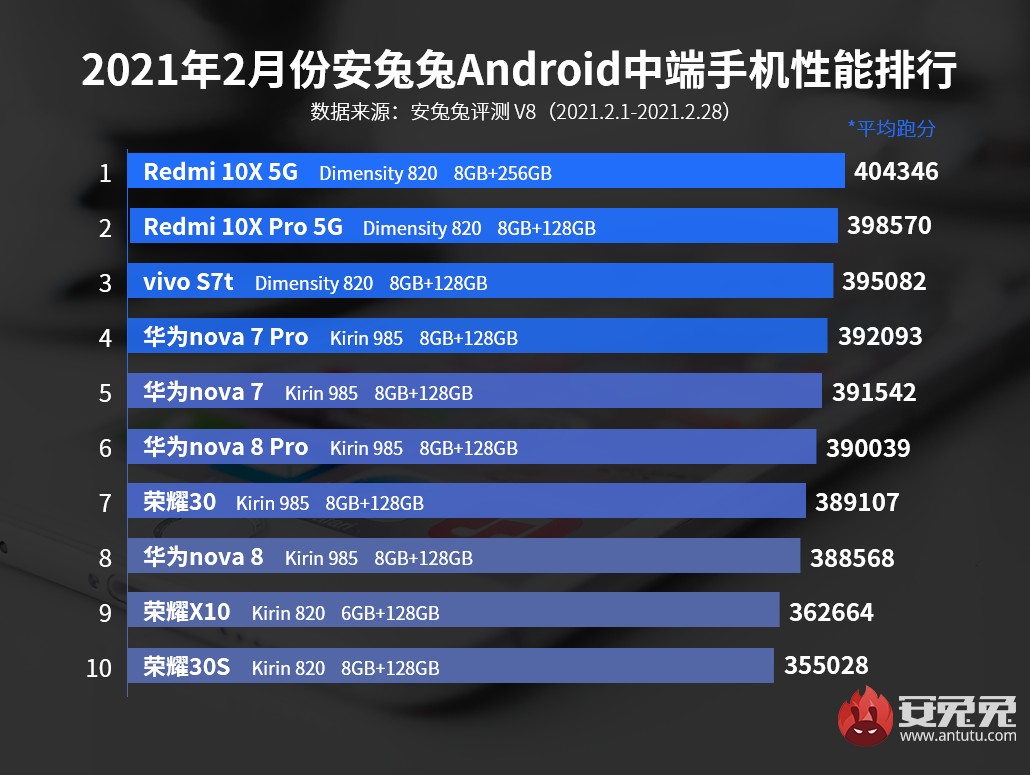 This pushes the Huawei nova 7 5G and nova 7 Pro 5G down a place (the Pro managed to edge out its vanilla sibling, it was behind it last month). Both novas are examples of Kirin 985-powered phones. In fact, the 985 powers the phones down to 8th place where another Kirin shows up in a couple of Honor phones.
The most stunning Android phone of the year just leaked — and it's not from Samsung – Tom's Guide
We're expecting to get our official look at the new Find X3 Pro flagship phone from Oppo next week, but we don't have to wait until that March 11 event to see what the Chinese phone maker has in store.
Leaker Evan Blass has followed up an initial look at the Oppo Find X3, with even more pictures and videos showing off Oppo's next phone. And that's not even the most surprising thing about the Find X3 – rather, it's that this may be one of the best Android phones of the year.
The OPPO handset comes with a swath of intriguing features, like the most powerful system-on-a-chipQualcomm offers, the Snapdragon 888 5G. That's the same chipset as the Galaxy S21 family (provided you're using the U.S. version of the phones and not the ones powered by Samsung's own Exynos 2100). But there are several other features that make this Oppo offering truly something to behold.
The Find X3 Pro promises several different goodies that you won't have seen anywhere else. First, its end-to-end 10-bit color processing is a major boon for wide color gamut (WCG) photography. Oppo is the first phone maker to announce its ability to enable WCG photography capture end-to-end, though vendors like OnePlus and Asus also have 10-bit panels.
[embedded content]
The Full-path Color Management System supports the full DCI-P3 wide color gamut as well as 10-bit color depth for capture, display, and storage. It also supports High Efficiency Image Format (HEIF), all in a bid to offer an "outstanding viewing experience" with "authentic and accurate color reproduction."
To help create some of those stunning photos, the FX3P will also come packing a quad-cam "crater," which is reportedly difficult to make. Among those cameras is a flash-ringed macro lens with an impressive 25x zoom. It can apparently act as a portable microscope, which could lead to many new applications for a smartphone.
The Find X3 itself sports a sleek, glossy design with a small punch hole for a front-facing camera at the top left of the phone. There are no physical buttons on the front of the phone; it's all screen. It's the back that starts looking a little unlike the other phones we've seen on the market. The camera is raised with a square configuration with three lenses boasting the aforementioned tech. The phone also appears to come in two different colors — a soft black and steely blue.
According to Blass, we're set to have a full reveal of the OPPO Find X3 Pro flagship phone on March 11. And these renders and the video to go with them certainly tell a story we can't wait to see unfold.