Watch SpaceX launch an updated GPS satellite for the US Space Force – The Verge
This afternoon, SpaceX is set to launch a new GPS satellite for the US Space Force out of Cape Canaveral, Florida — part of an ongoing quest by the Department of Defense to update the GPS constellation already in orbit. This satellite will replace one of the older, less powerful GPS satellites currently in the system, maintaining the total number of satellites in space at 31.
This is the third GPS satellite model of its kind to launch into orbit and SpaceX's second time launching a GPS spacecraft. Called GPS III SV03, it's part of a block of satellites known as GPS III, designed and built by Lockheed Martin. Lockheed Martin claims that compared to older GPS spacecraft, the GPS III satellites "have three times better accuracy and up to eight times improved anti-jamming capabilities."
The spacecraft also sport a number of new features. They can broadcast a new signal meant to help civilians and commercial users of the satellites, and they're also able to communicate with other navigation satellites, such as Europe's Galileo constellation. That way, people using the GPS system can connect with even more satellites in space. Plus, the spacecraft are meant to last longer in space than their predecessors.
The Space Force had been gearing up to launch the satellite in April, but the COVID-19 pandemic forced the military branch to delay the mission. There was particular concern about the crew's ability to stay six feet apart while operating the satellite during its initial launch and deployment at the designated control center in Lockheed Martin's facility in Colorado. "We focused on the people, the personnel, the processes and the procedures as well as the facility," Col. Edward Byrne, senior materiel leader of the medium Earth orbit space systems division at the Space Force's Space and Missile Systems Center, said during a press call. The Space Force reduced the amount of crew needed to handle the satellite at launch, moved some of the terminals around, and put up partitions for extra separation.
After rehearsing and adapting to the new system, the Space Force is now ready to fly. In the meantime, extra precautions are also being taken at the launch site at the Cape Canaveral Air Force Station, where SpaceX's Falcon 9 rocket is slated to launch. The 45th Space Wing, which oversees launches out of the Cape, has instituted temperature checks and face coverings for its personnel. Different sets of people are assigned to separate flights so that there is no "cross contamination" between personnel jumping from one mission to the next.
"A number of cases have increased in Florida and in Brevard County, but we're taking necessary precautions to make sure that everyone is safe to go," Brig. Gen. Doug Schiess, the 45th Space Wing commander, said during the call. He noted that the 45th Space Wing has overseen several launches during the pandemic — notably, the first crewed launch of SpaceX's Crew Dragon that send two NASA astronauts to space — and that no one in the 45th Space Wing has gotten sick thus far.
Takeoff is scheduled for 3:55PM ET out of Cape Canaveral Air Force Station. SpaceX only has a short window to launch — until 4:10PM ET. After takeoff, SpaceX will attempt to land its Falcon 9 rocket on one of the company's drone ships in the Atlantic. So far, there is about a 60 percent chance that weather conditions will be favorable for the launch, but if SpaceX can't launch today, the company has a backup launch date on Wednesday, July 1st. SpaceX's live coverage of the mission will begin about 15 minutes before launch.
Space enthusiasts turn to Metro Vancouver skies to spot newly discovered comet – CityNews Vancouver
VANCOUVER (NEWS 1130) – For the next couple of weeks, space enthusiasts will be searching the night sky, looking for a comet that won't be seen again for thousands of years.
Photographers and stargazers are losing sleep trying to spot the comet NEOWISE, a one in a lifetime opportunity as the comet won't be nearing Earth for another 6,800 years.
Vancouver's Aaron Von Hagen is one of many photographers looking upwards into the late hours of the evening, all in the hopes of capturing the perfect shot of the recently discovered comet.
He was able to photograph the sight and says calls the experience thrilling.
"I just got back from shooting the comet, and I'm pulsating," he says. "Not knowing where it's going to show up in the sky but knowing it is going to show up. You see a little light on the horizon and you are thinking is that it? And it's not. And then all of a sudden, when it got a little bit darker you could just see the tail that appeared out of nowhere."
The comet is a visitor to our solar system and NASA says it won't be back for another 6,800 years.
NEOWISE made a close approach to the Sun on July 3rd and is now crossing outside Earth's orbit on its way back to the outer parts of the solar system.
Despite this, you'll still be able to see the comet for a while.
Rachel Wang is an astronomer and explains you still have at least the next two weeks to search for the comet.
"It will be visible well until the end of this month but it is dimming in brightness so you'll want to go out as soon as possible," she says. "The best time to go is right after dusk, an hour after sunset. That's around 10 pm to 11 pm looking North and North West.
The comet is attracting so much attention, in part, because you can see it clearly with the naked eye.
Von Hagen suggests it's a rare opportunity to try and catch an awe-worthy photo, and you may even be able to do it on your phone.
Over the last few days, Von Hagen has spent about 20 hours capturing the comet, and he's not alone, saying everywhere he goes he sees so
Comet NEOWISE Astonishes at Sunset – Heavens & Telescope – Market Research News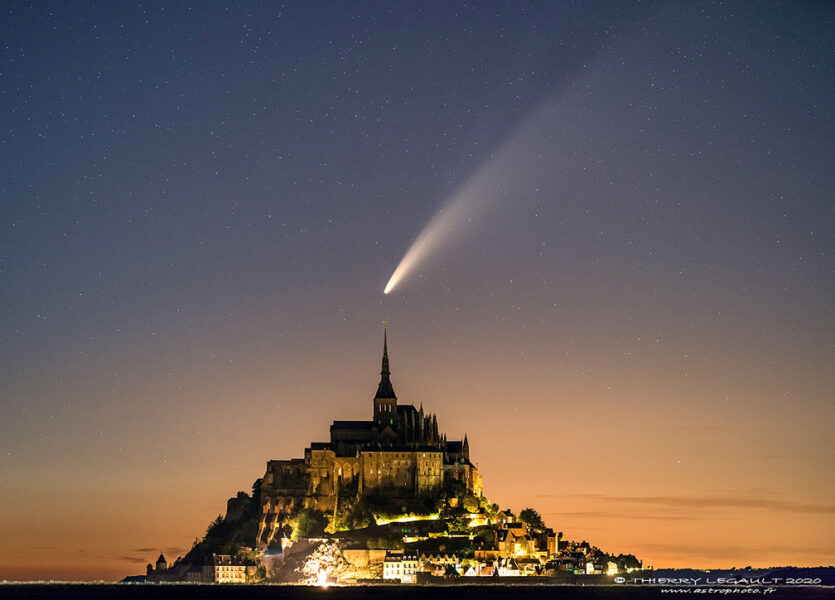 French amateur Thierry Legault took this elegant image of Comet NEOWISE (C/2020 F3) over the well-known isle friary Mont-Saint-Michel in Normandy at twilight on July 12 th. Information: Sony a7r iii, 135- mm f/1.8 lense, sixteen 1.6-second visibilities piled. Thierry Legault.
" Spectacular." "Amazing." "Beautiful." "Awesome." Those are actually merely a few of words new onlookers have actually utilized to define Comet NEOWISE (C/2020 F3). I concur 1,000 per-cent– this is actually one amazing comet!
NEOWISE changes coming from the sunrise to the twilight heavens today. For a while you'll still have the capacity to watch it at each sides of the time clock, yet through July 18 th it quickly vanishes as well as comes close to the north perspective coming from sight. For the north U.S., Canada, as well as a lot of Europe the comet is actually apparent as well as circumpolar all evening long today. It arrives at optimal north declination (+48 ° )on July 20 th when it certainly never plunges listed below the perspective for areas north of latitude 42 ° N.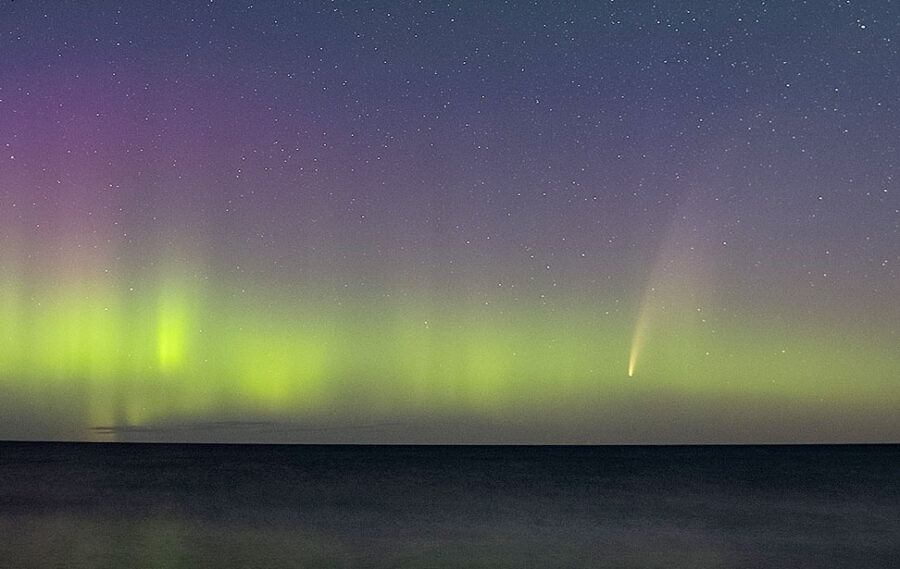 Comet NEOWISE mixtures right into a north lightings feature over Lake Superior observed coming from Marquette County, Michigan, beforehand July 13 th. Information: ISO 3200, 15- few seconds, f/2. Shawn Malone.
Comet NEOWISE has actually produced incredible enthusiasm as well as appropriately therefore. It is actually the 1st effortlessly apparent naked-eye comet to poise northerly heavens given that PanSTARRS (C/2011 L4) in 2013 as well as just before that, McNaught (C/2006 P1) in 2006-07 While PanSTARRS met 1st size it had a much briefer naked-eye rear, while McNaught was actually mainly a Southern Hemisphere things. You need to get to right back to 1997 to Hale-Bopp (C/1995 O1) to discover an equivalent comet.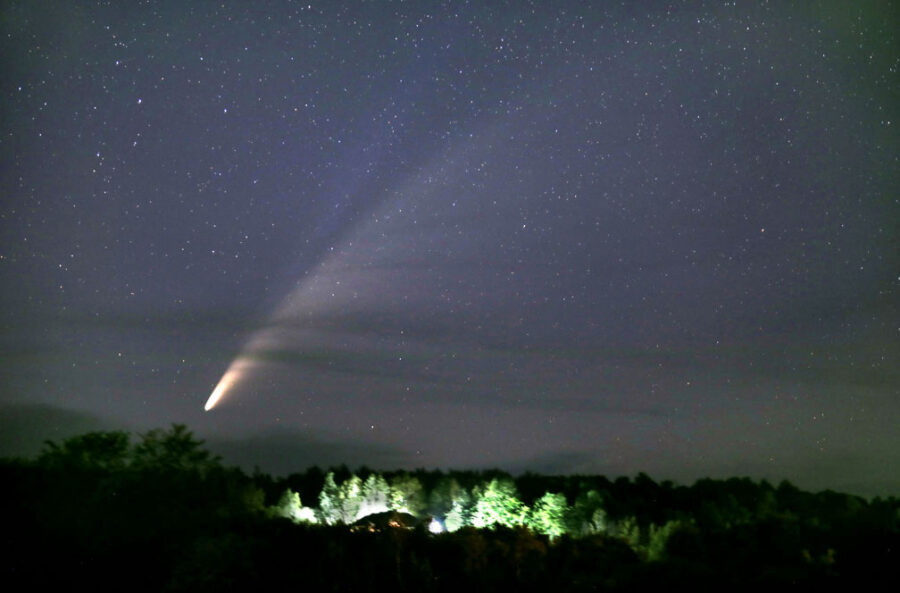 Comet NEOWISE, showing off both ion (best) as well as dirt rears, bridge a residence lit up through exterior lighting fixtures in Rice Lake, Minnesota, at 11 p.m. on July 12 th. Bob King.
When it happens to social admiration of comets,
It is actually all concerning the rear. The longer as well as brighter the much better. NEOWISE has actually discolored coming from size +0.5 to concerning size 2 given that very early July, its own rear has actually been actually developing constantly, coming from a brief stump at perihelion to even more than 15 ° long 2 full weeks eventually. A combo of variables are accountable for the noticeable prolonging of the rear, consisting of tapering off moonshine, the comet's existing exposure in a dark heavens, as well as its own improving height as well as distance to Earth. Closest strategy takes place on July 23 rd far-off of 103 thousand kilometers.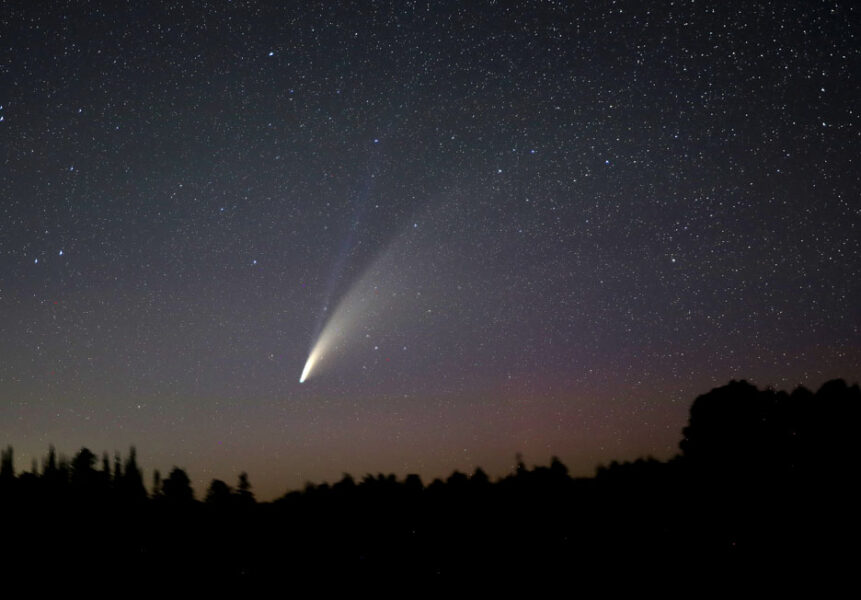 At nightfall on July 14 th I might pursue the comet's dirt rear for 10 ° along with the nude eye coming from a dark-sky website. At its own back it increases to around 3 °. A pale, extensive supporter of component is actually apparent midway up the dirt rear to the. Heaven dirt rear is actually faintly apparent in 50- mm field glasses. The reddish band is actually airglow. Bob King
Most onlookers, consisting of those brand-new to comet-watching, can easily outline the rear to 4 ° to 5 ° creatively as well as around dual that in a set of 50- mm field glasses. Along with the nude eye it resembles a feather plume or even misaligned hands suggesting the perspective. My pal Burt claimed it told him of a beam. Others compare it to E.T.'s hands, total along with beautiful fingertip, coming from the film E.T. the Extraterrestrial. Moonless website my mandible fell when I found it on July 14 th coming from a sulky. The comet controlled the north heavens along with its own 10 °- lengthy fanned rear as well as vivid coma. Whether looked at coming from the nation or even area onlookers settle on something: NEOWISE is actually positively remarkable in field glasses.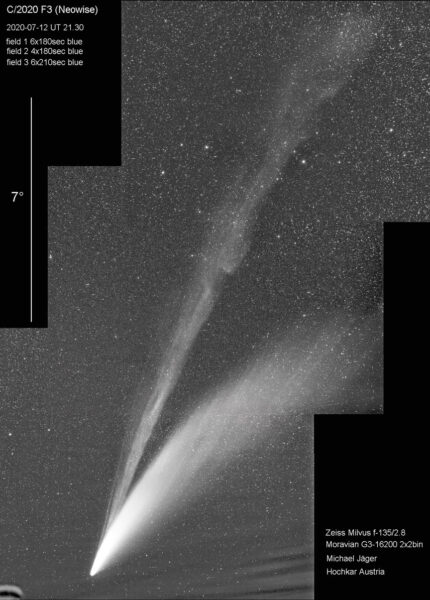 Michael Jäger tape-recorded amazing information in both rears on July 12 th coming from a mountain range site. The kinked ion rear procedures a minimum of 16 ° long. Michael Jäger.
While the telescopic sight uncovers extra constructs in the coma as well as escalates the comet's different colors, just field glasses easily uncover the complete width of the rear. The dirt rear stretches (presently) also past the normal 5.5 °– 6.5 ° binocular field of vision, while the fainter ion rear opens up to greater than 15 °.
This time-lapse of Comet NEOWISE was actually captured on film near Anza, California, not long just before sunup on July 12 th. Dave Kodama
Due to the comet's reduced height the ion or even fuel rear is actually tough to view creatively yet it is actually faintly apparent together with the dirt rear in field glasses as well as telescope. It is actually comprised mainly of carbon monoxide vaporized coming from cometary ice. Happened through uv illumination coming from the Sun it shines a stunning water. The ion rear socializes along with the photovoltaic wind to make the exciting knots as well as flaws observed in Michael Jäger's rich picture.
Both rears come coming from sublimating ice on the 5-kilometer-wide comet body system which is actually concealed coming from sight inside the wrong core, where the leaving dirt is actually very most strong. On July 14 th by means of my 10- in telescope it was actually a little, vivid "sunlight bulb" ahead of the comet's rear which sought all the globe like efficient haze. Telescopic onlookers are actually motivated to analyze the core very closely for planes– geyser-like bangs of dirt running away coming from the comet on its own– along with feasible fragmentation.
A salted rear, as well!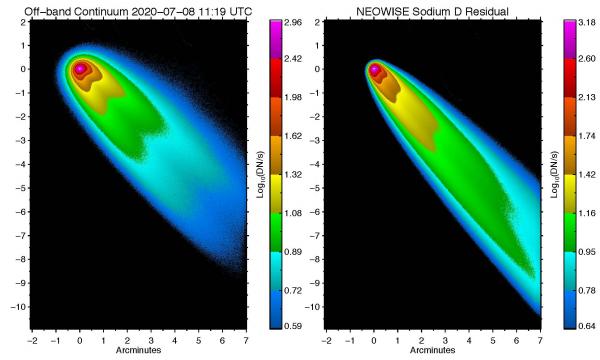 False-color pictures of Comet NEOWISE indicated due to the Planetary Science Institute's Input/Output center on July 8th program (left) mild shown coming from dirt– comparable to the naked-eye sight– as well as (right) mild given off through salt atoms. The salt rear is actually as well delicate to view creatively in a telescope. Jeffrey Morgenthaler, Carl Schmidt.
Like Hale-Bopp, NEOWISE possesses a 3rd rear included salt atoms. Planetary Science Institute Senior Scientist Jeffrey Morgenthaler noted the comet on July 8th utilizing exclusive filtering system as well as located a slim, lengthy rear of salt atoms aiming straight away make up the Sun. The salt seems to come coming from disintegrating dirt in the internal coma.
" Atomic salt reacts to sunshine in a comparable means to cometary dirt, yet its own drive zing originates from a really specific insight of yellowish illumination– the very same different colors observed in sodium-vapor streetlamps," Morgenthaler composes.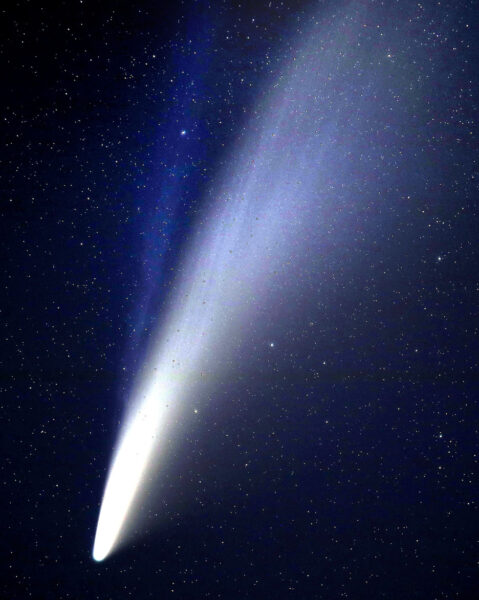 Even a 200- mm telephoto lense uncovers a lot information in the comet consisting of heaven ion rear as well as analogue radiations or even synchronic bands inside the dirt rear. Information: 200- mm, f/2.8, ISO 800, as well as a 62- 2nd visibility. Bob King.
Evening seeing ideas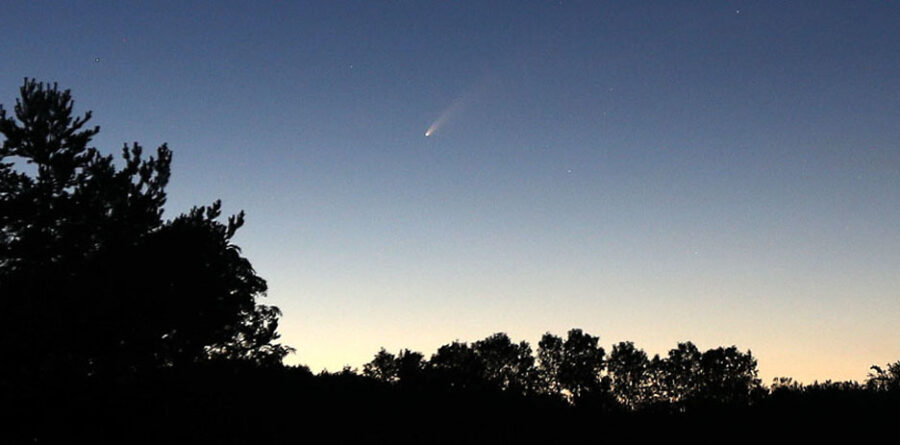 When finding NEOWISE at twilight appeal reduced in the northwestern heavens for an unclear "celebrity" along with a brief rear looking like a shuttlecock. This image was actually taken at 10: 30 p.m. on July 12 th coming from Duluth, Minnesota. Bob King
From lots of mid-northern latitude areas you can easily begin appearing as early as 9: 45–10 p.m. reduced in the northwestern heavens. Good luck provided our team Capella as an early morning quick guide celebrity. Right Now the Big Dipper come in to support (view chart beneath). You'll require to discover an area along with an agape sight to the northwest as well as cleared away coming from vivid area lightings during that instructions. Hunt an area in the course of the daytime so you do not need to steer about seeking one during the night.
Arrive there in between 9: 45 to 10 p.m. true time along with a set of field glasses. Any sort of are going to perform yet I definitely like the 7 ×50 s or even 10 ×50 s due to the fact that they blend a big field of vision as well as intermediate magnifying along with really good light-gathering potential. Prior to you appear for the comet be actually certain to center the field glasses on an intense celebrity or even world. That are going to create the blurry comet much easier to detect.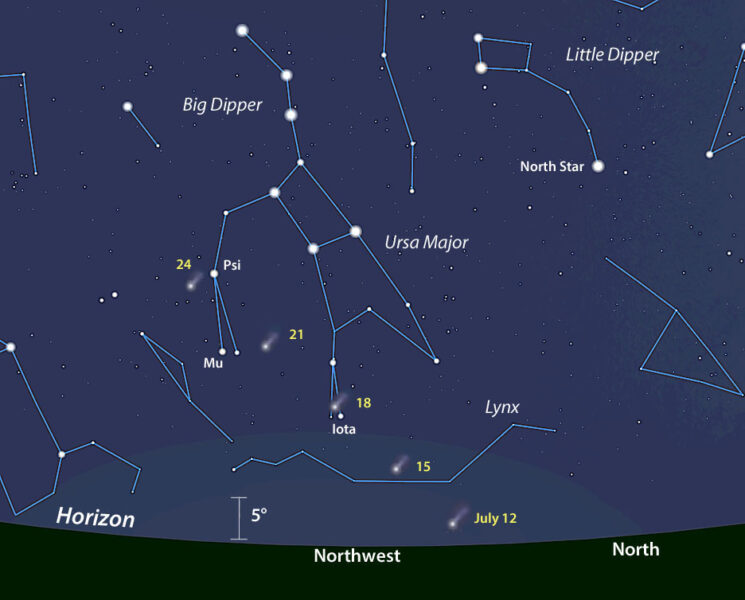 Comet NEOWISE settings are actually presented every 3 times for one hr after sundown July 15–23 The comet quickly improves in height today. Stellarium along with add-ons due to the writer.
Use the chart to aid you aim the field glasses in the best instructions, after that gradually "swing" the location up until you detect a little bit of factor of illumination along with a brief rear standing out of it. However provide it some opportunity if you begin early you might certainly not view the comet along with the nude eye. When the heavens acquires darker the comet certainly not just comes to be a wonderful view in field glasses yet additionally seems to the nude eye as a light, fat deposits touch of illumination.
Corrected for atmospheric termination– the dimming of things near the perspective where the setting is actually thickest– NEOWISE beams around degree 1.5– 2 presently (July 15 th). As well as although the comet is going to discolor in the happening full weeks (it is actually assumed to lose to 3rd size through July 18 th as well as to 4 due to the 25 th) it is actually additionally climbing up much higher as well as much higher at night heavens, which are going to partly counter its own dimming. Since you certainly never recognize when clouds might spin in, make an effort to capture it every crystal clear evening you can easily.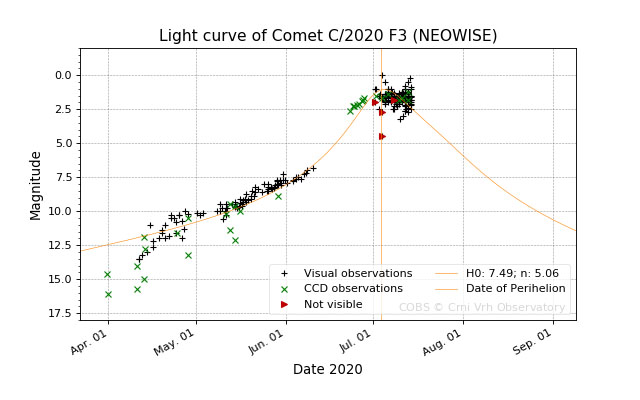 The comet's lightweight contour by means of July 14 th presents an optimal in illumination around its own July 3rd perihelion adhered to through a slow-moving fading. Comet Observation Database.
Where to Next?
The comet strides past a lot of universes as it takes a trip southward coming from Ursa Major right into Coma Berenices in the following couple of full weeks. Emphasizes consist of a near coupling along with the Black Eye Galaxy (M64) on August 3rd adhered to through an appealing organizing along with the globular collections M53 as well as NGC 5053 on August 6th. NEOWISE is going to beam about size 6 back then, the naked-eye limitation. The Moon go back to cheer up the setting beginning July 23 rd.
Observers in the much southerly U.S. are going to need to stand by merely a bit longer to view NEOWISE– it is going to put over the northwestern perspective beginning July 16 th as well as just improve coming from certainly there. Southern Hemisphere skywatchers, that are actually certainly chewing at the little bit, are going to receive ultimately receive their NEOWISE repair around July 28–30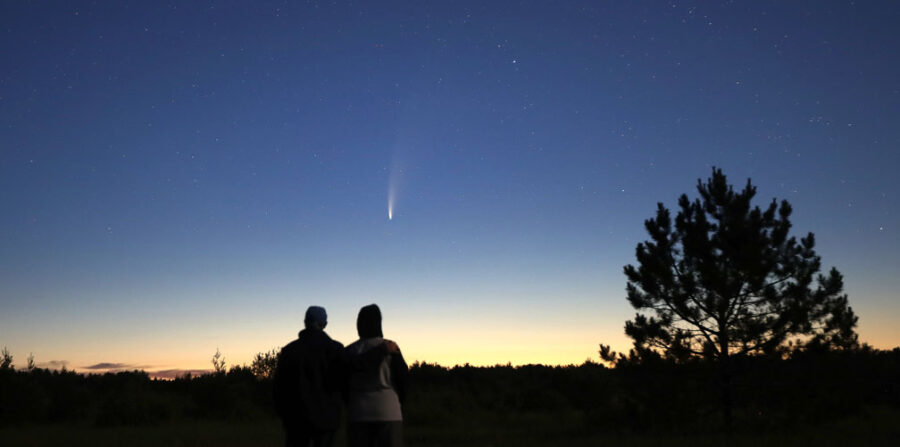 My more mature little girl as well as I discuss the comet on a mosquito-rich yet wonderful strike July 11 th. Bob King
Due to COVID-19 involves it is actually difficult or even tough to discuss the comet in a team setup. Our team can easily discuss it along with our family members as well as also a tiny teams of close friends along with effective social distancing. Youngsters really love experiences as well as keeping up behind time. What much better means to make an exclusive moment, as well as you could merely encourage your little one to create a lifetime hookup to the celebrities.
I want you lots of pleased evenings using this wanderer coming from the Oort Cloud. Like my pal Patricia mentioned: "What is actually a little bit of much less rest when you possess a comet checking out Earth?"
Good News: This Comet Won't Cause A Mass Extinction In 2020. Also, It's Really Pretty – KCCU
The first thing to know about a new comet that has appeared in the evening sky is that it's one big ice ball: about 5 kilometers (3.1 miles) across.
"Just to put it into context, about 65 million years ago there was an asteroid or a comet that was thought to have caused the extinction of the dinosaurs," says astronomer Amy Mainzen. "That object is thought to have been about 5 to 10 kilometers across."
And yes, it's true, Mainzen is Principal Investigator for a NASA mission known as NEOWISE, which is seeking to spot comets and asteroids that could wipe out life as we know it on Earth.
And NEOWISE did spot this comet in March.
And 2020 has been a terrible year so far.
But don't worry, she says, "It's definitely not going to hit the earth."
"It's definitely not going to hit the earth." – Amy Mainzen, University of Arizona
Instead the comet, known officially as C/2020 F3 (NEOWISE) – or just comet Neowise for short – is providing an unexpected bright spot in the lives of quarantined astronomers. It came from a dark part of the Solar System known as the Oort Cloud—an icy graveyard billions of miles out that is filled with ancient comets and asteroids. It shot into the inner solar system and astronomers watched as it passed the Sun at a distance closer than the planet Mercury.
"Of course, the question we asked was, 'Will it survive? Or is the sun going to melt it like an ice cube on a Tucson summer day?' " says Mainzen, a professor at the University of Arizona.
It did survive, thanks in large part to its size, and is now passing near Earth. Mainzen says the wanderer appears to be very rich in carbon, making it almost sooty in appearance if you were up close. But the sun's rays are making it visible, even to the naked eye.
"It looks at first like a little fuzzy dot and then you'll notice that it has this long streaky tail sticking off of it," she says.
Until this week, the comet was only visible to early birds willing to rise before dawn. But now it's appearing in the evening. To find it, go outside just after dark and look to the northwest, below the Big Dipper. It appears close to the horizon right now, but it will start to rise higher in the sky in coming days. Here's more on how to find it.
Mainzer says she can't predict how long the comet will remain visible. Its brightness depends on its distance from the sun and earth, and its composition. But while it's here, she finds it to be comforting to look at.
"In spite of the really difficult times right now, it's a reminder that we're part of a bigger universe," she says. "And there are some really wonderful and beautiful things in it."
Copyright 2020 NPR. To see more, visit https://www.npr.org.