What Taylor Swift Reveals About the US Economy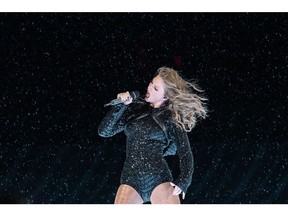 (Bloomberg) — Skyrocketing demand, limited supply, price gouging and monopoly accusations. And a customer willing to pay almost anything.
Welcome to "Swiftonomics."
Taylor Swift's upcoming US tour of 52 concerts has all the ingredients of a post-Covid demand shock. Some resellers reportedly asked $40,000 or more for concert tickets following last week's run on official sales, which left millions empty-handed and ready to pay whatever it takes to score a seat.
Swifties, as the popstar's fans are known, aren't necessarily your average American, but they capture the current moment in the post-Covid economy. Even as recession looms, many consumers are willing to splurge on what they missed at the height of the pandemic — whether it's travel or live entertainment.
Swift's fans represent an extreme version of that turbocharged consumer: millions of mostly Millennials and Gen Zs who waited at least four years to see the superstar live again and emerged from the pandemic with historically high rates of savings.
"Concerts are seen as an affordable luxury in times of crisis," said Lisa Yang, a Goldman Sachs Group Inc. analyst who publishes the bank's annual "Music in the Air" report on the global industry.

Read More: Here's The Real Reason You Can't Buy Taylor Swift Tickets

Right now, Swift's "The Eras Tour" tickets are available only on the secondary market and they're anything but cheap. About 2.4 million were sold last week before Ticketmaster suspended the official pre-sale. The ticketing company's site crashed under the pressure of some 14 million people trying to get seats.

Among them was Melissa Kearney, an economics professor at the University of Maryland who is now experiencing first-hand the basic laws of supply and demand. The mother of two Swifties, ages 12 and 15, is determined to spend whatever it takes after failing to score tickets.
"There's nothing more than this that they want in the world," said Kearney, who directs the Aspen Economic Strategy Group. "The pandemic in general changed the way people think about what's really important to them, and what brings them joy."

Gustavo Coutinho, who's never seen Swift play live, came up with a $2,000 budget after 10 months of savings. The 25-year-old consultant in Boston ended up spending about $1,500 to attend two concerts. "I would pay $3,000 if I had to," he said.

In the early 2000s, the late economist Alan Krueger came up with the concept of "Rockonomics" to explain the economy through the lens of the music industry. Krueger often used Swift, who released her debut album in 2006 at the age of 16, as an example of someone who played with strategies that boosted concert and product sales, calling her "an economic genius."
His pupils agree. "She's almost becoming a whole category," said Carolyn Sloane, who teaches a "Rockonomics" class at the University of California at Riverside. "People don't really see a great substitute for going to a Taylor Swift show. They really want to see her live, and I say that as a fan myself."

Other artists, including Bruce Springsteen, have proved fans are ready to pay sky-high prices for mega post-Covid live events — recession be damned.

Meanwhile, Swiftonomics is a crash course on another concept: monopoly. Politicians and attorneys general seized on the moment to renew their criticism of Ticketmaster, a dominant player in the live-music industry.

Even before last week, Ticketmaster and parent company Live Nation Entertainment Inc. were at the center of an antitrust investigation by the Department of Justice over whether the platform is abusing its power, according to people familiar with the probe.
Live Nation said Ticketmaster is a leader because of the quality of its platform, not any anticompetitive business practices. And Ticketmaster apologized to Swift fans, saying it would work on its system going forward. Swift herself said it was "excruciating" to watch mistakes happen.

Supply Mastermind

Ultimately, the singer is the mastermind behind the supply. She has chosen to play at high-capacity stadiums, and has added new concerts. Still, there's frenzy around her tours. "Very often you have the sense that scarcity increases demand," said Pascal Courty, an economist at the University of Victoria in Canada who researches resale markets for tickets.

One of the biggest questions in the broader economy is whether consumers will continue to spend as interest rates and joblessness increase.

Swiftonomics probably won't help answer. It's its own economic microcosm, and fans just shake it off.

"I hesitate to read too much into people's willingness to pay exorbitant amounts for Taylor Swift tickets in terms of what that says about the health of the US economy," said Kearney, the Swiftie-parent economist. "I'm more inclined to read into it that for the die-hard Taylor Swift fans —  of which there are many — the demand for tickets is nearly inelastic."

—With assistance from Ashley Carman and Reade Pickert.
French Economy Clings On to Growth as Energy Concerns Mount
(Bloomberg) — The French economy looks set to make it through the end of the year without a decline in output, even as business leaders are concerned about the increasing impact of surging energy prices on their activity.
A monthly survey of 8,500 companies by the Bank of France published on Thursday indicated a 0.1% expansion in the fourth quarter after activity improved more than anticipated in all sectors in November. Services are expected to grow again this month, while industry stabilizes and construction declines.
"Despite a very uncertain environment marked by a convergence of large-scale external shocks, activity is still resisting overall," the central bank said. Its longer-term projections published in September assumed no growth in the final three months of 2022.
Read more: Bank of France's Gloomy Outlook Casts Doubt on Macron's Plans
The assessment is relatively upbeat compared with an average forecast from analysts for France to finish the year with a 0.2% quarterly contraction. S&P Global's purchasing managers' index for November indicates a recession is already underway in the 19-nation euro area.
The Bank of France's survey also showed supply difficulties eased last month, reaching the lowest level in industry and construction since it started gauging frictions in May 2021.
Still, the central bank's measure of the impact of surging energy prices points to greater headwinds early next year. Of the business leaders surveyed, 24% said the energy crisis is already having a significant impact on activity, while 35% see a hit in the next three months.
China's Economy Is In for a Bumpy Ride as Covid Zero Comes to an End
(Bloomberg) — Three years after the first case of Covid-19 was reported in Wuhan, Chinese policymakers must now grapple with how to live with the virus while keeping the economy growing fast enough to stave off public anger.
With the Covid Zero policy being rapidly dismantled, the threat of economic disruption remains high. Infections are likely to surge, forcing workers to stay home, businesses may run out of supplies, restaurants could be emptied of customers and hospitals will fill up. Even though there's optimism the economy will recover as China opens up to the rest of the world, the next six months could be particularly volatile.
Goldman Sachs Group Inc. expects below-consensus economic growth in the first half of next year, saying the initial stages of reopening will be negative for the economy, as was the experience in other East Asian economies. Morgan Stanley predicts China's economy to remain "subpar" through the first half of next year. Standard Chartered Plc said growth in urban consumer spending will still lag pre-pandemic rates next year given the hit to household incomes during the pandemic.
The economy was already in bad shape this year because of the Covid outbreaks and a property market crisis. While China's zero tolerance approach to combating infections has kept infections and deaths relatively low for most of the pandemic, the rapid spread of the highly infectious omicron variant exposed the challenges of maintaining strict controls. From snap city-wide lockdowns to almost-daily Covid tests, the restrictions have taken a heavy toll on people's lives and the economy.
That discontent manifested in mass unrest at the end of last month. People in Beijing, Shanghai and elsewhere started to reject demands for quarantines or lockdowns of their housing estates, and between Nov. 25 and Dec. 5, at least 70 mass protests occurred across 30 cities, according to data compiled by think-tank Australian Strategic Policy Institute.
Authorities have moved to quell public anger by relaxing some Covid requirements around testing and quarantine — although the sudden and confusing changes to the rules over the past few weeks have injected more uncertainty about the economy's outlook.
Here's a deeper look at the economy's downturn and the challenges it faces as China exits Covid Zero.
People have been cooped up in their homesChina's cities have been hit hard by Covid restrictions, with mobility across the country's 15 largest cities plummeting in recent months, according to congestion data released by Baidu Inc.
Major hubs are showing strain, including the capital Beijing, as well as Chongqing and Guangzhou. Trips there have plunged in recent months below levels in previous years, according to subway data compiled by Bloomberg.
Few have borne the brunt of China's Covid Zero policy more than the financial hub of Shanghai, a major epicenter for recent protests. After a two-month lockdown this year to tackle a major outbreak, China's richest city is still struggling to get back up off its knees.
Malls have seen a surge in vacancies, consumer spending has plunged, and spending in areas like food and beverages has been depressed, mirroring the national trend.
Lack of spending has hit the economy hardCovid restrictions have battered the economy, with consumers pulling back on spending and business output plunging. Retail sales unexpectedly contracted 0.5% in October from a year earlier, with economists surveyed by Bloomberg predicting an even worse outcome of a decline of 3.9% in November.
The government is expected to miss its economic growth target of around 5.5% by a significant margin this year. The consensus among economists is for growth of just 3.2%, which would be the weakest pace since the 1970s barring the pandemic slump in 2020.
With onerous testing rules, flare ups in holiday spots, and official advice discouraging travel, holidaymakers have stayed home, adding a further drag on retail spending. Tourism revenue declined 26% to 287 billion yuan ($40.3 billion) over the week-long National Day holiday in October compared to the same period last year. Flight travel also dropped to its lowest levels since at least 2018.
Youth unemployment is near a record high
That's all combined to drive growing economic malaise among the country's youth, with the unemployment rate among 16-24 year-olds soaring to a record high of about 20% earlier this year. Joblessness among young people is more than triple the national rate, with many graduates struggling to find work in the downturn, especially in the technology and property-related industries.
Unemployment will likely get worse next year, when a new crop of 11.6 million university and college students are expected to graduate, adding to pressure in the labor market. Factories are still struggling to cope with Covid outbreaks
So far during the pandemic, the industrial sector has held up better than consumer spending since factories were protected from Covid outbreaks and global demand for Chinese-made goods was strong. That's changing now.
Export demand is plummeting as consumers around the world grapple with soaring inflation and rising interest rates.
The disruption at a major assembly plant in Zhengzhou for Apple Inc.'s iPhones and violent protests there last month also show the damage that outbreaks can have on production.
The housing market crisis continues to simmer
China's ongoing real estate slump has also been a source of unhappiness for homebuyers.  The property market, which has long been a major driver of the country's economy, is in its worst downturn in modern history, with sales and prices plummeting. Cash-strapped property developers struggled to finish building homes, prompting mortgage boycotts by thousands of buyers in the summer.
Despite authorities introducing a spate of measures recently to help make borrowing easier and ease tight cash flows for developers, the economy's downturn and lack of confidence mean the housing market continues to be depressed. The slump is not expected to end soon, with Bloomberg Economics expecting a 25% drop in property investment in the coming decade.Local governments are struggling to fund their spending
Government finances have come under severe pressure as the economy slumped. Land revenues have plummeted and local governments have had to boost spending on Covid control measures. The broad measure of the fiscal deficit in the first 10 months of the year is nearly triple the amount it was in the same period last year.
Relaxing testing and quarantine rules will help ease pressure on local government finances. However, it remains to be seen how far and fast authorities will go in dismantling Covid Zero if a surge in Covid cases puts strain on the healthcare system, a likely outcome given that a significant portion of the country's elderly and vulnerable population are still unvaccinated or lacking booster shots.
–With assistance from Kevin Varley, Jin Wu, Danny Lee and Fran Wang.
The US Fed's Balance Sheet Shows What's Happening To The Economy
The mother of all charts is below. This is the Federal Reserve balance sheet history straight from their website:
This is where the world's inflation comes from. Not all, of course, because central banks around the world have done the same. In goes new money and up goes the price of stuff. Now if there is less stuff, then up goes the price even more. However, without new money prices cannot rise across the board, inflation is always about money supply.
This is why the Fed is reining it in. Down goes money supply, down goes asset prices.
Now there is one modifying factor. If you pump new money into an economy and that money goes to drive up the prices of illiquid assets, then the inflationary impact will be in those illiquid assets and the new money will be locked up there and will only dribble into the "real economy." Let's say you pump in money and make it easy to be grabbed by people buying houses or stocks but make it hard to be grabbed by people buying groceries, well then up will go the price of houses and stocks but groceries will not be that much affected. The lucky (rich) folk with the stocks and house will get much richer and the people who need to buy groceries will get left behind somewhat but at least there won't be runaway inflation outside of stocks and houses. Woe betide an economy that hands out money to people to buy groceries because boy is everyone in for a bout of inflation then.
Ring any bells?
So to get prices under control you have to drain money from the system because when there is too much in the wrong places it starts rushing around bidding up the price of everything.
There is too much money in the system and that money is parked and it's parked at the Federal Reserve where banks who can't use a big chunk of this new money have kind of handed it back to the Federal Reserve to look after. That is the reverse repo which has gone out of whack with all the new money magicked up to bridge the pandemic.
Here is a chart of it:
Note how it matches the Fed balance sheet in character. This money is a bulwark for the banks if things get tricky as they can pull this cash out and back into play in the real economy, but in normality it would be down at 2014-2018 levels if there was just about the right level of money in the system. The Fed will feel there is plenty of room to tighten while these balances are high because if banks need liquidity, there it is.
This is where the big call lies. If banks were to say to the Fed, nope we aren't going to lend to anyone but you and turn the real economy into a credit desert while damming up the cash with the Federal Reserve then there is no hope of a "soft landing." If the money stays in the system as is then inflation should run its course and the new money supply would match new price levels, which wouldn't be so bad, but the trouble is government fiscal deficits would then necessitate further money supply increases creating further inflation which could only be combatted with more interest rate rises, causing a vicious circle of high inflation and stagnation. That is what happen in the 1970s…
But that is all "what if."
The real map is the progress of these two charts. If these balances fall without much drama then all is working out well, but if tightening starts to badly disrupt the economy without these levels falling materially then it will be a signal to take cover.
The institutions think inflation is about to fall sharply and that then new QE will restart. I say 'good luck with that.' However, these charts will provide the guidance necessary to judge the likely outcome ahead.
For me there needs to be a capitulation to define the new beginning we are entering and that hasn't happened yet.
Once again these charts will give a solid indication of what's up next.