WhatsApp will stop working on certain phones on January 1 – TechRadar
If you own a Windows phone, you might want to look for a replacement in the January sales, because WhatsApp is ending support for Windows 10 Mobile imminently.
You won't just stop receiving updates and new features. According to Facebook (WhatsApp's parent company), after December 31 you will be unable to use the app on your device at all.
There's no need to panic, though. While it's not as convenient, you will still be able to log into WhatsApp by visiting the site in your phone's web browser. You could also use Telegram or Skype to wish your loved ones a happy 2020.
Bad news for older phones
As MSPowerUser reports, WhatsApp is also ending support for older iOS and Android devices, though owners of these phones have a little longer to upgrade. Handsets running iOS 7 or older, and Android 2.3.7 and older, will lose access to WhatsApp on February 1.
All these devices are relatively old. There have been no new Windows 10 Mobile handsets since 2015, and iOS 7 and Android 2.3.7 are from 2013 and 2010 respectively.
Windows 10 Mobile still has a base of dedicated users who have hung onto their handsets, and even petitioned Microsoft to build a Surface Phone so they would have an alternative to Apple and Google, but the platform's days are well and truly numbered. The forthcoming Microsoft Surface Duo (which Microsoft refuses to call a phone, even though it can make calls and fits neatly into one hand) will run Android instead, and the company seemingly has no plans to develop a new operating system for phones.
5 video games for kids to while away the fall hours – that parents might like, too – CTV News
With winter weather approaching and our social options limited due to the COVID-19 pandemic, kids and teenagers might be tempted to fill their free time playing video games.
Here are five games released in 2020 that parents might be comfortable letting their kids play as they while away the hours this fall.
MARIO KART LIVE: HOME CIRCUIT
Platforms: Nintendo Switch
ESRB Rating: E (everyone)
Suggested Retail Price: $129.99
The anticipated latest entry into Nintendo's "Mario Kart" series literally takes the action into your house.
The "Mario Kart Live" kit comes with a real toy kart (Mario and Luigi are the characters currently available) mounted with a camera.
Players use the Switch to drive the cart around the house to create a racetrack. Once finished, players can race on the track in the game.
The "augmented reality" mix of real-world and virtual environments gives creative players a wealth of tools at their disposal to make challenging tracks. Standard Mario Kart elements such as items to boost speed or obstacles to impede karts can be mixed with everyday household items used as ramps or obstacles.
What's more, the game is free of some of the limitations of similar toys like slot-car racetracks. Setup and takedown is a breeze, as the only items that needed to be placed on the floor is four gates for the kart to drive through.
There are, however, a couple of potential drawbacks.
To get the most out of "Mario Kart: Home Circuit," you will need a large, well-lit space. It's possible to make smaller tracks for more compact areas, but the scope of what you can do will be limited.
Also, multiplayer presents some problems. The game supports up to four players on a track, but each must have their own kart and Switch console. There is no online multiplayer option.
Not only can multiplayer be costly, but the pandemic makes it difficult to meet in the same space to race against someone not in your social bubble.
Still, as both a collectible and a game, there's little doubt that this will be high on the wish list for any Mario Kart fan. Those with the space and the desire to create increasingly devious tracks should find enough replay value in the title for months to come.
ANIMAL CROSSING: NEW HORIZONS
Platforms: Nintendo Switch
ESRB Rating: E (everyone)
Suggested Retail Price: $79.99
The latest instalment of the popular "Animal Crossing" game was released in March, just as households across the country were preparing for the lockdown in response to the spreading pandemic.
The lighthearted nature of the game, which tasks you with developing an island paradise for your anthropomorphic animal buddies, was a welcome contrast to the uncertainty of the time.
The charming title has grown since then, with Nintendo releasing a number of free updates to keep the game fresh.
The recently released fall update includes Halloween-themed costumes to wear and decorations to place around the island, giving players several creative options to make their habitat suitably spooky.
With a Thanksgiving/Christmas themed update announced for sometime next month, "Animal Crossing: New Horizons" gives gamers of all ages a lot of bang for their buck.
ORI AND THE WILL OF THE WISPS
Platforms: Microsoft Windows, Xbox One, Nintendo Switch
ESRB Rating: E (everyone)
Suggested Retail Price: $39.99
An action/adventure game in the style of the Nintendo classic "Metroid", "Ori and the Will of the Wisps" game sees the light spirit Ori navigate a forest full of wondrous sights and treacherous traps in a mission to rescue a friend, and heal the land in the process.
The latest Ori adventure boasts beautiful art direction, clever level design and an empathetic tone that should resonate with younger players.
Some of the combat and puzzles could be challenging for inexperienced gamers, though that could be remedied by playing on an easier difficulty setting.
The sequel to the indie hit "Ori and the Blind Forest" received strong reviews for its gameplay and story when it was originally released for the Xbox One and Windows earlier this year. A version for the Switch was released last month.
NHL 21
Platforms: PS4, Xbox One,
ESRB Rating: E 10+ (Recommended for gamers 10 and over)
Suggested Retail Price: $79.99
With the 2020 Stanley Cup already awarded to the Tampa Bay Lightning in the NHL's Edmonton bubble, and the next season delayed until at least the beginning of January, "NHL 21" might help fill the hockey void.
"NHL 21" lets you lead your favourite hockey team to glory, or you can create your own player and take the journey from promising prospect to all-star.
Players can compete online against others, so friends can match skills while staying in a safe environment. Parents may want to monitor if their kids play online against strangers.
EA Sports releases a new game in its NHL franchise every year, and there is often not a lot to differentiate the titles on a year-to-year basis. If you have a recent NHL title, you may want to direct your entertainment budget elsewhere.
If you haven't bought an NHL title in a while, or are looking to pick up your first game in the series, then "NHL 21" is a way to scratch the hockey itch while the pro leagues are on hiatus and minor programs are suspended.
MARVEL'S AVENGERS
Platforms: Microsoft Windows, Xbox One, PS4, Google Stadia
ESRB Rating: T (Teen)
Suggested Retail Price: $79.99
It's fair to say "Marvel's Avengers" didn't quite live up to its heroic hype when it was released last month.
Reviews were mixed, with praise for its short but excellent single-player campaign and a lukewarm reception for its directionless online component.
Still, superheroes are pop culture dynamos, and there is enough here for fans of Captain America, Iron Man and Black Widow to enjoy.
Combat is fast and furious, and each of the six currently available Avengers have their own play style. Rampaging into a horde of the enemies with the Hulk or lighting them up with Thor's hammer feels right.
While the Avengers are a force for good, the violence might be intense for very young gamers. Teen players who are into superheroes, however, will find a relatable protagonist in the delightful Kamala Khan, otherwise known as Ms. Marvel.
"Marvel's Avengers" might currently be a bit thin on content for those who aren't big fans of the genre, but that might change. The game's developers have beefed up the multiplayer since launch, and new characters are on the way, with the Kate Bishop version of Hawkeye expected in the coming weeks.
This report by The Canadian Press was first published Oct. 23, 2020.
Why the iPhone 12 Pro is worth the upgrade cost – AppleInsider
Putting the iPhone 12 Pro through its paces in the real world really shows why it's worth the extra cost over an iPhone 12.
It's more than surface deep
The new iPhone 12 Pro of course offers more features than its predecessors, but before you even notice any of those, you immediately see — and feel — how it has all been physically redesigned. As with all the iPhone 12 range, it has the iPad Pro-style flat edges, and they make it remarkably appealing to hold.
Then with the iPhone 12 Pro, Apple retained the stainless steel frame but has four new colors. What's been less well reported, though, is that even the colors that we thought we'd seen before, such as silver and gold, have a subtly different — and better — look.
For instance, the silver version, which has the white glass back, is now lighter than before. The gold has a new finish to make the color more substantial around the edge, and this also makes it more resistant to fingerprints. Unfortunately, the darker colors remain fingerprint magnets.
Graphite iPhone 12 Pro and space gray iPhone 11 Pro
Whereas Pacific Blue is entirely new. It replaces last year's green and, at least anecdotally, appears to be a particularly popular option. There's a slight slate-color tint to the blue on the iPhone 12 Pro, and it's gorgeous enough that you will keep staring at it until you put the phone in a case.
To go with these brand new colors, and improved existing ones, are new exclusive wallpapers. Apple has created four new live wallpapers for the iPhone 12 Pro line that match the phone colors, and move. Hold your finger on the lock screen and these images animate as if they have lens flares.
Massive camera updates
You can point to the finer color and, actually, to the brighter screen, to say there are variations between the iPhone 12 and the iPhone 12 Pro, but the real differences are in the new photo and video capabilities on the new iPhone 12 Pro.
Most of the best new features are relegated to the iPhone 12 Pro Max, though. That has yet to be released, but in the meantime, iPhone 12 Pro has some key new features of note.
Such as the addition of Dolby Vision recording at 60 frames per second, as opposed to the 30fps of the iPhone 12. The inclusion of Dolby Vision at all is a feat, and it means that these two smartphones are the first in the world on which you can shoot, edit, and share 4K Dolby Vision HDR.
However, if you are going to benefit from Dolby Vision, it feels wrong to hamper yourself with the 30fps version. The iPhone 12 Pro's 60fps is certainly better, and makes greater use of the potential of Dolby Vision recording.
What's more, in real-world use, it is as easy as you'd want and expect it to be.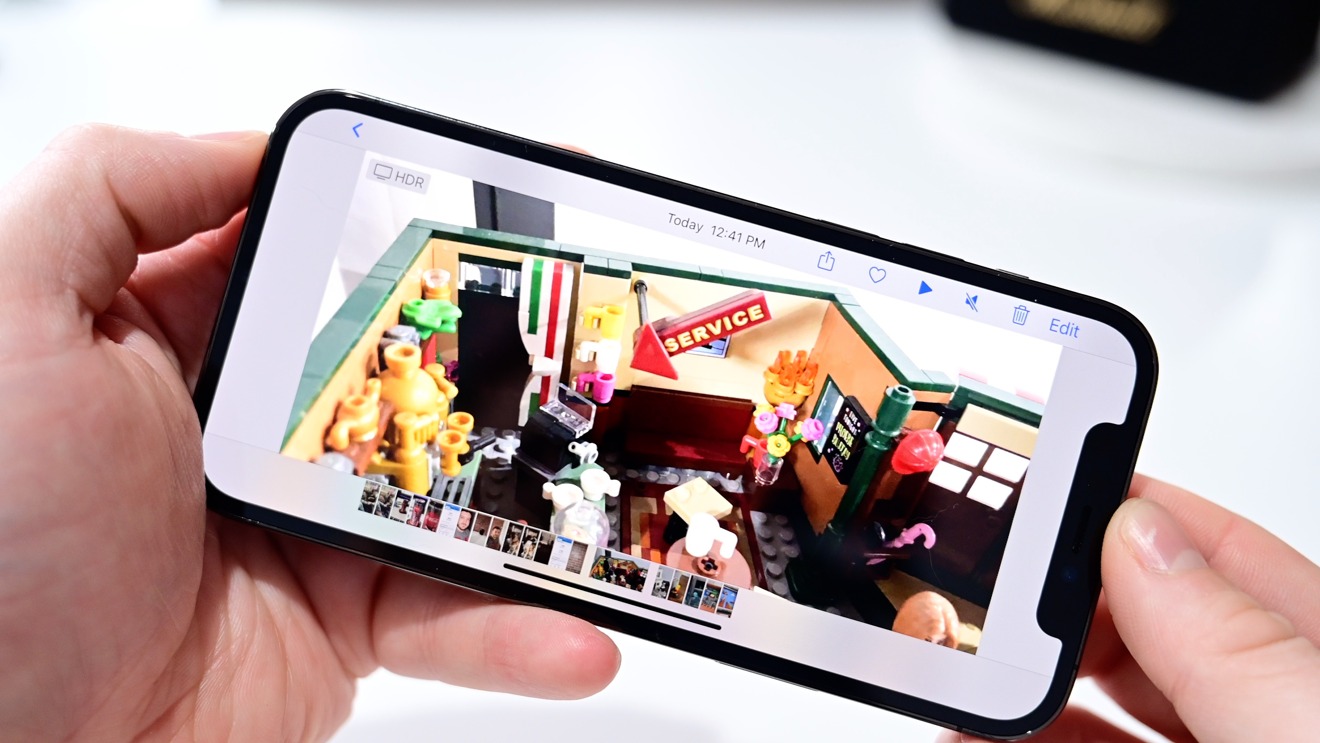 Dolby Vision HDR Video
When you come to play or edit it, you can immediately tell that footage was shot in Dolby Vision because it is marked with an HDR watermark in the top-left corner of the video app. Similarly, if you edit in the Photos app, you'll see the display get brighter as it starts to display this footage.
It all looks very good when played on an HDR-capable display, but can be toggled off if you don't wish to capture it and take up all the storage space it requires.
Night shoots
Another frankly amazing feature we explored was night mode portraits on the iPhone 12 Pro. This night mode feature came with the iPhone 11 line, and it already allowed you take long-exposure shots in very low light situations. With iPhone 12 Pro, though, that same functionality comes to portrait shots.
When you switch to portrait mode in the Camera app and go to take a pic in a very low-light environment, you will see the night mode icon in the lower-left corner where the 1X and 2X indicators are.
You can't zoom in and keep this portrait effect, you have to take the shot at 1X. Explain to your subject that you have to step closer. That's because for this type of shot it needs the new faster aperture of the wide-angle camera rather than that on the 2X tele lens.
For the iPhone 12 Pro, Apple increased the aperture from f/1.8 to f/1.6 which allows more light in and allows the shutter to fire faster. The new LiDAR scanner is also used because it allows the camera to focus in near pitch-black environments.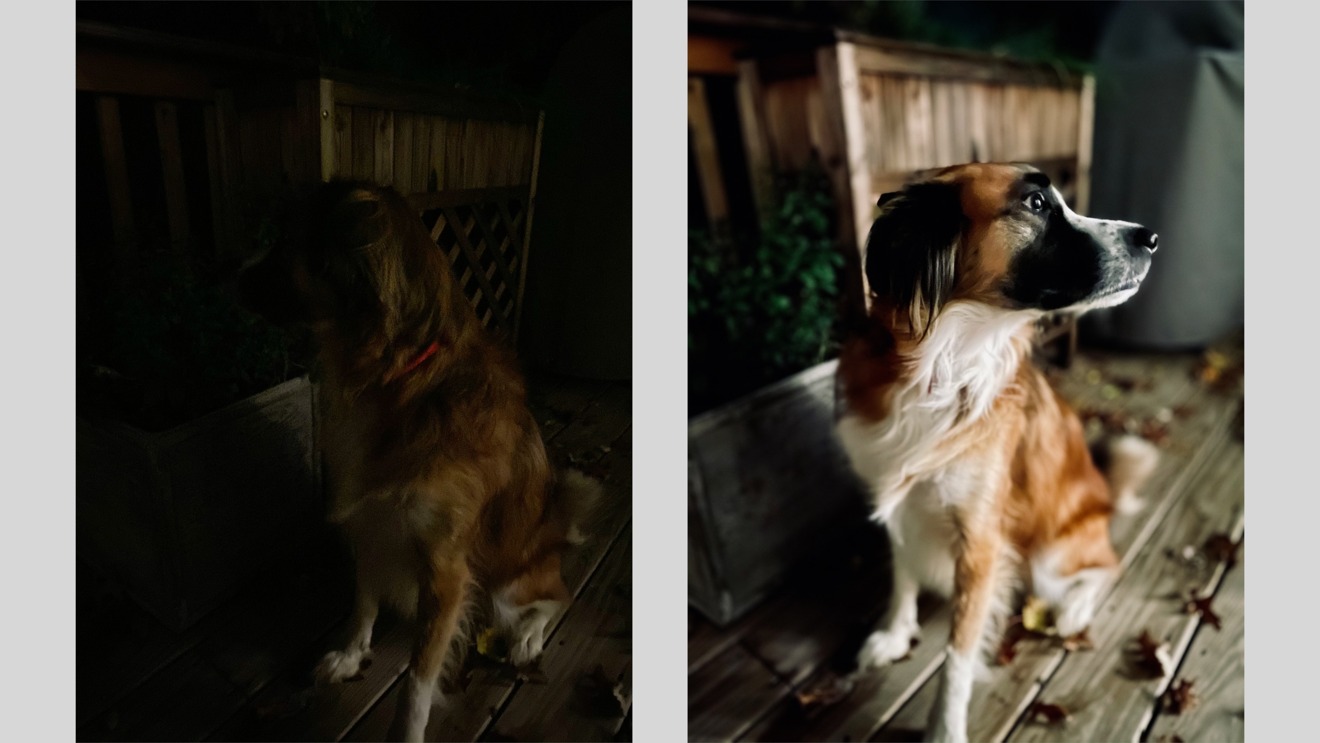 iPhone 11 Pro low-light portrait shot versus night mode portrait on iPhone 12 Pro
We will have a more comprehensive comparison soon, but we did take a quick set of example shots using portrait mode on our iPhone 11 Pro and iPhone 12 Pro. The iPhone 11 Pro wasn't able to enable portrait mode at all so it just captured a normal image.
Naturally, that image came out very, very dark and completely unusable. On the other hand, iPhone 12 Pro captured a very impressive image in almost no light.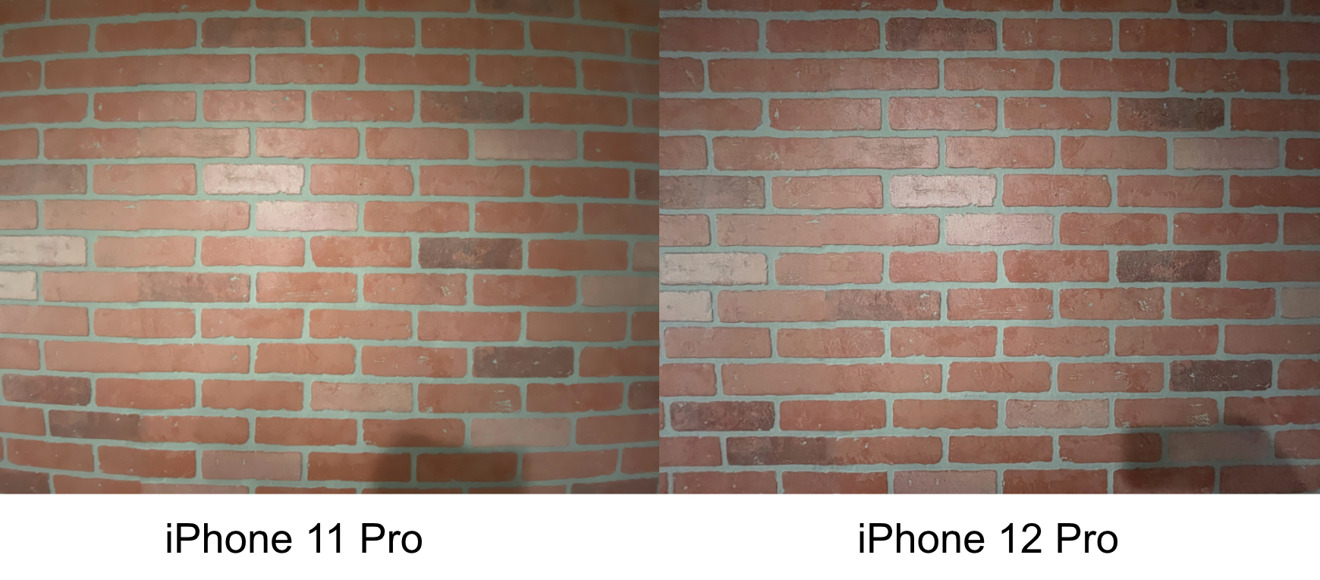 Ultra-wide lens correction on iPhone 12 Pro
Aside from night mode coming to all cameras — notably including the front-facing True Depth or selfie one — Apple has improved the ultra-wide lens. There's also a new lens correction that's applied in order to deal with the quite excessive distortion that could be present before. Once more, see our sample shot took on iPhone 11 Pro and iPhone 12 Pro to see how much of a difference this has made.
As important and visibly improved as the new lens and camera systems are, it's this combination of corrections and software control that make the iPhone 12 Pro such a good buy for photographers. That's only going to become even truer, too, when the promised Apple ProRAW format comes out.
We'll know for sure when it's released and we can test it in the real world. However, Apple ProRAW is claimed to take all of the advantages of shooting RAW, of using uncompressed images, and applying Apple's computational photography algorithms to get the very finest results possible.
Internal upgrades
Powering all of these new features is Apple's latest A14 Bionic processor. Last year, the A13 Bionic processor on the iPhone 11 Pro scored 1334 and 3543 on the single-core and multi-core tests. This year, the iPhone 12 Pro pulled a 1598 and a 4180.
That represents about a 20 percent improvement on the single-core score and about 15 percent gain on the multi-core. These are the kinds of improvements that don't just sound good on paper, you can actually appreciate them in real use.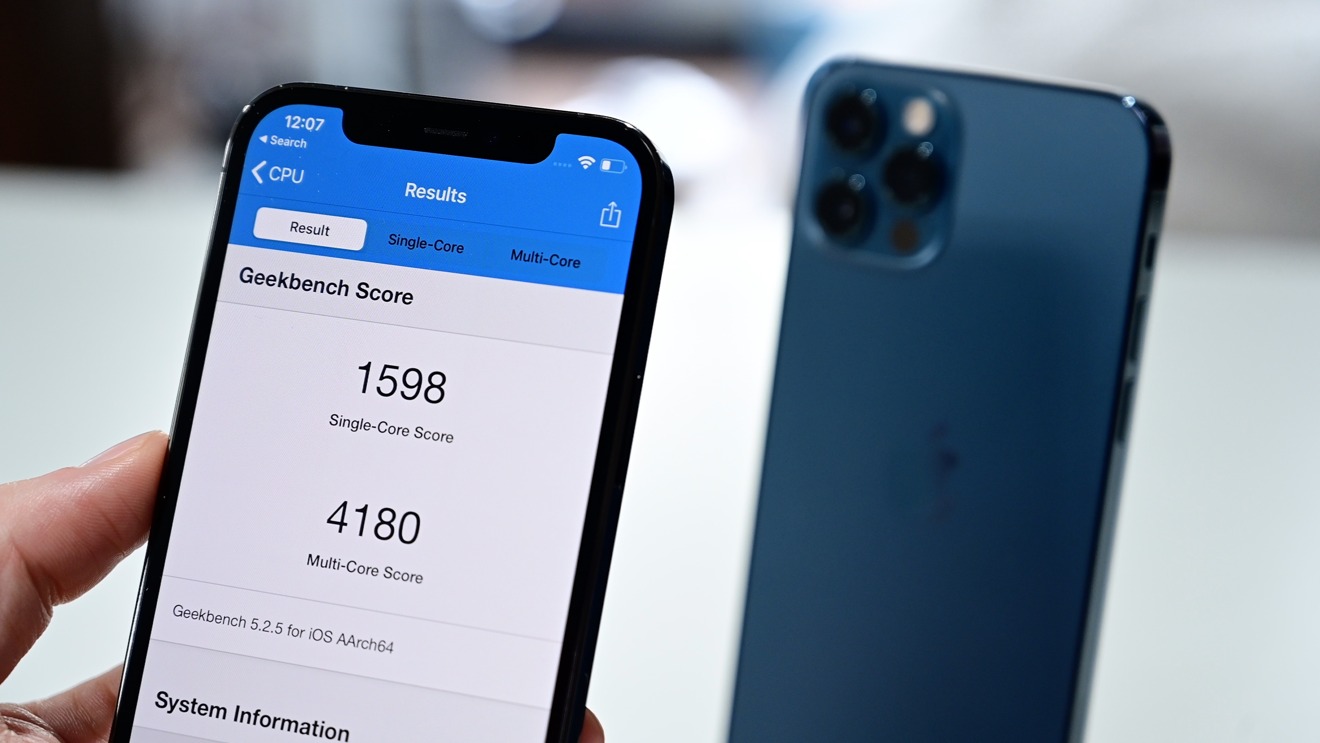 Geekbench scores for iPhone 12 Pro
That's going to apply to everything you do on the phone as most tasks are single-core, so this iPhone 12 Pro feels more snappy in daily use. But it's particularly noticeable in video and photo editing, which is faster even when you're dealing with 4K 60FPS content.
Most of these internal differences are also in the iPhone 12, but Apple has given the iPhone 12 Pro an extra 2GB of RAM, bringing it to 6GB. This directly aids with specific tasks like loading apps from the background, many Safari tabs, and more. Storage was doubled too, going from 64Gb on the base model to 128GB at the same price point.
Of course, 5G is also an internal upgrade, supporting both sub-6GHz and mmWave 5G here in the US, and sub-6GHz elsewhere.
MagSafe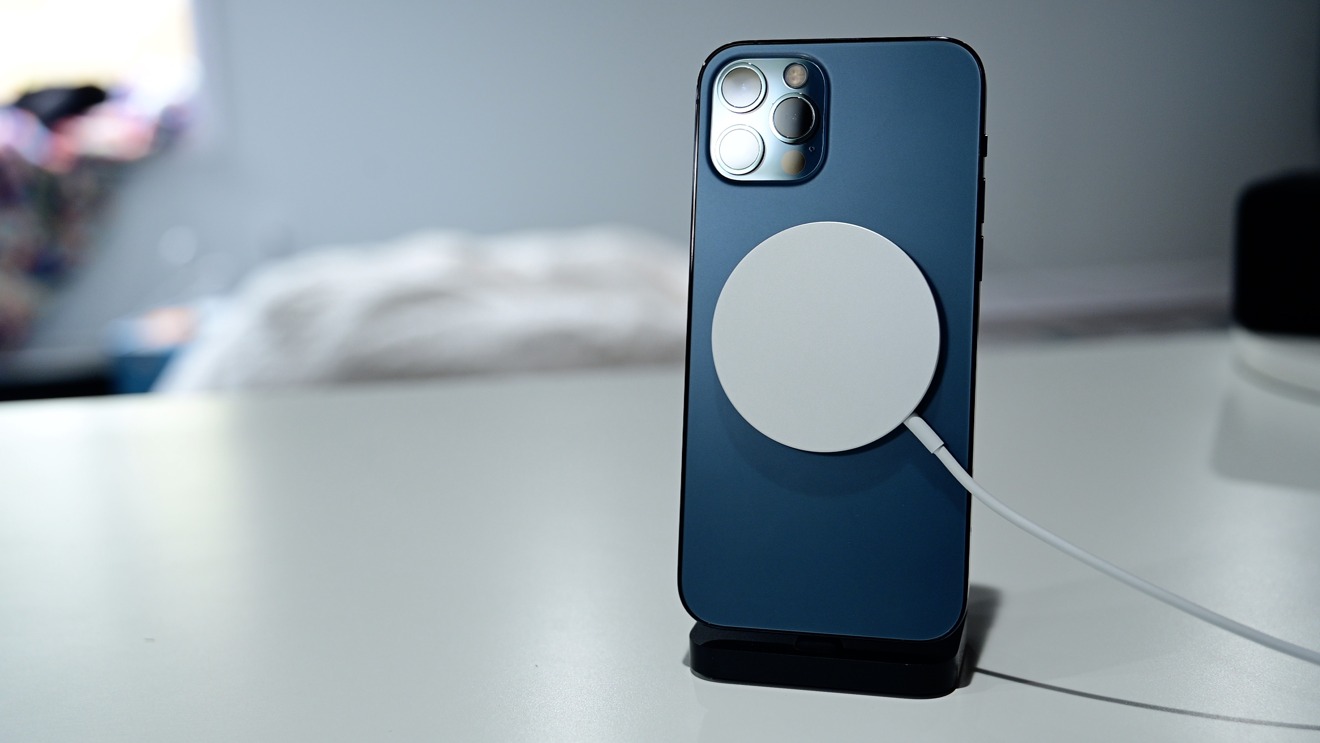 MagSafe charger on iPhone 12 Pro
In terms of what it means for the iPhone 12 Pro, though, MagSafe is poised to be a massive new feature. You're going to see a huge increase in the iPhone ecosystem between cases, chargers, mounts, wallets, cases, folios, PopSockets, and more, which are all on their way.
Right now, our real world tests with the iPhone 12 Pro have been using Apple's own cases, and its own MagSafe charger.
Even based on these, though, MagSafe is a hit. The convenience of the longer lead that means you can pick up the phone without disconnecting it from the charge is a boon.
And the magnets really do instantly center the iPhone 12 Pro on the right spot to make sure it gets charged properly.
Look to the future
That's the thing about an Apple device. You can review it as it's launched, and you can properly test it out in the real world, but then it changes.
We're going to see the addition of more MagSafe devices — such as Apple's own forthcoming device that charges both the iPhone 12 Pro and the Apple Watch — and we're going to see Apple ProRAW soon.
Right now, the iPhone 12 Pro is an exceptional phone. It's going to be interesting to see just how significant the extra camera improvements are in the iPhone 12 Pro Max. But regardless of that, this iPhone 12 Pro is a good buy that is going to keep on getting better.
Facebook launches free-to-play cloud gaming feature – MobileSyrup
Facebook has launched a free-to-play cloud gaming feature that lets users stream and play games without downloading them.
Some of the games users can play include Asphalt 9: Legends and WWE SuperCard. The social media giant emphasizes that it's not spinning off a separate cloud gaming service.
"All cloud-streamed games are playable in the same way you play games now on Facebook, whether it's in our Gaming tab or from News Feed," Facebook outlined in a blog post.
Facebook notes that no special hardware or controllers are needed, and that your hands are the controllers since it's launching with native mobile games. You can also play the games with a mouse and keyboard on desktop.
"More than 380 million people play games each month on Facebook, and people will play cloud-streamed games right alongside those playing instant games in HTML5," Facebook states.
The games are launching in beta on Android and Web, but won't be available on iOS "for now." The first set of games include Asphalt 9: Legends, WWE SuperCard, Mobile Legends: Adventure, PGA TOUR Golf Shootout and Solitaire: Arthur's Tale.
Facebook says that in the coming weeks it'll add Dirt Bike Unchained, and will continue to expand the games library.
Further, the social media giant notes that it's "introducing player names and gaming-themed avatars for players to represent themselves in game instead of using their full name and profile picture."
Facebook has also redesigned its gaming tab to include updated discovery and re-engagement features to help players find new games to try and get back into the ones they used to love.
Image credit: Facebook
Source: Facebook