Why Indian real estate market will bottom out in 2021 – Moneycontrol.com
Demand forecasting in real estate has always been a puzzle for economists. Economics suggests consumption products like iPhone, cars, mobile data, have a falling demand curve which means as price falls their consumption increases.
For investment products like equities, as prices fall, trading volumes normally come down indicating lowered demand. However, when it comes to real estate, demand forecasting becomes a complex exercise, some buy homes for consumption, some for investment and there are others who look at homes for investment-cum-consumption. Therefore, demand forecasting has always remained a puzzle. However, a broad-based analysis can definitely throw a good amount of light on the expected trend.
A. 30-year empirical evidence
A 30-year period is generally considered to be a large period to analyse long term trends (see Table 1).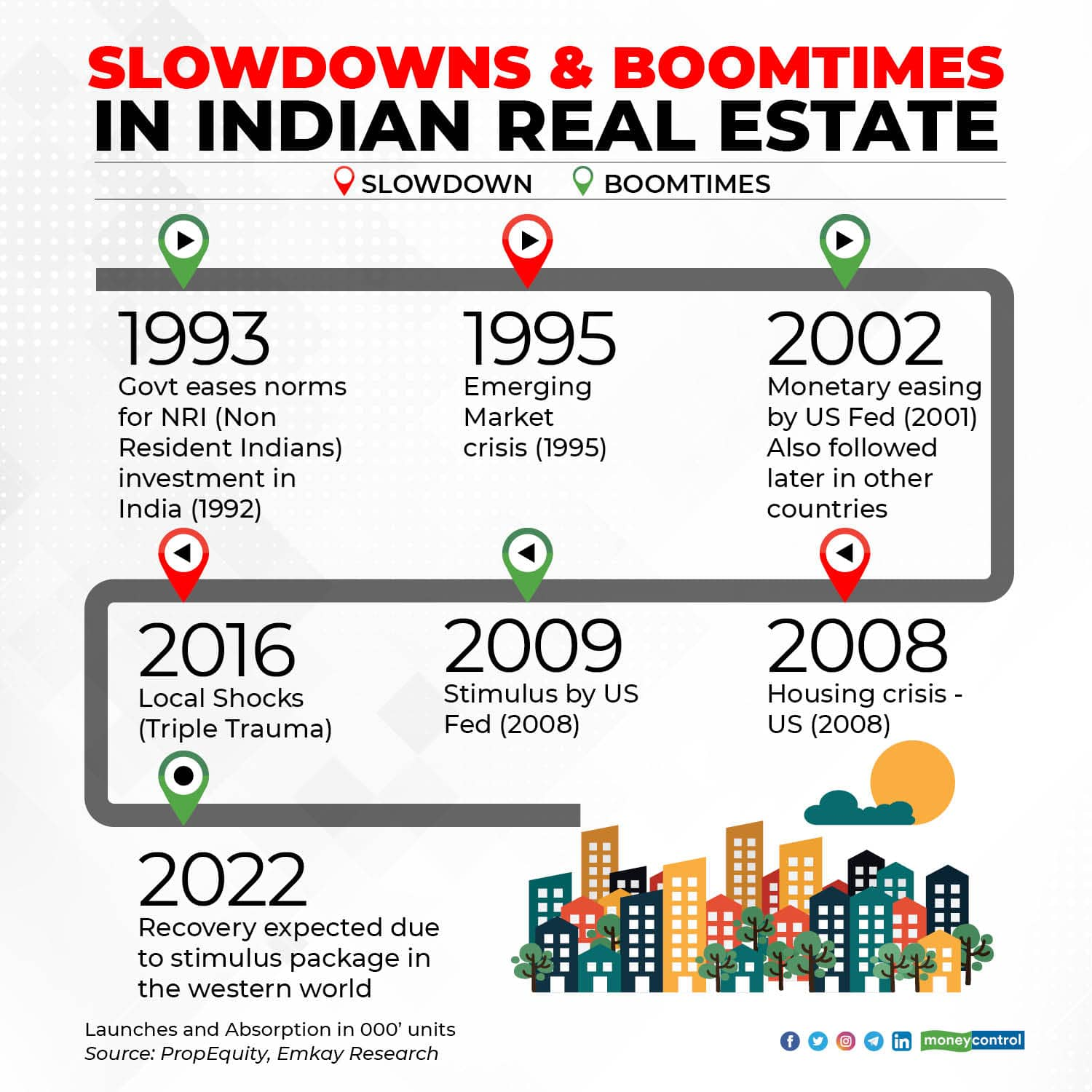 Since 1990, there have been three bull runs and three slowdowns in the property market. Interestingly, all of these have been driven by big-ticket events.
In 1992, the government eased norms for the flow of NRI money into Indian real estate. This big decision led to the first bull-run in 1993 that lasted till the emerging market crisis of 1995. During '93-95, many NRIs had their first taste of buying a property in India. Navi Mumbai was the biggest beneficiary of this bull-run.
The slowdown of late 90s was reversed by the quantitative easement undertaken by the US Central bank in 2001 after the 9/11 crisis. Many other central banks followed easy money policies. The free-flowing money found its way into Indian real estate, largely through FDI in real estate. This triggered a historic real estate boom that lasted till the US housing crisis of 2008.
To fight the housing crisis, the US government propelled a massive liquidity push. With many countries following the big daddy, the global liquidity again found a way into Indian real estate through Real Estate funds, HFCs etc. So post-2009, we again saw a major upswing in realty prices coupled with huge volumes.
And then in 2016-17 came in the Triple Trauma for real estate developers (Demonetisation, GST and RERA). This led to a big slowdown in real estate markets across India.
After Covid-19 hit, we again have a scenario where most of the Western economies have developed oceans of liquidity. This has made yields on treasury bonds close to or below zero. Therefore, in all likelihood, one will see this surplus money making inroads into Indian real estate during the next twelve months. The only possible outcome will then be an upswing in real estate by 2022.
B. City-specific analysis
While the real estate market in every Indian city has its own character but most large cities have followed the Mumbai market. Since Mumbai remains the largest real estate market, it will continue to determine trends across India. Most local indicators in Mumbai now confirm the impending bottoming out of Mumbai market.
1. Reducing gaps between incomes and EMIs
The lockdown has resulted in lower income for homebuyers. However, over the years, incomes have been increasing and property prices and interest rates have been moving southwards. As a result, we have a situation where the EMI-to-income ratio has come down from about 50 percent in 2014 to about 25 percent in 2020. And this is a very healthy indicator.
2. Steady demand and reducing supply
During the last three years, the high level of debt in a developer's balance sheet had forced them to liquidate inventory to make their commitments to the lenders. As a result, we experienced falling market prices. With more money flowing into the system, this pressure will come down resulting in significantly lower stress levels and fewer discount deals. Furthermore, the number of developers in Mumbai has come down by 40 percent which would further work towards tightening the supply.
On the demand side, Mumbai's annual sales have been steady at 25,000-30,000 residential units (see Table 2). Steady sales in a bearish market indicate the market has been almost completely dominated by end-users (most investors prefer investing in a rising market). What further confirms early signs of an upcoming bull market is that the annual supply of housing units in Mumbai market has been coming down. In fact, during the last two years, the supply has lagged behind the actual demand and this deficit has reduced the inventory overhang. Therefore, we are not very far from the point of inflexion.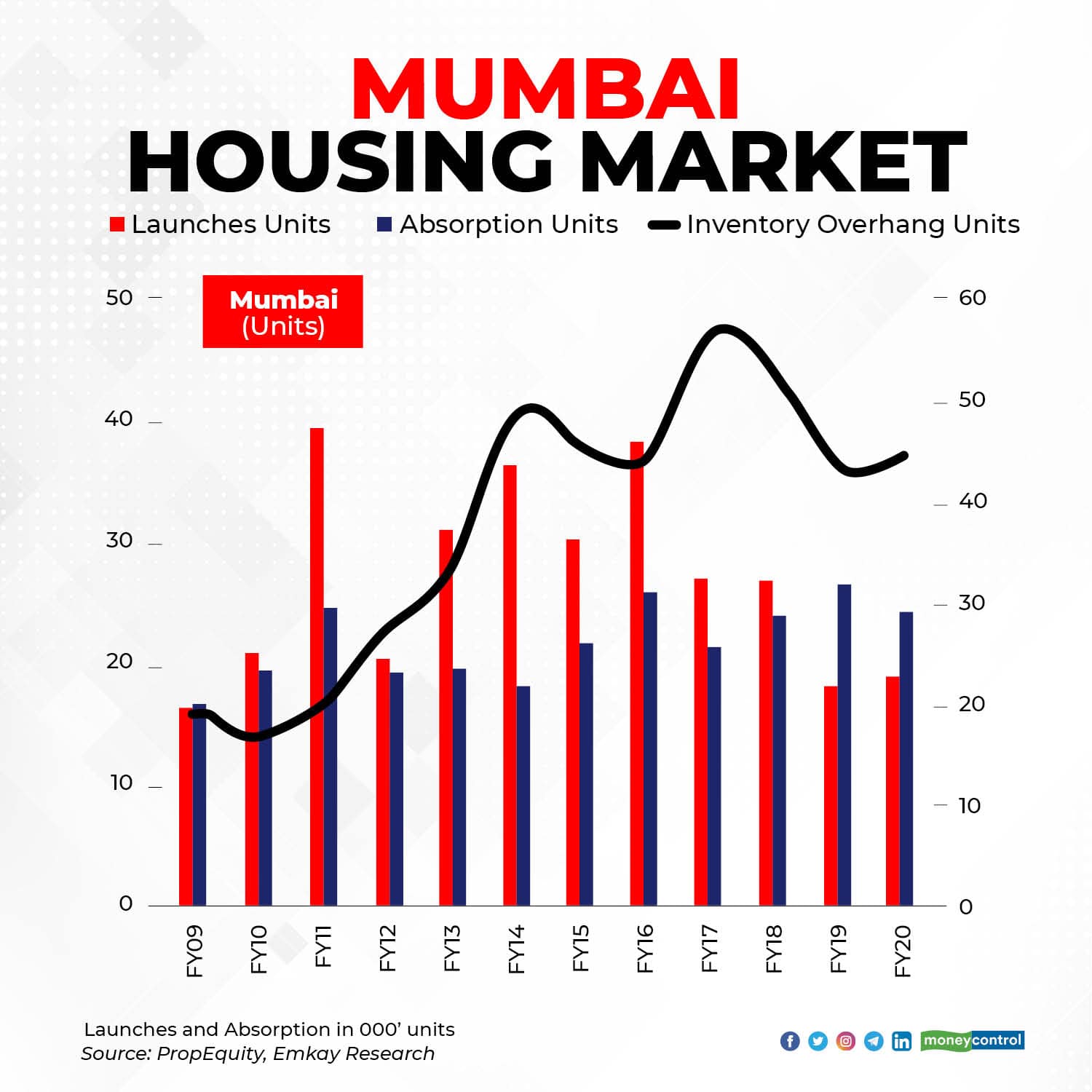 3. Increasing cost for developers
The logic that reduction in demand for new homes or fall in their prices would lead to a crash in land prices will not work. This is because the supply of clear title open land is extremely limited. Majority of the fresh supply of housing in Mumbai comes from the redevelopment. In the case of redevelopment projects, the cost of land largely comprises the cost of rehabilitating the tenants.
Over the years, due to changes in regulation and due to higher demand by the tenant the cost of rehabilitation has significantly increased. Accordingly, there is hardly any rehabilitation projects that is feasible below a selling price of Rs 20,000 per sq ft of carpet area.
With construction cost being inflationary, this cost is only going to increase. Therefore, the potential for cheaper supply coming through redevelopment has faded away. Accordingly, reducing supply coupled with the increasing cost of operations would mean that Mumbai housing will now have to prepare itself for cost-push inflation.
4. Reducing gaps between Rental yield and bank FD rates
In the past, rental yields in Mumbai were a low of 1.5-2 percent. With the fall in property prices and increase in rental over the years, rental yields are now in the range of 3-4 percent. During the same period, the interest on bank FDs has reduced from 8-8.5 percent to about 5-6 percent. This has significantly reduced the incentive to defer the decision to purchase a property.
With most of the deflationary factors having fizzled out, the consumption-driven buyers are using the current opportunity to buy the largest possible apartment their incomes can justify. At the same time, the investment-driven customers are waiting for the inventory to deplete further. However, given the easy global money and reduced supply, the wait for the bottom is unlikely to go beyond 2021.
How to Buy a home in Canada
Homeownership can be very exciting, but it isn't always the best thing for everyone. Before you decide to buy a home, make sure you carefully consider the costs.
According to Canada Mortgage and Housing Corporation (CMHC), your monthly housing costs should not be more than about 35% of your gross monthly income. This includes costs such as mortgage payments and utilities.
Your entire monthly debt load should not be more than 42% of your gross monthly income. This includes your mortgage payments and all your other debts.
Use CMHC's step-by-step guide to help you decide if homeownership is right for you.
Saving for your home
To buy a home, you need a down payment. You also need money to pay for the upfront costs.
Make saving part of your monthly budget. Most employers deposit your pay directly into your chequing or savings account. Increase your chances of reaching your savings goals by setting up automatic transfers to a savings account each pay cheque.
Use the Financial Goal Calculator to help you determine how long it will take you to reach your savings goals.
Saving with a Tax-Free Savings Account (TFSA)
A TFSA is an account that lets you save or invest your money tax-free. You won't pay tax on money you withdraw from your TFSA. You can also use your TFSA to help you buy a home.
Saving with a Registered Retirement Savings Plan (RRSP)
An RRSP is an account that allows you to save money for your retirement. You don't pay taxes on your savings until you withdraw money from the RRSP.
The Home Buyers' Plan (HBP)
If you're a first-time homebuyer, the HBP allows you to withdraw up to $35,000 from your RRSPs tax-free to put toward buying your first home.
Learn more on how to participate in the Home Buyers' Plan.
The First-Time Home Buyer Incentive
This incentive offers 5% or 10% of your home's purchase price to put towards a down payment.
Learn more about the First-Time Home Buyer Incentive.
Using savings and investment
If you plan to buy a home in the near future, focus on building your savings. You'll want to keep your money protected and easily accessible.
Short-term savings and investment options may include:
savings accounts
short-term guaranteed investment certificates (GIC)
low-risk mutual funds
Ask your financial institution or advisor about the short-term investments they offer and how they work.
Paying for your home
Most people need to borrow money to buy a home. You also need to put some of your own money into the purchase.
Down payment
When you buy a home, you must put a certain amount of money toward the purchase upfront. This is called a down payment. Your mortgage loan will cover the rest of the price.
Find out how much of a down payment you need to purchase a home.
Mortgage process
A mortgage is likely the biggest loan you get in your lifetime. It's important that you understand the process.
Check your credit report before you apply for a mortgage
A potential lender considers your credit history before they decide whether or not to approve your mortgage application.
Before you start shopping around for a mortgage:
Shop around for a mortgage
Lenders may have different interest rates and conditions for similar mortgages. Talk to several lenders to find the best mortgage for your needs.
You can get a mortgage from:
Mortgage lenders – These institutions lend money directly to you. Explore the different types of lenders that are available, including banks and credit unions.
Mortgage brokers – They don't lend money directly to you. Mortgage brokers arrange transactions by finding a lender for you. Since brokers have access to many lenders, they may give you a wider range of mortgages to choose from. The lender pays a commission to the mortgage brokers, so there's no cost to you.
Find a local certified mortgage broker with Mortgage Professionals Canada.
Find out about getting pre-approved and qualified for a mortgage.
Get the mortgage that meets your needs
Mortgages have different features to meet different needs. It's important that you understand the options and features.
Questions you should ask yourself include:
do you want a mortgage with a fixed interest rate or one that can rise or fall
how long of a term do you want
how often would you like to make payments toward your mortgage
Find a mortgage that is right for you.
Mortgage loan insurance
If your down payment is less than 20% of your home's price, you need to purchase mortgage loan insurance. In some cases, you may need to get mortgage loan insurance even if you have a 20% down payment.
Mortgage loan insurance protects the mortgage lender in case you're not able to make your mortgage payments. It does not protect you. Mortgage loan insurance is also sometimes called mortgage default insurance.
Optional mortgage life, critical illness, disability and employment insurance
Your lender may ask whether you would like to purchase life, critical illness, disability and employment insurance.
These products that can help make mortgage payments, or can help pay off the remainder owing on your mortgage, if you:
lose your job
become injured or disabled
become critically ill
die
There are important exemptions for each of these insurance products. An exemption is something not covered by your insurance policy. Read the insurance certificate before you apply to understand what this insurance covers.
These insurance products are optional. You don't need to purchase this insurance coverage for your mortgage to be approved. You must clearly agree to sign up for this insurance before the lender charges you for it.
Tax credits for homebuyers
The Government of Canada offers two tax credits for specific types of homebuyers. Your provincial or territorial government may also offer other home-buying incentives.
The Home buyers' amount
You get access to this tax credit when you purchase your first home and submit a tax return. It's an effective means of offsetting some of the upfront costs associated with buying a home. Eligible homebuyers may receive a tax credit of up to $750.
Find out if you're eligible for the Home buyers'amount.
GST/HST housing rebates
Generally speaking, sales of new homes are subject to the GST/HST. You may qualify for a rebate for some of the tax you paid.
Learn more about the GST/HST housing rebates that may be available to you.
Moving expenses
You may move into a new home to work or run a business in a new location. You can deduct eligible moving expenses from the employment or self-employment income that you earn in the new location.
Home buying costs
When you buy a home, you have to pay for upfront costs in addition to your mortgage. These are called closing costs. You can expect to spend between 1.5% and 4% of the home's purchase price on closing costs. You usually pay these costs by the time the sale is completed or "closes".
Legal costs
You have to pay legal fees on your closing day. This is the day that your home purchase is complete. These fees are usually range between $400 to $2,500 but will vary depending on your lawyer's or notary's rates.
A lawyer or notary can help protect your legal interests. They make sure that the home you want to buy does not have a lien against it. A lien is a legal claim over another person's property that someone files to ensure a debt gets paid.
A lawyer or notary reviews all contracts before you sign them. They also review your offer or agreement to purchase.
Home insurance
You must have home insurance in place as a condition of getting a mortgage.
Home insurance can help protect your home and its contents. It typically covers the inside and outside of your home in case of theft, loss or damage.
Learn more about how home insurance works and the different types that are available.
Land registration
Before the sale closes, you're required to pay to register your property's title under your name. This may be called a land transfer tax, a deed registration fee, a tariff, or a property transfer tax.
The cost is a percentage of the home's purchase price. For example, if your land transfer tax is 1.5% and your home cost $300,000, you pay $4,500.
Adjustment costs
The seller of the home you're buying may be entitled to adjustments. For example, the seller may have already paid the property tax on the home past the purchase closing date. If that's the case, the seller receives a credit on the closing date. You must then pay this credit amount to cover the money already paid by the seller.
New build GST/HST
Generally, if you buy a new build home, you pay GST or HST. Some builders include the HST in their sale price while others don't. Make sure to check. Otherwise, you have to pay this cost upfront on closing day.
Other closing costs
Other closing costs may include:
interest adjustments (period between your purchase date and your first mortgage payment)
Certificate of Location cost
estoppel certificate (for condominium units)
township or municipal levies (may apply to new homes in subdivisions)
mortgage default insurance premium (if paying premium up front instead of adding it to mortgage loan)
provincial sales tax on premiums for mortgage default insurance (applicable in some provinces)
Other home-buying costs
Other costs you may need to budget for include:
Home appraisal
Mortgage lenders may ask you to have an appraisal done as part of the mortgage approval process.
An appraiser provides a professional opinion about the market value of the home you want to buy. An appraisal fee is generally between $350 and $500.
For more information on the appraisal process, read the guide from the Appraisal Institute of Canada.
Home inspection
An inspector provides a comprehensive visual inspection of a home's overall structure, major systems and components such as:
electrical and plumbing systems
the foundation
the roof
CMHC recommends that you include a home inspection as a condition when you make an offer.
Use tips from the Office of Consumer Affairs to find an inspector and learn about home inspections.
Moving costs
Before moving in, you may also have to pay for:
moving costs
storage costs
real estate costs for selling your home (if applicable)
redirecting mail
Find out what to consider when choosing a moving company, and how to plan for moving day costs.
Once you move in, you may immediately face other costs, including:
utility hook-up fees
basic furniture and appliances
painting and cleaning
water tests
septic tank tests (if applicable)
Use this home purchase cost estimate form to estimate your home-buying costs.
Source: Financial Consumer Agency of Canada
How to Renew and renegotiate your mortgage in Canada
Your mortgage may end when the term is over, or by agreement between you and the lender. When the term ends, if you still owe money you may have to renew the mortgage. If you want to change the agreement or end the mortgage before the term is over, you will usually have to pay a fee and negotiate a new mortgage.
Renewal
When your mortgage agreement comes to the end of its term, you may still owe a large amount of money to the lender. If you have money available, you can pay any amount to reduce the principal. If you can't pay it off completely, you will have to renew the mortgage, either with the original lender or with a new one. This is a chance to review all the terms of your agreement and make sure they still meet your needs.
The lender must send you a renewal statement at least 21 days before the end of the term, summarizing the information about your mortgage. The lender has the option not to renew the mortgage if you have a poor payment record, but it must notify you if it decides not to renew.
Just as with a new mortgage, you should find out what terms your lender is offering, and compare them with terms you can get from other lenders. To find out your options, you should start researching several months before the term expires. You may be able to get better terms if market conditions have changed, or if your own situation has changed.
Don't hesitate to take your mortgage to a new lender if you can get better terms than your original lender is willing to offer. However, there may be additional costs and legal fees to change your mortgage from one lender to another. See if a new lender would be willing to cover these costs to get your business. You should get legal advice if you make a new mortgage agreement.
Tip
Check that the benefits of transferring a mortgage outweigh the costs. The new lender may be willing to absorb some costs of transferring the mortgage.
A mortgage broker can help you look for a new mortgage with better terms. However, the broker may not check if your current lender can offer you a better deal. Contact your lender directly to see if it will match any offer you receive.
Renegotiation
Some mortgages allow you to renegotiate some items before the term is over. For example, if interest rates available in the market have fallen significantly, you may want to renegotiate your interest rate or even terminate the agreement early.
Normally, you can renegotiate only if you pay a significant charge that provides the lender with the profit it would have made had you continued the agreement. Before you decide to renegotiate, ask your lender what the total cost of all charges and fees will be. The lender must explain to you how it calculates the charges. The costs are likely to be more than any savings you might get.
Some lenders offer a "blend and extend" option—they will allow you to extend the mortgage for a longer term at a lower interest rate by blending your current rate with a new lower rate.
Tip
Carefully weigh the benefits and risks of renegotiating. You might get a lower interest rate or extend it over a longer term. But the costs might be more than the savings. And rates might continue to go down to an even lower level when your normal renewal date arrives.
Jim has a mortgage of $100,000 with a fixed interest rate of 7.5 percent. He has three years left on his five-year term. The current market mortgage rate for a three-year term is 5.5 percent. Jim is thinking about renegotiating, but his mortgage agreement says that to renegotiate he must pay a prepayment charge based on the difference between his existing interest rate and the new one.
The lender calculates his prepayment charge to be $5,820.
Jim calculates that at 7.5 percent, he'll pay $25,545.89 for the remaining three years of his mortgage.
At 5.5 percent, his payments for three years will total $21,314.87.
His interest saving would amount to $4,231.02. But he'd pay about $1,600 more in charges than he'd save in interest. In the end, renegotiating is not worthwhile.
To calculate the savings from changing to a lower interest rate, you can use the Financial Consumer Agency of Canada's Mortgage Calculator to compare costs with different interest rates.
Use the Financial Consumer Agency of Canada's Mortgage Calculator to compare the costs of renegotiating a loan. If you have a mortgage, use the information from your own mortgage. If you do not, use the sample information on the website to view the results.
Mortgage prepayment charges
Financial institutions have a variety of ways to calculate the cost to break or change your mortgage. The most common methods are three months' interest, or the difference between the interest rate on your mortgage agreement and the rate the institution can get when it re-lends the money, multiplied by the number of months remaining. Check your agreement or contact an agent to see how the prepayment charge is calculated.
Charges and fees may change when you renew your mortgage.
Charges may also apply if you:
are late in making a regular payment or don't pay the full amount
pay more than the allowable prepayment in your agreement
Protecting your mortgage in Canada
Protecting your mortgage in Canada- What happens if you lose your job or get injured and can't keep up the payments on your mortgage? Would you be forced to give up your mortgage and sell your home? Insurance helps you manage the risk of losing your home.
Protecting your mortgage. There are four main types of mortgage insurance—one protects the lender, and three protect you.
Insurance that protects the lender
Mortgage default insurance protects the lender if you don't make your mortgage payments. It's required for all mortgages where the down payment is less than 20 percent of the purchase price.

Often it's added to the mortgage, so you pay for it over the life of the mortgage—and you pay interest on it, too.
Some lenders ask you to make a separate lump-sum payment for the cost of the insurance.
The table below shows the cost of standard mortgage default insurance provided by the Canada Mortgage and Housing Corporation. (Your lender can also use independent mortgage default insurers.) The rate is calculated as a percentage of the value of the mortgage loan, and may vary in certain conditions.
Mortgage value
Mortgage value
Standard premium % of loan amount*
Up to and including 65% of property value
0.60%
Up to and including 75% of property value
1.70%
Up to and including 80% of property value
2.40%
Up to and including 85% of property value
2.80%
Up to and including 90% of property value
3.10%
Up to and including 95% of property value
4.00%
Non-traditional sources of down payment**
​4.50%
*Premiums in Manitoba, Ontario and Quebec are subject to provincial sales tax — the sales tax cannot be added to the loan amount.

** Down payment requirements:

Traditional sources of down payment include: applicant's savings, Registered Retirement Savings Plan (RRSP) withdrawal, funds borrowed against proven assets, sweat equity (that is, when the buyer contributes work instead of money, which can be up to 50% of minimum required equity), land unencumbered, proceeds from sale of another property, non-repayable gift from immediate relative, equity grant (non-repayable grant from federal, provincial or municipal agency).

Non-traditional sources of down payment include: any source that is arm's length to and not tied to the purchase or sale of the property, such as borrowed funds, gifts, 100% sweat equity, lender cash-back incentives.
Insurance that protects the homeowner
Mortgage life insurance covers your mortgage payments if you die. If that happens, your family will not have to worry about losing their home as well. Mortgage life insurance expires when the mortgage is paid off.

While your premium payments stay the same, the insurance benefit declines to match the amount remaining on your mortgage.
Mortgage life insurance may be offered by the financial institution that provides your mortgage. (It is an optional service, although the institution may offer a preferred rate if you buy the insurance.)
When banks offer mortgage life insurance, they must follow a code of conduct, which requires that they explain, among other things, the details of the policy, the charges and the conditions to cancel.

Mortgage disability insurance covers your mortgage payments in case you have a serious illness or accident. You may already have disability insurance provided by your employer, so check to see what added coverage you may need to ensure your mortgage payment is covered.
Term life insurance covers your life up to an amount that you choose, but it doesn't normally cover illness or disability. If you die, your family receives the insurance payment, and can use it to cover the mortgage payments. Coverage continues as long as the term you choose.

The cost of term insurance depends on many factors, such as age, state of health, personal situation and the length of time the insurance is needed. The cost could be less than the cost of mortgage life insurance.
Because term life is not tied to a mortgage, it can be used for any other purposes when it's paid out.
For more information about insurance in general, see the module on Insurance.