Why real estate agents are urging Canadians not to wait for spring to sell their house – Financial Post
Rising mortgage rates could mean a spring slowdown for Canada's housing market
Article content
The pandemic-triggered housing boom has shredded a number of long-standing assumptions Canadians have about real estate.
Article content
Distance from, not nearness to, downtown cores is now a key buyer desire. Communities that were unpopular with buyers two years ago because of a lack of jobs or amenities are some of today's most active markets. Even taking out a gargantuan mortgage in the midst of a crushing global recession went from "undeniably risky" to "par for the course" seemingly overnight.
And this Great Real Estate Rethink continues: A new survey by real estate brokerage Royal LePage finds that 79 per cent of real estate professionals think sellers should list their homes this winter rather than waiting until spring 2022.
Winter is traditionally the slowest season for home sales in Canada. But buyers have already tossed aside so many real estate traditions. What's one more?
Article content
Survey says…
The pro-winter listing sentiment is strong across all regions.
Realtors in British Columbia led the way, with 93 per cent of respondents in the province saying they would advise their clients to sell this winter; 87 per cent of agents in Quebec and 85 per cent of those in Atlantic Canada shared the same view.
The proportion of agents in favour of winter listings were lower in Ontario (72 per cent), Alberta (73 per cent) and the remaining prairie provinces, Manitoba and Saskatchewan (75 per cent).
While those numbers are all high, many of the real estate agents surveyed — at least half in every area of the country — were advising their clients to list in the winter even before the pandemic. The reason then is the same as it is today: A painfully low number of homes for sale has created a seller's market so rabid that weather is the last thing desperate buyers are worried about.
Article content
"Typically we see a seasonal adjustment in real estate activity," says Adil Dinani of Royal LePage West Real Estate Services in Vancouver. "However, last year, we saw one of the busiest winter markets in our history. Even if there are fewer buyers in the winter, it is unlikely there will be enough inventory on the market to satisfy demand."
That could be especially true in Toronto, where there were only 7,750 homes left on the market at the end of October.
"That's versus 17,000 last year," says Cameron Forbes, general manager and broker at RE/MAX Realtron Realty in Toronto.
But Forbes still believes that a spring listing is better for sellers, pointing out that since 1999 there have, on average, been more homes on the market in the winter in the GTA than in the spring. If selling in a low-supply market is the goal, why not wait until the spring, when the market will be even more depleted?
Article content
"All things being equal, that's a better time to sell your home," he says. "That's why agents will generally recommend that you wait to list in the spring market, when your home shows well and, frankly, when buyers are out looking to buy."
Low supply vs. the harsh Canadian winter
You may have noticed that the areas where the preference for winter listings were lowest are in parts of the country where winter can be especially brutal. (Ontario's placement in this category may have more to do with fears around what an extra three or four months might do to the province's already sky-high prices.)
And this one could be particularly messy. Both The Weather Network and the Farmer's Almanac are preparing Canadians for a potentially long, storm-filled winter.
Article content
Can sellers in hard-hit markets really plan on buyers being hungry enough to brave the elements and view properties when winter's at its most miserable?
Regina-based Royal LePage agent Shayla Ackerman, no stranger to extreme winter weather, says listing in the winter is not something she would recommend unless a seller has no other choice.
"Our winter market slows right down," she says.
But in Montreal, which also receives its fair share of colossal snow-dumps, Century 21 Immo-Plus agent Angela Langtry expects buyers to be out in droves.
"We are still in a low-inventory market, especially for houses," Langtry says. "I always say that the serious buyers come out in the snow storms."
A spring housing slowdown?
Capitalizing on raging buyer demand is not the only reason to list your home this winter.
Article content
The Bank of Canada announced in late October that it is ending a key pandemic emergency measure: buying billions of dollars in bonds to keep interest rates low, including those attached to mortgages.
If mortgage rates begin rising, and mortgage amounts begin shrinking, buyers may have less buying power in the spring. Listing now may give sellers one last shot at enticing buyers while they have more money to play with.
But Paul Taylor, president and CEO of trade association Mortgage Professionals Canada, isn't sure a rise in interest rates will impact buyers' budgets in the next few months.
"Almost everyone is qualifying at a 5.25 per cent stress test rate today," Taylor says, referring to the benchmark interest rate lenders use to evaluate mortgage applicants' ability to repay their loans.
Article content
Even if the Bank of Canada were to raise interest rates by 100 basis points, or one per cent, over the next 12 months, Taylor says buyers who qualified at 5.25 per cent would still have at least 200 basis points worth of breathing room, meaning their mortgage budget "will be effectively unchanged."
Taylor expects a 0.25 per cent increase in the BoC's overnight rate, which should trigger a rise in variable mortgage rates, in the spring. He says two additional increases could occur before the end of 2022.
"I expect the media coverage of the tiny rate increases will scare many and slow the market, which is likely very good for everyone, but I don't think we'll see enough of a slowdown to erode prices," Taylor says.
This article provides information only and should not be construed as advice. It is provided without warranty of any kind.
Fast-growing ClearView companies putting stamp on industrial real estate market – Calgary Herald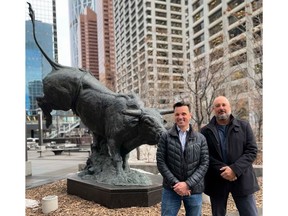 Article content
After a fulfilling 22 years with Avison Young — 17 of them as a partner in the Calgary office of the global real estate company — Steve Vesuwalla decided to start his own company in 2019.
Article content
He still collaborates with his former colleagues but, while continuing to specialize in industrial real estate, wanted to launch his own development fund to purchase a portfolio of properties.
Vesuwalla bought a three-storey business condo along 1 st Avenue N.E. in Bridgeland for ClearView Commercial Realty and, thanks largely to rewarding relationships with long-standing loyal clients, performed very well from the get-go.
Industrial buildings continue to be his focus and his latest is the lease of a 108,000-square-foot building in Remington Development's Discovery Business Park in Edmonton. The building — with 1.12 acres of fenced and paved yard storage — at the intersection of Highway 2 and Highway 19 will be a new distribution centre for FedEx.
Article content
The successful transaction was initiated thanks to Vesuwalla's association with the Society of Industrial and Office Realtors. A global professional real estate association representing today's most knowledgeable, experienced and successful real estate brokerage specialists, Vesuwalla was contacted by a fellow member in Pittsburgh to discuss the needs of his client, FedEx, in the Edmonton area.
A past-president of the Western Canada chapter, Vesuwalla is one of fewer than a dozen members in Alberta who have been admitted to the society following strict examination into their experience conducted with the highest of professional and ethical standards.
During his career, the president and broker of ClearView has been involved with well over a thousand sale and lease transactions with an aggregate total exceeding $1 billion.
Article content
Doug Johannson, who also had many years of experience in industrial real estate and land, joined his former Avison Young co-worker at ClearView in 2021.
Johannson has since sold a 15,500-square-foot Tri-Mac building in the Golden Triangle industrial district off Peigan Trail in southeast Calgary, renewed the lease for HBI's 32,000-square-foot facility in Portland Street Depot, and subleased 10,000 square feet of that space to Eight Ounce Coffee.
Currently, he is helping to develop a 40-acre parcel of land he sold on behalf of a client north of HeatherGlen Golf Course in Rocky View County. As the development progresses, he will bring hard-to-find lots to market for small industrial users.
Another prime location he is currently marketing is a 33-acre vacant site in Balzac fronting onto the south side of Highway 566.
Article content
Vesuwalla's Clearview Industrial Fund was established with all of its investors based in Calgary, apart from two in Toronto.
Last week it added the Champion Business Centre at 401-403 33 rd Street N.E., purchased from Hungerford Properties through Michael Golightly of Colliers International.
The 260,000-square-foot building anchored by the north campus of CDI College brings the fund's current portfolio to 300,000 square feet, which includes a 35,000-square-foot building in South Foothills that had been vacant for a year. Listed by Johannson, Sean Ferguson of Cushman Wakefield brought his glass manufacturer client to the property.
A long relationship with Garry Bobke, senior partner and president of NAI Advent, has resulted in Vesuwalla's new development fund investing in its first residential project in partnership with NAI Advent.
Article content
The Mission 19 property is a luxury 67-unit apartment block, designed by Gravity Architect and being built by Triumph Construction, in the trendy Mission District at 320 19 th Avenue S.W. that will be available for rent in the second quarter of 2023.
Both ClearView companies continue to grow at an aggressive pace, which means Vesuwalla is looking for a couple more experienced agents to join him and Johannson.
Notes:
• Spiros Pizza & Pasta has served the "best pizza in town" at the corner of 17 th Avenue and 33 rd Street S.W. since 1969. This summer it will open its second location in Inglewood Crossing, the former Trail Appliance store on 9 th Avenue S.E.
• The Landstar Development is being leased by Fairfield Commercial Real Estate — broker Michael Kehoe says only one space is left with 11 stores being leased in the past 10 months.
David Parker appears regularly in the Herald. Read his columns online at calgaryherald.com/business. He can be reached at 403-830-4622 or by email at info@davidparker.ca .
The Metaverse Is The Web3 Wave That Democratizes Buying And Building Real Estate, Hosting Fashion Shows, And Monetizing Video Gaming – Forbes
We're in the beginning stages of a relatively new revolutionary innovation. The metaverse is the web3 next wave changing the way we'll socialize, work, play video games, and interact. We'll soon see business started, office buildings constructed, meetings held for remote workers, and job interviews conducted in virtual reality.
Digital commerce in virtual reality will boom, especially as major companies such as Walmart are diving in. The big box retailer plans to sell goods virtually, ranging the gamut from electronics, home decorations, childrens' toys and games, sporting goods, personal care products to physical fitness training services and health and nutrition classes in augmented and virtual reality.
They are not the first merchandiser to do this. It's becoming a gold rush for retailers and apparel makers as they're turning towards virtual reality, and don't want to be left behind. CNBC reported that German sportswear company, Adidas, released NFTs and purchased land on the Sandbox VR, a virtual real estate company. Upscale fashion house Gucci partnered with gamemaker Roblox to sell items. Balenciaga struck a deal with Epic Games, the creator of Fortnite, to offer clothing that can be purchased in virtual stores. Louis Vuitton created Louis The Game showcasing it's high-end brand.
Nike acquired digital sneaker company RTFKT, a popular metaverse company that has a line of sneakers. An eighteen year old artist at the group sold more than $3 million dollars in virtual sneakers in under seven minutes.
Google, Apple, Microsoft and Meta are in a heated race to get their VR/AR headsets to market at an affordable price point for widespread consumer adoption. Although, you may be able to participate and enjoy the metaverse without using the glasses and other gear.
To learn more about metaverse, we spoke with Andrew Kiguel, CEO of Tokens.com, an early real estate investor in virtual reality. The former investment banker recently made headlines with his company's purchase of real estate in the fashion district of Decentraland, paying around $2.5 million for the space.
Kiguel sees the future in the metaverse. In a wide ranging interview with the tech executive, he points out that a confluence of events has set the stage for the rapid advancement of virtual and augmented reality becoming widely accepted.
The pandemic kept us indoors for two years, and it's still not over. We've become acclimated to new technologies and heavily relying upon and using existing softwares, apps and platforms from the comfort of our homes and apartments. Young people—home from school as their classes went online— spent time gamming and interacting with their friends on discord and social media. We've all happily turned to the internet for our food and provisions to be immediately delivered to our doorsteps from Instacart, Amazon, DoorDash and a bevy of other apps that have made it easy for us to work from home or anywhere in the world.
Getting comfortable with new technologies, people went all-in on buying and trading NFTs, meme stocks and cryptocurrencies. The blockchain and other softwares and platforms democratized the stock market. While investing used to be the province of older folks who had the money, young college kids and Millennials saw the opportunity to make YOLO trades in stocks, options, Bitcoin and cryptocurrencies as a way to earn enough money to pay back their student loans and afford a house and better lifestyle.
When the pandemic swept across the world, businesses closed down sending workers home. We spent our days on Zoom meetings. To the surprise of CEOs, workers were highly productive and stock prices hit all time record level highs. From an initial wave of furloughs and firing, the economy bounced back so robustly that businesses can't find enough workers. The last couple of years set the stage for the acceptance of virtual reality.
Kiguel says, think of what it would have been like for your ancestors to buy land in New York City one or two hundred years ago, and the generational wealth it would have created. You don't even have to go that far back. In the early 1970s New York City was crime-ridden, falling apart and ready to file for bankruptcy. An intrepid real estate investor in the Big Apple could have bought prime real estate for next to nothing, and would now be a multi billionaire. Taking a risk at this time, staking your claim in the metaverse, may pay off big in the future.
In the metaverse you can purchase NFTs, develop buildings, play video games, attend concerts and events, and create businesses. It's a way to start over. People who want to virtually live close to Snoop Dog in The Sandbox shelled out nearly $500,000 for the privilege and access to the rapper, his parties and concerts.
Kiguel's $2.5 million investment in space at Decentraland, one of the largest developed land in the metaverse, sets the stage for commerce of all types. Kiguel is confident that his investment will pay off in the long run. As millions, and perhaps billions, of people join in on the metaverse, he plans to host a lavish fashion show on 24th to the 27th of March, highlighting premiere fashion brands that could include Gucci, Burberry, and Louis Vuitton. There will be avatar models, catwalks, pop-up shops, and pre and post parties.
His company may sell advertising to these other brands and try other means to monetize his real estate holdings. These high-profile, exclusive events were once solely restricted to a small segment of the rich and famous. Virtual reality opens it up to everyone who is interested, as there aren't physical limits to the amount of attendees.
New York-based digital real estate developer Republic Realm paid about 1,295,00 in crypto Mana—equivalent to $913,228— for 259 parcels of Decentraland with the goal of turning it into a virtual shopping district. The area will be called Metajuku, as an homage to Tokyo's Harajuku shopping district. Kiguel also plans to build towers in Decentraland's Crypto Valley and in other cities that spring up in the metaverse, and rent out office and retail space.
Mark Zuckerberg, the CEO of Meta, makes it feel as if he's running the metaverse. This isn't the case. There are many places to go. Each universe uses their own preferred currencies to enact transactions. For example, The Sandbox uses SAND, and Decentraland has MANA. These virtual worlds are built on blockchain such as Ethereum and Solana.
Current social media platforms are like "prisons" Kiguel contends, as the companies who run the sites have all the control, possess the data and reap the financial rewards. The new Web3 wave will change the rules, providing people with control over their creativity. It's a fresh start to build something new, similar to the early days of the internet.
Kiguel is also excited about the growing rise of play-to-earn games that are powered by cryptocurrencies. Gaming worlds like Axie Infinity enables and empowers people to make money from playing games. Many of these gamers never even had a bank account, and now they're earning more money than they ever imagined.
The metaverse will impact nearly every type of consumer technology, including social media, gaming and fashion, Kiguel predicts. "Tokens.com is focused on bringing the most exciting growth areas," and excited to enter into this new vertical of gaming with an acquisition. This is part of Kiguel's goal to offer a "complete range of Web3 exposure," providing exposure to the metaverse, DeFi and NFTs.
A pandemic-fed urge to ramble sending B.C. real estate prices soaring – The Globe and Mail
Several years ago, developer Eric Van Maren had the idea that in order to market his 70-acre multi-phased water-view vacation property in Oliver, B.C., he'd rent space along the highway to erect 13-foot high Adirondack chairs that would serve as signage.
The giant chairs became a marketing success story, because they caught the attention of many a vacationer (often from Alberta), who'd come seeking the semi-desert climate and wineries, golf and boating charms of Okanagan Lake, not far from the U.S. border. The Van Maren Group sold off all but one of the 285 custom-built houses in the subdivision they built to the south of Okanagan Lake on Osoyoos Lake, quaintly called The Cottages, with about 30 houses they sold last year that are still under construction.
If he could go back in time, Mr. Van Maren would have built bigger houses with more amenities, because most buyers ended up living there year round. Also, he wouldn't have worried about the top-end price. Initially, he thought that buyers wouldn't go higher than $300,000 but it turned out that they had deeper pockets. They were people with good jobs who were relocating, and they had a lifetime of funds to support the move.
Over the past two years, the pandemic triggered a super-sprawl reaction, accelerating the move into places such as the Okanagan, with wealthy buyers seeking the comforts of square footage, scenery and distance from others, who had the luxury of working or running businesses from their homes.
Mr. Van Maren just recently watched one of the houses sell for $1.2-million. The same house had originally sold for $500,000 in 2014. There's no point wishing he'd held back some of the houses to sell at higher prices, he says, because he could never have guessed the way things would go.
"I'm surprised by everything," says the developer who has almost 50 years in the business. "I'm surprised that values are going up like crazy. I'm more surprised that costs are going up like crazy. I just wonder how people are affording what we are building. They keep buying it. There's just so much about our business that I haven't got a clue anymore why it's working. And incomes haven't risen by 30 per cent in places like Chilliwack.
"I know less than when I started."
As everyone discovered, the pandemic is extremely good business for real estate. The Canadian Real Estate Association's report showed that 2021 national prices shot past the average home price in December, 2020 by 17.7 per cent. And according to BC Assessments' 2021 property values, valuations of properties in small communities such as Port Alberni on Vancouver Island soared 47 per cent. (Valuations, while telling, don't always reflect the market price.)
When COVID-19 first broke, there was a collective pause as industry experts assumed the worst – a market that would grind to a halt. Instead, it did the unthinkable: set records.
A decade ago, people were leaving the suburbs and moving into the urban core, pushing lower income groups further outward, a phenomenon that author Alan Ehrenhalt discusses in his 2012 book The Great Inversion.
The super-sprawl of the pandemic is the opposite effect, and unlike the suburbanization of yesteryear, the motivation for moving is different.
It used to be that buyers would "drive to qualify" for an affordable house. But on Vancouver Island, for example, where increases ranged from 20 per cent to 35 per cent for single-family dwellings, that option isn't so straightforward anymore.
For those with equity, a decent income and an agreeable employer who will allow them to work remotely, the options have grown. For service and care workers tied to the workplace, it's not so simple.
Mr. Van Maren is selling a big project in Chilliwack, and he says the buyers are an entirely different demographic from the group in Osoyoos. About 70 per cent of them are from elsewhere, places in B.C. such as Surrey, Langley and Maple Ridge. They are selling their $800,000 townhouse in Langley and buying a $600,000 home in Chilliwack.
'I think you still have 'drive until you qualify' with blue-collar workers who don't have the luxury of potentially working from home. So I think, for them, it's still very much a factor [to move outward]. And that's what's really benefited places like Chilliwack and Hope and Agassiz and to a lesser extent Abbotsford," Mr. Van Maren says.
"But for the older buyer, people in their 50s, they may still want to work for 10 years so they go to their boss and say, 'I'd like to work from home,' and the boss gives them permission to do so and their choices are endless.
"So why not go to a place like the Okanagan where you can enjoy the lifestyle and work for a few more years and have your vacation property year round?"
Another characteristic of the super-sprawl phenomenon is an appetite for housing investment. It's not surprising considering detached-house values in Chilliwack, Langley and Abbotsford rose 38 per cent to 40 per cent.
"I think pretty much any townhouse project in the Upper Fraser Valley, people from Surrey are looking at those prices and saying, 'Wow, I can buy a townhouse in Chilliwack and rent it out for "X" dollars and almost double my mortgage payments.'"
Developer Anthony Beyrouti's company, Orchard Park Properties, is building three towers in downtown Kelowna, including the Interior's tallest high rise. The developer has sold out one tower at Water Street by the Park, and is about two-thirds of the way through sales of the second residential tower, including the $1.65-million sale of a three-bedroom unit. Demand is brisk and they've been adjusting prices along the way.
The company had done extensive marketing in Alberta, but more buyers came from Toronto, says Mr. Beyrouti. Surrey buyers also turned out in great numbers. And just less than half of the buyers were investors.
The surprisingly high BC Assessment figures are motivating buyers, he adds.
"The BC Assessment puts people into an urgency to maybe find a place for themselves, so that's reinvigorated the market. People are looking around and saying, 'I have to buy something before it's out of reach.' That's what I've seen happen."
Kelowna has been growing for several years, buoyed by the University of B.C. campus and the airport. But the smaller emerging markets that are now desirable are "basically a lot of the places you'd go camping when you were growing up," says Mr. Beyrouti, communities such as Peachland, Penticton and Vernon.
Long-time Ottawa residents Jason Lambert, 47, and his wife Kailena Van de Nes, 38, chose Vancouver Island.
When the pandemic struck, the couple had a pivotal moment. Mr. Lambert was already working from home and Ms. Van de Nes's thriving dance class business had taken a painful nosedive, going from 1,000 to 90 students. The couple, who'd built equity in three properties and weren't fond of extreme winters, looked at each other and asked, 'Why are we in Ottawa?'"
In the space of eight weeks, they sold off everything they owned, purchased a waterfront property on Vancouver Island, bought an RV, packed up their four pets and drove across Canada to begin a new life on the coast.
Because of the uncertainty of the market at the start of the pandemic, the sellers of the waterfront home accepted an offer that was $300,000 below asking. (The couple preferred not to say the amount they paid).
"The combination of winter coming and also being in a pandemic during winter, I just knew that I couldn't do it," says Ms. Van de Nes, who now teaches her dance classes online.
A year after moving in, they live in a high-end home with ocean views, steps to the beach and marine life, and all mortgage-free. Each day, they say, feels like they are on vacation. Neighbours bring them freshly caught crab and vegetables from their gardens. Mr. Lambert's parents live on Vancouver Island, and they are trying to convince their friends from Ottawa to also make the move.
Mr. Lambert, who works in sales of weapons scanning equipment, says his employer is okay with paying for his frequent air travel for work. They're now looking to purchase a pied-à-terre in Victoria, Vancouver, or Seattle, so Ms. Van de Nes can enjoy urban life while her husband is away. There's not a lot to do in Lantzville.
But they are blissfully pleased with their choice, despite the massive stress of a deal that was subject to the sale of their Ottawa home.
"I didn't want to go into debt for a house, because I have for a long time, and it was a personal pride thing. It was not trivial; it came down to the wire to make it all happen. The fact that we could sell the three properties in Ottawa – we came out ahead, but it was close," Mr. Lambert says.
"I think it would be very difficult for us, even if we were in a penthouse condo with a lot of room, it would be very difficult to be in a big city just given who we are. For us, it was a very, very good move to be able to combine work, the cottage and the house into one location."
Your house is your most valuable asset. We have a weekly Real Estate newsletter to help you stay on top of news on the housing market, mortgages, the latest closings and more. Sign up today.