Why this money manager thinks Canada is the best place to invest over the U.S. right now
Sign up for the Globe Advisor weekly newsletter for professional financial advisors on our newsletter sign-up page. Get exclusive investment industry news and insights, the week's top headlines, and what you and your clients need to know.
While many investors look around the world for the best places to invest, money manager Robert Gill believes some of the best bets are at home in Canada, especially now.
Mr. Gill, senior vice president and Canadian portfolio manager at Goodreid Investment Counsel Corp. in Toronto, says Canada is cheap with more room for growth.
He notes the S&P/TSX Composite Index is trading at about 13.4 times earnings, while the S&P 500 is trading at about 18.6 times earnings, citing Bloomberg LP data as of May 9. Dividend yields are also 3.2 per cent for Canada and about 1.7 per cent for the S&P 500.
He says the lower multiples provide investors with a "margin of safety" right now relative to the U.S.
"You're getting paid higher income to invest in Canada, and each dollar you invest gets stretched further simply because the valuations are lower," says Mr. Gill, who manages $180-million of the firm's $500-million in assets.
"It's like you're buying everything on sale, and then you get a higher income to boot. What's not to like about that?"
But not just any homegrown stock will do, Mr. Gill argues. Instead, he says investors need to focus on high-quality names. His firm has been beating the benchmark by investing in about two dozen companies and hanging on to them for the long term.
Mr. Gill says the Canadian portfolio he oversees has returned 9.6 per cent year to date as of April 30, compared with a return of 7.6 per cent for the S&P/TSX Composite Index. His portfolio's one-year return is 13.3 per cent as of April 30 versus a return of 2.7 per cent for the S&P/TSX Composite Index. All data are based on total returns, and Goodreid's performance is net of fees.
Financials are the largest weighted sector in the portfolio, at 32 per cent, including names like Royal Bank of Canada RY-T, Toronto-Dominion Bank TD-T and insurer Intact Financial Corp. IFC-T. Technology represents about 18 per cent of the portfolio including names such as Constellation Software Inc. CSU-T, CGI Group Inc. GIB-A-T and Topicus.com Inc. TOI-X. Energy is also weighted at about 18 per cent with stocks such as Suncor Energy Inc. SU-T and TC Energy Corp. TRP-T.
The Globe and Mail spoke with Mr. Gill recently about his investing style and what he's been buying and selling.
Describe your investing style.
We like to buy high-quality securities when they're temporarily out of favour. And because it takes a long time to do the proper amount of investment research before investing in a company, we generally hold them for a long time. So we're not concerned about the short-term news and market noise. We also keep our portfolio pretty concentrated, so we generally hold between 20 and 30 names at one time. Anything below that might get too volatile, while anything above it hinders our ability to outperform the market.
What's your take on the current market environment?
It's a much different environment than we've experienced for the past decade until a year ago. Long gone are the days of lower interest rates, easy money and growth stocks outperforming. In that kind of environment, it was relatively easy to make money with a rising tide lifting all boats. As a result, it's now more of a stock picker's market and a good time for active managers.
What have you been buying or adding?
One name we've been adding to is TD Bank. We bought more when the shares dropped in March around the start of the latest U.S. banking crisis. It's going through some short-term noise, but we saw the temporary volatility as a wonderful opportunity to buy a high-quality, well-capitalized Canadian bank.
We've also been buying more Bank of Nova Scotia BNS-S shares. Its performance has been trailing the other banks in recent years, and we felt there's an opportunity for it to catch up. The catalyst is having Scott Thomson join as its new chief executive officer earlier this year, resulting in a review of its business, particularly the Latin American division.
A recent new buy was Canadian Tire Corp. Ltd. CTC-A-T in December. We think the company has done a great job of making the business more defensive by selling items you wouldn't buy online and have shipped through the mail such as sporting goods, hockey equipment, gardening items and furniture.
What have you been selling or trimming?
We haven't exited any positions this year, partly because of our strategy to hold stocks longer-term. That said, we sometimes need to trim to raise cash to take advantage of new investment ideas. For example, a couple of stocks we recently sold at their multi-year highs include Stella Jones Inc. SJ-T and Restaurant Brands International Inc. QSR-T, the parent of Tim Hortons and Burger King. We still like both companies, and continue to own them, but we decided to harvest some of the profits and redeploy that capital.
Name a stock you wish you bought or didn't sell.
CAE Inc. CAE-T, the flight simulation company, is a stock we wish we bought. The stock has doubled since the start of the pandemic. However, that's not the only reason we wish we owned it. It's a unique, high-quality business. It's very good at what it does. We missed buying it at an attractive valuation, but we're patient investors and continue to monitor it. We'll consider a purchase if the valuation multiples become more attractive.
What's your advice for new investors?
First, start saving money early. Live within your means, and set aside some money regularly to be invested for the long term. Also, be intellectually curious and read voraciously about investing. One book I like is The Essays of Warren Buffett: Lessons for Corporate America. It's filled with folksy humour and investment insight. Then, as your wealth grows and your financial situation becomes more complicated, it's a good idea to start seeking a professional money manager. Look for someone with a very disciplined and transparent investment process and a history of strong performance, then stick with them over the long term.
This interview has been edited and condensed.
Governments are continuing to push investment into clean energy amid the global energy crisis – News – IEA
The amount of money allocated by governments to support clean energy investment since 2020 has risen to USD 1.34 trillion, according to the latest update of the IEA's Government Energy Spending Tracker. Around USD 130 billion of new spending was announced in the last six months – among the slowest periods for new allocations since the start of the Covid-19 pandemic.
This slowdown may be short-lived, however, as a number of additional policy packages are being considered in Australia, Brazil, Canada, the European Union and Japan. Already, government spending is playing a central role in the rapid growth of clean energy investment and expanding clean technology supply chains, and is set to drive both to set to drive both to new heights in the years ahead. Notably, direct incentives for manufacturers aimed at bolstering domestic manufacturing of clean energy technologies now total around USD 90 billion.
At the same time, governments continue to increase spending on managing the immediate energy price shocks for consumers. Since the start of the global energy crisis in early 2022, governments have allocated USD 900 billion to short-term consumer affordability measures in addition to pre-existing support programmes and subsidies. Around 30% of this affordability spending has been announced in the past six months.
These measures have had a major role in moderating price increases for end users, but the energy crisis nonetheless took a toll on many people's budgets. According to the IEA's latest data on end-user prices across 12 countries, which together represent nearly 60% of the global population, the average household spent a higher share of its income on energy in 2022 as energy prices outpaced nominal wage growth. On average, households in major economies spend between 3% and 7% of their incomes to heat and cool their homes, to power appliances and to cook – though shares are higher for low-income households. In most major economies, the share of income spent on energy moved up by less than 1% thanks to government interventions.
At the pump, consumers felt the impact more acutely, especially in emerging markets and developing economies, where transport fuels accounted for the joint largest increase in household spending in 2022 alongside food. Without government intervention, this would have been much higher. This was the case in Indonesia, where the average household total energy expenditure would have tripled in 2022 were it not for affordability support.
Early numbers for 2023 show that wholesale energy prices are easing. However, retail prices are unlikely to fall as quickly. High prices are already making clean energy technologies more cost competitive, notably electric vehicles and heat pumps, which saw record sales in 2022. As high prices persist, the uptake of clean energy technologies is set to accelerate further, hastening the emergence of the new energy economy.

Brexit scaremongering proven wrong as London seals major investment in Europe – GB News
The UK attracted the highest amount of inward direct investment in 2022, extending its lion's share of the European market to more than a quarter.
Releasing figures sure to infuriate pro-EU activists, the annual Ernst & Young (EY) attractiveness survey found foreign investors flocked to the City to fund 46 financial services projects last year, up from 39 in 2021.
---
By comparison, second place Paris enticed foreign investment for 35 finance proposals, sliding from 38 in 2021, while Madrid secured 22 foreign investment projects compared to 29 in 2021.
Anna Anthony, UK financial services managing partner at EY, said: "Investors recognise the strength, gold-standard governance and resilience of the UK's financial system and see it as the preferred destination for growth, innovation and access to top talent."
The Square Mile continues to be a beacon of prosperity
PA
Overall, the UK attracted foreign investment to 76 financial services projects in 2022, a 17 per cent rise on the 63 projects in 2021.
It puts clear blue water between the UK and France, which recorded 45 projects in total, down 15 on 2021 figures.
Andrew Griffith, economic secretary to the Treasury, told City AM: "We have a tremendous track record of attracting the brightest and best companies in the world built on the long standing competitive advantages of the UK and its attractiveness as a place to do business."
The UK has topped EY consultancy's finance foreign direct investment table every year since the research started, including every year since the 2016 Brexit vote.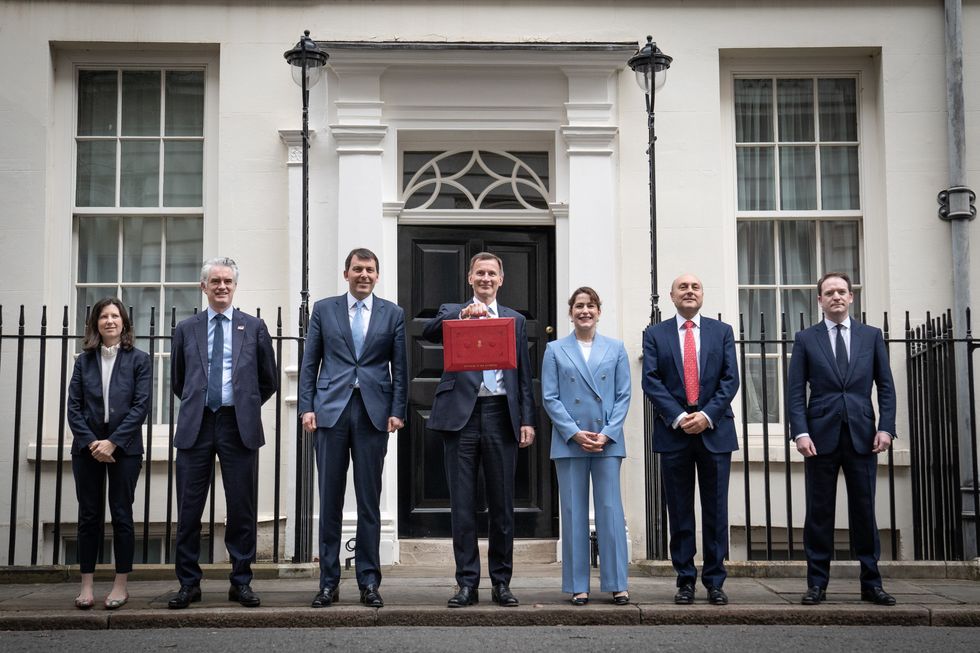 Andrew Griffith pictured second to the right
PA
Likewise, London has led the European city table since it was first recorded in 1986.
America was the biggest source of foreign investment in financial services in Europe last year, accounting for 21 of the UK's 76 projects in 2022.
Financial services investment projects created 2,603 jobs in the UK last year, a rise of four per cent on 2021.
Across Europe, 10,700 new jobs were created in financial services, of which 1,700 were recorded in France.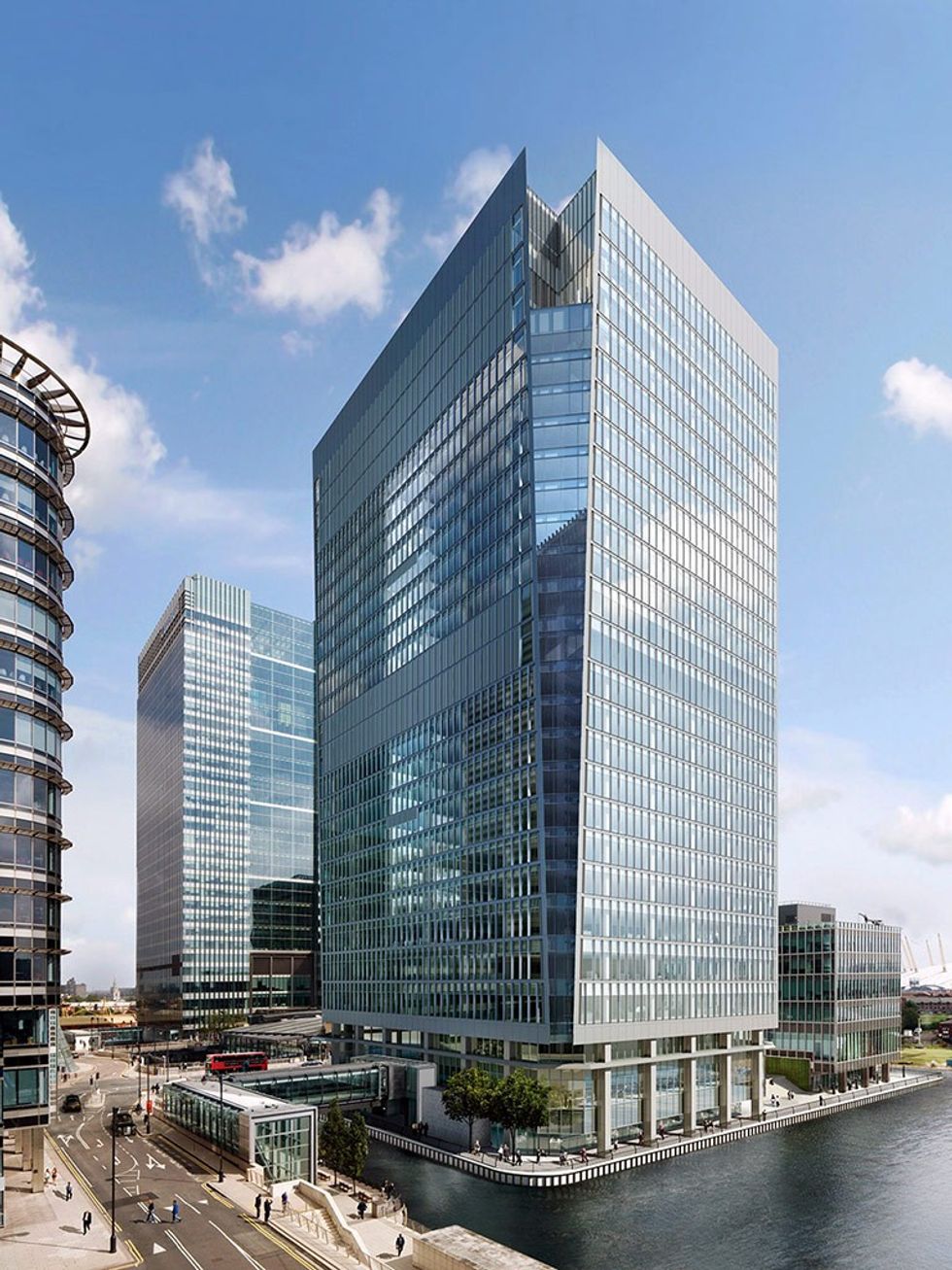 EY's home in Canary Wharf at 25 Churchill Place
Cushman and Wakefield
Chris Hayward, policy chairman at the City of London Corporation, said: "London continues to lead Europe in attracting foreign direct investment in financial services, and the sector is proving resilient despite the global challenges facing the UK economy."
Hayward added: "That is good news for every household, because a strong City creates the wealth and jobs that support the economy and fund our public services."
EY has undergone a UK leadership shake up recently following a collapse in the consultancy firm's plan to break up its audit and consulting operations globally.
The break up blueprint, coined 'Project Everest', attracted fierce internal criticism and was eventually abandoned but not before it had cost the firm £480million worth of internal work.
On the back of ditching the radical overhaul, EY has shrunk the UK executive committee from 13 to eight and announced that it will cut 3,000 jobs in the US.
The big four consultancy firm reported record levels of growth for its UK business in November 2022, with UK revenues up 17.2 per cent and UK fee income increasing to £3.23billion from £2.75billion.
Investment grade will boost realty
The local property market stands to reap significant benefits, both short-term and long-term, from a likely credit rating upgrade to investment level for Greece.
Industry executives say that would be a very positive development, as, after 14 years, the Greek real estate market will return to the "elite" of investment destinations and it will become easier to attract foreign investment groups and funds.
"There is an objective problem right now regarding the implementation of investments by a number of institutional investors, as there are rules that prohibit the placement of funds in countries below investment grade. In other words, even if there was an investment opportunity and they were willing to take the risk, such an investment would be cut off by the investment committee of the respective group, because it is not allowed to invest in countries that do not have a positive credit rating," Tassos Kotzanastassis, ULI global management committee executive and CEO of international real estate investment management company 8G Group, tells Kathimerini.
Securing investment grade means the Greek property market will get back on the "radar" of large institutional investors and state groups that have a long-term investment horizon. This is a development that contradicts speculative moves by a portion of institutions that have been placed in Greece, with a purely short-term horizon, aiming to secure a quick profit and exit from the country.
However, as Kotzanastassis warns, new investments from large foreign funds should not be expected, at least not immediately. "In this period, at the international level, there is significant uncertainty and investors appear restrained. Many are looking for investment opportunities in the form of distressed assets," he emphasizes.
One of the market's perennial problems is it is shallow, so it is difficult to create economies of scale that maximize the return on an investment. Another key point is that all foreign investors of this scope are looking for properties with green characteristics, in the context of the ESG policy they follow. Such properties are still rare in this market, constituting a very small minority in relation to the total stock.