Wisconsin hospital worker arrested for spoiled vaccine doses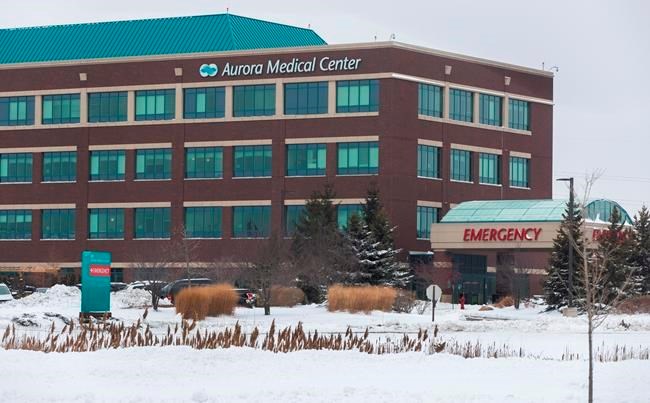 MADISON, Wis. — Authorities arrested a suburban Milwaukee pharmacist Thursday suspected of deliberately ruining hundreds of doses of coronavirus vaccine by removing them from refrigeration for two nights.
The arrest marks another setback in what has been a slower, messier start to vaccinate Americans than public health officials had expected. Leaders in Wisconsin and other states have been begging the Trump administration for more doses as health care workers and senior citizens line up for the lifesaving vaccine.
Police in Grafton, about 20 miles (32 kilometres) north of Milwaukee, said the Advocate Aurora Health pharmacist was arrested on suspicion of reckless endangerment, adulterating a prescription drug and criminal damage to property, all felonies. The pharmacist has been fired and police said in a news release that he was in jail. Police did not identify the pharmacist, saying he has not yet been formally charged.
His motive remains unclear. Police said that detectives believe he knew the spoiled doses would be useless and people who received them would mistakenly think they'd been vaccinated when they hadn't.
Advocate Aurora Health Care Chief Medical Group Officer Jeff Bahr told reporters during a teleconference Thursday afternoon that the pharmacist deliberately removed 57 vials that held hundreds of doses of the Moderna vaccine from refrigeration at a Grafton medical centre overnight on Dec. 24 into Dec. 25, returned them, then left them out again on the night of Dec. 25 into Saturday. The vials contained enough doses to inoculate 570 people.
A pharmacy technician discovered the vials outside the refrigerator on Saturday morning. Bahr said the pharmacist initially said that he had removed the vials to access other items in the refrigerator and had inadvertently failed to put them back.
The Moderna vaccine is viable for 12 hours outside refrigeration, so workers used the vaccine to inoculate 57 people before discarding the rest. Police said the discarded doses were worth between $8,000 and $11,000.
Bahr said health system officials grew more suspicious of the pharmacist as they reviewed the incident. After multiple interviews, the pharmacist acknowledged Wednesday that he removed the vaccine intentionally over the two nights, Bahr said.
That means that the doses people received Saturday are all but useless, he said. Moderna has told Aurora that there's no safety concerns, but the hospital system is closely monitoring the people who received the spoiled doses, he said.
Bahr declined to comment on the pharmacist's motive. He said the hospital system's security protocols are sound.
"This was a situation involving a bad actor," he said, "as opposed to a bad process."
The number of COVID-19 cases in Wisconsin has been rising in recent days after dipping in early December. The state Department of Health Services reported 3,810 newly confirmed cases on Thursday, marking the third straight day of rising daily infections. The state has now seen 481,102 cases.
COVID-19 was a factor in 41 more deaths, pushing the state's overall death toll to 4,859. The survival rate remained unchanged at 99%.
A little more than 47,150 people had been vaccinated in Wisconsin as of Monday morning, according to the latest data from the health agency. The state has been allocated 265,575 doses of both the Moderna and Pfizer vaccines. As of Monday morning, only about 157,000 doses had arrived.
Democratic Gov. Tony Evers wrote a letter to President Donald Trump earlier in December asking him to prioritize more doses for Wisconsin due to high case numbers, swamped hospitals and a lack of statewide mitigation mandates.
Source: – Delta-Optimist
Vaccine delay left Barrie's Roberta Place home vulnerable to COVID-19 outbreak – The Globe and Mail
The slow rollout of Ontario's COVID-19 vaccination program to people living and working in the province's virus-ravaged nursing homes has left one facility where an unidentified variant has been detected vulnerable to a devastating outbreak.
The Simcoe Muskoka District Health Unit got the go-ahead to roll up its mobile immunization unit to Roberta Place last Saturday – days after an outbreak began ripping through the long-term care home in Barrie, north of Toronto, infecting nearly every resident.
Colin Lee, Simcoe Muskoka's associate medical officer of health, said residents and staff should have received the vaccine well before the outbreak began.
Vaccine maker Moderna delivered 168,000 doses to Canada at the end of December. The Ontario government earmarked the Moderna vaccine for Toronto, Peel Region, York Region and Windsor-Essex, the four areas with the highest COVID-19 transmission rates.
Dr. Lee told reporters on Thursday that the four regions received the Moderna doses that were destined for Simcoe Muskoka. "We were planning to go straight to the long-term care homes with it," he said.
Health authorities say an unidentified variant of COVID-19 is behind the outbreak at Roberta Place, which began on Jan. 8 after one staff member tested positive during routine screening.
The staffer was in close contact with someone who travelled internationally, but not to the United Kingdom, Brazil or South Africa. Dr. Lee said the staffer's swab is one of six that contains an unidentified variant. It's a "very, very high probability," he said, that the variant will turn out to be the strain from one of those three countries.
Forty-eight hours after the outbreak began, 55 residents and staff were sickened with the virus. As of Thursday, 122 of the home's 130 residents had tested positive for COVD-19, including 25 who have died. Another 72 staff and two essential visitors were also sickened with the virus.
The health unit immunized 21 residents on Saturday with the Pfizer vaccine, but testing subsequently revealed that most of them were already infected with COVID-19, Dr. Lee said.
"Unfortunately, the ability to move the vaccine came a little bit late," he said.
The health unit has a small amount of the Pfizer vaccine, which it must juggle between administering a second dose to long-term care residents and staff who've received their first shot and to those in retirement homes, who have yet to be vaccinated, Dr. Lee said.
"There are some difficult choices we have to make," he said.
Fourteen cases of a COVID-19 variant have been found in Ontario as of Jan. 16, according to the province's weekly epidemiologic summary. Roberta Place is the first known case of a highly contagious variant finding its way into a long-term care home in Canada – a sector that has been hard hit by the coronavirus.
Ontario has deemed residents of long-term care homes the province's most vulnerable citizens. To date, 3,256 nursing home residents have died of COVID-19.
These residents were supposed to be at the front of the line for the vaccine. An expert committee that advises the Public Health Agency of Canada on immunization recommended that the first shots go into the arms of residents and staff in long-term care homes.
But in Ontario, that is not what has happened. The first dose of a vaccine has made its way to only 40 per cent of the province's 626 long-term care homes, according to Alexandra Hilkene, press secretary for Health Minister Christine Elliott.
In addition to the Moderna vaccine, Canada has also approved one made by Pfizer. Ontario opted to distribute its first doses of the Pfizer shot only through hospitals with access to freezers capable of keeping vials at -70 C, as the vaccine maker suggested.
"I can only wish I could turn the clock back," Dr. Lee said. "If we had vaccines a month before we went in on Saturday, I think this outbreak would be a lot less severe."
With a report from Laura Stone in Toronto
Our Morning Update and Evening Update newsletters are written by Globe editors, giving you a concise summary of the day's most important headlines. Sign up today.
Hospitalizations from COVID-19 in B.C. fall to level last seen in November – Squamish Chief
The trajectory of serious COVID-19 infections in B.C. continues to point in the right direction, as the number of hospitalizations, and intensive care unit (ICU) patients, continues to fall.
The province now has 320 people hospitalized with the virus that has spawned a global pandemic. That is nine fewer than yesterday, and the lowest total since November 30.
The number of hospital patients in ICU is similarly falling, as it is down by four overnight, to 66, which is the lowest total since November 26, according to government data.
Unfortunately 14 more people died overnight from complications related to the virus, pushing the death toll in B.C. to 1,104 since the first death was recorded on March 9.
New cases continue to pile up, with 500 people newly diagnosed with COVID-19 in the past day, and only 465 people newly diagnosed as having recovered. Testing also ramped up substantially, compared with yesterday, as 10,437 tests were given. That pushes the positive-test rate down to 4.7%, compared with 9.22% yesterday.
More than 89%, or 55,564 individuals out of the 62,412 people identified in B.C. as having contracted the virus, are deemed to have recovered.
The vast majority of the 4,345 people actively infected with the virus have been told to self-isolate, while 6,905 people are under active health monitoring from officials because they are known to have been in contact with others who have tested positive for the virus.
Here is a regional breakdown of where the 500 new cases were identified:
• 125 people in Vancouver Coastal Health (25%);
• 216 people in Fraser Health (43.2%);
• 32 in Island Health (6.4%);
• 91 in Interior Health (18.2%);
• 35 in Northern Health (7%); and
• one person who resides outside the province.
Despite fewer doses of vaccine expected to be delivered in later January than first expected, there were 5,756 vaccinations completed in the past day, for a total of 98,125 since the first dose was administered on December 16.
"We have had two new health-care facility outbreaks: at Villa Cathay in the Vancouver Coastal Health Authority, and Acropolis Manor in the Northern Health Authority," provincial health officer Bonnie Henry and Health Minister Adrian Dix said in a joint statement.
"The outbreaks at Guildford Seniors Village and Maple Ridge Seniors Village in the Fraser Health Authority, as well as Mountainview Village and Village by the Station in the Interior Health Authority, are now over."
They added that there has been one new community outbreak at the Surrey Pretrial Services Centre.
"Our COVID-19 curve is trending in the right direction, and we want to keep that going – to push our curve down, which in turn, will allow us to safely ease restrictions," they said.
The nine hospitals identified as having active COVID-19 outbreaks are:
• Burnaby Hospital in Burnaby;
• Cariboo Memorial Hospital in Williams Lake;
• Chilliwack General Hospital in Chilliwack;
• Mount St. Joseph's Hospital in Vancouver;
• Ridge Meadows Hospital in Maple Ridge;
• St. Paul's Hospital in Vancouver;
• Surrey Memorial Hospital in Surrey;
• Vancouver General Hospital in Vancouver; and
• University Hospital of Northern B.C. in Prince George.
The nine active outbreaks at seniors' living facilities in Vancouver Coastal Health are at:
• Arbutus Care Centre in Vancouver;
• Braddan Private Hospital in Vancouver;
• Fraserview Intermediate Care Lodge in Richmond;
• German Canadian Benevolent Society Home in Vancouver;
• Hilltop House in Squamish;
• Little Mountain Place in Vancouver;
• Minoru Residence in Richmond;
• Renfrew Care Centre in Vancouver;
• Sunrise of Vancouver in Vancouver; and
• Villa Cathay in Vancouver.
The 23 active outbreaks at seniors' living facilities in Fraser Health are at:
• Avalon Gardens in Langley;
• Brookside Lodge in Surrey;
• Eagle Ridge Manor in Port Moody;
• Evergreen Baptist Care Society in White Rock;
• Fleetwood Villa in Surrey;
• George Derby Centre in Burnaby;
• Good Samaritan Delta View Care Centre in Delta;
• Hilton Villa Seniors Community in Surrey;
• Kin Village in Tsawwassen;
• Kin Village West Court in Tsawwassen;
• Madison Care Centre in Coquitlam;
• Mayfair Seniors Living Care in Abbotsford;
• Menno Home in Abbotsford;
• Morgan Place Care Facility in Surrey
• Nicola Lodge in Port Coquitlam;
• Peace Arch Hospital Foundation Lodge in White Rock;
• Queen's Park Care Centre in New Westminster;
• Rideau Retirement Residence in Burnaby;
• Royal City Manor in New Westminster;
• St. Michael's Centre Extended Care in Burnaby;
• Suncreek Village in Surrey;
• The Harrison at Elim Village in Surrey; and
• Waterford Retirement Residence in Delta.
The two active outbreaks at a seniors' living facilities in Northern Health are at Jubilee Lodge in Prince George, and Acropolis Manor in Prince Rupert.
The nine active outbreaks at seniors' living facilities in Interior Health are at:
• Brocklehurst Gemstone Care Centre in Kamloops;
• Creekside Landing in Vernon;
• Heritage Retirement Residence in West Kelowna;
• Heritage Square in Vernon;
• Noric House in Vernon;
• Sunnybank Retirement Home in Oliver; and
• Williams Lake Seniors Village in Williams Lake.
In Island Health, there are two seniors' facilities with an active outbreak of COVID-19:
• Chartwell Malaspina Care Residence in Nanaimo; and
• Hart House in Victoria.
Nova Scotia's freedom of information online service reopens after lengthy redesign – HalifaxToday.ca
HALIFAX — Nova Scotia has restored an online portal through which the public can submit freedom of information requests, almost three years after the site was shut down because of a security breach.
The new site was launched Thursday and allows people to track the progress of requests, pay fees and receive responses.
The site was shut down in March 2018 after a 19-year-old downloaded documents from the site to his home computer.
About 7,000 documents were accessed over two days, affecting 700 people.
The young man wasn't charged because he told officers he had used a widely available software to search for documents about a teachers' labour dispute, and it became clear to authorities that the basic firewalls weren't in place.
The province says it has updated and improved security features on the site to prevent further breaches.
Paula Arab, Nova Scotia's Internal Services minister, said the province has a five-year contract worth $760,000 with two companies to operate the site.
Arab said it took time to set up the portal because the project was split into several parts. One portion involved receiving requests while another involved disclosing documents. Added security measures also required time, she said.
"We wanted to do as many security tests as we could and to come up with the right solutions, and we took seriously two reports given to us following the (security) breach," Arab said.
The new access to information application site can be found at iaprequest.novascotia.ca.
This report by The Canadian Press was first published Jan. 21, 2021.
The Canadian Press