Wisconsin hospital worker arrested for spoiled vaccine doses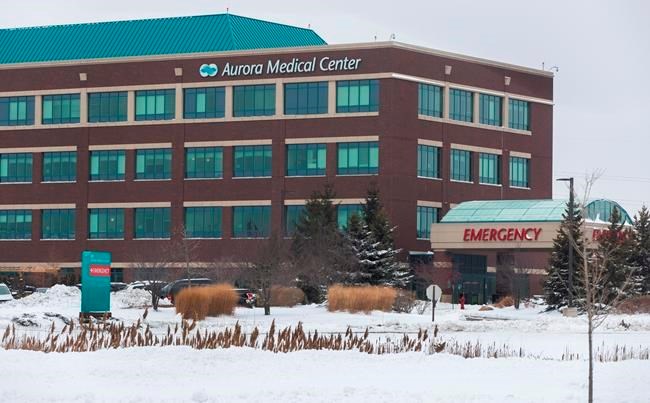 MADISON, Wis. — Authorities arrested a suburban Milwaukee pharmacist Thursday suspected of deliberately ruining hundreds of doses of coronavirus vaccine by removing them from refrigeration for two nights.
The arrest marks another setback in what has been a slower, messier start to vaccinate Americans than public health officials had expected. Leaders in Wisconsin and other states have been begging the Trump administration for more doses as health care workers and senior citizens line up for the lifesaving vaccine.
Police in Grafton, about 20 miles (32 kilometres) north of Milwaukee, said the Advocate Aurora Health pharmacist was arrested on suspicion of reckless endangerment, adulterating a prescription drug and criminal damage to property, all felonies. The pharmacist has been fired and police said in a news release that he was in jail. Police did not identify the pharmacist, saying he has not yet been formally charged.
His motive remains unclear. Police said that detectives believe he knew the spoiled doses would be useless and people who received them would mistakenly think they'd been vaccinated when they hadn't.
Advocate Aurora Health Care Chief Medical Group Officer Jeff Bahr told reporters during a teleconference Thursday afternoon that the pharmacist deliberately removed 57 vials that held hundreds of doses of the Moderna vaccine from refrigeration at a Grafton medical centre overnight on Dec. 24 into Dec. 25, returned them, then left them out again on the night of Dec. 25 into Saturday. The vials contained enough doses to inoculate 570 people.
A pharmacy technician discovered the vials outside the refrigerator on Saturday morning. Bahr said the pharmacist initially said that he had removed the vials to access other items in the refrigerator and had inadvertently failed to put them back.
The Moderna vaccine is viable for 12 hours outside refrigeration, so workers used the vaccine to inoculate 57 people before discarding the rest. Police said the discarded doses were worth between $8,000 and $11,000.
Bahr said health system officials grew more suspicious of the pharmacist as they reviewed the incident. After multiple interviews, the pharmacist acknowledged Wednesday that he removed the vaccine intentionally over the two nights, Bahr said.
That means that the doses people received Saturday are all but useless, he said. Moderna has told Aurora that there's no safety concerns, but the hospital system is closely monitoring the people who received the spoiled doses, he said.
Bahr declined to comment on the pharmacist's motive. He said the hospital system's security protocols are sound.
"This was a situation involving a bad actor," he said, "as opposed to a bad process."
The number of COVID-19 cases in Wisconsin has been rising in recent days after dipping in early December. The state Department of Health Services reported 3,810 newly confirmed cases on Thursday, marking the third straight day of rising daily infections. The state has now seen 481,102 cases.
COVID-19 was a factor in 41 more deaths, pushing the state's overall death toll to 4,859. The survival rate remained unchanged at 99%.
A little more than 47,150 people had been vaccinated in Wisconsin as of Monday morning, according to the latest data from the health agency. The state has been allocated 265,575 doses of both the Moderna and Pfizer vaccines. As of Monday morning, only about 157,000 doses had arrived.
Democratic Gov. Tony Evers wrote a letter to President Donald Trump earlier in December asking him to prioritize more doses for Wisconsin due to high case numbers, swamped hospitals and a lack of statewide mitigation mandates.
Source: – Delta-Optimist
Colon Cancer Rates Have Increased: How Can You Improve Your Gut Health?
The majority of colon cancer cases are more common among older citizens. However, research has found that colorectal cancer rates have been rising in healthy people under 50. The rate has increased over the ten years. Medical professionals recommend screening from age 45. A colorectal screening test is done to ensure that the individual does not have any signs of cancer.
A study found that there has been a surge in colorectal cancer in younger generations and could become the dominant cause of cancer-related deaths by 2030. Since the risk is alarming, everyone needs to take their gut health seriously. Here are some things that people can do to improve their well-being.
Consider Hydrotherapy
Hydrotherapy is a type of colon cleanse that treats digestive issues such as constipation and bloating. Chronic constipation can lead to colon cancer, so it is vital to deal with the issue before it worsens. Colon hydrotherapy is offered at a few places, including a wellness colonic clinic in Toronto where the staff is committed to providing solutions for their clients' digestive health.
Cleansing your colon can help improve digestion, relieve constipation, reduce gas, rejuvenate skin, and increase energy. The process involves flushing the colon with a large volume of water. It can be beneficial to speak to the professionals at the clinic and discuss your concerns with them. They will educate you about the process and answer any concerns you may have. The treatment can seem overwhelming but can also be helpful for your gut health.
Consume Sensibly
Your food intake plays a significant role in your gut health. If you have gut problems, it may be worthwhile to speak to a doctor and change your diet. You should also consider finding out if you have any food intolerance. There may be trigger foods such as oil or dairy that could be causing discomfort.
Even if you do not have any problems with your food consumption, it is never wrong to watch what you eat. Foods with probiotics or high fibre content can be good for you. Eating the right foods can improve your overall health too.
Stay Hydrated
Water almost seems like a magical drink sometimes. From skin problems to digestive issues, it can improve many situations. Consuming a good amount of water every day can balance good bacteria in the gut and promote your health. Hydration can also help your organs function properly and improve cognitive function.
Say Goodbye to Extreme Stress
It can be challenging to bid farewell to stress forever. However, chronic high levels of stress can impact your abdomen and your overall health. There is a connection between the brain and gut, and stress can cause your stomach to become anxious.
Long-term stress can trigger several gut problems such as indigestion, constipation, or diarrhea. Look for ways to reduce stress levels so that your gut can remain healthy.
Some health problems are inevitable with age, but you can do your best to stay healthy and deal with any issues you face. Prepare yourself to fight any disease beforehand, and your body will thank you.
Biden's vaccine pledge ups pressure on rich countries to give more
The United States on Thursday raised the pressure on other Group of Seven leaders to share their vaccine hoards to bring an end to the pandemic by pledging to donate 500 million doses of the Pfizer coronavirus vaccine to the world's poorest countries.
The largest ever vaccine donation by a single country will cost the United States $3.5 billion but Washington expects no quid pro quo or favours for the gift, a senior Biden administration official told reporters.
U.S. President Joe Biden's move, on the eve of a summit of the world's richest democracies, is likely to prompt other leaders to stump up more vaccines, though even vast numbers of vaccines would still not be enough to inoculate all of the world's poor.
G7 leaders want to vaccinate the world by the end of 2022 to try to halt the COVID-19 pandemic that has killed more than 3.9 million people and devastated the global economy.
A senior Biden administration official described the gesture as a "major step forward that will supercharge the global effort" with the aim of "bringing hope to every corner of the world." "We really want to underscore that this is fundamentally about a singular objective of saving lives," the official said, adding that Washington was not seeking favours in exchange for the doses.
Vaccination efforts so far are heavily correlated with wealth: the United States, Europe, Israel and Bahrain are far ahead of other countries. A total of 2.2 billion people have been vaccinated so far out of a world population of nearly 8 billion, based on Johns Hopkins University data.
U.S. drugmaker Pfizer and its German partner BioNTech have agreed to supply the U.S. with the vaccines, delivering 200 million doses in 2021 and 300 million doses in the first half of 2022.
The shots, which will be produced at Pfizer's U.S. sites, will be supplied at a not-for-profit price.
"Our partnership with the U.S. government will help bring hundreds of millions of doses of our vaccine to the poorest countries around the world as quickly as possible," said Pfizer Chief Executive Albert Bourla.
'DROP IN THE BUCKET'
Anti-poverty campaign group Oxfam called for more to be done to increase global production of vaccines.
"Surely, these 500 million vaccine doses are welcome as they will help more than 250 million people, but that's still a drop in the bucket compared to the need across the world," said Niko Lusiani, Oxfam America's vaccine lead.
"We need a transformation toward more distributed vaccine manufacturing so that qualified producers worldwide can produce billions more low-cost doses on their own terms, without intellectual property constraints," he said in a statement.
Another issue, especially in some poor countries, is the infrastructure for transporting the vaccines which often have to be stored at very cold temperatures.
Biden has also backed calls for a waiver of some vaccine intellectual property rights but there is no international consensus yet on how to proceed.
The new vaccine donations come on top of 80 million doses Washington has already pledged to donate by the end of June. There is also $2 billion in funding earmarked for the COVAX programme led by the World Health Organization (WHO) and the Global Alliance for Vaccines and Immunization (GAVI), the White House said.
GAVI and the WHO welcomed the initiative.
Washington is also taking steps to support local production of COVID-19 vaccines in other countries, including through its Quad initiative with Japan, India and Australia.
(Reporting by Steve Holland in St. Ives, England, Andrea Shalal in Washington and Caroline Copley in Berlin; Writing by Guy Faulconbridge and Keith Weir;Editing by Leslie Adler, David Evans, Emelia Sithole-Matarise, Giles Elgood and Jane Merriman)
Vaccines donated by the United States and China
Both the United States and China have pledged large donations of COVID-19 vaccines to countries around the world. Washington has promised 80 million doses, three-quarters of which will be delivered via the international vaccine initiative COVAX, in what has been seen as an effort to counter China's widening vaccine diplomacy. It began deliveries last week.
China had shipped vaccines to 66 countries in the form of aid, according to state news agency Xinhua. Beijing has not disclosed an overall figure for its donations but Reuters calculations based on publicly available data show at least 16.57 million doses have been delivered. China has also pledged to supply 10 million doses to COVAX.
VACCINES DONATED BY U.S. (plan for the first 25 mln):
Regional partners and priority recipients
COUNTRY/TERRITORY PLEDGED DELIVERED
Including Canada, Mexico, 1 mln to S.Korea in June
South Korea, West Bank and
Gaza, Ukraine, Kosovo,
Haiti, Georgia, Egypt,
Jordan, India, Iraq, Yemen,
United Nations
TOTAL 6 mln 1 mln
Allocations through COVAX
South and Central America
COUNTRY/TERRITORY PLEDGED DELIVERED
Brazil, Argentina, Colombia,
Costa Rica, Peru, Ecuador,
Paraguay, Bolivia,
Guatemala, El Salvador,
Honduras, Panama, Haiti,
Dominican Republic and other
Caribbean Community
(CARICOM) countries
TOTAL 6 mln
Asia
COUNTRY/TERRITORY PLEDGED DELIVERED
India, Nepal, Bangladesh,
Pakistan, Sri Lanka,
Afghanistan, Maldives,
Malaysia, Philippines,
Vietnam, Indonesia,
Thailand, Laos, Papua New
Guinea, Taiwan, and the
Pacific Islands
TOTAL 7 mln
Africa
COUNTRY/TERRITORY PLEDGED DELIVERED
To be selected in
coordination with the
African Union
TOTAL 5 mln
VACCINES DONATED BY CHINA (source – Reuters calculations and official data):
Asia Pacific
COUNTRY/TERRITORY PLEDGED DELIVERED
Afghanistan 400,000
Bangladesh Second batch of First batch of 500,000 delivered
600,000 on May 12
Brunei 52,000 in Feb
Cambodia 1.7 mln as of April 28
Kyrgyzstan 150,000 in March
Laos 300,000 in Feb
800,000 in late March
300,000 in late April
Maldives 200,000 in early March
Mongolia 300,000 in late February
Myanmar 500,000 in early May
Nepal 800,000 in late March
1 mln in early June
Pakistan 500,000 in early Feb
250,000 in Feb
500,000 in March
Philippines 600,000 in late Feb
400,000 in late March
Sri Lanka 600,000 at end March
500,000 in late May
Thailand 500,000 in May
500,000 in June
Timor-Leste 100,000 100,000 in early June
TOTAL 11.052 million
Africa
COUNTRY/TERRITORY PLEDGED DELIVERED
Angola 200,000 in late March
Algeria 200,000 200,000 in Feb
Botswana 200,000 in April
Cameroon 200,000 in April
Congo 100,000 100,000 in March
Egypt 600,000 in March
Ethiopia 300,000 in late March
Equatorial Guinea 100,000 in Feb
Guinea 200,000 in early March
Mozambique 200,000 in late Feb
Namibia 100,000 by early April
Niger 400,000 in late March
Sierra Leone 240,000 by late May
Togo 200,000 in April
Uganda 300,000
Zimbabwe 200,000 in Feb
200,000 in March
100,000 in May
TOTAL 3.74 million
South America
COUNTRY/TERRITORY PLEDGED DELIVERED
Bolivia 100,000 in late Feb
100,000 in late March
Venezuela 500,000 in early March
TOTAL 700,000
Europe & Middle East
COUNTRY/TERRITORY PLEDGED DELIVERED
Belarus 100,000 in Feb
300,000 in May
Georgia 100,000 at end April
Iran 250,000 at end February
Iraq 50,000 in early March
Montenegro 30,000 in early March
North Macedonia 100,000 in May
Syria 150,000 in late April
TOTAL 1.08 million
(Reporting by Roxanne Liu and Ryan Woo in Beijing and Cooper Inveen in Dakar; Additional reporting by MacDonald Dzirutwe in Harare, Asif Shahzad in Islamabad, Gopal Sharma in Kathmandu; Editing by Edwina Gibbs)