Zuckerberg loses $29 billion in a day as Meta shares crash – Toronto Sun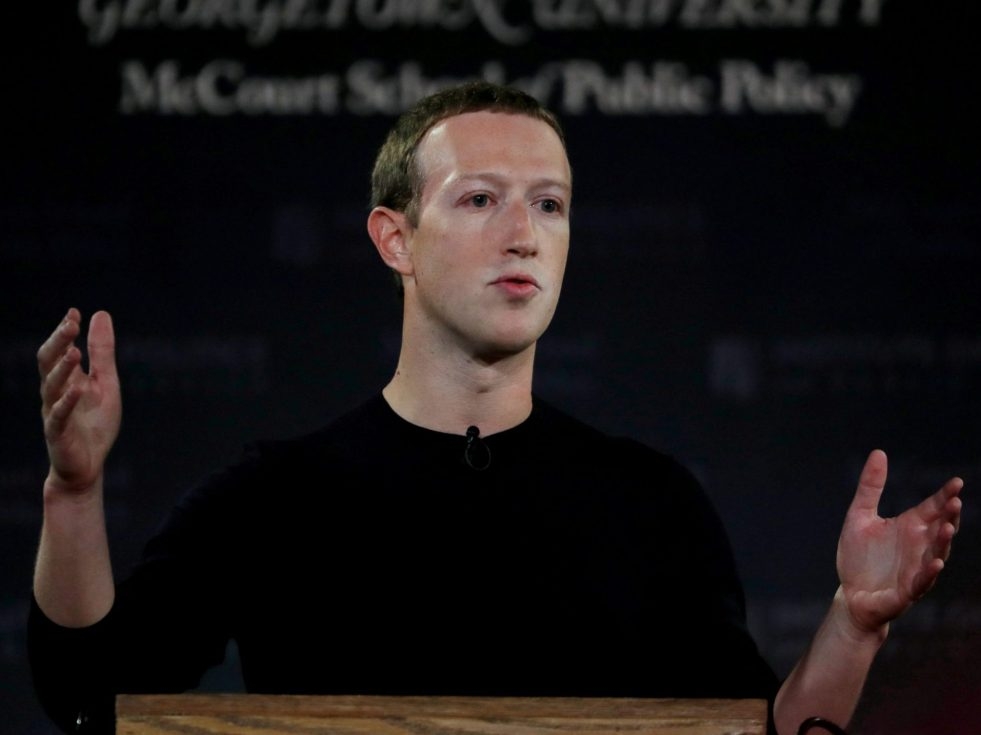 Article content
Mark Zuckerberg lost $29 billion in net worth on Thursday as Meta Platforms Inc's stock marked a record one-day plunge following a disappointing earnings forecast that shook the global tech landscape.
Article content
Meta's stock fell 26% , erasing more than $200 billion in the biggest ever single-day market value wipeout for a U.S. company. That pulled down founder and Chief Executive Officer Zuckerberg's net worth to $85 billion, according to Forbes.
Zuckerberg owns about 12.8% of the tech behemoth formerly known as Facebook.
Article content
His one-day wealth decline is among the biggest ever and comes after Tesla Inc top boss Elon Musk's $35 billion single-day paper loss in November. Musk, the world's richest person, had then polled Twitter users if he should sell 10% of his stake in the electric carmaker. Tesla shares have yet to recover from the resulting selloff.
At least 21 brokerages cut price targets on Meta after the company posted a weaker-than-expected forecast on Wednesday, blaming Apple Inc's privacy changes and increased competition for users from rivals including TikTok and YouTube.
Article content
Following the $29 billion wipeout, Zuckerberg is in the twelfth spot on Forbes' list of real-time billionaires, below Indian business moguls Mukesh Ambani and Gautam Adani.
To be sure, trading in technology stocks remains volatile as investors struggle to price in the impact of high inflation and an expected rise in interest rates. Meta shares could very well recover sooner rather than later, with the hit to Zuckerberg's wealth staying on paper.
Zuckerberg sold $4.47 billion worth of Meta shares last year, before 2021's tech rout. The stock sales were carried out as part of a pre-set 10b5-1 trading plan, which executives use to allay concerns about insider trading.
$65 oil on the horizon if a recession hits, Citi warns – CNBC Television
What every Canadian investor needs to know today – The Globe and Mail
Be smart with your money. Get the latest investing insights delivered right to your inbox three times a week, with the Globe Investor newsletter. Sign up today.
Equities
Major indexes on both sides of the border fell at Tuesday's open as recession concerns continue to weigh on global sentiment.
Shortly after the opening bell, the Toronto Stock Exchange's S&P/TSX composite index was down 239.36 points, or 1.26 per cent, at 18,789.5.
In the U.S., the Dow Jones Industrial Average fell 194.14 points, or 0.62 per cent, at the open to 30,903.12.
The S&P 500 opened lower by 32.72 points, or 0.86 per cent, at 3,792.61, while the Nasdaq Composite dropped 163.66 points, or 1.47 per cent, to 10,964.18 at the opening bell.
"Volatility remains elevated across every asset class to be sure, although a U.S. holiday [on Monday] meant a 12-hour break from the noise," OANDA senior analyst Jeffrey Halley said.
"What is clear is that the strategy of watching the rooster fight from the sidelines instead of getting involved remains the sensible one," he said. "The financial markets continue to tie themselves in knots so complicated, that they would give even the saltiest mariner a headache, as they try to price in a recession no recession and its impact on asset prices."
In the U.S. traders are now looking ahead to the release of the minutes from the latest Federal Reserve on Wednesday and fresh jobs numbers on Friday. Canadian investors also get employment figures Friday morning.
The Globe's Mark Rendell reports that Canadian consumers and businesses expect inflation to remain high for several years, adding pressure on the Bank of Canada to announce another oversized interest rate increase next week to prevent rapid consumer price growth from becoming entrenched. The central bank released its business outlook and consumer expectations surveys on Monday.
Those surveys come ahead of next week's Bank of Canada policy announcements. Markets are expecting the central bank to hike rates by three-quarters of a percentage point after the Fed made a similar move in its last policy announcement.
On Tuesday, Canadian investors will got May building permit figures from Statistics Canada. The agency said the total value of building permits rose 2.3 per cent. Permits in the non-residential sector jumped 7 per cent while residential permits slid 0.1 per cent.
Later in the morning, the latest home sale figures from the Real Estate Board of Greater Vancouver will be released. Toronto home sales numbers follow on Wednesday.
Overseas, the pan-European STOXX 600 was off 1.83 per cent by afternoon. Britain's FTSE 100 fell 2.40 per cent. Germany's DAX and France's CAC 40 lost 2.49 per cent and 2.41 per cent, respectively.
In Asia, Japan's Nikkei gained 1.03 per cent. Hong Kong's Hang Seng edged up 0.10 per cent.
Commodities
Crude prices struggled in early going as recession concerns continue to weigh on sentiment.
The day range on Brent is US$112.82 to US$114.75. The range on West Texas Intermediate is US$107.25 to US$111.45.
"Although oil is trading supported on the day due to improved risk sentiment and the possible easing of U.S. trade tariffs against China, oil is still struggling to break out from its current recessionary malaise as the market pivots away from inflation to economic despair," Stephen Innes, managing director with SPI Asset Management, said.
Meanwhile, Norwegian offshore workers began a strike Tuesday that will reduce oil and gas output.
Reuters reports that Norwegian producer Equinor has said the strike is expected to reduce oil and gas output by 89,000 barrels of oil equivalent per day (boepd), of which gas output makes up 27,500 boepd.
In other commodities, gold prices slipped, hit by an elevated U.S. dollar.
Spot gold was down 0.2 per cent at US$1,805.20 per ounce early Tuesday morning, while U.S. gold futures gained 0.4 per cent to US$1,807.80.
Currencies
The Canadian dollar was lower alongside weaker risk sentiment in the broader markets while its U.S. counterpart touched a fresh two-decade high against a group of world currencies.
The day range on the loonie is 77.37 US cents to 77.97 US cents.
"The hawkish BoC remains an important tailwind for the CAD alongside an economy that appears more resilient than that of other major advanced countries," Shaun Osborne, chief FX strategist with Scotiabank, said.
"However, markets may trade cautiously in the days ahead as they look to the release of the Fed's minutes tomorrow and US ISM, ADP and NFP data later in the week."
There were no major Canadian economic reports due Tuesday.
On world markets, the U.S. dollar index, which weighs the greenback against a basket of global peers, gained 0.8 per cent to 105.98, a new two-decade high for the currency, according to figures from Reuters.
The euro, meanwhile, fell to a two-decade low against the U.S. dollar amid continued recession concerns.
The euro's 0.8-per-cent fall on the day took the currency to its weakest since late 2002.
The Australian dollar, meanwhile, was also weaker despite that country's central bank's decision to raise rates for the third time in as many months.
The Australian dollar slid 0.09-per-cent lower to US$0.6820, after trading as high as US$0.6895 earlier in the day.
In bonds, the yield on the U.S. 10-year note was down slightly at 2.882 per cent in the predawn period.
More company news
A two-week strike at Canadian National Railway Co. is ending after the union representing 750 signals and communications workers agreed to binding arbitration. Steve Martin, a spokesman for the International Brotherhood of Electrical Workers, said the strike that was launched June 18 will end just after midnight. Employees will return to their roles Wednesday morning, the company said in a news release.
French music streaming platform Deezer failed to attract much investor interest for its Paris market debut seven years after its first flotation was aborted, with its shares dropping sharply in early dealing on Tuesday. Deezer, whose larger rivals include Spotify, was down 27.15% at 0947 GMT at 6.00 euros per share, after opening at 8.50 euros.
British Airways is cancelling more flights scheduled for the summer holiday season, it said on Tuesday, at a time of widespread disruption at airports caused by staff shortages and a surge in travel demand. The airline said it would now reduce its April-October schedule by 11%, having said in May the cuts would amount to 10%.
Economic news
(830 am ET) Canada building permits for May.
(10 am ET) U.S. factory orders for May.
With Reuters and The Canadian Press
Recession likely due to BoC rapid rate hikes: study – CTV News
The Bank of Canada's strategy of rapidly increasing its key interest rate in an effort to tackle skyrocketing inflation will likely trigger a recession, says a new study released Tuesday from the Canadian Centre for Policy Alternatives (CCPA).
The study showed that in the last 60 years the central bank has in three cases managed a 5.7 per cent reduction in the inflation rate by quickly raising interest rate, and each case was followed by a recession.
The research institute said if the central bank aims to bring inflation down from 7.7 per cent to its two per cent target by quickly raising rates, it could cause significant "collateral damage," including 850,000 job losses, and is calling for a new policy on inflation targeting to reduce that risk.
Jennifer Lee, senior economist at BMO Capital Markets, who is expecting a 0.75 percentage point interest rate increase from the Bank of Canada this month, said the swift and aggressive hikes will "for sure" cause a significant slowdown in economic growth.
"Whether or not it's going to be an official recession remains to be seen, but clearly a significant slowdown," she said.
She also said there are few alternatives that the central bank has at its disposal right now to tackle inflation.
"Rate hikes are needed right now — larger ones — to slay this inflation monster sooner rather than later," she said.
David Doyle, head of economics at Macquarie Group, who is also expecting a 0.75 percentage point hike, is forecasting a recession in 2023 in both Canada and the United States.
"We expect the contraction to be greater in Canada due to its more severe structural imbalances, such as housing investment and consumer debt levels," he said.
Canada is already experiencing a slowdown in economic growth and even seeing layoffs in some sectors, like technology.
Statistics Canada said last week it expects to report a GDP contraction of 0.2 per cent for the month of May amid weakness in the resource, manufacturing and construction sectors.
In its study, the CCPA said the Bank of Canada could potentially reduce the risk of sending the economy into a recession by adjusting its target inflation rate to four per cent. The study highlighted how the bank has successfully avoided a recession when it has aimed for smaller reductions in inflation, allowing the bank to bring in smaller rate increases over a longer period.
However, Doyle said raising the inflation target to four per cent would be a "bad idea."
"It would damage the Bank of Canada's credibility and independence and create more uncertainty," he said. "It would also increase the risk of a severe downside scenario, where there is a de-anchoring of consumer and business inflation expectations."
The CCPA study comes a day after the Bank of Canada released two quarterly surveys which revealed consumers and businesses expect inflation to stay high for several years, further increasing the odds of a 0.75 percentage point interest rate hike this month.
While speaking to reporters at an event in Brampton, Ont. on Tuesday, Deputy Prime Minister Chrystia Freeland was asked about the CCPA study and said the Bank of Canada is well-equipped to handle the inflation problem.
"It has the tools and it has the expertise to (bring down inflation). And I think we should all have confidence that the Bank of Canada will do its job," she said.
As for how long it might take to even reach the central bank's two per cent inflation target, BMO's Lee said we'll likely see three per cent inflation by end of the 2023, with two per cent more a 2024 or 2025 possibility.
This report by The Canadian Press was first published July 5, 2022.